May 23, 2010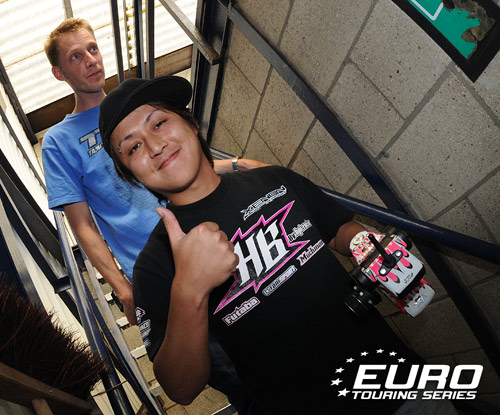 Former World Champion Atsushi Hara has wrapped up the Dutch round of the Xenon backed 2009/2010 Euro Touring Series after claiming his second win of the day here at the MACH. The factory Hot Bodies driver backed up his leg 1 win in the second of the three A-Mains but this time round he made his way past the three cars in front of him in just 2 laps.  'Easy with the power' was how the Japanese driver summed up his impressive performance around the huge Dutch track.  Running the same set-up on his TCX as the opening leg, which he also used to win this year's TITC race, the only change Hara made was to switch his tyres from the left to the right side.  This he said helped him get more from the rubber as the right tyres were now fresher on the track that only has three left hand corners.  Claiming the outright win today Hara maintains his 100% ETS winning record having won on his only other outing in the Series at Andernach 2 years ago.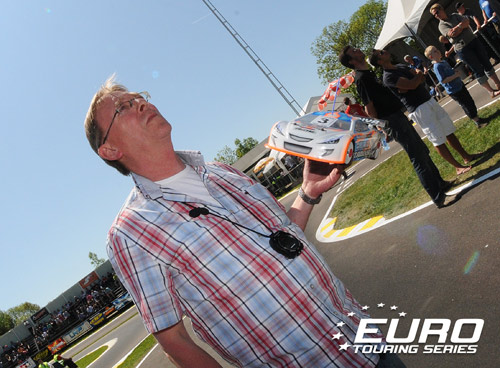 Despite struggling for outright speed Jilles Groskamp put in a great performance to take second with his Orion powered Tamiya.  Although now based in Thailand, this is the Dutchman's home track and through the infield he is clearly the quickest driver but as exaggerated by Hara's pass on him on the opening lap he is at a distinct disadvantage on the track's long straight.
Running new tyres Steen Graversen completed the top three and the former Danish Champion is clearly enjoying his racing this weekend.  Setting the fastest lap of the race, he said he was unable to take full advantage of the new rubber in the early laps as the field was closely packed together.  Despite the Top 3 finish Graversen, who starts 8th on the grid, thinks an overall top five finish is a realistic goal.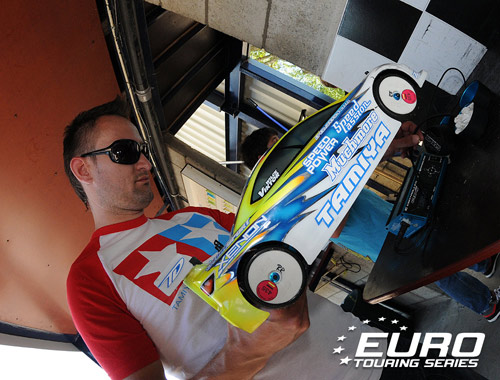 The big battle of the second leg was that between Top Qualifier Viktor Wilck and Yannic Prumper.  Wilck got a better start this time round keeping team-mate Marc Rheinard behind him but on his second run down the straight his Tamiya slid wide, starting his fall back down the field. The Swede said a flat battery in his tyre warmers was the problem but once the tyre came up to temperature his car was really good allowing him to fend of a great challenge from Prumper, who had fresher tyres.
With his Orion powered Hot Bodies looking really strong Andy Moore was on target for a top 3 finish but over eager to get past Rheinard he tried to get down the inside of the World Champion and ended up in the grass.  The British racer rejoined but finished 9th a lap down on his winning team-mate. Rheinard was the only non finisher pulling up after he too had an off. The German said his car felt really loose, something that may have been caused by a change of additive.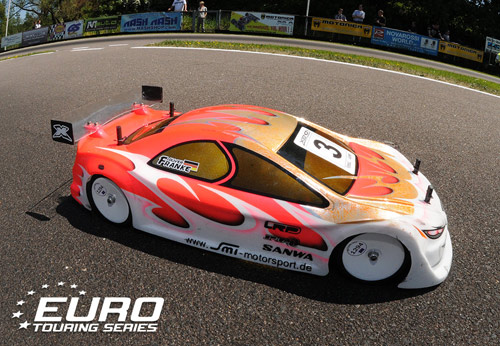 In Pro Stock SMI Motorsport backed German Oliver Franke cruised to an easy victory while the top two qualifiers got tangled up.  Franke had the advantage of having a fresh set of rubber on his Xray T3 which allowed him to take an early lead.  Top Qualifier Vasco Christiaanse again led from the start but on the second lap get tagged by Leg 1 winner Rob Janssen. Christiaanse ended up in the grass and slow marshaling meant his race was run and so he pulled up his Kyosho TF6.  Janssen was giving a stop go for making contact with his fellow countryman but after rejoining decided to also pull up and save his Corally for the race deciding third Leg.  Denmark's Carsten Madsen took his Tamiya to second followed closely by Patrick Jongenelis' Xray.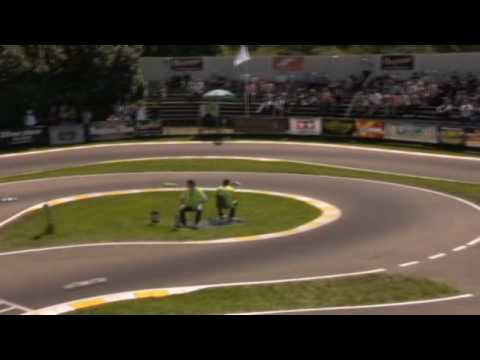 Modified A-main Leg 2 results
1. Hara Atsushi – 19 Laps in 5:00.500
2. Groskamp Jilles – 19 Laps in 5:02.559
3. Graversen Steen – 19 Laps in 5:03.894
4. Wilck Viktor – 19 Laps in 5:04.604
5. Prümper Yannic – 19 Laps in 5:05.112
6. Ehrbar David – 19 Laps in 5:10.287
7. Wubben Bart – 19 Laps in 5:10.836
8. N'diaye Cyril – 19 Laps in 5:14.139
9. Moore Andy – 18 Laps in 5:01.554
10.Rheinard Marc – 13 Laps in 3:33.358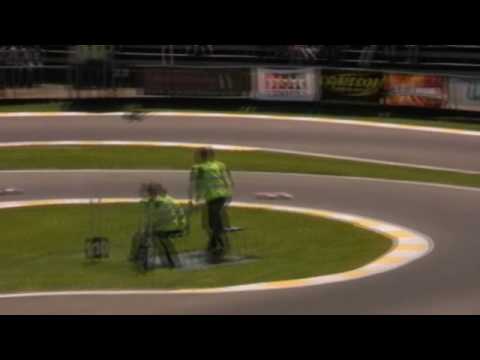 Pro Stock A-main Leg 2 results
1. Franke Oliver – 17 Laps in 5:12.690
2. Madsen Carsten – 16 Laps in 5:01.310
3. Jongenelis Patrick – 16 Laps in 5:01.844
4. Persijn Joffrey – 16 Laps in 5:02.731
5. Laptev Ivan – 16 Laps in 5:03.493
6. Vekemans Geoffrey – 16 Laps in 5:03.677
7. Miedema Tjitte – 16 Laps in 5:06.760
8. Kunák Zdenko – 16 Laps in 5:17.460
9. Janssen Rob – 10 Laps in 3:09.614
10.Christiaanse Vasco – 3 Laps in 0:56.552
Full results can be found here.
View the event image gallery here.
---