May 22, 2010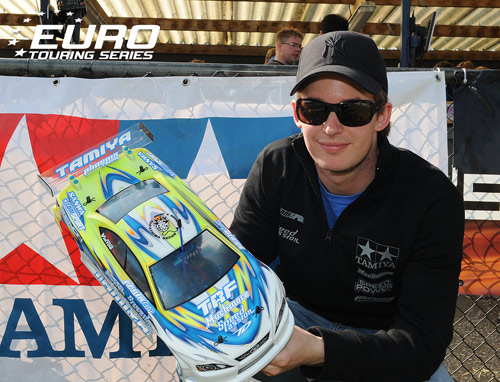 Viktor Wilck will start tomorrow's Dutch ETS round from pole after David Ehrbar denied Marc Rheinard a TQ run in the final qualifier here at the MACH in the Netherlands.  Benefiting from running new tyres, Czech Grand Prix winner Ehrbar outpaced the World Champion by 2.3 seconds to jump himself 4 places up the grid to fifth position and ahead former World Champion Andy Moore who was third fastest in the round.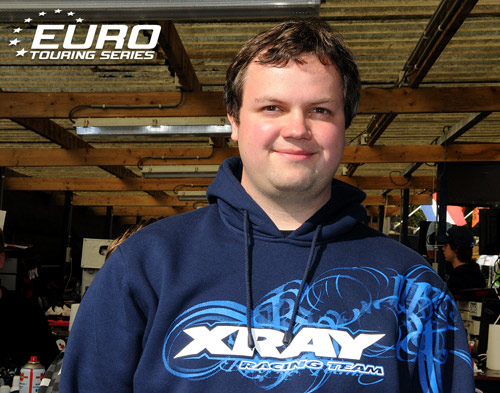 Running an Xray T3 chassis, Ehrbar said he didn't think the new tyres were giving him the advantage he was expecting until Scotty Ernst announced he was on for a TQ run. 'Thanks Ehrbar' was Wilck's reaction to the result after the Swede struggled to match the pace of ETS standings leader Rheinard, ending up only fifth. If Rheinard had TQ'd the round he would have also taken pole thanks to his super fast TQ in yesterday opening heat.  In terms of the championship, pole position, his second of the 2009/2010 season, gives Wilck a valuable bonus point keeping his Euro Touring Series title hopes alive.
Running a harder front spring on his soon to be released Hot Bodies TCX chassis, Andy Moore said the car was better and he is now confident of being able to challenge for at least a podium tomorrow.  The British pro said it will be important to find a way passed Erhbar at  the start as the German will start on used rubber and could hold him up.  The general mood in the Hot Bodies squad this evening is very positive despite Hara messing up his final qualifier when he ended up on the grass.  The Japanese driver is now running a 4.5 motor and is comfortable with the huge power from the GM electronics. Recording the fastest top speed for the round with 115 kph on the main straight, he said this will come in handy tomorrow as he works his way from fourth on the grid to the front.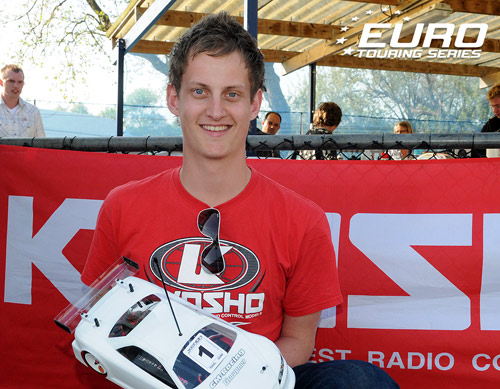 In Pro Stock, Vasco Christiaanse is enjoying a great debut with Kyosho giving their new TF6 its first International TQ honours.  The Dutch driver was on pole last time the ETS visited the MACH track and will be hoping to convert that into victory this time round and expects his biggest challenger tomorrow will be fellow countryman Rob Janssen.  The Corally driver, who won the Dutch ETS round at Apeldoorn last year, lines up second on the grid and feels the race is going to go down to final lap of the third leg.  The final round of qualifying was TQ'd by Oliver Franke and the German Xray driver will be out to deny the locals a home victory.
In the Hobby Class Eric Mulder starts from pole as he looks to claim his first win of the season.  The Dutch driver faces tough opposition on his local track from two emerging talents Lucas Fischer from Germany and Poland's Michal Orlowski who currently leads the standings having won the last three rounds of the championship.
Modified top 10
1. Wilck Viktor (SE) – Tamiya/Speedpassion
2. Rheinard Marc (DE) – Tamiya/Speedpassion
3. Groskamp Jilles (NL) – Tamiya/Team Orion
4. Hara Atsushi (TH) – Hot Bodies/GM
5. Ehrbar David (DE) – Xray/Speedpassion
6. Moore Andy (GB) – Hot Bodies/Team Orion
7. Prümper Yannic (DE) – Tamiya/Speedpassion
8. Graversen Steen (DK) – Tamiya/Speedpassion
9. Wubben Bart (NL) – Xray/Speedpassion
10.N'diaye Cyril (FR) – Tamiya/LRP
Pro Stock top 10
1. Christiaanse Vasco (NL) – Kyosho
2. Janssen Rob (NL) – Corally
3. Franke Oliver (DE) – Xray
4. Kunák Zdenko (SK) – Xray
5. Madsen Carsten (DK) – Tamiya
6. Miedema Tjitte (NL) – TOP
7. Persijn Joffrey (NL) – Xray
8. Jongenelis Patrick (NL) – Xray
9. Vekemans Geoffrey (BE) – Schumacher
10.Laptev Ivan (RU) – Tamiya
Full results can be found here.
View the event image gallery here.
---