Yokomo extends Euro Touring Series sponsorship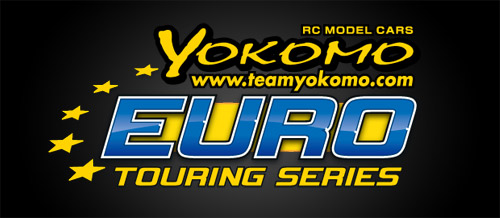 With the 2011/12 Euro Touring Series set to get underway later this week in Germany the organisers of the world's biggest r/c touring car championship are delighted to announce that Yokomo has extended their title sponsorship of the ETS for a second season. Coming onboard as title sponsor of the six round series in 2010, the Japanese company enjoyed a perfect first season as an ETS partner with their star driver Ronald Volker dominating the opening races en-route to beating the world class field of factory drivers to the overall championship title. In recognition of Yokomo's extended support of the ETS the series will continue to be officially known as the 'Yokomo Euro Touring Series'.
Along with the news of the extension of their relationship with Yokomo, ETS founders Uwe Rheinard and Scotty Ernst also made the announcement of an all new partnership with Japanese company Ride who will be the official controlled tyre supplier for 2011/12. Probably best known for their sponsorship of former World Touring Car Champion and ETS race winner Atsushi Hara, the deal with Ride came about following very positive feedback from competitors who got to run their tires at last season's finale in Andernach. Two other companies the ETS organisers are pleased to welcome onboard are new associated sponsors Team Orion and Thunder Power.
Kicking off its fifth season this weekend with an all new event in Muelheim-Kaerlich, Germany, the popularity of the 'Yokomo Euro Touring Series' looks set to continue to grow with the 22nd running of an ETS race having received a record 301 prepaid entries. Last season a total of 641 drivers registering championship points over the three classes that form the race program of the three day events.
Having started out in 2007 with just four dates, the Euro Touring Series has established itself now as a six round championship that combines both indoor and outdoor events. Starting at a new location near Koblenz in Germany, the series features a very different 2011/12 calendar featuring five new venues with Italy and the holiday Island of Gran Canaria two exciting additions.
Categories - Announcement, Racing