Q3 Update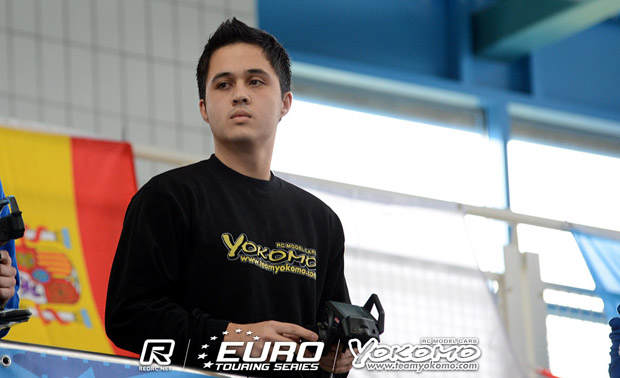 Round 3 of qualifying saw Team Yokomo's Ronald Volker bounce back from his retirement in Q2 to set a new fastest time and move back to the top of the qualification ranking ahead of Juho Levanen who could only manage fourth fastest this time round.  Having been on target for a TQ run for a number of laps Marc Rheinard once again had to settle for the second fastest time.
Levanen led the heat off the start line but rolled his TC6.1 on the first lap. Recovering to move back to the top of the timing screen he lost any chance of repeating his Q2 performance when he traction rolled on his 10th lap saying afterwards that he 'just drove a little too hard this time'.  Volker said his BD7 was a little edgy in the beginning but once it settled he found his rhythm and was able to challenge for a TQ run.  Having started one spot ahead of Rheinard, the defending ETS champion said he was able to gauge his pace by keeping an eye on the German's pursuing Tamiya and so didn't have to take any unnecessary risks.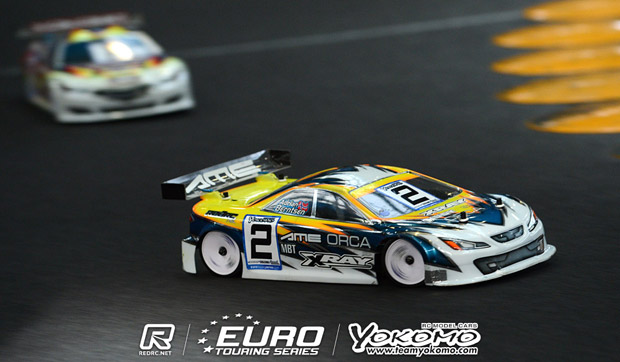 Having shown great speed in practice, former European Junior Champion Adrian Bernsten finally translated that into a strong qualifying performance taking his Xray T4 to the third fastest time.  The surprise of Q2, fellow Xray driver Tim Wahl put in another impressive run setting the 6th fastest time just ahead of HB's Andy Moore.  Unfortunately for Freddy Sudhoff, who was fourth fastest in both Q1 & 2, his third qualifier lasted only one lap.  Catching a dot at the chicane it sent his car into the barrier, the impact caused his receiver to stop working.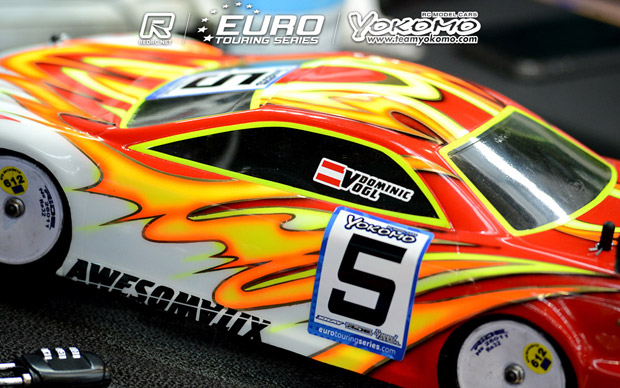 While 'Fast Freddy' hit trouble Awesomatix team-mate Dominic Vogl ended Oliver Franke's reign in the Xray Pro Stock Class as he TQ'd Q3 with his L version of the A700 ahead of Franke's HB.  Former top international Dutch racer Bart Wubben completed the Top 3 with his Xray.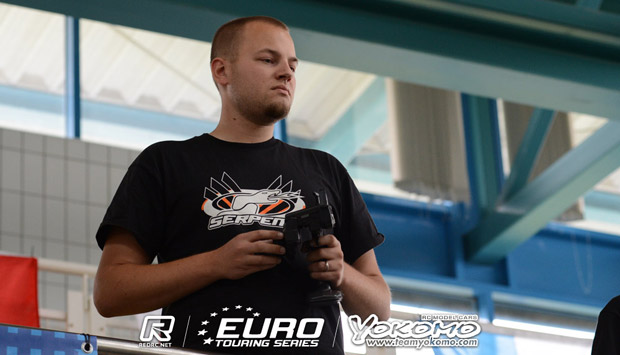 In the Speed Passion Formula class Jan Asmer became the first Top Qualifier of the 2012/13 ETS as he put pole position for tomorrow's triple A-Main beyond the reach of his rivals as he it three TQ runs from 3 rounds of qualifying.
Ride Modified Q3 times
1. Ronald Völker (DE) – Yokomo – 24/5:03.856
2. Marc Rheinard (DE) – Tamiya – 24/5:04.137
3. Adrian Bernsten (NO) – Xray – 24/5:06.109
4. Juho Levänen (FI) – Associated – 24/5:06.403
5. Yannic Prümper (DE ) – Yokomo – 24/5:07.509
6. Tim Wahl (DE) – Xray – 24/5:08.686
7. Andy Moore (GB) – HB – 24/5:08.792
8. Christopher Krapp (DE) – Kyosho – 24/5:09.232
9. Viktor Wilck (SE) – Tamiya – 24/5:10.610
10.David Ehrbar (DE) – Serpent – 24/5:10.973
Xray Pro Stock Q3 times
1. Dominic Vogl (AT) – Awesomatix – 23/5:12.335
2. Oliver Franke (DE) – HB – 23/5:13.058
3. Bart Wubben (NL) – Xray – 22/5:01.361
4. Markus Kreder (DE) – Serpent – 22/5:02.029
5. Ivan Laptev (RU) – Awesomatix – 22/5:03.225
6. Max Mächler (DE) – Awesomatix – 22/5:03.266
7. Bernhard Bopp (DE) – HB – 22/5:03.387
8. Marek Cerny (CZ) – Schumacher – 22/5:03.903
9. Tom Maquel (LU) – Awesomatix – 22/5:04.338
10.Tobias Vogel (DE) – Xray – 22/5:04.832
View the complete event results here.
View our event gallery here.