October 14, 2012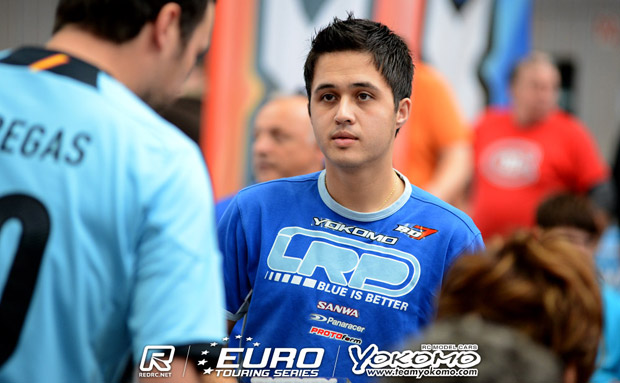 Team Yokomo's Ronald Volker cruised to a dominant victory in Leg 1 of the A-Main at the 2012/13 Yokomo Euro Touring Series season opener in Germany this morning, the defending champion winning convincingly over Team Associated's Juho Levanen who was closely followed home by Xray's Adrian Bernsten.  Starting from pole, Volker was never threatened throughout the 5-minutes but did have a self inflicted moment when he hit a dot on his last lap sending his LRP powered BD7 into a roll but luckily it landed rubber side down.  Such was the German ace's gap the 1.5 seconds lost didn't even allow the battling Levanen and Bernsten to get within sight and continuing on his way the he completed the final to take the win by a 2.7 second margin.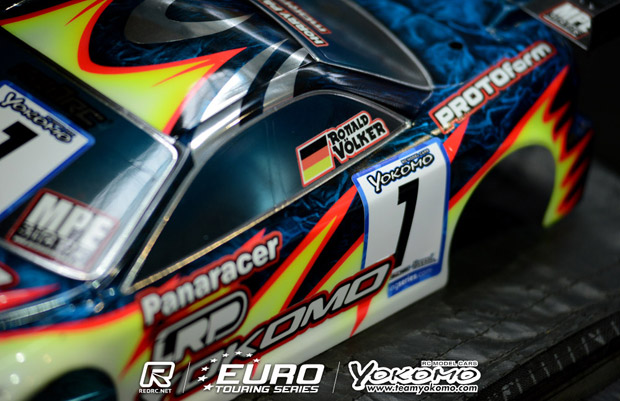 Setting the fastest lap of the race, Volker said his car was 'very good' after two laps he had enough of a margin over Levanen to control the race.  With Levanen rolling on the 11th lap, the winner of the ETS season opener for the past two years said he was able to cruise although the lap chart shows differently as two laps later he ran a 12.479 lap, the fastest of the race.  Really comfortable with the feeling of his car Volker said he plans on leaving everything as is and just focus on repeating his Leg 1 performance, less the roll.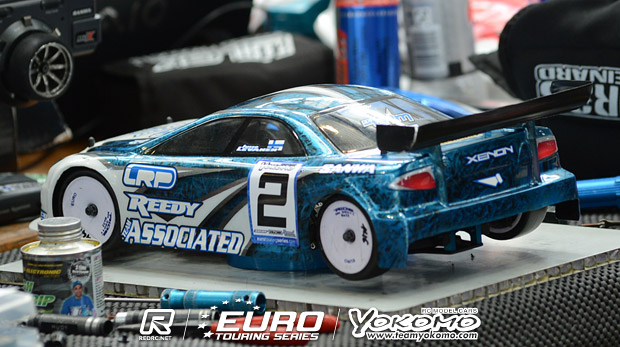 Levanen said his Reedy powered TC6.1 felt good but with Volker a little faster he had to push hard and this led to his early mistake that meant it was 'game over' for challenging the win'.  Allowing Bernsten to close in on his rear bumper, the Finn said he always felt in control of second spot with Bernsten never really a serious treat.  Looking to keep his car on four wheels in the second A-Main, Levanen said he will make some small changes to the set-up as he feels he could benefit from a little more steering.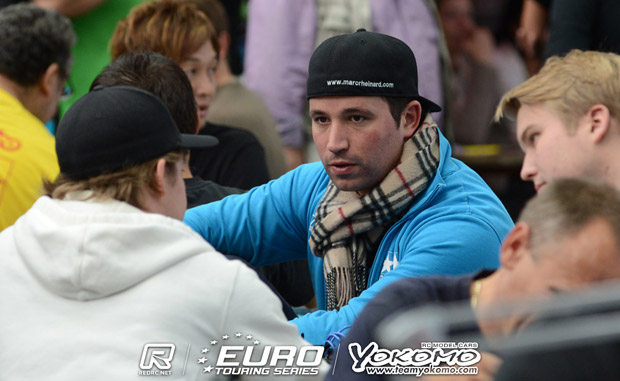 Starting 3rd but ending the encounter 5th, former World Champion Marc Rheinard clearly lacked race pace.  The former 3-time World Champion said he just didn't drive well but added his Tamiya TRF417 felt tweaked. Only able to set the 5th fastest lap of the race, the German will rebuild his shocks for Leg 2 and check that the car is straight. Runner-up to Volker here 12-months ago he said he may also run his second set of handout Ride tyres.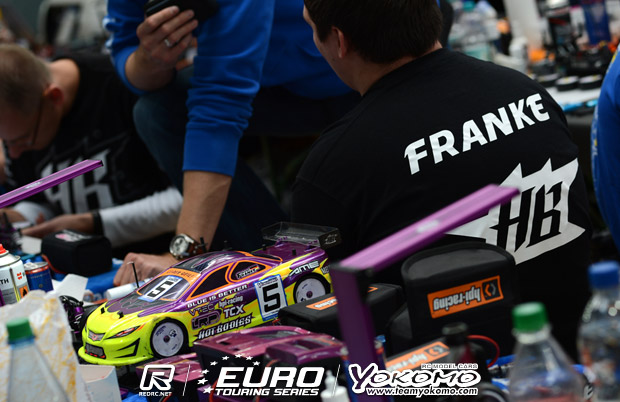 In the Xray Pro Stock class there was also a dominant performance by the Top Qualifier with Oliver Franke taking the win ahead of the no.4 starting Serpent of Jan Amser who benefited from mistakes by both Dominic Vogl and former champion Martin Hofer. Starting 2nd on the grid Vogl's Awesomatix would finish third while Hofer's Schumacher dropped back to 5th behind former race winner Ivan Laptev.  In the Speed Passion Formula class starting from 5th on the grid Alexander Roeleveld took the win while Top Qualifier Jan Asmer never really recovered from an early incident and had to settle for 4th.
Ride Modified A-Main Leg 1
1.(1) Ronald Völker (DE) – Yokomo – 25/5:07.096
2.(2) Juho Levänen (FI) – Associated – 25/5:09.783
3.(4) Adrian Bernsten (NO) – Xray – 25/5:10.210
4.(5) Yannic Prümper (DE ) – Yokomo – 25/5:10.885
5.(3) Marc Rheinard (DE) – Tamiya – 24/5:01.790
6.(6) Freddy Südhoff (DE) – Awesomatix – 24/5:02.150
7.(10)Magnus Vässmar (SE) – Xray – 24/5:02.313
8.(9) David Ehrbar (DE) – Serpent – 24/5:03.511
9.(8) Alexander Hagberg (SE) – Xray – 24/5:05.447
10.(7)Tim Wahl (DE) – Xray – 24/5:07.558
Xray Pro Stock A-Main Leg 1
1.(1) Oliver Franke (DE) – HB – 23/5:01.494
2.(4) Jan Asmer (DE) – Serpent – 23/5:03.813
3.(2) Dominic Vogl (AT) – Awesomatix – 23/5:05.788
4.(5) Ivan Laptev (RU) – Awesomatix – 23/5:06.638
5.(3) Martin Hofer (DE) – Schumacher – 23/5:09.291
6.(6) Bart Wubben (NL) – Xray – 23/5:09.546
7.(7) Markus Kreder (DE) – Serpent – 23/5:09.813
8.(10)Viljami Kutvonen (FI) – Awesomatix – 22/4:59.898
9.(8) Philipp Neudinger (AT) – Awesomatix – 15/3:18.818
10.(9)Max Mächler (DE) – Awesomatix – 3/0:33.197
View the complete event results here.
View our event gallery here.
---