January 19, 2013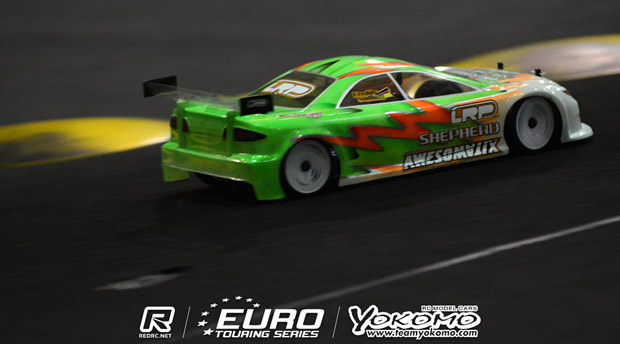 Team Awesomatix put in an impressive performance in the second round of qualifying at the ETS in the Czech Republic with their drivers putting the A700 top of the time sheets in both the Ride Modified and Xray Pro stock classes.  Freddy Sudhoff upped the pace in the premiere class to take the round from Q1 pace setter Ronald Volker while in the series' largest class Viljami Kutvonen headed Marek Cerny who last night took his Xray to the fastest time in Q1.
Sudhoff said car was a lot better after he lowered the roll centres and he doesn't plan to change anything for Q3 with his aim for the round to work on the driver.  Once again the German found himself knocked out of his rhythm when he had to avoid Martin Lissau's Xray which shut down on the main straight with a minute left on the clock.  Setting the fastest lap of the round with a 12.041 lap, Sudhoff said the round was a great result for the Awesomatix team and he hoped they could continue the form for the rest of the event.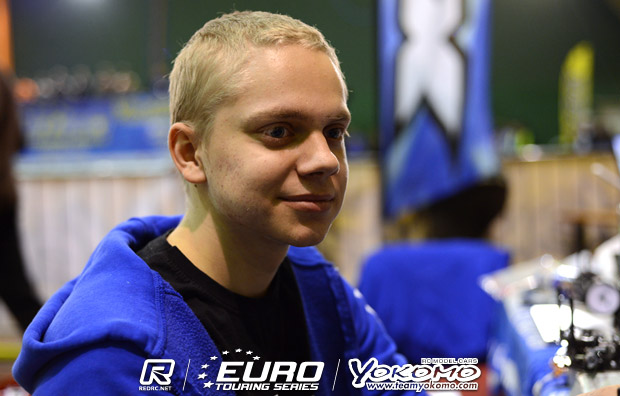 Also securing 3rd in Modified, Kutvonen said his car was suffering with a little understeer on the first two laps but that was really good.  Inspecting his car after the run the 20-year-old found the rear diff was about to expire and he is confident with a fresh unit the car will be even better for Q3.  Commenting on his Pro Stock A700, the Finn said his Q2 was a 'good clean run' and he plans on running everything as is for his next outing.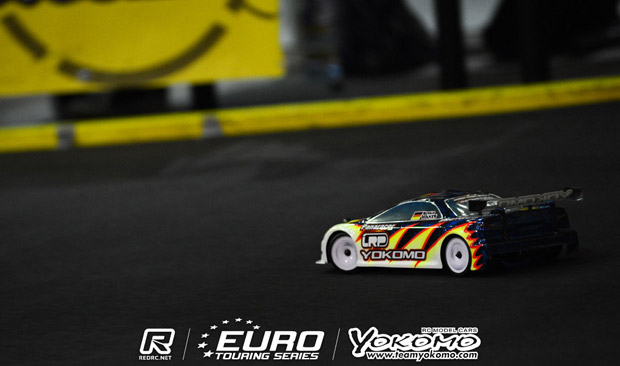 Volker said the second qualifier was pretty exciting as himself and Sudhoff battled over the TQ time admitting he was driving 'maximum' on the limit.  Chasing his 7th ETS win this weekend, the 2 time defending champion said his BD7 was a little 'twitchy' this time round and this was particularly a problem at the chicane. While Sudhoff had his moment with Lissau, the Yokomo star had a moment of his own when he made contact with the Xray of Zdenko Kunak.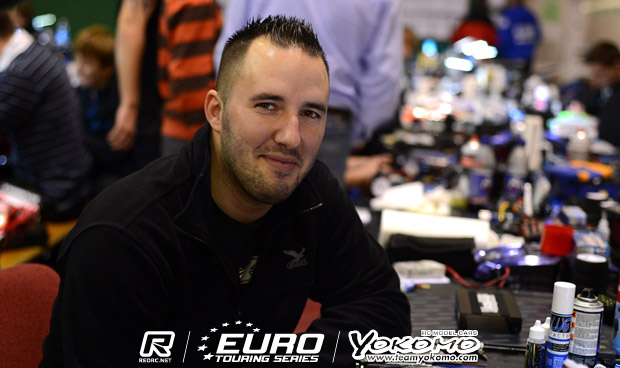 Running in the second highest heat grouping Marc Fischer took his Serpent to the 4th fastest time. The German said his 411 was better this time round after changing to a harder rear shock and he believes it now has the pace to match Sudhoff and Volker, that is if he can eliminate the driver errors.  Like in Q1 he said he again made a number of small mistakes which ultimately add up.  In terms of his set-up for Q3 Fischer said if anything he had a little too much steering so he plans to reduce the amount of additive he uses on the front tyres.
Dominic Fleischmann enjoyed another strong run setting the 5th fastest time ahead of Yokomo team-mates Yannic Prumper and Eric Dankel.  Prumper said his BD7 was 'really hard' to drive following changes and he plans to revert back to his Q1 set-up.  Dankel said his car felt really good but in the middle of the run it just wanted to traction roll.  Planning to change his tyre prep he will also add more glue to the walls of the controlled Ride tyre.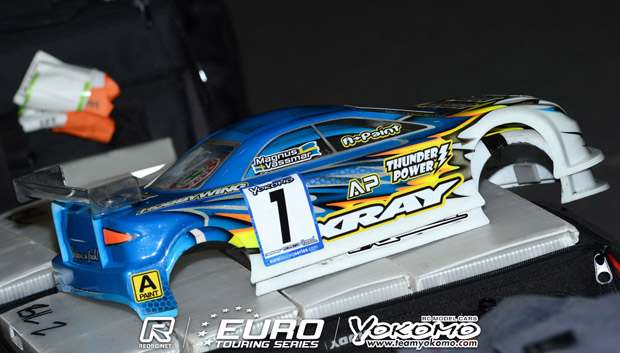 Setting the 8th fastest time Magnus Vassmar was quickest Xray for the round just ahead of team-mates Marco Kaufmann and a much improved Alexander Hagberg.  Adrian Berntsen's luck didn't improve in Q2 as he traction rolled right at the start of his run loosing him 4 seconds.  The Norwegian said after that he just made to many driver errors as he tried to make up the time but added his T4 was not good and he is not sure why.  For the third heat he will try a different tyre prep.
Elswhere Marc Rheinard and Christopher Krapp both failed to finish.  Having gone for a heavier rear diff oil in his Tamiya, Rheinard said the change made his TRF417 feel even worse on-power. The diff eventually cried enough just after the 3:20 mark forcing the German to stop.  Describing his Kyosho TF6 as 'super dialed' following some fine tuning after Q1, Krapp said he maybe 'over pushed' resulting in a crash that caused the steering servo mount to tweak putting him out of the race after just 1-minute of driving.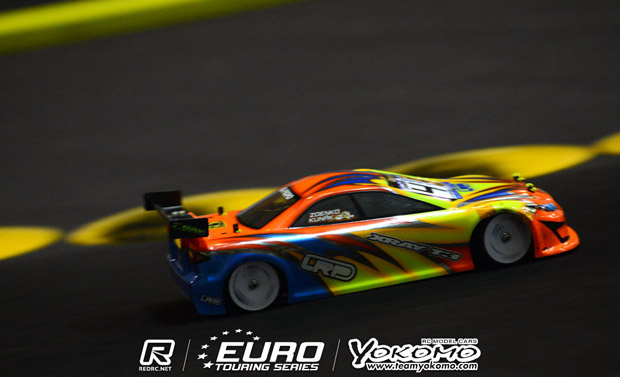 In the Xray Pro Stock class behind Kutvonen and Cerny, who were separated by just .183 of a second, it was defending champion Zdenko Kunak who set the third fastest time.  Runner up at the season opener behind Oliver Franke, Dominic Vogl took his Awesomatix to the fourth fastest time ahead of the German's HB while former race winner Steffen Leinburger completed the Top 6.
In the Speed Passion Formula class, Mülheim-Kärlich winner Jan Asmer made it two TQ runs from 2 rounds setting the pace in convincing fashion.  In Q1 he was comfortably faster than Dai Sakaguchi while in Q2 he had a similar margin over the similar Tamiya of class debutant Marc Rheinard.
Ride Modified Q2 times
1. Freddy Sudhoff – Awesomatix – 25/5:07.158
2. Ronald Volker – Yokomo – 25/5:07.515
3. Viljami Kutvonen – Awesomatix – 25/5:08.142
4. Marc Fischer – Serpent – 25/5:08.447
5. Dominik Fleischmann – Yokomo – 25/5:10.461
6. Yannic Prumper – Yokomo – 25/5:10.543
7. Eric Dankel – Yokomo – 24/5:00.470
8. Magnus Vassmar – Xray – 24/5:00.722
9. Marco Kaufmann – Xray – 24/5:00.902
10.Alexander Hagberg – Xray – 24/5:01.357
Xray Pro Stock Q2 times
1. Viljami Kutvonen – Awesomatix – 23/5:04.267
2. Marek Cerny – Xray – 23/5:04.450
3. Zdenko Kunak – Xray – 23/5:05.811
4. Dominic Vogl – Awesomatix – 23/5:05.882
5. Oliver Franke – HB – 23/5:06.497
6. Steffen Leinburger – HB – 23/5:07.545
7. Martin Lissau – Xray – 23/5:07.656
8. Morten Iversen – Awesomatix – 23/5:08.030
9. Jan Asmer – Serpent – 23/5:08.130
10.Valentin Hettrich – Xray – 23/5:08.611
View complete event results here.
View our event image gallery here.
---