January 18, 2013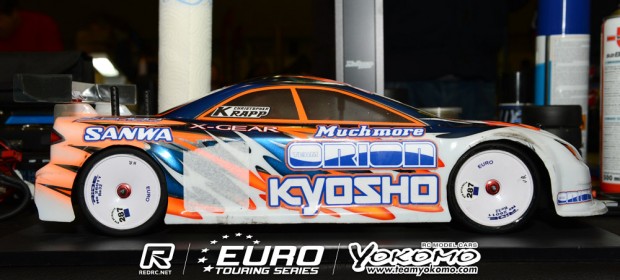 Chassis Name – Kyosho TF6
Motor – Team Orion
ESC – Team Orion
Batteries – Team Orion
Tires – Ride (handout)
Radio/Servos – Sanwa
Remarks – Christopher Krapp is running an updated version of the TF6 chassis as they work to improve the car on carpet. Here in the Czech Republic with the car's designer Yoshiyuki Chikuba the car features a number of new parts including new centrally mounted servo mount, harder front wishbones and c-hubs as well as an all new top deck with the option to mount posts to increase the stiffness of the car. Other changes include the return to standard drive pins in the driveshafts in place of their unique ball drive system to make it easier for the standard driver to maintain. Finally there is a new rear anti-roll bar which is wider and longer and mounted further to the outside of the wishbone. The new parts will most likely be part of an update for the current car but no firm plans regarding a release are in place yet.
Image Gallery
---