January 20, 2013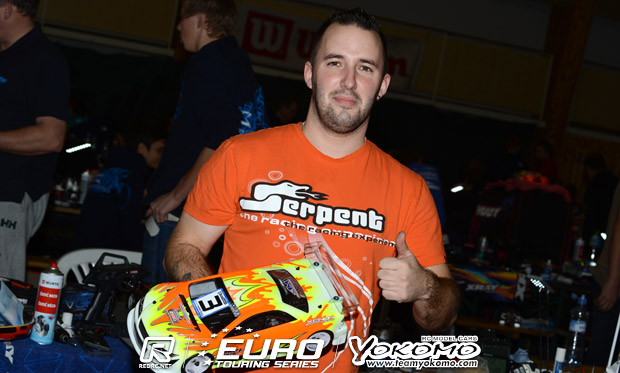 Marc Fischer was the winner of the second A-Main at the Euro Touring Series in Hrotovice after errors by Top Qualifier Ronald Volker allowed the Team Serpent driver to catch and pass the defending champion.  Volker looked like he was in for an easy race after Leg 1 winner Freddy Sudhoff got out of shape on the second lap.  The incident saw the Awesomatix driver's car collect the Yokomo of Dominik Fleischmann who suffered a body tuck.  Showing great sportsmanship Sudhoff waited on his fellow German put this left him 10th and out of contention of the race.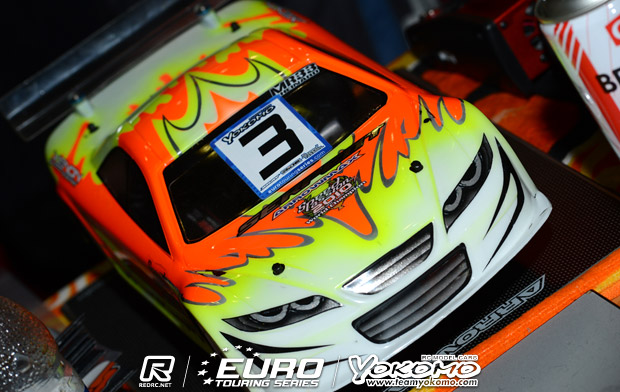 Up front Volker was pulling clear of the field extending his lead to 2.9 seconds ahead of Fischer who was busy seeing off a strong challenge from double ETS race winner Yannic Prumper. On lap 12 of 25 the race for the lead was to hot up as Volker made a mistake which would cost him over two seconds allowing Fischer to get close enough to smell a potential win.  Setting the fastest lap of the race Fischer chased down the championship standings leader forcing Volker to make a second mistake just as they came up to complete the penultimate lap.  With the BD7 out of shape, the 411 ERYX took the lead with the Awesomatix of Finnish hot shot Viljami Kutvonen also finding a way passed Volker who would cross the finish line in 3rd.  The result means that going into the final A-Main four drivers, Sudhoff, Fischer, Volker & Kutvonen, can all potentially take the overall win for Round 2 of the world famous electric touring car series.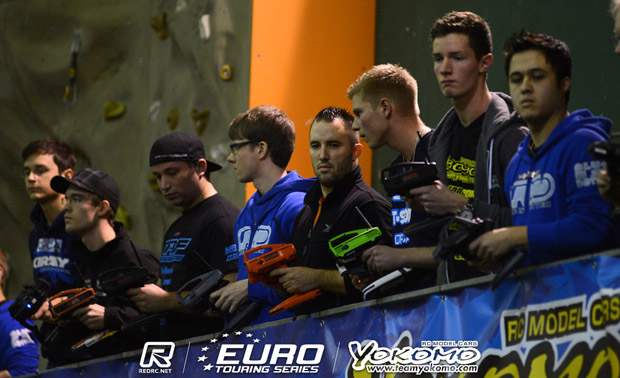 Fischer said, at the start of the race once Sudhoff has his incident his focus was on holding on to second rather than trying to challenge Volker for the win as he was under pressure from Prumper.  Able get some breathing space between himself and the No. 5 car he said he had settled for second but when he saw Volker's mistake he said he knew it was 'game on'.  With the handling of his Serpent improving as the race progressed Fischer said he knew he could have a go for the win and he was delighted to come away with the win.  Seeking his first ETS podium, he said he doesn't have any plans for the deciding A-Main but added that its 'wide open' and he knows he has a strong car in the second half of the race so he is just going to wait to see how it plays out.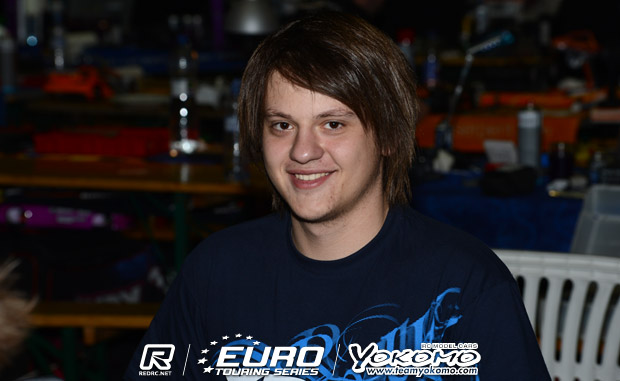 In the Xray Pro Stock class Marek Cerny had the opposite race to Volker, the Xray driver not putting a wheel wrong to back up last nights Leg 1 win to secure the overall win.  His second win from pole in the ETS, the new Xray signing's win today helps bring the Slovak company's tally to 10 wins in the series' biggest class.
The Speed Passion Formula class was also wrapped up in Leg 2 with championship leader Jan Asmer taking his Tamiya to another tone to tone win, ahead of defending champion Herbert Weber, continuing his domination of the ETS' newest class.
Ride Modified A-Main Leg 2 Result
1.(3) Marc Fischer (DE) – Serpent – 25/5:08.675
2.(6) Viljami Kutvonen (FI) – Awesomatix – 25/5:10.304
3.(1) Ronald Volker (DE) – Yokomo – 25/5:11.639
4.(5) Yannic Prumper (DE) – Yokomo – 25/5:15.719
5.(10)Eric Dankel (DE) – Yokomo – 24/5:00.039
6.(8) Marco Kaufmann (DE) – Xray – 24/5:00.360
7.(2) Freddy Sudhoff (DE) – Awesomatix – 24/5:01.696
8.(7) Marc Rheinard (DE) – Tamiya – 24/5:06.268
9.(4) Dominik Fleischmann (DE) – Yokomo – 24/5:06.430
10.(9)Alexander Hagberg (SE) – Xray – 24/5:06.809
Xray Pro Stock A-Main Leg 2 Result
1.(1) Marek Cerny (CZ) – Xray – 23/5:02.229
2.(2) Viljami Kutvonen (FI) – Awesomatix – 23/5:02.762
3.(3) Zdenko Kunak (SK) – Xray – 23/5:04.787
4.(4) Martin Lissau (DK) – Xray – 23/5:05.205
5.(8) Oliver Franke (DE) – HB – 23/5:07.325
6.(5) Dominic Vogl (AT) – Awesomatix – 23/5:08.981
7.(10)Jan Asmer (DE) – Serpent – 23/5:12.555
8.(9) Morten Iversen (DK) – Awesomatix – 23/5:13.299
9.(7) Philipp Neudinger (AT) – 22/5:00.525
10.(6)Steffen Leinburger (DE) – HB – 22/5:01.479
View complete event results here.
View our event image gallery here.
---