January 19, 2013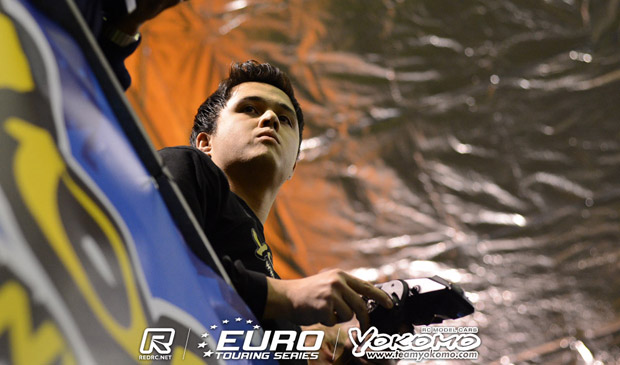 In the 3rd round of qualifying for the Yokomo Euro Touring Series in Hrotovice it was Ronald Volker who set the pace from Team Serpent's Marc Fischer but only after Finnish star Viljami Kutvonen rolled his Awesomatix into retirement while on a blisteringly fast run.  The 20-year-old, who set the fastest lap of the event so far with an 11.999 during his run, clipped the curb in the final 2-minutes of the run launching his A700 into the fast centre section of the track where it was collected by another car. The heavy impact flattened the bodyshell and damaged the rear wing forcing Kutvonen to pull up. Afterwards he said that his nerves led to the mistake and he was really disappointed to throw away the run as the car felt so good.  He plans to take a safer approach to the final qualifier to back up his 3rd in Q2 in the hope he can secure a place in the all important A-Main.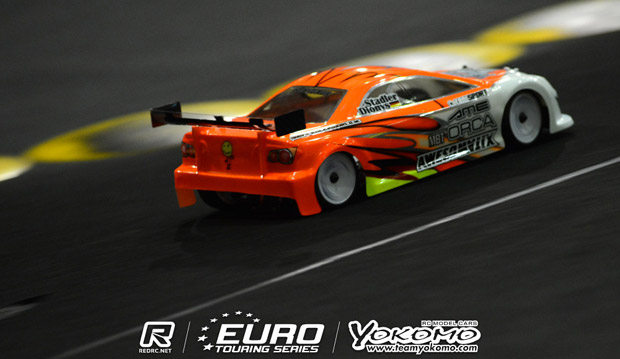 Freddy Sudhoff set the third fastest time ahead of Awesomatix team-mate Dionys Stadler the 16-year old putting in an impressive drive that saw him just 4/10th off the Q2 pace setter.  Despite a coming together with Kyosho's Christopher Krapp on their last lap which cost both drivers time Yannic Prumper ended up 5th fastest ahead of Marc Rheinard.  Overall the third qualifier saw a better performance from the Tamiya team with Viktor Wilck finally producing a Top 10 run with the 8th fastest time but the TRF pairing are still along way off posing any threat for the win this weekend.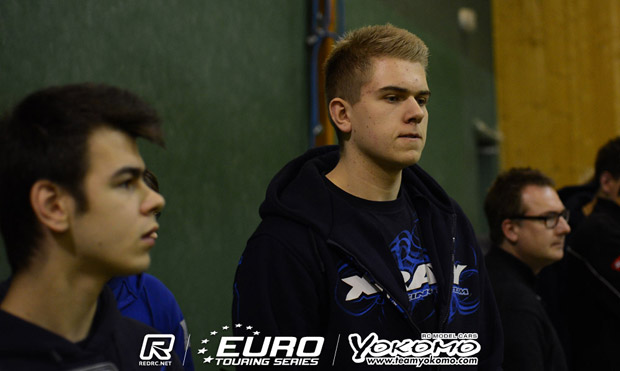 Having experienced the high of taking his first international win last weekend Team Xray's Adrian Berntsen is experiencing the crueler side of the sport today as his run of bad luck continues.  Having stripped a spur gear in Q1 and traction rolled on his opening lap in Q2 which left him way down the order, the talented Norwegian suffered another stripped spur gear in Q3.  Alexander Hagberg was to be the fastest T4 taking his example to 9th ahead of team-mate Zdenko Kunak.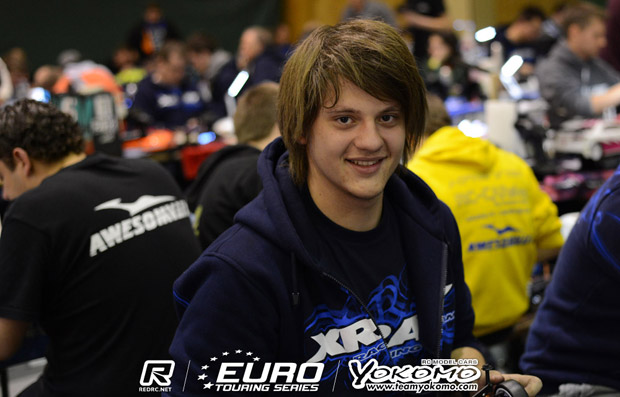 In the Xray Pro Stock class top Czech driver & ETS Gran Canaria winner Marek Cerny posted his second TQ of the event taking Q3 ahead of team-mate Martin Lissau and Q2 pace setter Viljami Kutvonen.  In the Speed Passion Formula class Jan Asmer secured the overall TQ honours as he topped the time sheets for a third time in front of Dai Sakaguchi and defending champion Herbert Weber.  Marc Rheinard set the fourth fastest time with his Tamiya F104 V2.
Ride Modified Q3 times
1. Ronald Volker – Yokomo – 25/5:06.362
2. Marc Fischer – Serpent – 25/5:06.405
3. Freddy Sudhoff – Awesomatix – 25/5:07.657
4. Dionys Stadler – Awesomatix – 25/5:08.059
5. Yannic Prumper – Yokomo – 25/5:08.592
6. Marc Rheinard – Tamiya – 25/5:08.749
7. Dominik Fleischmann – Yokomo – 25/5:09.390
8. Viktor Wilck – Tamiya – 25/5:09.619
9. Alexander Hagberg – Xray – 25/5:09.633
10.Zdenko Kunak – Xray – 25/5:11.581
Xray Pro Stock Q3 times
1. Marek Cerny – Xray – 23/5:02.330
2. Martin Lissau – Xray – 23/5:03.942
3. Viljami Kutvonen – Awesomatix – 23/5:04.696
4. Dominic Vogl – Awesomatix – 23/5:05.516
5. Morten Iversen – Awesomatix – 23/5:06.454
6. Oliver Franke – HB – 23/5:06.596
7. Jan Asmer – Serpent – 23/5:06.862
8. Bernard Bopp – HB – 23/5:07.162
9. Tobias Vogel – Xray – 23/5:07.426
10.Manuel Wagner – Xray – 23/5:07.942
View complete event results here.
View our event image gallery here.
---