January 20, 2013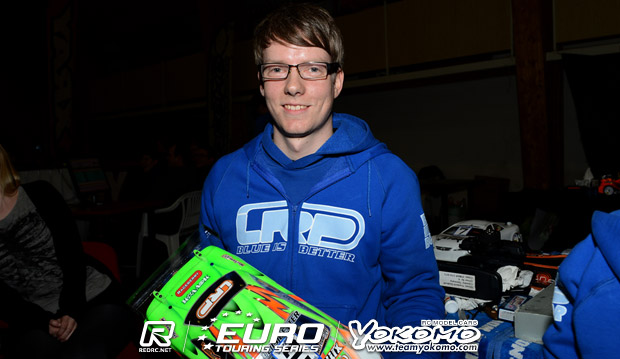 Team Awesomatix's Freddy Sudhoff took advantage of a rare mistake by Team Yokomo's Ronald Volker in the opening leg of the A-Main of the second round of the Yokomo Euro Touring Series in the Czech Republic to take a popular win ahead of his fellow German with Team Serpent's Marc Fischer completing the Top 3.  Top Qualifier Volker caught a dot on the second lap of the race unsettling his BD7 and allowing Sudhoff to pass but 'Fast Freddy' was to earn the win on merit as he pulled clean of the pack setting the fastest lap of the 5-minute race in the process.  While Volker made a late challenge over the final four laps of the race reducing the gap to half a second by the finish he was never a serious treat.
After the race the relief on Sudhoff's face was pretty clear with him summing up his first ETS A-Main final win by saying it was the 'first time all the big pressure of the big guns was on him'.  Having copied the set-up used by his super fast team-mate Viljami Kutvonen for the opening Main, Freddy said his A700 EX was the best it has been all weekend and he paid tribute to how the entire team have worked together in Hrotovice, the Russian company getting two cars in the Mod A-Main and three cars in the Pro Stock A-Main.  Admitting that although he has a slightly better pace than Volker without further mistakes, which are rarely made by the 2-time ETS champion, it is going to be hard to find a way passed the No.1 car.  To top off a great day for Sudhoff he went on to win the ETS Dash for Cash pocketing himself EUR 200 for just two well executed laps of the track in the reverse direction.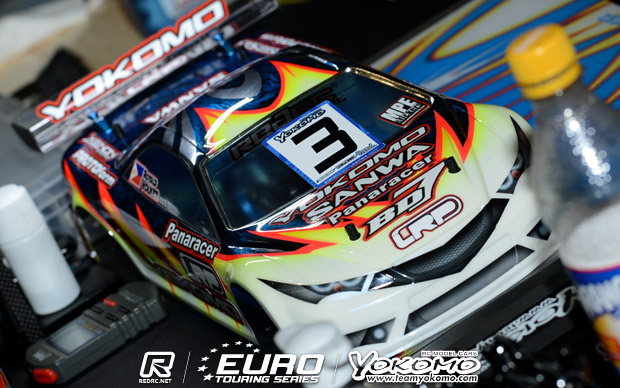 Volker said after he clipped the dot he had no choice but to let Sudhoff passed as trying to hold the position would have led to a pile up and despite giving everything he wasn't able to mount a challenge to take the lead back.  Describing his BD7 as a little difficult to drive, he said his plan for tomorrow is to stay in front and put the pressure back on Sudhoff to find a way passed.
Finishing where he started Serpent's Marc Fischer said it was an easy 3rd place.  The German said his 411 ERYX had a little understeer at the start of the race but after 2-minutes it felt really good allowing him to close for a time on Volker.  Hoping he can get his car to work better from the start of the race tomorrow, Fischer, who has never made an ETS podium before, said he hopes Sudhoff can put enough pressure Volker so that he can capitalise on them slowing each other up.
In the Xray Pro Stock and Speed Passion Formula classes their was little action with the Top 3 finishing as they started. Top Qualifier in Pro Stock Czech driver Marek Cerny took a comfortable win for Xray over the Awesomatix of Viljami Kutvonen who in turn finished 1.8 seconds ahead of defending champion Zdenko Kunak.  Winner of the 2012/13 ETS season opener Jan Amser looks on track for his second win as he dominated the first A-main by a massive 7-seconds from Dai Sakaguchi who held off a challenge from Tamiya's Marc Rheinard.
Ride Modified A-Main Leg 1 Result
1.(2) Freddy Sudhoff (DE) – Awesomatix – 25/5:04.237
2.(1) Ronald Volker (DE) – Yokomo – 25/5:04.741
3.(3) Marc Fischer (DE) – Serpent – 25/5:05.889
4.(4) Dominik Fleischmann (DE) – Yokomo – 25/5:08.091
5.(5) Yannic Prumper (DE) – Yokomo – 25/5:08.431
6.(6) Viljami Kutvonen (FI) – Awesomatix – 25/5:09.274
7.(7) Marc Rheinard (DE) – Tamiya – 24/5:00.060
8.(8) Marco Kaufmann (DE) – Xray – 24/5:00.598
9.(10)Eric Dankel (DE) – Yokomo – 24/5:01.124
10.(9)Alexander Hagberg (SE) – Xray – 9/1:54.722
Xray Pro Stock A-Main Leg 1 Result
1.(1) Marek Cerny (CZ) – Xray – 23/5:03.309
2.(2) Viljami Kutvonen (FI) – Awesomatix – 23/5:05.306
3.(3) Zdenko Kunak (SK) – Xray – 23/5:07.114
4.(6) Steffen Leinburger (DE) – HB – 23/5:07.557
5.(5) Dominic Vogl (AT) – Awesomatix – 23/5:07.994
6.(8) Oliver Franke (DE) – HB – 23/5:09.888
7.(9) Morten Iversen (DK) – Awesomatix – 23/5:10.708
8.(10)Jan Asmer (DE) – Serpent – 23/5:13.222
9.(7) Philipp Neudinger (AT) – Awesomatix – 22/5:00.889
10.(4)Martin Lissau (DK) – Xray – 7/1:36.959
View complete event results here.
View our event image gallery here.
---