March 1, 2013
Team Xray's Alexander Hagberg set the pace in the first timed practice for the 3rd Round of the Yokomo Euro Touring Series in Gran Canaria where it was a Swedish 1-2 with Viktor Wilck taking his Tamiya to the second fastest time over 3-consecutive laps just 15/1000th ahead of Yokomo's Yannic Prumper. Last year's winner Christopher Krapp posted the 7th fastest time while defending champion Ronald Volker was 5th.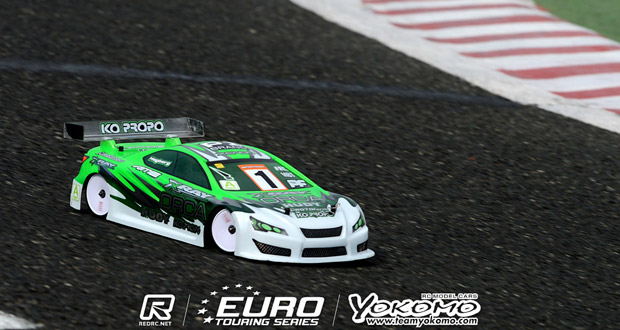 Runner-up on the Spanish holiday island last year, Hagberg said his ORCA powered T4 feels pretty good and once the wind died down he was able to run some good consistent laps.  A rise in wind as the first round of timed practice reached the top heats, caused problems for a number of drivers with Hagberg having difficulty early in his run at the end of the back straight where the tail wind was pushing his car on into the corner.  Overall happy with how his car is working on new tyres, the Snowbirds Champion said he needs to make some very small adjustments for when he is running on used tyres when he starts to suffer from a little understeer.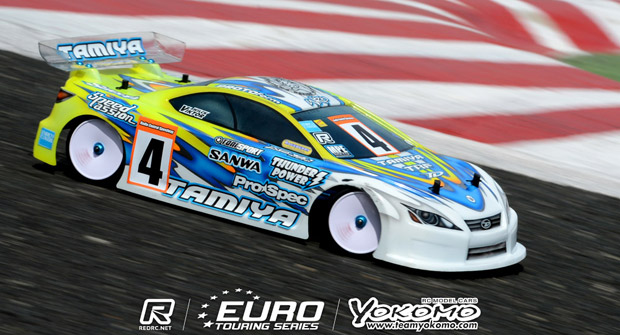 Echoing the sentiments of many of the top drivers that the track has a lower level of grip than yesterday's open practice, Wilck said that while his 3-laps may look good he is not confident that over a full 5-minute run he is not yet competitive.  Looking to make the A-Main for the first time this season after two difficult opening ETS races, he will run a different shock set-up for the final practice.  Team-mate Marc Rheinard, who is having one of his longest runs without any wins, set the 6th fastest time with the German saying he needs to find a better set-up for his Much More powered TRF417 for the low grip conditions.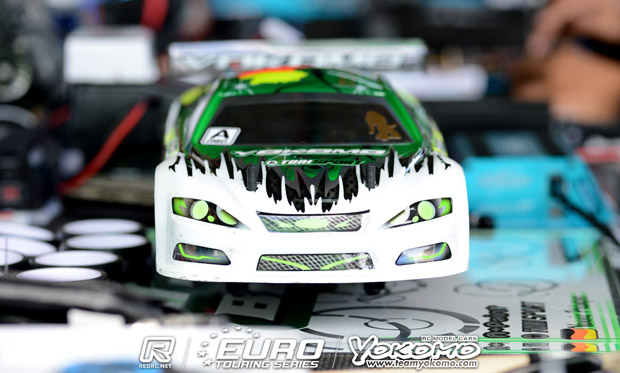 Prumper was content with his pace in the first timed practice as was team-mate Volker, for whom this event was nothing less than a disaster 12 months ago.  3/10ths off Hagberg over 3-laps, the winner of the opening two races of the season ran a different additive for his first timed run which he said was not as good as the one he used in the morning but overall he added his LRP powered BD7 feels good and is allowing him to run very consistent laps.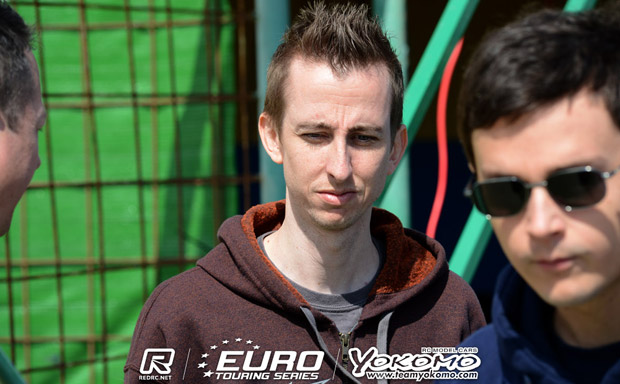 Setting the 4th fastest time, HB's Andy Moore described the feeling of his TCXX as 'not too bad but nothing special'.  Suffering the effects of jetlag today, the former world Champion one of a number of top drivers here this weekend who raced at the TITC in Thailand last weekend, he said the balance of the car which features a new shocks and shock towers is pretty good but due to the lower traction he ran too hard a shock set-up.  Also running a new motor from Hobby Wing, Moore will run a softer shock oil for the 2nd timed practice.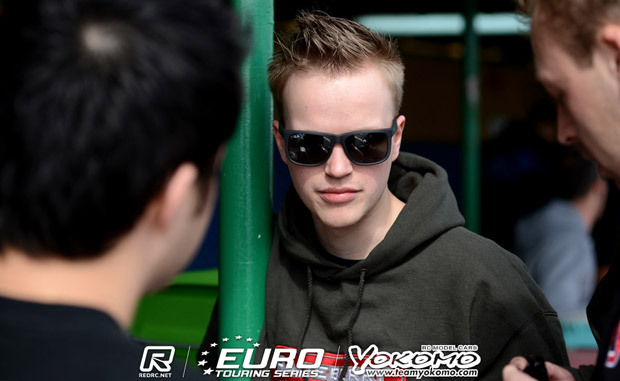 Doing his run on used tyres, Krapp said his time was actually OK considering how the conditions have changed, the Kyosho driver having particular issues with the wind.  Happy with how his Orion powered TF6 is working on new tyres he said he needs to find a small set-up improvement for when he is running used tyres.  With only two sets of controlled Ride tyres available for the five scheduled rounds of qualifying it is important to have a good set-up also for used tyres.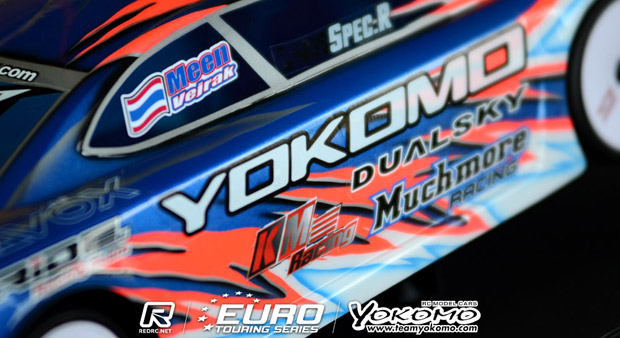 Behind Krapp, Nitro Touring Car World Champion Meen Vejrak set the 8th fastest time.  Making his ETS debut this weekend, the Yokomo team driver who in nitro races for KM Racing said he did the run without using tyre warmers but it left his BD7 suffering with understeer.  Happy with his pace in the two untimed morning practice runs the Thai driver will go back to heating his tyres for the last round of practice.  Behind Vejrak, Serpent's Marc Fischer posted the 9th fastest time with French Yokomo driver Loic Jasmin completing the Top 10.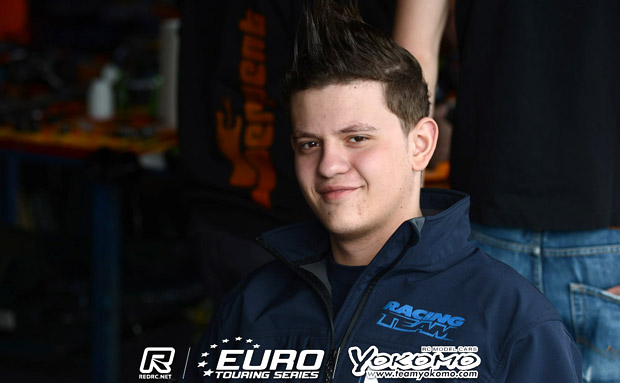 In the Xray Pro Stock class, last year's Gran Canaria winner Marek Cerny set the pace with his Xray ahead of series returnee & fellow T4 driver Bart Wubben.  The venue of his first ETS win, Cerny was 9/10ths faster than his rivals despite suffering a problem with his speedo which ended his run early.  The Czech driver, who claimed his second ETS win at Round 2 in Januray, said his chassis set-up was perfect with the car really easy to drive.  Debuting Schumacher's all new Mi-5, which as it is still in prototype phase we have been asked not to photograph, former Champion Martin Hofer set the 3rd fastest time followed closely by Toni Mateo, who is one of the people responsible for bringing the ETS to Gran Canaria.
View the event image gallery here.
---