March 3, 2013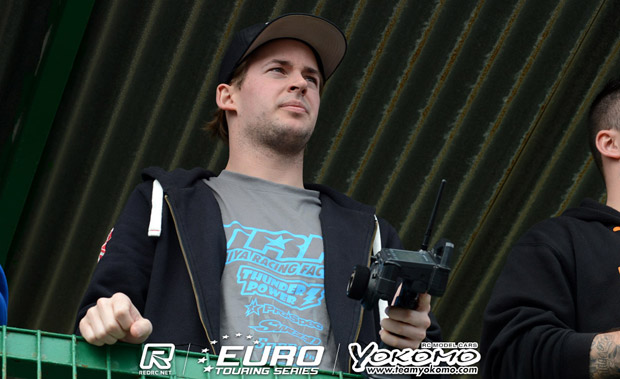 Tamiya's Viktor Wilck took an unchallenged tone to tone win in the first A-Main at the Euro Touring Series in Gran Canaria but the big talking point of the race was to be an incident between defending Champion Ronald Volker and Marc Rheinard while the two rivals were battling over second position.  At the end of the 5-minute encounter Xray's Alexander Hagberg claimed second ahead of Andy Moore who benefited from a late coming together between Yannic Prumper and last year's winner Christopher Krapp.
Top Qualifier for the race, Wilck was happy that he could convert his number 1 starting posting into a win but said the high winds at the circuit today made for difficult driving conditions blowing a lot of dust on to the track and making for low traction even on new tyres. Following the tactics witnessed in qualifying when driver's sat out heats to save tyres a decision was made last night to allow all A-Main finalist to buy three brand new sets of Ride tyres so as the race would not be decided on tyres strategy. In the closing stages of the race Wilck's advantage started to reduce as Hagberg closed to within 9/10ths. Admitting that his fellow Swede had a faster car in the latter part of the race, Hagberg's best lap of the race being 2/10ths faster than his, Wilck said he switched to safe mode for the final laps as he knew if he kept them mistake free it would be enough to hold onto to his lead.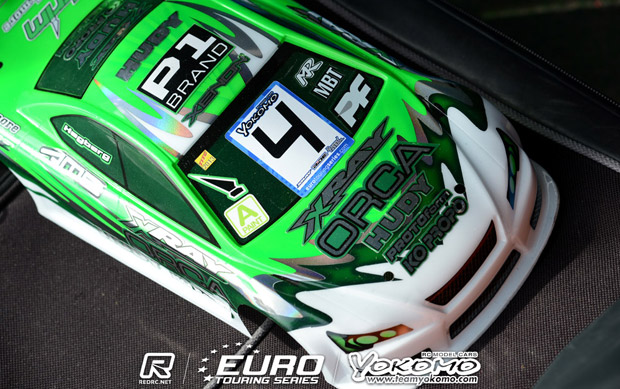 Starting from 4th on the grid and getting passed by Rheinard at the start, Hagberg was delighted with his run to second.  The Snowbirds Champion said his T4 was 'horrible'  at the start compounded by the wind which made it difficult to drive but once the tyres came in he was able to set about closing in on Wilck.  Hoping for a better start in the second Leg the Swede is determined to claim his first podium finish of what has been so far a tough start to the 2012/13 ETS season.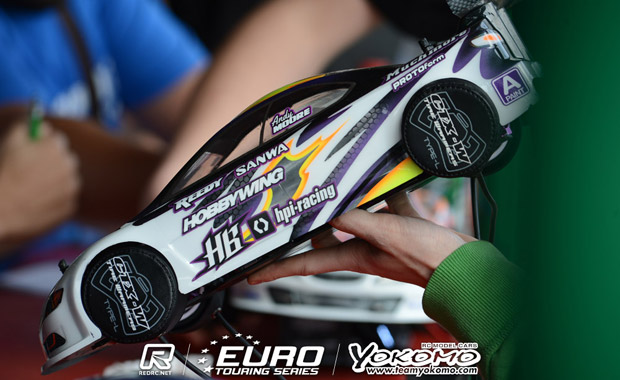 Making the A-Main for the first time this season, HB's Andy Moore said his car was undriveable at the start of the race dropping him from his 7th spot starting position back to last.  Improving slightly as the race progressed the former World Champion said he just stayed out of trouble battling the wind more than anything else and suddenly he found himself up into fifth and then on the penultimate lap up to third when Krapp ran into the back of Prumper as they battled over third.  Starting from 8th Krapp was clearly annoyed with himself for hitting his fellow German saying it was a 'stupid mistake' and he just pushed too hard.  Waiting for the recovering Prumper, Krapp who said his Kyosho was working really well would finish 6th behind Prumper who said it was 'bad luck' that he got hit after such a good battle.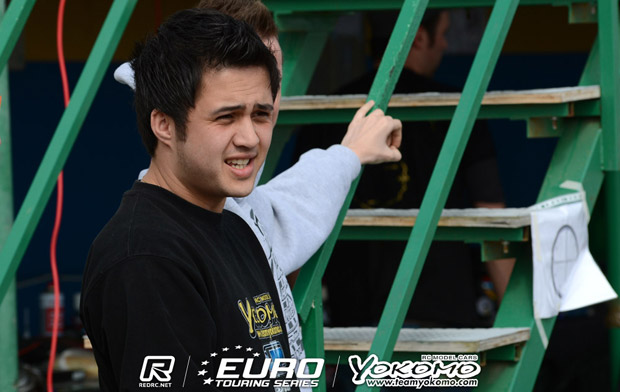 Commenting on the incident that would see him finish last having started 2nd on the grid, the very diplomatic Volker said he did 'see any fault from his side' in causing the accident.  Admitting that Rheinard was slightly faster he said he was able to cover his line and race fairly but 'as can be seen by my wing he hit me quite hard'.  The rear wing on the LRP powered BD7 looking rather second hand.  Rheinard said the incident looked really bad on him but believes it was not 100% his fault as Volker ran on the curb and lost forward traction which was something he could not predict as he took his regular line and breaking point at the next corner.  Setting the fastest lap of the race, the 3-time World Champion said his Muchmore powered TRF417 V5 felt really fast and encouraged by this he is looking forward to an incident free second race.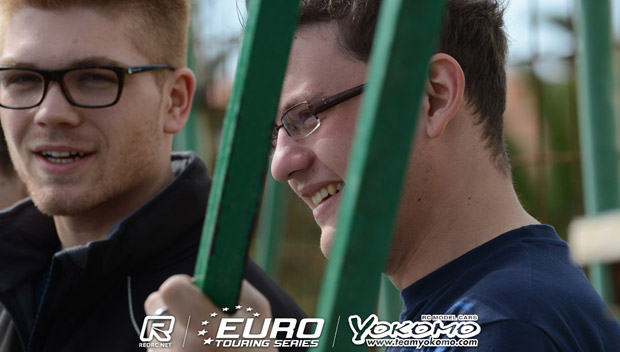 In the Xray Pro stock class Marek Cerny took the win but the Xray driver came under pressure from Awesomatix' Viljami Kutvonen before the Finn rolled on lap 10 dropping him back to third.  Closing back in on Yokomo driver Olivier Bultynck who took over second Kutvonen would put a great pass on Belgian on his penultimate lap to finish were he started.  For defending and former champions champion Zdenko Kunak and Martin Hofer the race would see both retire as a result of the same opening lap incident.
Ride Modified A-Main Leg 1 Result
1.(1) Viktor Wilck (SE) – Tamiya/Speed Passion – 16/5:03.487
2.(4) Alexander Hagberg (SE) – Xray/ORCA – 16/5:04.324
3.(7) Andy Moore (GB) – HB/Hobbywing – 16/5:07.975
4.(5) Marc Rheinard (DE) – Tamiya/Muchmore – 16/5:08.499
5.(3) Yannic Prumper (DE) – Yokomo/Muchmore – 16/5:09.803
6.(8) Christopher Krapp (DE) – Kyosho/Orion – 16/5:10.222
7.(6) Marc Fischer (DE) – Serpent/Thunder Power – 16/5:10.569
8.(9) Adrien Berntsen (NO) – Xray/ORCA – 16/5:12.047
9.(10)Loic Jasmin (FR) – Yokmo/LRP – 16/5:12.288
10.(2)Ronald Volker (DE) – Yokomo/LRP – 16/5:15.286
Xray Pro Stock A-Main Leg 1 Result
1.(1) Marek Cerny (CZ) – Xray – 16/5:20.160
2.(2) Viljami Kutvonen (FI) – Awesomatix – 15/5:06.023
3.(4) Olivier Bultynck (BE) – Yokomo – 15/5:06.159
4.(9) Toni Mateo (ES) – Yokomo – 15/5:13.939
5.(5) René Klöckner (DE) – Yokomo – 15/5:14.007
6.(7) Trin Tanongsakchaikul (TH) – Yokomo – 15/5:17.356
7.(10)Alvaro Fernandez (ES) – Tamiya – 13/4:27.116
8.(3) Zdenko Kunak (SK) – Yokomo – 6/1:58.020
9.(8) Bart Wubben (NL) – Xray – 4/1:14.724
10.(6)Martin Hofer (DE) – Schumacher – 1/0:03.997
View complete event results here.
View the event image gallery here.
---