January 31, 2014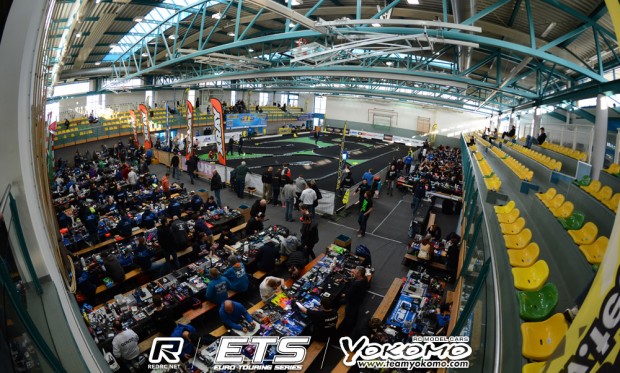 Host – ETS
Country – Germany
Location – Muelheim-Kaerlich
Venue – Philipp-Heift Halle
Track type – Temporary
Surface – Carpet
Direction – Anti-Clockwise
Previous ETS races hosted – 2
Hosting its third Euro Touring Series race this weekend, Muelheim-Kaerlich first made its appearance on the schedule in October 2011. The opening round of the series for the previous two seasons this year the race is the second date on the six round calendar.  While the other five races are all hosted by clubs, this race at the 1344 sq metre Philipp-Heift Halle sports hall is the only event which is 100% organised by the ETS itself.  Attracting a record entry, with the pits full of first time ETS racers, every corner of the hall has been utilised to cater for the 300 plus drivers.
Set out on an area 34m wide and 20m deep, this weekend sees the debut of the ETS' newly purchased Azetx track system.  Having successfully worked with the Polish company that manufacture the click together track system at the first two rounds of this season's  Euro Offroad Series, the ETS has acquired its own kit which will from this event on be used to create the track at all indoor carpet rounds of the series.  Another new feature of the track is the use of black carpet.  Having used black carpet the first time it visited Muelheim-Kaerlich but suffering gluing issues with the carpet, the black glue required for the dark surface struggling with the heat generated by the tyres, last year they reverted to the more traditional grey colour carpet more commonly seen at indoor racing.  This year however thanks to the help of the organisers of the GP3F race in Longwy, France, the black carpet is back.  Having run black carpet at their race for many years the MRC Longwy club helped the ETS organisers to source a much heavier version of the black carpet which is able to withstand the punishment it gets from the friction generated by the RIDE tyres.
Easily the best presented indoor track yet in the ETS' 7 seasons of existence, Race Director Scotty Ernst described the track, which has a 3m wide infield and 4m wide straight, at 'fast and flowing'.  Lap times for the RIDE Modified class are expected to be in the region of low to mid 13 seconds.
Image Gallery
---