June 8, 2014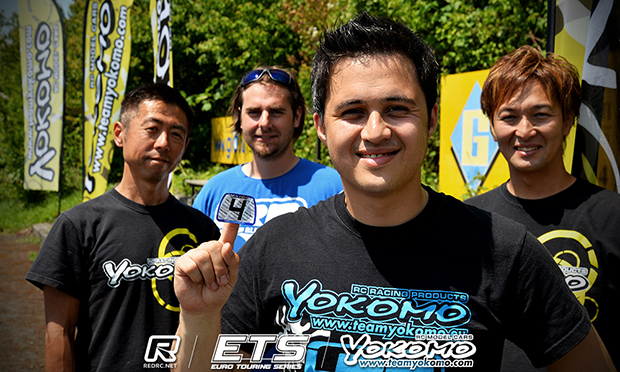 Ronald Volker has claimed his fourth consecutive Yokomo Euro Touring Series title securing the world famous championship's top prize with victory at the penultimate round in Luxembourg. His 11th ETS race win, the Yokomo driver would back up his A1 win at the spectacular Mini Circuit "Ville de Luxembourg" track with another tone to tone win in the second encounter which started out looking like Marc Rheinard might take things to A3. Ultimately once the race passed a minute & a half however Volker would pull clear to wrap up his third win of Season #7. Behind Rheinard, Lucas Urbain would hold on to his starting position this time round to complete the Top 3.
'Amazing' was Volker's reaction to his latest title. Having in the past struggled on asphalt and secured his titles thanks to his domination of the early part of the season on carpet, he said his team's improvement on asphalt this season was key to the title. Widely regarded as currently being the best electric touring car driver in the world, the German suffered his worst finish on carpet this season, a 3rd at Round 2, but during the last two asphalt outings commanding victories eliminated one by one the number of rivals that could challenge him for the title. Xray's Alexander Hagberg was the only driver left coming in the Luxembourg race who could have made the title go to the final race. Despite this being his 4th back to back title he said 'Every year is alway hard work' and even though he has achieved his goal he is no less motivated for the season finale at the Hudy Arena which he said is 'in my opinion' one of the best tracks in the world. A World Championship year, a title that has eluded him, he said they cannot afford to get complacent but added with Yukijiro Umino's 'passionate support' and hunger to always improve that wasn't going to happen.  Thanking his engineer for his suppor he also praised his electronics sponsor LRP for 'what we have now'. Commenting on A2, he described it as 'exciting' saying the pressure in the first minute felt similar to that which he faced in Austria also in A2 from his team-mate Yannic Prumper. A problem with one of the cups on his tyre warmer not working, which Umino decided against informing him about before the race, left him struggling for the first 6 to 7 laps particularly out of left hand corners as he struggled getting on power. Once the cold tyres came up to temperature he said he was then able to open up a gap and pace the rest of the race.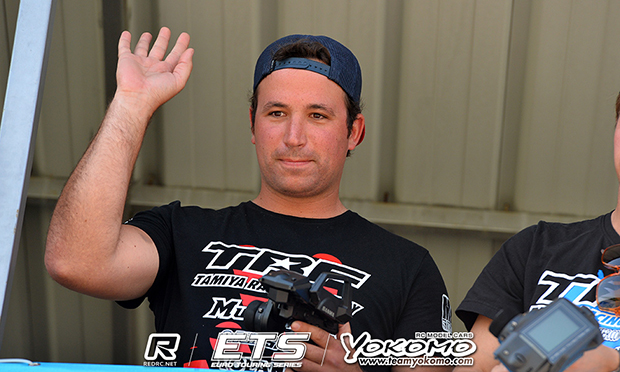 'I tried' was how Rheinard's summed up the race. The Tamiya driver almost got through on the main straight but 'backed off so as not to crash' continuning 'had it been a minute to go rather than the first minute of the race (he) would for sure have been more aggressive'. Set to start A3 from the front as Volker will sit it out, he said his focus is to get the leg win & second overall as he looks to overhaul Hagberg for second in he championship standings. A frustrating season for the series most winning driver, he said this race was always more about testing for the World Championship as he was already out of the title chase. With Volker and Yokomo clear favourites for the World Championship he said this and the next ETS race are the best places for the defending World Champion team to gauge themselves against their rivals adding they have work to do. The entire Tamiya team will stay on in Luxembourg Monday & Tuesday for testing which he said he hopes will result in him being competitive enough to end the ETS season in Slovakia with a win. Should he fail to achieve that it would be his and Tamiya first ETS campaign without a single victory.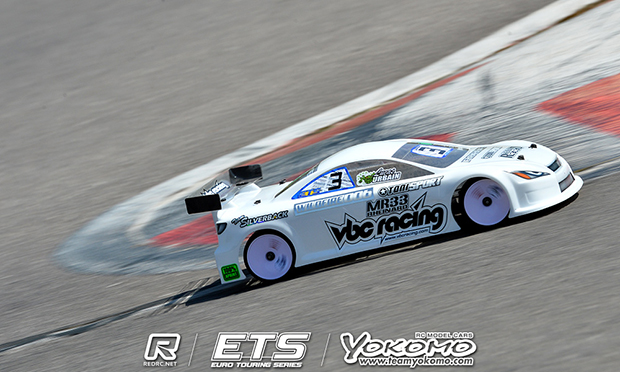 Happy to maintain his position, Urbain said it was a difficult opening lap as he was 'so slow' and he 'feel(s) a responsible for Jilles (Groskamp) and Viktor's (Wilck) coming together'. Using tyre warmers for A2, he said his VBC was much better off the line than in A1 but his driving was not. Describing Groskamp as a 'gentleman' for not risking the move on him at the hairpin which cost the Dutchman any chance of a good result, he said once he got a few laps under himself he was able to cruise. Having adjusted the timing on his motor due to the hotter conditions of the second encounter he said he went a little too much and he was lacking a little speed as a result. Planning to put it back to the A1 setting for the closing, he said he hopes to put in a better opening lap and to be able to battle it out for a podium finish at his home race.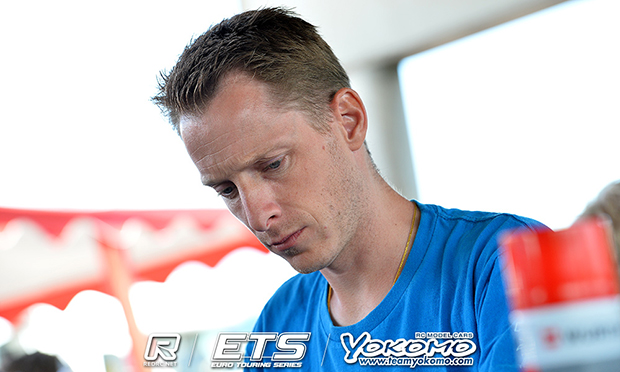 Groskamp, who after suffering a body tuck when team-mate Wilck ran into the back of his TRF418 on the entry to the hairpin finished 6th, said afterwards that he was maybe a little too nice to Urbain. With a podium finish on the line at a track where he won his 2009 European Championship title he said he will be looking to get past the No.3 car as soon as possible this time round.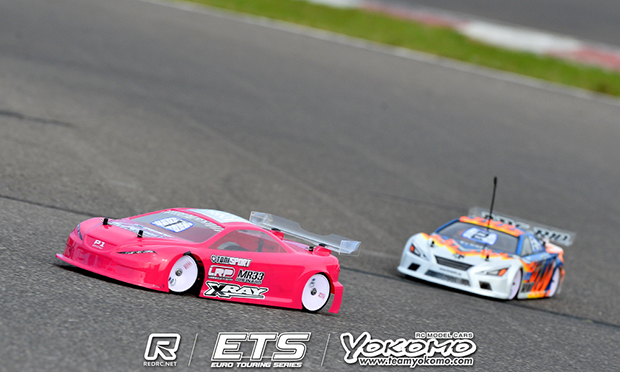 Once again the Xray Pro Stock class provided the best of the A-Main action with Marek Cerny and Lars Hoppe going at it for a second time. A mistake by Top Qualifier Cerny at the end of lap 1 in the same downhill chicane where Hoppe snatched the A1 win allowed the German past the Champion's Xray. On lap 6 however an error in the track Laguna Seca corner from the ARC driver allowed Cerny back to the front where he would stay to the end, setting the stage for a great A3 decider. In Formula Olivier Bultynck found a way past Top Qualifier David Ehrbar to take the win from Champion Jan Ratheisky and claim his first overall win of the season.
Ride Modified A-Main Leg 2 Result
1.(1) Ronald Volker (DE) – Yokomo – 16/5:02.327
2.(2) Marc Rheinard (DE) – Tamiya – 16/5:02.722
3.(3) Lucas Urbain (FR) – VBC Racing – 16/5:06.836
4.(6) Loic Jasmin (FR) – Yokomo – 16/5:07.299
5.(7) Alexander Hagberg (SE) – Xray – 16/5:09.437
6.(4) Jilles Groskamp (NL) – Tamiya – 16/5:11.757
7.(8) Elliott Harper (GB) – Team Durango – 16/5:16.048
8.(5) Viktor Wilck (SE) – Tamiya – 15/4:59.036
9.(9) Leo Arnold (FR) – Team Magic – 15/5:05.058
10.(10)Christopher Krapp (DE) – Kyosho – 12/3:54.350
Xray Pro Stock A-Main Leg 2 Result
1.(1) Marek Cerny (CZ) – Xray – 14/5:02.428
2.(2) Lars Hoppe (DE) – ARC – 14/5:02.496
3.(4) Martin Hofer (DE) – Schumacher – 14/5:06.314
4.(3) Mike Gosvig (DK) – Awesomatix – 14/5:07.533
5.(6) Gilles Choque (LU) – Xray – 14/5:07.670
6.(7) Jan Ratheisky (DE) – Xray – 14/5:08.792
7.(8) Henrik Heitsch (DE) – ARC – 14/5:11.209
8.(5) Julian Borowski (DE) – Serpent – 14/5:11.576
9.(9) Max Machler (DE) – Awesomatix – 14/5:12.348
10.(10)Joe Streff (LU) – Xray – 14/5:13.980
View the complete event results here.
View our event image gallery here.
---