December 4, 2016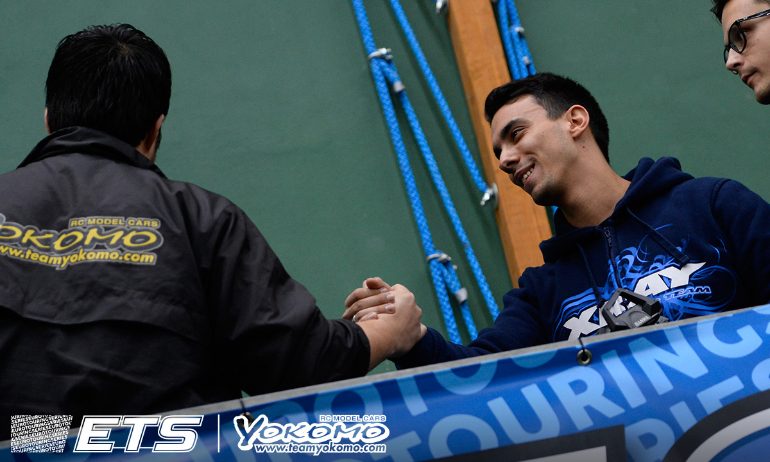 Having been on a different level from the first qualifier at the season opener of the Yokomo Euro Touring Series in the Czech Republic, Bruno Coelho leaves Hrotovice with maximum championship points after securing the overall win with another dominant performance in A2.  Top Qualifier for the event where he made his ETS & carpet racing debut 2-years ago, the Xray driver made light work of his opposition with a repeat of Saturday night's easy A1 victory.  His sixth ETS race win, the result is particularly important to Coelho who openly admits carpet is not his favourite surface. While Coelho checked out, winning the second encounter by 2.5-seconds, there would be two entertaining battles behind him with Ronald Volker and Viljami Kutvonen scrapping for second, Kutvonen coming out on top.  The other battle was for fourth with Marc Rheinard managing to keep the faster Alexander Hagberg from finding a way past.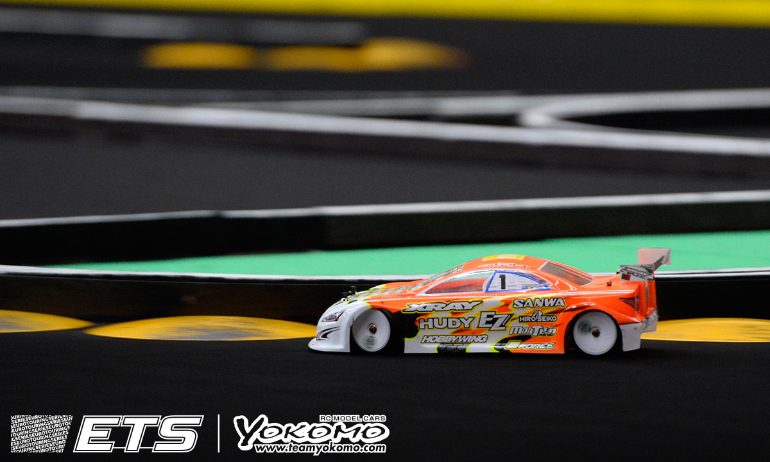 A race where he just made it into the A-Main on his first attempt and then finished on the podium last year, Coelho said on taking what is only his second ETS win on carpet, 'I don't have so much to say, the car was great again and I made no mistakes'.  He continued, 'For this is a super important beginning to the season as carpet is not my favourite, I am much happier racing on asphalt, but coming from 3rd last year to TQ & win is really good.  It's a long season but this has been a good way to start it'.  In terms of his Hobbywing powered T4 2017, which was clearly a step ahead of his rivals in terms of its performance in what most drivers described as 'strange' track conditions, the Portuguese ace said, 'we were super prepared for this weekend as we did a lot of testing at the Hudy Arena and this stood to us.  We also tested some new parts there which we did not use here so it is very encouraging for us for the future that we already have this pace'.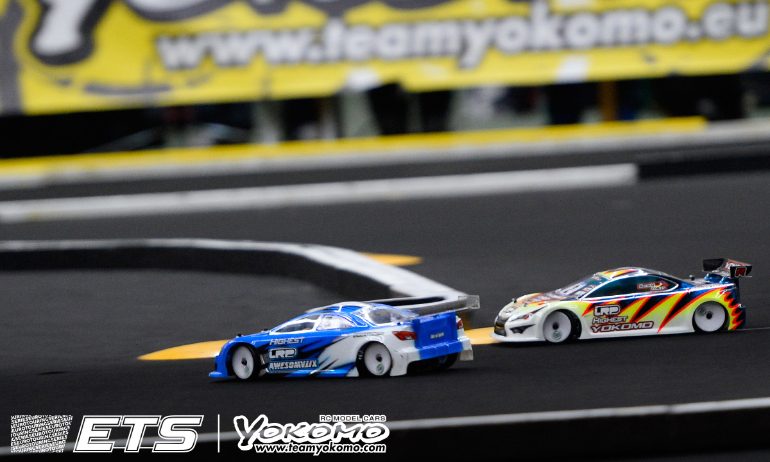 'Much better now' was how a very satisfied looking Kutvonen summed up finishing 2nd ahead of Volker.  Having been unhappy with his Awesomatix in last night's opening final, dropping to P4 from 3rd on the grid, the Finn made 'a lot of changes' to his LRP powered A800's set-up. In with a strong fighting chance of second overall in Hrotovice, a result that would match his best ETS finish when he took second in Riccione last season, he said, 'we need to overtake Ronald again' in the closing final.  While happy with his car, being the closest to Coelho in terms of fastest lap times, he said, 'maybe I will make a little (set-up) change to try to get a little extra pace', his best lap only 0.049 of a second off Coelho's.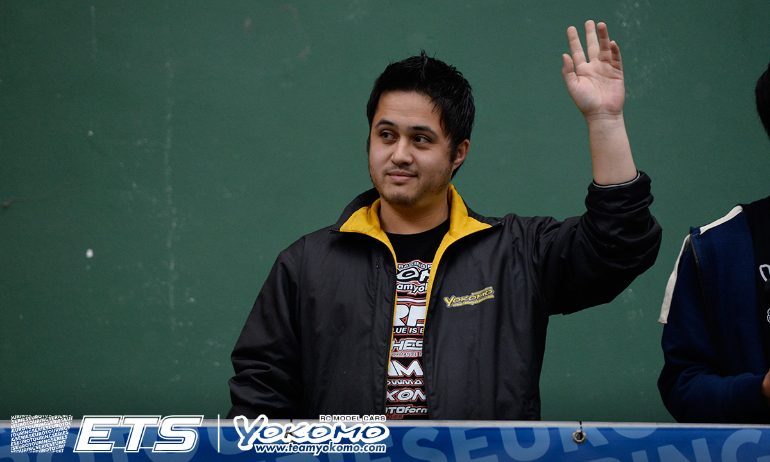 World Champion Volker said finishing 3rd in A2 was 'definitely not what I wanted'.  He continued, 'we tried to get more steering for A2 to close the gap but that left me with a loose car at the beginning so Bruno pulled away and Viljami got by'.  Kutvonen was helped by an error from the 5-time ETS Champion on lap six when the Yokomo driver sled wide and hit a dot at the chicane.  From the middle of the race, the German said his LRP powered BD8 'got better and (he) was able to close in to Viljami' but with the track 'difficult to pass' he 'couldn't get by in time'.  For the concluding final he will change the car's set-up to 'more similar to A1'.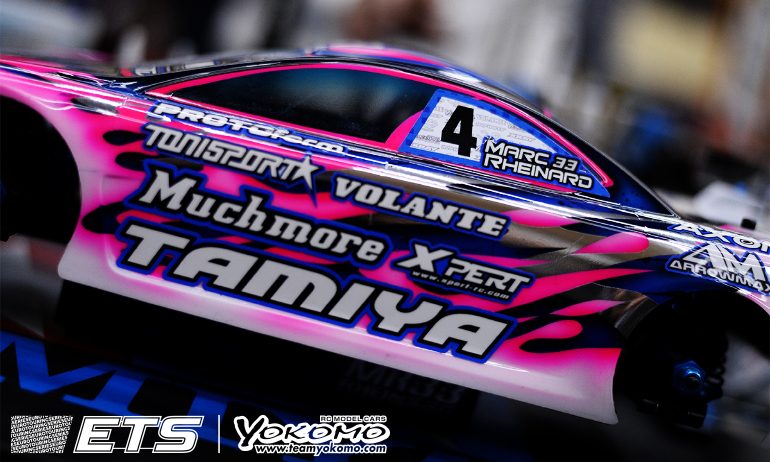 Third in A1, switching to a stiffer top deck on his Tamiya Rheinard said the car 'pushed more and more' and he 'wasn't able to catch up (to the second place battle)' adding 'it was just too slow'.  Like Volker he plans to go back to his A1 set-up, last year's winner hoping he can somehow salvage a podium finish .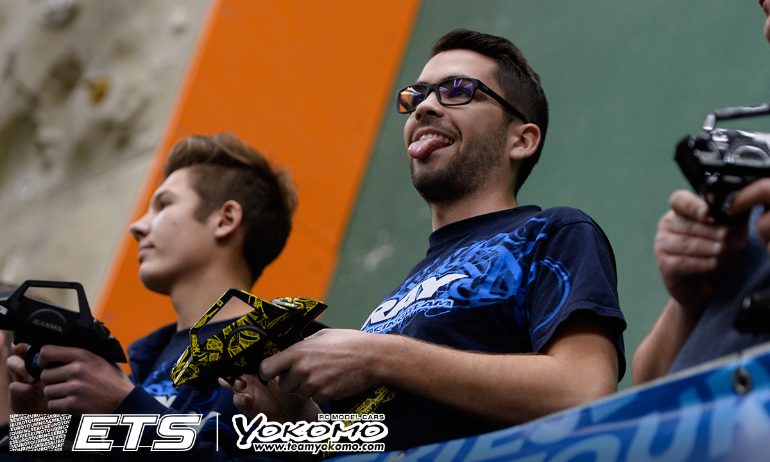 In the Xray Pro Stock class ETS debutant Alexandre Duchet marked himself out as a surprise title contender as he wrapped up the overall win with another victory in A2.  Capitalising on an early error from Top Qualifier Christian Donath and contact between Olivier Bultynck and Noah Asendorf, once in front the French driver put in an impressive drive controlling the race to win by 1.5 seconds from fellow Xray drivers Asendorf and reigning champion Jan Ratheisky.  23-years old, Duchet only took up touring car racing this season having previously raced Mini-Zs for 2-years.  In the Scorpion Power System Formula class the overall win was also decided in A2 with Top Qualifier David Ehrbar doing a Mercedes F1 on it and leaving the field in his wake, number 2 starter Olivier Bultynck finishing over 3-seconds back.  The win marks the Serpent designer's first ES win on carpet.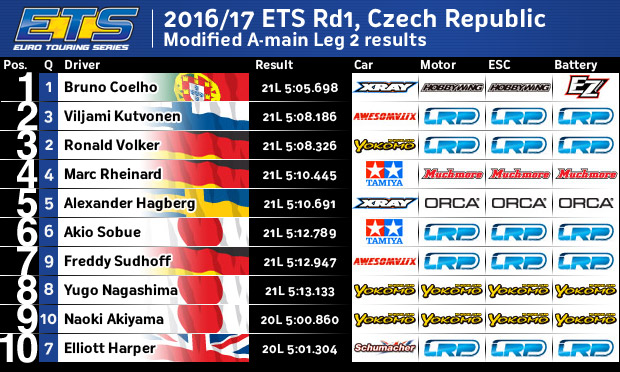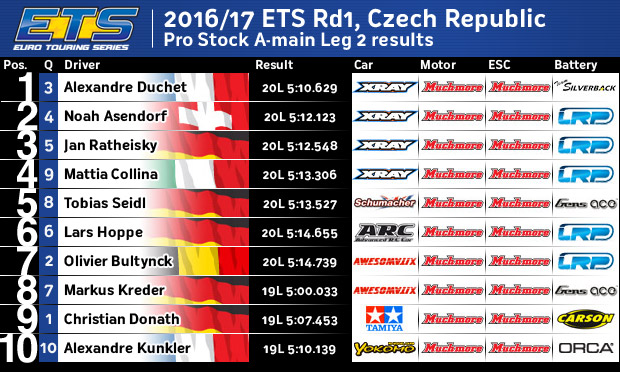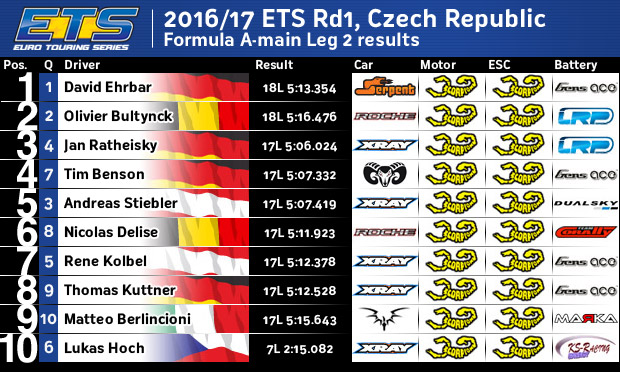 View the complete event results here.
View the event image gallery here.
---