December 4, 2016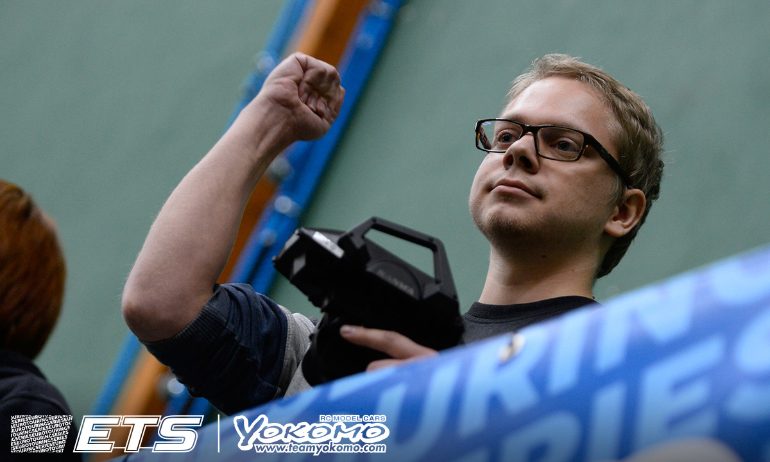 With Bruno Coelho dominating the season opener of the Euro Touring Series in the Czech Republic it was Viljami Kutvonen who was to prove best of the rest.  Qualifying third for the Hrotovice event, the Awesomatix driver would again get passed the No.2 starting Ronald Volker to win the closing final to claim second overall behind Coelho, it his first time to a ETS carpet podium finish.  For Volker, finishing A3 in second would leave the World Champion to complete the podium, his third place the lowest finishing position the 5-time champion has opened a new season of the ETS with. With Coelho sitting out A3, Marc Rheinard would somehow manage to hold off Alexander Hagberg but the result was not enough for him to make the podium on his final outing with TRF, a relation that has run for an amazing 22-years.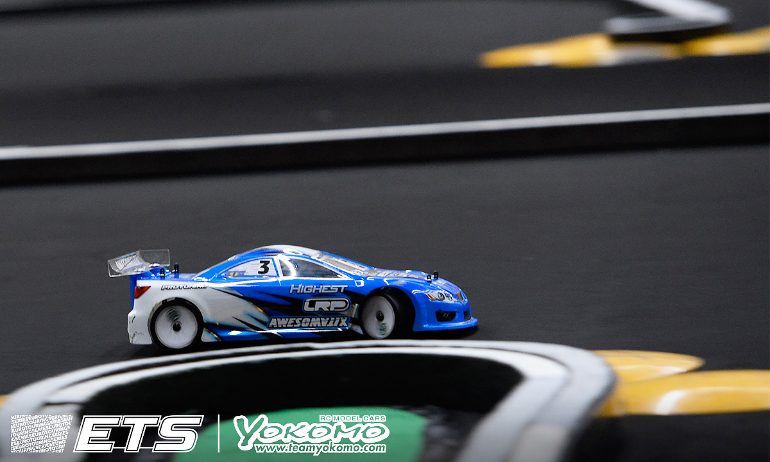 'I got the result I wanted from the last final', was a very happy Kutvonen's reaction after a great drive to keep Volker at bay.  The Finn, who really came to the fore in last season's ETS claiming two podium finishes, said, 'I think 2nd was the maximum we could have got this weekend.  I think everyone agrees Bruno was in his own league so I'm happy to take 2nd'.   A great start to Season#10 for the driver who finished 5th in the standings last season, looking to the rest of the championship he said, 'we will try to keep improving and our goal of the season must be to catch up with Bruno.  He is so fast'.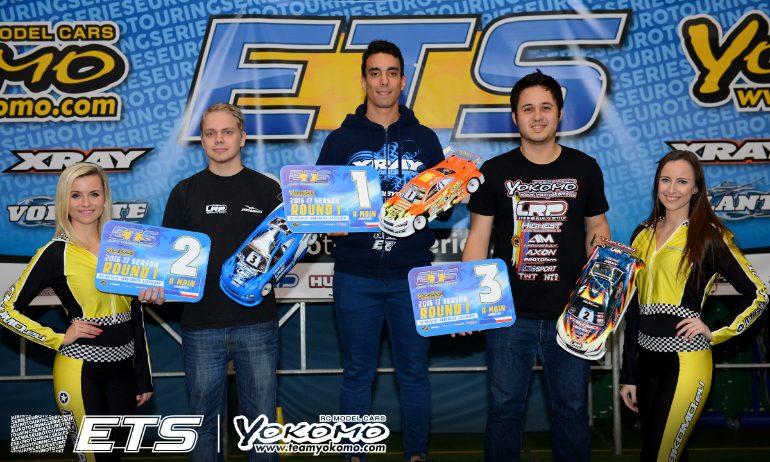 Volker said while his BD8 was 'better for A3 it was still edgy to drive'.  Leading for five laps he would 'almost traction roll' the car getting up on two wheels but while he would save it, on landing he said, 'I didn't have the traction and Viljami couldn't avoid hitting me'. Resuming behind Kutvonen he said, 'I charged hard to get the extra point (for 2nd overall) and put him under a lot of pressure but he resisted it'.  Summing up his performance, the 13-time ETS race winner said, 'I didn't have the opportunity to test as much for the start of the season this year as my local track closed but as Arena 33 opens in January and it is only 1-hour from my home so there will be more opportunities to test'.  He concluded, 'I am maximum motivated now to get back on top'.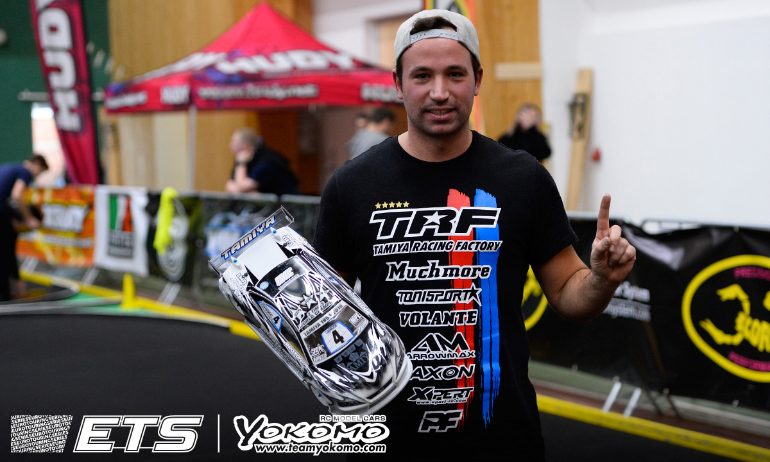 Starting A3 with a special bodyshell to mark the end of partnership that started in 1994, Rheinard said 'I think my tyres were done.  I went slower and slower and couldn't get the podium'.  Acknowledging his battle with Hagberg, he said 'Alex drove a nice race and he didn't attack too much'.  Racing for the ETS' most winning manufacturer, it amassing 21 wins from the 52 races to-date and three championship wins including the inaugural title, Rheinard said it was important personally for him to mark his final race with TRF and he asked his body painter Takashima Design to come up with a design and once off colour change.  Starting out racing with a Tamiya at 8-years of age, he signed his first official factory contract in 2005 having secured the first of three Touring Car titles he would bring the iconic Japanese rc brand. Claiming 14 wins and 12 TQs over the last 9 seasons of the ETS, the Season#3 Champion's loyalty to Tamiya has been unique to the sport.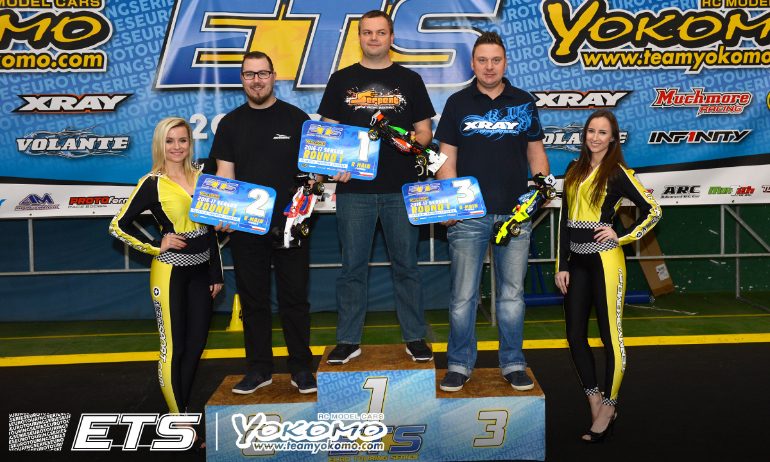 In Pro Stock and Formula, A3 was also about deciding who would complete the podium, new star Alexandre Duchet taking the overall Xray Pro Stock win and David Ehrbar the Scorpion Power System Formula win.  In Formula Olivier Bultynck would take a tone to tone win to secure second while second in A3 gave René Kölbel third overall.  Pro Stock was a more fraught affair with Bultynck the eventual winner after a number of incidents including Top Qualifier Christian Donath getting pushed out of the lead by Noah Asendorf.  In the end Donath recovered for third behind Lars Hoppe to secure second overall with Asendorf completing the Round 1 podium.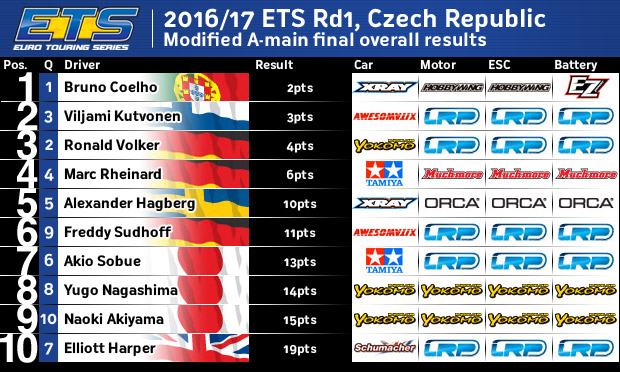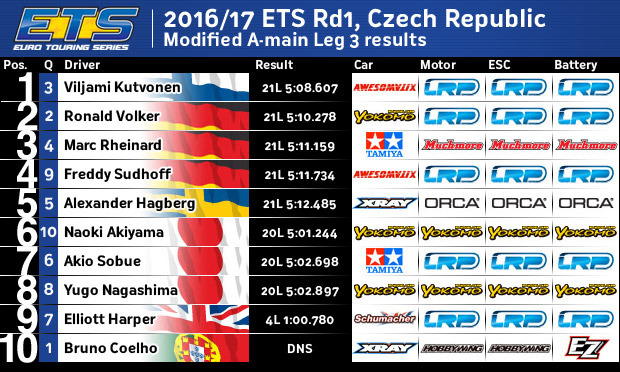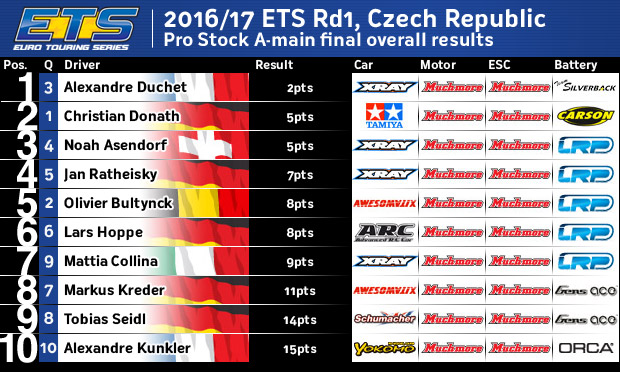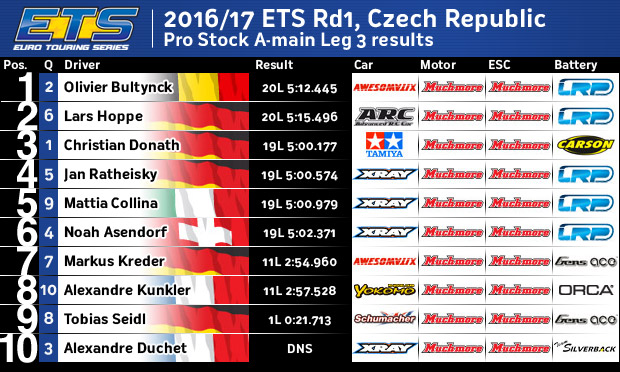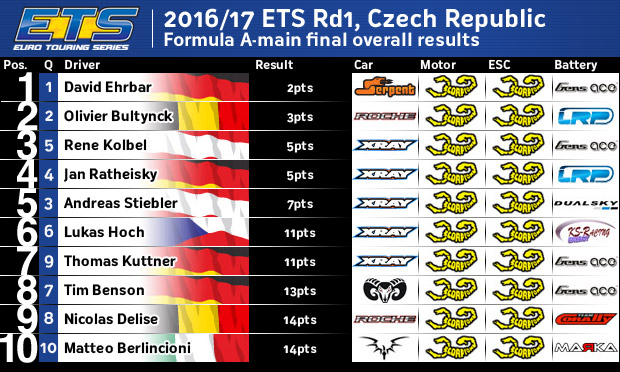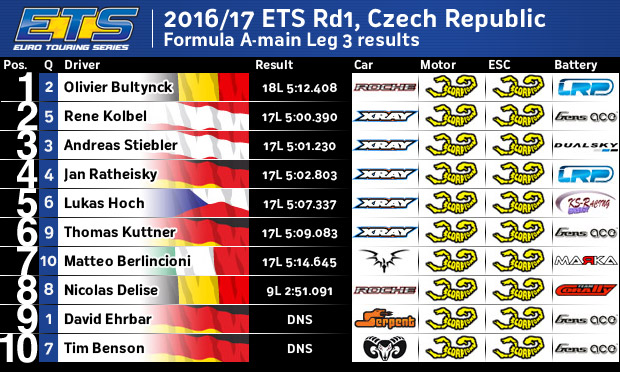 View the complete event results here.
View the event image gallery here.
---