October 10, 2008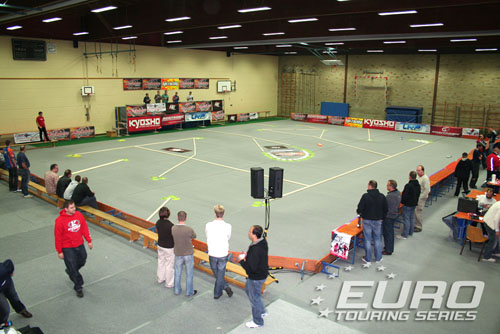 The 2008/2009 Euro Touring Series is go here in Kastellaun, Germany, with official practice underway for the large entry who have travelled from across Europe to contest the opening round of ETS second edition.  Enjoying continued support from Much More, Hot Bodies and Speed Passion,  heading the field at the indoor carpet track are defending champions Jilles Groskamp from The Netherlands and Germany's Alexander Stocker.  Groskamp was a winner twice in the 07/08 Series on his way to the Modified title but was absent from this event last year.  Out to get his title defence off to the perfect start, the full time racer will be looking to add a Kastellaun victory to his already impressive CV.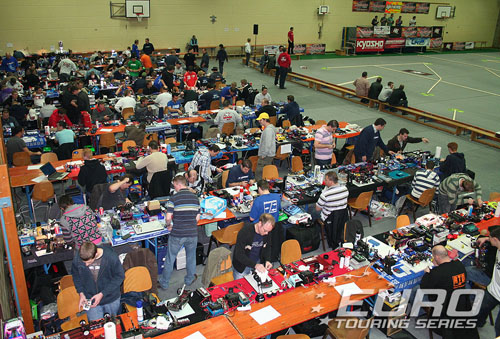 Stocker, who is again driving a Hot Bodies, won here last year and so the defending Pro Stock Champion is clearly the favourite this weekend but he faces some tough competition including ETS Vice Champion George Spitteler.  Pro Stock competitors are running the hand out 9.5T motor from Speed Passion while Sweep is the controlled tire for both classes. Following today's practice, competitors will have four of their five qualifiers tomorrow followed by the fifth heat & finals on Sunday, all of which will be directed by legendary race announcer/organiser Scotty Ernst who is just about over his jetlag!  The organisers of the ETS also welcome four new sponsors to the series this year in Kyosho, LRP, Robitronic and TOP.
As the competitors settle in and the fresh carpet builds up some grip we will catch up with the drivers and bring you updates later today and extensive coverage throughout the rest of the weekend.
---