March 6, 2009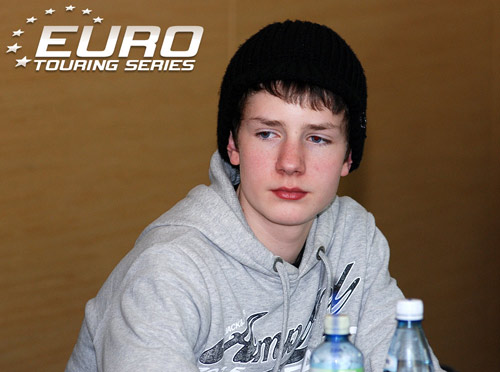 We tipped him as a star of the future in our coverage of DHI Cup he made the A Main and here in Warsaw, among a world class driver line-up, 15-year-old Yannic Pruemper is setting the pace from none less than reigning World Champion Marc Rheinard.  Under the tuition of Marc's brother Toni,  the emerging young German star stopped the clocks with an 11.04 second lap compared with Rheinard's best of 11.10 while Jilles Groskamp ran a 11.13 to give Tamiya the Top 3 after five rounds of practice.
Pruemper, as with all the leading drivers, really likes the track layout and reports his TRF416 as being easy to drive even when he pushes hard.  Running a similar set-up to that used at the DHI Cup, the youngster looks really strong over 5 minutes.
Rheinard described his car as so so but its very rare that the two time touring car World Champion ever describes it any other way as he tries to squeeze the absolute limit from the car that took him to the World title in Thailand.  The 22-year-old was however very complimentary of the new Speed Passion Gran Turismo 2.0 PRO Blue Edition speedo which he ran in Practice 4 and 5. The speedo was FedEX'd to Poland yesterday from Sweden where it was being tested by Tamiya team-mate Viktor Wilck.  Wilck is absent here this weekend due to a clashing Swedish National race.
Defending Champion Groskamp is focusing on tyre additive.  The Dutch racer said his TRF416 was better this morning when the traction was lower but is still pretty pleased with his early pace.
Heading the Xray's challenge is American ace Paul Lemieux who is just 1/100th off Groskamp and 1/100th up on team-mate Teemu Leino.  Describing the track as 'great', the US Champion is playing with motor set-up as he gets to grips with running five cell packs, one less than he used to.  Leino, who had a 5am start this morning so as to catch his flight from Finland, is happy with the progress of his T2 009 so far saying he is just trying small adjustments as the track grip improves with each run.  Czech driver Michal Bok completes the Top 6 for Xray.
Hot Bodies ace Andy Moore is running the eight fastest time have tried two different cars.  Finding his car a little edgy, the former World Champion will scrub in a new set of race tyres in today's final practice.
In Pro Stock Daniel Wohlgemuth heads a trio of Germans at the controls of Tamiya's with a best time of 11.93 from Dai Sakaguchi on a 12.07 and Oliver Nathe.  Serpent's Nicolai Nielsen is fourth fastest with his S400 from ETS Round 2 winner Balint Rajki driving a Cyclone TC.
Drivers have one more round of free practice this afternoon before Day 1 of Poland's first ever international touring car event comes to a close.
View our image gallery here.
---