October 18, 2009
The final round of qualifying for the 2009/10 Xenon Racing Euro Touring Series saw current World Champion Marc Rheinard set a blistering pace as he took the round in a new fastest time of 26 laps in 5:02.773. Also setting a new outright fastest lap for the Kastellaun event with an 11.299, the factory Tamiya driver will line up second on the grid behind team-mate Viktor Wilck who secures his second consecutive ETS pole having started last season's finale in Andernach from the front.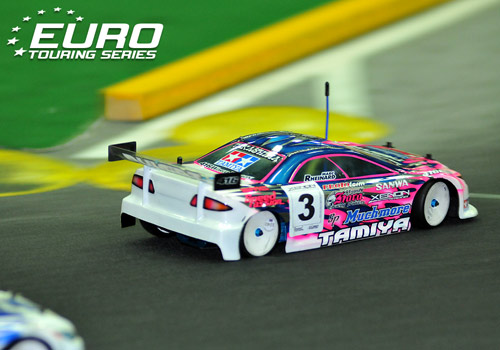 Wilck predicts a close and difficult race as the high traction has made the cars hard to drive and avoiding mistakes is going to be key to taking the win. The Swedes' thoughts are echoed by all the front runners who expect each leg to be action packed. Rheinard, the winner here last year, said passing will be extremely hard without flipping, while 2007 race winner Juho Levanen thinks there will be a lot of crashes. The factory Associated driver admits it will be difficult to challenge the Tamiya drivers who have found something that has given them edge over the rest of the field but due to the tricky conditions he hasn't given up fully on taking the win. Levanen will have his hands full with the third member of the Tamiya team with Yannic Prumper who starts fourth. The 15-year-old took his first international win on carpet and won the opening qualifier here so he has the pace.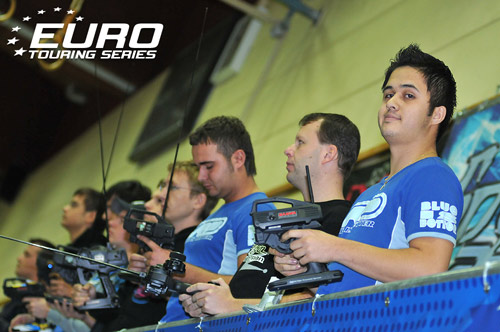 Heading the Xray challenge are Alexander Hagberg and Elliot Harper who line-up 5th and 6th just ahead of Yokomo's Ronald Volker while Dominik Fleischmann makes it 5 different brands of car in the final with his Hot Bodies Cyclone. The other players in the A-Main will be Teemu Leino who starts 8th after a strong Q5 lifted him into the Top 10. Completing the grid will be current Nitro Touring Car European Champion Dirk Wischnewski.
Modified A-Main Grid
1. Viktor Wilck (SE) – Tamiya/Speedpassion 4.0
2. Marc Rheinard (D) – Tamiya/Speedpassion 4.5
3. Juho Levanen (FI) – Associated/LRP 5.0
4. Yannic Prümper (D) – Tamiya/Speedpassion 5.5
5. Alexander Hagberg (SE) – Xray/LRP 5.5
6. Elliott Harper (GB) – Xray/Nosram 5.5
7. Ronald Völker – Yokomo/LRP 5.5
8. Teemu Leino – Xray/Orion 4.5
9. Dominik Fleischmann – Hot Bodies/LRP 5.5
10.Dirk Wischnewski – Xray/LRP 5.5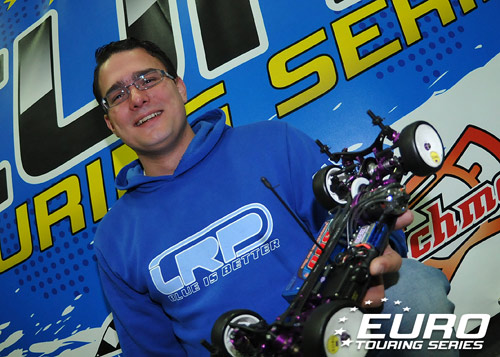 In Pro Stock Alexander Stocker gave the rest of the field a master class in how to drive a 13.5 turn electric Touring Car as he produced the fastest qualifier of the event to secure pole for the A-Main. The Hot Bodies driver, who is chasing his third consecutive Kastellaun ETS win, looks untouchable despite the quality grid line up which includes two 2008/09 ETS race winners. Lining up second on the grid, Stocker's starting spot here last year, is Martin Hofer who was the only other driver to TQ a round in qualifying but the Yokomo team driver needs to stop making mistakes. Andernach race winner Matthias Lang starts third which should allow the Xray driver to challenge while Mike Treder makes it four different cars at the front of the grid having put in an impressive performance at the controls of his Tamiya.
Pro Stock A-Main Grid
1. Alexander Stocker (D) – Hot Bodies
2. Martin Hofer (D) – Yokomo
3. Matthias Lang (D) – Xray
4. Mike Treder (D) – Tamiya
5. Ivan Laptev (RU) – Tamiya
6. Daniel Wohlgemuth (D) – Xray
7. Tommy Bergfeldt (SE) – Hot Bodies
8. Zdenko Kunák (SK) – Xray
9. Fabian Bucher (DE) – Xray
10.Stefan Jansen (NL) – Xray
View our image gallery here.
---