July 18, 2009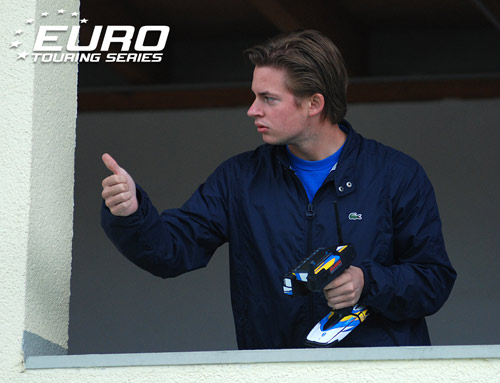 Final practice for the fifth round of the Muchmore backed Euro Touring Series has been topped by Swede Viktor Wilck here this morning at Andernach. The factory Tamiya driver produced a fastest lap of 16.56 as traction improved dramatically from yesterday. Wilck said overall track conditions were better today but it was vital to stay off the curbs now as they had become super grippy. Planning no changes to his Speedpassion powered TRF416 for the first qualifier he said he wants to just focus on his driving and keeping as a tight a line to the curbs without actually touching them but admits it will be difficult. His Tamiya team-mate Marc Rheinard, who was second fastest, echoed the challenged ahead, 'TQ will go to the driver who makes no mistakes, touch a curb and you're going to roll.'  The World Champion who is in the hunt for the overall ETS title here this weekend also plans no changes to his car prefering instead to adjust his driving style to the conditions.
Third fastest was yesterday's pace setter Ronald Volker.  Unable to match his 16.55 lap time, the fastest so far of the weekend, the Yokomo team driver said his car is now maybe a little too soft for the tricky conditions and he will switch to thicker shock oil for the first of the five qualifiers.  Defending Modified Champion Jilles Groskamp, fifth fastest in the practice, didn't look happy after his 5-minute practice saying he found conditions very difficult.
In Pro Stock it was a similar situation for the front runners with the curbs becoming a no go area.  Fastest was Apledoorn dominator Rob Janssen who was much happier with his Corally today following an overnight diff and shock rebuild.  The Dutch driver is looking forward to getting qualifying underway and feels his toughest opponent this weekend will be Daniel Wohlgemuth who he said is very consistent.  Standings leader Wohlgemuth was fourth fastest and hopes a change to lighter shock oil on his Xray for qualifying will help him close the 2/10th gap to Janssen. Second fastest for the final practice was SMI Motorsport driver Matthias Lang. The German, who really likes the technical track layout here, said his Xray felt fantastic this morning and that if it stays dry he is confident he can challenge for TQ honours.
Currently it is dry but the skies are very dark over the track and local forecasts are giving a high possibility of rain showers during the day.
View our live video feed here and our image gallery here.
---