October 11, 2008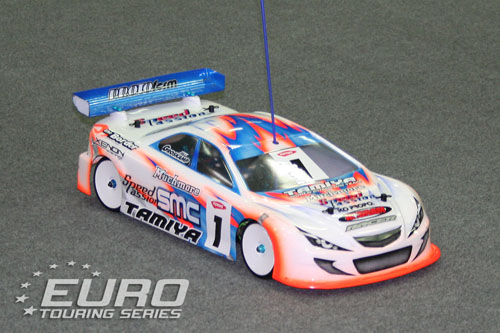 He was beaten by his team mate in Heat 1 but second time round Jilles Groskamp made his mark in the second qualifier showing just why he is the reigning ETS Champion.  Recording the fastest lap we have seen so far here in Kastellaun with a time of 18.62, the Dutch driver recorded 28 laps in a time of 306.50 seconds to TQ the round from the very impressive Freddy Sudhoff.
While traction roll effecting his Tamiya team-mates, Groskamp's gluing of the outside wall of his tyres worked perfectly allowing him to push his TRF416 harder without suffering the problems experienced by Rheinard and Wilck.  The pair running nose to tail in the heat flipped coming on to the main straight in a rather impressive display of syncronised traction roll.  With traction so high Groskamp will switch to a thicker 2.5mm chassis in the next heat.
Sudhoff, who is running in the group before Groskamp, is really enjoying his Xray debut describing the car as 'Perfect'.  One small mistake caused him to flip after he clipped a corner dot but the German is running really well at his home round of the Much More back ETS and other than changing to softer springs he will leave his car the same for the third of the five scheduled heats.  In the same group, Joel Myrberg also had a mistake on what was potentially a TQ run.  Coming onto the main straight he also caught a dot rolling his TC5 and having to run the remainder of the heat with the body tucked under on one side. Still the Swede managed the fourth fastest time just behind Steven Wiess.  Just missing out on a 28 lapper factory Kyosho driver Steen Gaversen was much happier with his run and should be one to watch in Round 3.  The Dane was another to make a mistake which at this level are costly.  A good run by Swede Magnus Vassmar saw him complete the Top 6 in Modified.
In Pro Stock Daniel Wohlgemuth, who finished third in this year's German Nationals, is looking good for overall TQ honours as he topped the round once again after producing a faster time. The round saw five drivers break into the 26 laps with Tommy Bergfeldt taking his Hot Bodies to second from Matthias Lang, Christoph Thiele and the Kyosho of Stefan Jansen.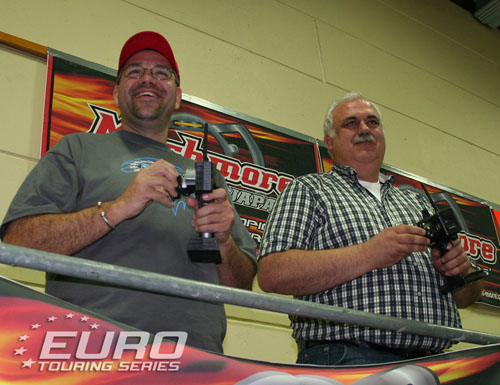 One rather interesting battle witnessed today in Kastellaun was the lunchtime shot out between the two men behind the Euro Touring Series – Scotty Ernst and Uwe Rheinard.  A borrowed pair of Tamiya M03 Suzuki Swift's, nervously loaned by Dutch competitors Eric Mulder and Patrick Van Der Knaap, were used. The pair claimed to have previous r/c experience but we are not so sure although Scotty's excuses after the race would lead us to believe he has done this before!!  No official result was published by bbk Timing so we dont have any winner's quotes. Thankfully Scotty is now back behind the mic and Uwe is busy looking after race admin.
---