October 12, 2008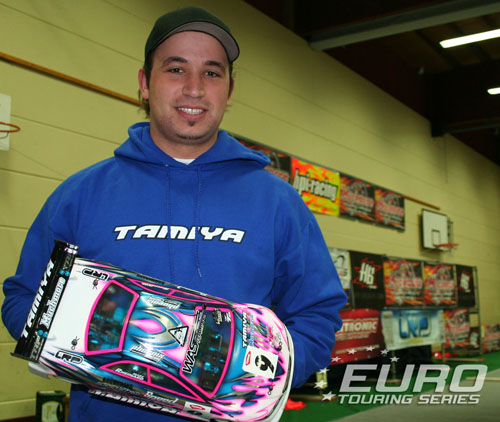 Marc Rheinard has claimed the first TQ honours of the 2008/2009 Euro Touring Series after a blistering run in this morning's final qualifier here in Kastellaun, Germany.  Showing just why he is the current European Champion in both 1:10 and 1:12 onroad electric racing, the Tamiya Factory Racing driver produced a stunning run to become the only driver to record 29 laps.  Rheinard made some changes to his car for the final run which did improve the TRF416 but he is now a little concerned about run time.
Lining up second on grid for the three A-Mains will be defending champion Jilles Groskamp.  The Dutch driver made a few mistakes in Heat 5 but feels he has similar pace to team-mate Rheinard.  Having switched to the same prototype chassis as Rheinard, which positions the batteries more to the front of the car, Groskamp says his TRF416 is working well and having scrubbed in new tyres on the run he is in good shape for the finals.
While its a Tamiya lock out up front it is an all Xray second row with Freddy Sudhoff, who has done an impressive job here so far, and Steven Weiss lining up third and fourth on the grid.  Next up is Joel Myrberg who has his Associated TC5 working well this weekend starting just in front of his fellow countryman Viktor Wilck.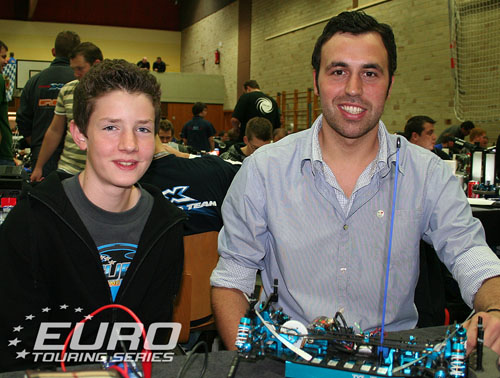 A very popular A Main qualifier is young up & coming German talent Yannic Pruemper who will line up seventh on the grid.  Pruemper who is racing a Tamiya has former international factory driver Toni Rheinard looking after his car this weekend and obviously the 15-year-old is benefiting hugely from the input.  Another driver delighted to line up for the A Main is Dutch driver Bart Wubben who is having a great debut with his privately entered Xray.  Kyosho factory driver Steen Graversen starts ninth with Magnus Waaamar completing the Top 10. Unfortuately for Swede Niclas Nilsson he once again misses out on his first big international A Main start and lines up on pole for the B Main.
In Pro Stock defending Champion Alexander Stocker TQ'd the final qualifier to puts himself second on the A Main grid which is headed by Daniel Wohlgemuth.  Stocker has his car right on the pace now and said the Finals here today have all the ingredients of a German Nationals rematch which he went on to win.
---