October 10, 2008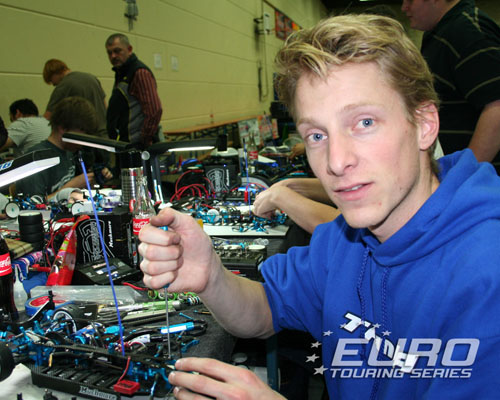 Drivers have completed 3 practice runs here at the opening round of the Euro Touring Series and the general news from the pits is that drivers like the layout of the track for this year's event in Kastellaun and that the new Sweep QTS tyre is a big improvement over that developed by the ETS last season.
Jilles Groskamp is, as expected, setting the pace with his Tamiya TRF416 and likes the track but says the chicane is hard. Possible to straightline, the Dutch driver says its hard to get right but if you do you can post a very fast lap and if you dont its going to be a very slow one. Jilles is planning to make the front end of his car wider for the next run to try and make it slightly easier to drive.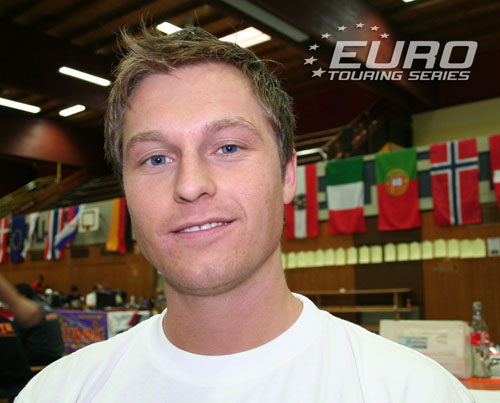 Up there with Groskamp is Team Associated driver Joel Myrberg. The Swede is really happy with how his TC5 is working but plans to try heavier shock oil in his next run as well as using it to scrub in tyres for the first of tomorrow's qualifiers. Most of the top Modified drivers are reporting that the new controlled tyre works better on the second run. Former Euros Top Qualifier Steven Weiss driving his Xray is also on a front running pace.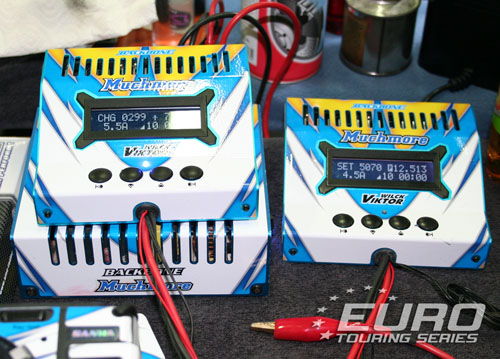 Viktor Wilck, who is suffering from a cold he picked up on his impressive 1:8 nitro buggy race debut at the Novarossi GP in England last weekend where he finished on the podium, has so far only completed one run having decided to rest this morning. Tamiya team mate Hupo Honigl has been forced to miss the event due to illness. Wilck and current European Champion Marc Rheinard are both sporting very flash custom graphics on their pit equipment thanks to new sponsorship from Backbone of Japan.
New Danish Champion and factory Kyosho driver Steen Graversen is reporting he still has work to do as he struggles to get his car to work on the controlled tyre. The Dane has tested the tyre at home and found them to work well but so far here he can't find the right setting.
Elsewhere one of Europe's emerging young talents Christer Andersson from Finland is trying to evaluate if a spool or oneway on the front of his TC5 is the way to go. Former Serpent factory driver Bart Wubben is here but at the controls of an Xray T2 008 rather than an S400 and is really pleased with the new car although the leading Dutch Championship contender admits he himself is a little race rusty.
Defending Pro Stock Champion Alexander Stocker is pleased with his runs so far but says the track is not as easy as it looks. Vice Champion George Spitteler is also happy with his pace despite his car being a little loose on the rear. Having secured backing from TOP and Corally following his performance in the 07/08 Euro Touring Series, Spitteler is quietly confident of another good showing this weekend.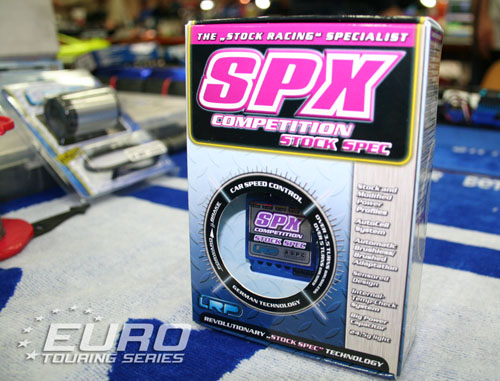 One interesting new product on display here is the new SPX Stock Spec speedo from LRP. Although the ESC, which features four specific Stock mode settings that actively advance the motors timing relative to the speed, has been used before by the likes of Stocker at Andernach back in June more drivers are using the exciting new product here this weekend. Andreas Myrberg from LRP, who is here supporting his brother Joel this weekend, tells us the SPX Stock Spec ESC is being shipped now and will be available in shops very soon.
More updates later.
---