June 27, 2008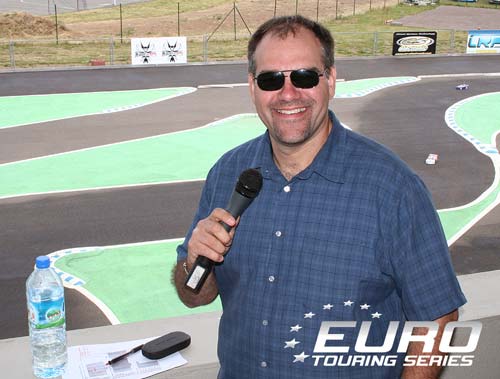 An introduction from our race director Scotty Ernst. "Well everyone we are all set for the finale of the 2007/2008 Much More backed Euro Touring Series Final in Andernach Germany. What is shaping up to be a who's who of the top racers from around Europe also includes 2 of the top drivers from Japan, Shin Adachi from Kyosho, as well as the 2008 Reedy Race of Champions winner Atsushi Hara driving his Hot Bodies Cyclone. Also making the trip to attend the finale is the Top US racer Paul Lemieux who was only last weekend crowned Champion at the ROAR On Road Nationals.
Hosting this final event of the ETS is the beautiful track in Andernach. The venue has all the makings of perfect environment for this exciting finish to the ETS. A great layout and a huge drivers stand, there is plenty of pit room and plenty of fun to be had as there is also some great food and fun things to do off the track. With Volleyball courts and a Mini Football field there will be a team competition hosted during the weekend to test the physical fitness of the drivers present.
The great coverage that you have come to expect for the ETS series will again be the standard as the crew from REDRC will be bringing you great stories, photos and behind the scene info that only REDRC can bring you. Rob Nelson will again be here from BBK scoring so you will be able to keep track of your favorite drivers and watch as they battle for the championships.
We hope you enjoy the coverage we will be bringing to you and hope you can make plans to attend the 2008/2009 ETS Series that will begin in October at the annual Carpet Speed Week held in Germany."
Scotty
---