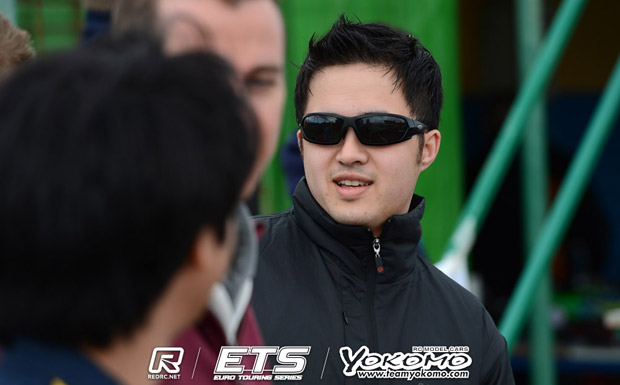 With the sun coming out for the second round of qualifying, it was Ronald Volker who topped the times on a much slower track.  The hotter conditions saw the Yokomo driver top the round from Adrian Bernsten but with a time that was over 4-seconds slower than the Xray drivers Q1 TQ pace.  Once again Alexander Hagberg set the third fastest time again ahead of HB's Andy Moore.  Only ninth in opening round, Tamiya's Marc Rheinard improved to take 5th while his team-mate Viktor Wilck got his speedo issues, that resulted in a non start in Q1, sorted to open his qualifying with a 9th.  Sixth fastest in the opening qualifier, Serpent's Marc Fischer was a non-finisher after he suffered a servo failure.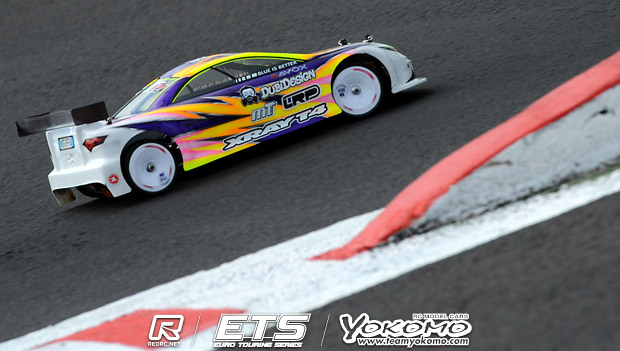 In the Xray Pro Stock class defending champion Marek Cerny looks on target for three in a row on the island. Backing up his dominant Q1 TQ run over Henrik Heitsch the Czech driver posted another TQ run in Round 2 over team-mate Jan Ratheisky.
Ride Modified Q2 times
1. Ronald Volker – Yokomo – 15/5:11.998
2. Adrian Berntsen – Xray – 15/5:13.917
3. Alexander Hagberg – Xray – 15/5:14.556
4. Andy Moore – HB – 15/5:15.590
5. Marc Rheinard – Tamiya – 15/5:15.831
6. Naoto Matukura – Yokomo – 15/5:16.594
7. Magnus Vässmar – Xray – 15/5:17.532
8. Juho Levanen – Team Associated – 15/5:18.495
9. Viktor Wilck – Tamiya – 15/5:18.559
10.Christopher Krapp – Kyosho – 15/5:18.926
View the complete event results here.
View our event image gallery here.
Saturday, March 1, 2014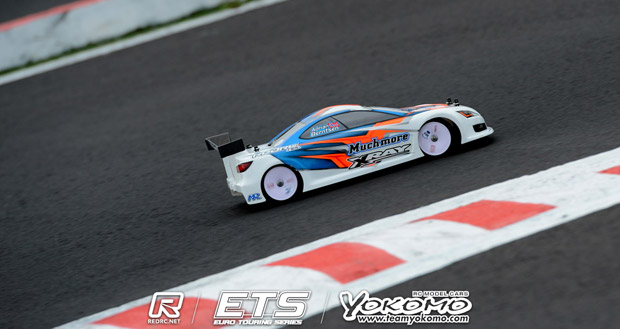 Team Xray's Adrian Berntsen topped the opening round of qualifying at Round 3 of the Yokomo Euro Touring Series in Gran Canaria this morning, the Norwegian outpacing Ronald Volker by .283 with Round 2 winner Alexander Hagberg completing the Top 3.  For last year's winner Viktor Wilck another speedo issue resulted in him failing to start the qualifier.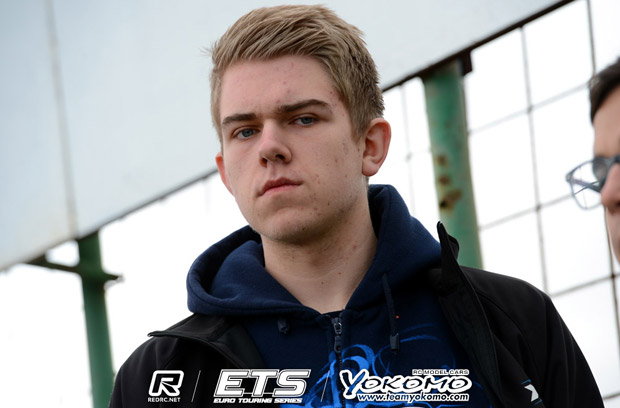 'Surprisingly good' was how Berntsen summed up his 5-minute run.  Reverting back to his own set-up having tried team-mate Hagberg's set-up in yesterday's controlled practice which was 'difficult', he said his Muchmore powered T4 '14 was now 'super easy to drive'.  Despite a sprinkling of rain just before the start of the top heat, Bernsten said it didn't appear to have any effect on the track. Setting his fastest lap of the weekend he said it felt pretty much the same as yesterday and he will leave his car as is for Q2.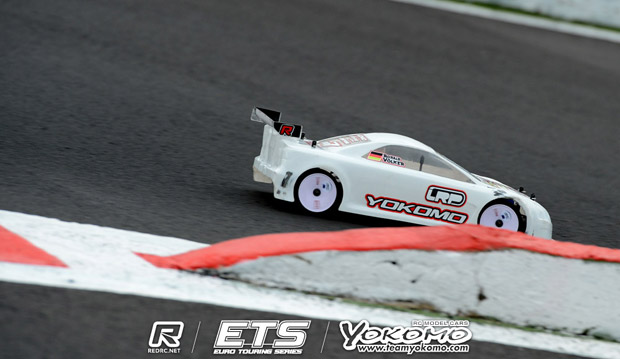 Defending Champion Volker said it was an 'interesting Q1′ with the rain before the start but added it resulted in 'no disadvantage'.  The Yokomo driver said a few mistakes early on due to him getting on the throttle 'too early' cost him a TQ run.  Describing every lap as challenging he said overall the pace of his LRP powered BD7 is good, him setting the fastest lap of the round.  Planning to make a set-up change for Q2 he said he doesn't know yet what it will be adding it will be 'nothing major'.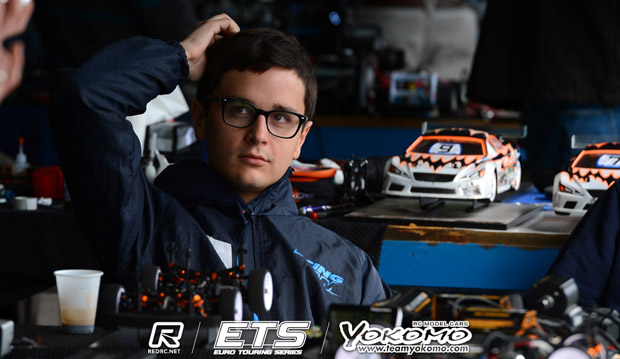 Hagberg described his run as 'not too bad'.  The Swede said while his ORCA powered T4 '14 felt good it was just a little too slow.  Setting a faster lap time than his team-mate Bernsten, he felt the car is lacking a little steering and plans to make some changes for Q2 to try and improve his overall pace, his time being 7/10ths off the TQ time.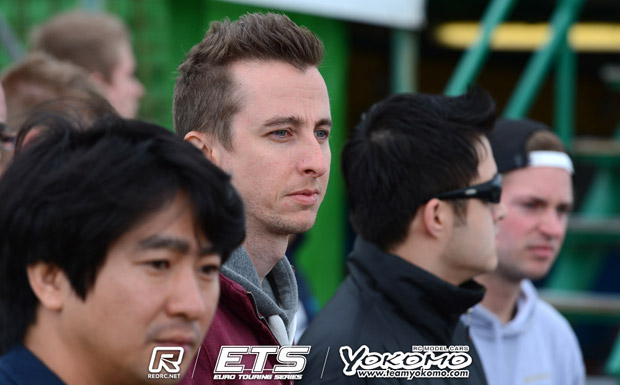 A 'decent start' was the response from HB's Andy Moore to his run to the fourth fastest time.  The British ace said he needs to improve his Hobby Wing powered TCXX pace in the early laps of the run.  Setting his fastest lap on his last lap, he said the difference between his early laps and closing laps was quite big.  Planning some changes for the second run he said his main focus will be on tyre prep.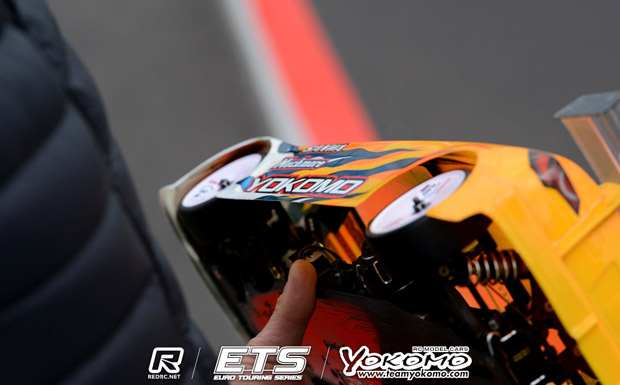 Running in the second fastest heat Naoto Matsukura posted the fifth fastest time.  Suffering a similar sprinkling off rain but during their 5-minutes, the Japanese ace said conditions between the two top heats were different.  With no mistakes to top the heat, the Yokomo driver said weather was the main reason for the 4-second difference between his time at the TQ pace.  Describing his BD7 as 'good', he said he will leave it as is for Q2.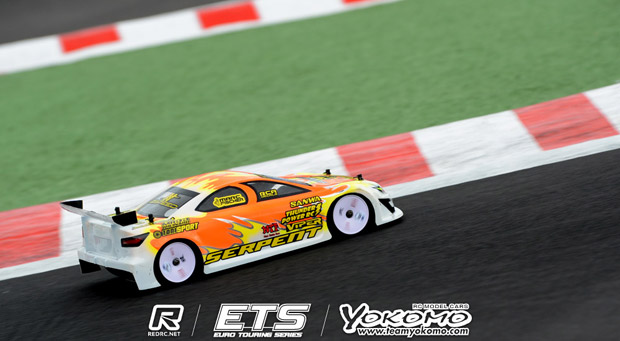 Completing the Top 6 was Serpent's Marc Fischer.  The German said his Viper powered S411 was difficult to drive adding it had 'no rear traction, no steering'.  Running an aluminium chassis plate he said he will stick with the car again for Q2 and change his tyre prep – opting for no additive and different heating.  Should he still struggle with a lack of traction for Q3 he will switch to his second car which has the more conventional carbon chassis.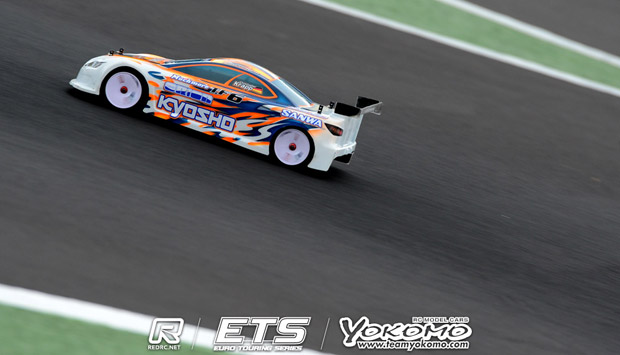 2012 Gran Canaria ETS winner Christopher Krapp said his run 'felt ok'.  The factory Kyosho driver who is running in the same heat as Matsukura said with the rain/sun effects on the track he had bad luck but the ever positive German said 'thats racing'.  Happy that the performance of his Orion powered TF6 is good he will leave it as is for Q2 and just focus on his driving adding that hopefully his luck with the weather will be better.  Behind Krapp the Top 10 was completed by the Marco Kaufmann, Marc Rheinard and Magnus Vässmar.
Ride Modified Q1 times
1. Adrian Berntsen – Xray – 15/5:07.583
2. Ronald Volker – Yokomo – 15/5:07.866
3. Alexander Hagberg – Xray – 15/5:08.279
4. Andy Moore – HB – 15/5:08.637
5. Naoto Matukura – Yokomo – 15/5:11.609
6. Marc Fischer – Serpent – 15/5:12.218
7. Christopher Krapp – Kyosho – 15/5:12.741
8. Marco Kaufmann – Xray – 15/5:13.097
9. Marc Rheinard – Tamiya – 15/5:13.157
10.Magnus Vässmar – Xray – 15/5:13.534
View the complete event results here.
View our event image gallery here.
Saturday, March 1, 2014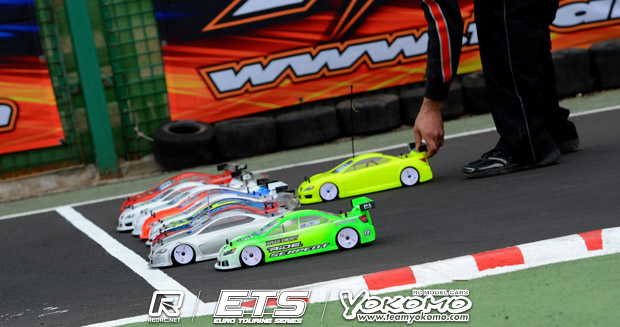 An overcast start to Day 2 of the Yokomo Euro Touring Series in Gran Canaria, today will see five rounds of qualifying for drivers of which the best 2 will count.   With open practice available to drivers this morning, track conditions appear to continue to improve with the new surface, many believing this is due to a sugar watering of the track starting to wear off.  Following qualifying, the day will close with a bit of fun on-track action with the Dash for Cash.
Saturday, March 1, 2014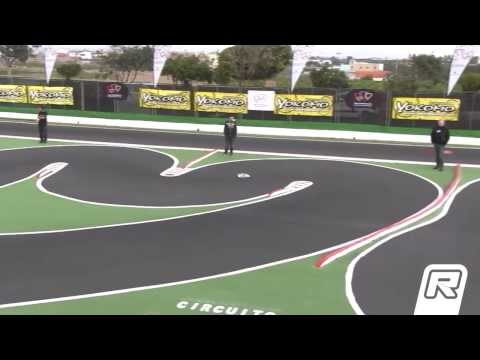 Friday, February 28, 2014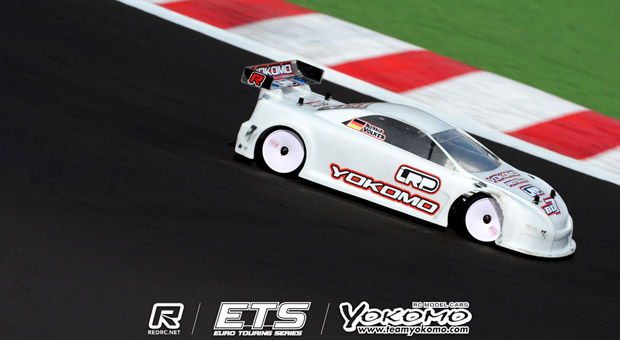 With official timing finally becoming available with the first round of controlled practice it is Ronald Volker who set pace during the single 5-minute round at the Yokomo Euro Touring Series in Gran Canaria.  After issues with the newly resurfaced track that saw much of the day's practice run as open practice by class,  the Team Yokomo driver set the fastest three consecutive laps ahead of Xray's Adrian Bernsten with team-mate Alexander Hagberg and Serpent's Marc Fischer sharing identical times to be be third fastest.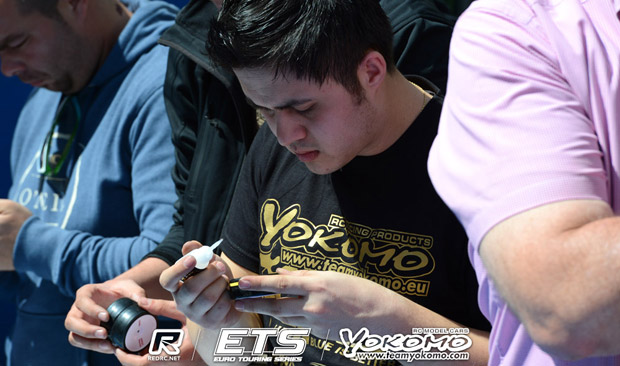 Describing his run as 'solid', Volker said it was good to finally know where everyone is at.  The defending champion, who has been on the island since Tuesday, said the rear end of his LRP powered BD7 was loose but drifting it into the corners he was able to keep up his corner speed.  'Difficult to drive' he said at least the pace is good but he said that could easily change for tomorrow's qualifying, some light rain falling just after he conclusion of the controlled practice.  Topping the times comes as a positive for Volker on a day which has seen him been without his famed engineer Yukijiro Umino.  Spending the day at the local hospital Umino has been diagnosed with a stomach virus and although now released from the hospital has been given doctors orders to rest which he will do at the holiday home the team have rented for their stay on the island.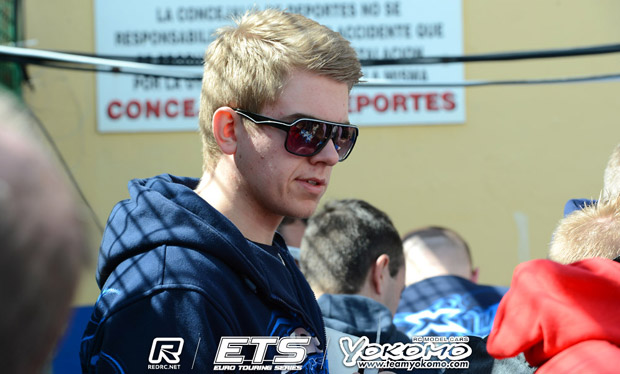 Second fastest Berntsen said while he looks good over 3-laps his car is 'super difficult to drive' and over 5-minutes his pace is terrible.  Feeling tyres were one of the reasons for his T4′s poor consistency he said he also tried a similar set-up to team-mate Hagberg which he didn't particularly like.  The Norwegian plans to go back to his own set-up for the morning's opening qualifier.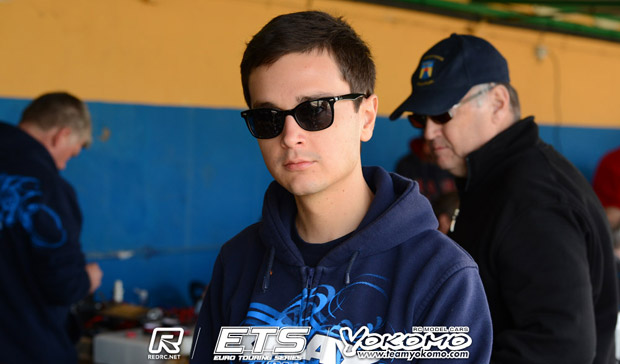 In contrast to Bernsten, Hagberg believes his car is one of the most consistent over the full 5-minutes.  Describing his T4′s run to the equal third fastest time as 'not too bad', the Swede added its good from the start while his rivals look to struggle for the first few laps.  Feel pretty good going into qualifying the Round 2 winner said one point for concern is how quickly track conditions can change.
Fischer echoed Hagberg's concerns over the changing track saying between the sun & the wind he found conditions to change a lot between runs.  Describing his Viper powered S411 as 'feeling ok' he added for sure its hard to drive but the 'ice' conditions are the same for everyone. Planning no changes to his set-up the German said he is looking forward to qualifying getting underway, drivers now getting 5 rounds with the best two to count.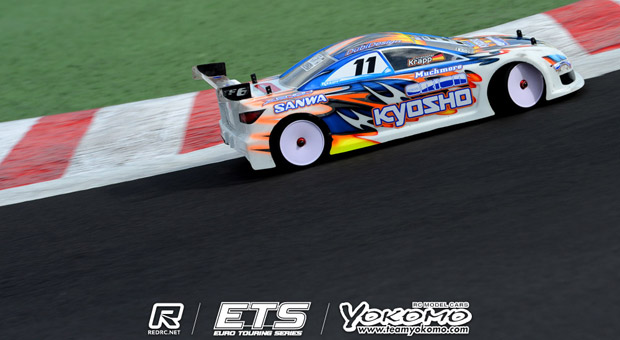 2012 event winner Christopher Krapp was pleased with his run to the 5th fastest time.  The factory Kyosho driver said after a set-up change for the controlled practice run the traction levels he had 'felt ok'.  'Missing a little steering', the German will adjust his rear camber link to reduce rear traction so as to get the TF6 to turn in better.  Not pushing hard over the run, Krapp said consistency is going to be key over the 5-minutes of the qualifying rather than outright speed with the wind & keeping the car under control also a big factor.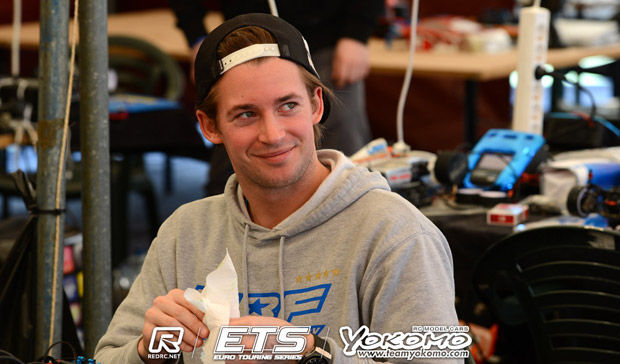 A good showing from Team Yokomo's Loic Jasmin saw the French ace set the sixth fastest time ahead of last year's winner Viktor Wilck.  Wilck said his Tamiya 'feels not so bad' but a speedo/motor problem meant he lost boost after just three laps.  Not sure what caused the fault he will fit fresh electric for qualifying.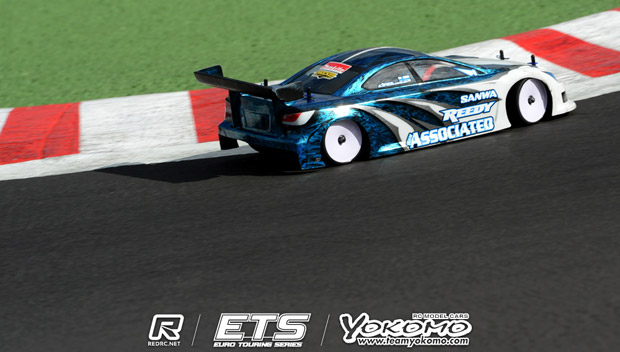 Setting the 9th fastest time behind the Xray of Marco Kaufmann, Team Associated's Juho Levanan described his run as 'pretty good'. The Finn ran a brand new set of tyres for the first time which he said gave him a little understeer but overall his Reedy powered TC6.2 'felt good'.  Noticing a lot of drivers are running without swaybars, the former ETS race winner will try this tomorrow leaving the rest of his set-up as is.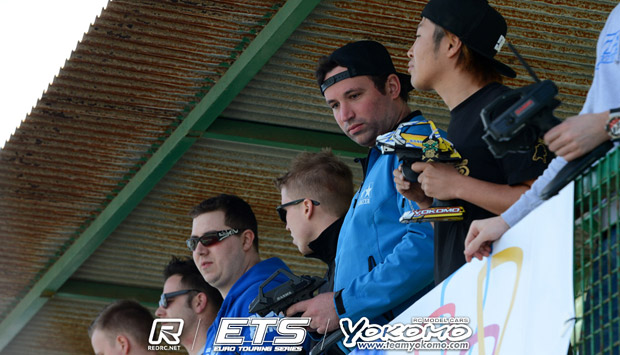 Posting the 10th fastest time Marc Rheinard was not at all happy with the situation. Critical of both the track surface and the tyres he said his car felt 'maximum shit'. Believing much of his problem in the controlled practice was a bad set of tyres he said while conditions are difficult for everyone in left turns he was able to apply some power while turning right it just wanted to slide even with little or no power.
View our event image gallery here.
Friday, February 28, 2014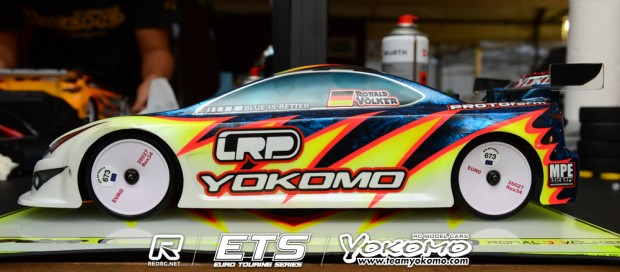 Chassis Name – Yokomo BD7
Motor – LRP
ESC – LRP
Batteries - LRP
Tires – Ride (handout)
Radio/Servos – Sanwa
Remarks – Fresh from his win at the 2014 TITC in Thailand, Ronald Volker has been testing in Gran Canaria for a few days and has made some changes to his race winning setup from last week. Running softer shock oil and anti-roll bars, he also tried the car without ARBs, he has also reduced his rear droop to help the car in the low traction conditions. Also moving the chassis position 1mm to the rear, changing the weight distribution, by using spacers on the cars A-arms he along with everyone here has also been working hard trying to find the perfect tire prep. An interesting decision Ronald has made is to charge his battery to 8 volts, which while it reduces top speed he feels it will help him in the early part of the run reducing the power in the low traction conditions.
Image Gallery
Friday, February 28, 2014