Ride Modified Q3 times
1. Ronald  Völker – Team Yokomo – 25/5:02.416
2. Freddy Südhoff – Awesomatix – 25/5:03.067
3. Marc Rheinard – Tamiya – 25/5:03.328
4. Yannic Prümper – Team Yokomo – 25/5:06.035
5. Marc Fischer – Serpent – 25/5:06.454
6. Alexander Hagberg – Team Xray – 25/5:07.467
7. Eric Dankel – Yokomo – 25/5:07.517
8. Viktor Wilck – Tamiya – 25/5:07.998
9. Tim Wahl – Team Xray – 25/5:08.468
10.Marco Kaufmann – Team Xray – 25/5:09.264
Xray Pro Stock Q3 times
1. Jan Asmer – Serpent – 24/5:12.004
2. Martin Hofer – Schumacher – 24/5:12.710
3. Bernhard Bopp – HB – 23/5:00.704
4. Tobias Vogel – Team Xray – 23/5:01.436
5. Henrik Heitsch – ARC – 23/5:01.791
6. Mike Gosvig – Awesomatix – 23/5:02.868
7. Kuba Simurda – Team Xray – 23/5:03.071
8. Philipp Neudinger – Awesomatix – 23/5:03.548
9. Tony Streit – Serpent – 23/5:03.865
10.Tim Benson – Serpent – 23/5:03.895
Saturday, November 2, 2013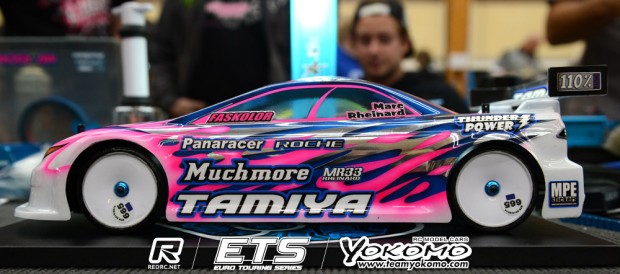 Chassis Name – Tamiya TRF418
Motor – Muchmore
ESC – Muchmore
Batteries - Thunder Power
Tires – Ride (handout)
Radio/Servos – Sanwa
Remarks – 3-time World Champion Marc Rheinard is running the all new TRF418 from Tamiya, the successor to the World Championship winning TRF417 chassis. The car is mostly new with a new higher top deck and bulkheads by 1.5mm as well as a new motor mount which sees the motor moved more inward and forward than its predecessor. Other new parts include the wishbones, steering blocks, uprights, ARB mounts and updated steering rack. Having tested the car at the Mibocup here in Hrotovice as well as in France and Slovakia in the past weeks, the car is still having a problem with being able to push the car, it currently understeering as well as grip rolling in the corners, something he believes a softer chassis would fix, but he doesn't have one available to him.
Image Gallery
Saturday, November 2, 2013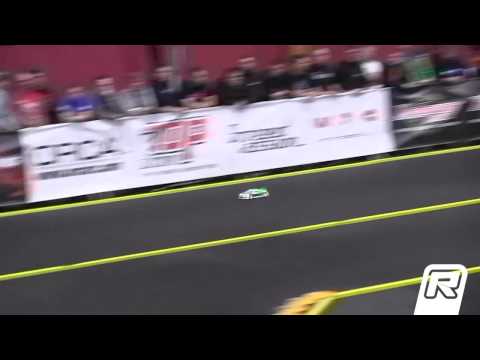 Saturday, November 2, 2013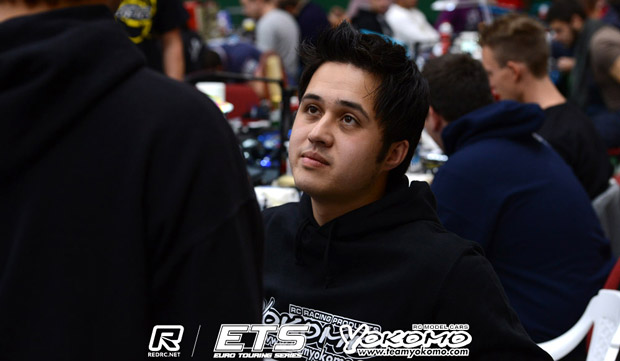 Round 2 of qualifying at the season opener of the Yokomo Euro Touring Series produced a very close three way battle but a late charge by last night's Q1 pace setter Ronald Volker saw the Yokomo driver just pip Xray's Alexander Hagberg to make it two from two.  Once again Awesomatix's Freddy Sudhoff was in the mix claiming third despite two mistakes, finishing just ahead of Serpent's Marc Fischer.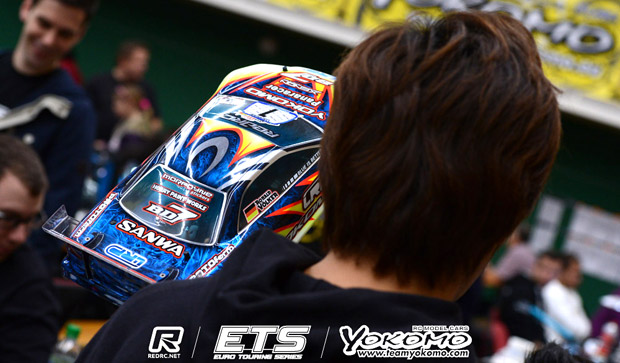 Having flipped his LRP powered BD7 on his warm-up lap, Volker said he had to be very careful with his car at the beginning of the qualifier.  Making 'a lot of tiny errors', he said he wasn't able to push the car for the first four minutes.  Describing the traction for the morning run as being higher than last night, as the run entered the final minute the car started to improve giving him the confidence to push harder.  Knowing that it was again going to be a close finish he said he made a late charge, resulting in three consecutive 11-second laps, which was enough to take him ahead of Hagberg to take the round by 0.293.  For Q3, the German said he needs to find a set-up that gives him the right balance between having enough steering with making the car too edgy.  For team-mate Naoto Matsukura the round netted him a fifth while a traction roll meant Yannic Prumper would pull up.   Leading the B heat, Prumper lost 6-seconds after traction rolling his BD7 and unable to get back into his rhythm decided to stop 4-laps later.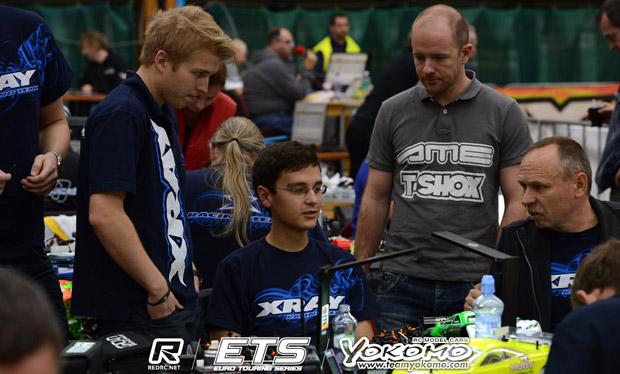 Hagberg said after his run that he 'can't go any faster' joking that he needs the others to make a few more mistakes.  Unable to break into the 11-second lap times, the Swede said that his advantage over his rivals is that his ORCA powered T4 '14 is so easy to drive.  Team-mate Marco Kaufmann enjoyed another strong showing backing up his P7 in Q1 with a run to the 6th fastest time while T4 designer Martin Hudy made it three Xray's in the Top 10 with a 9th in Q2.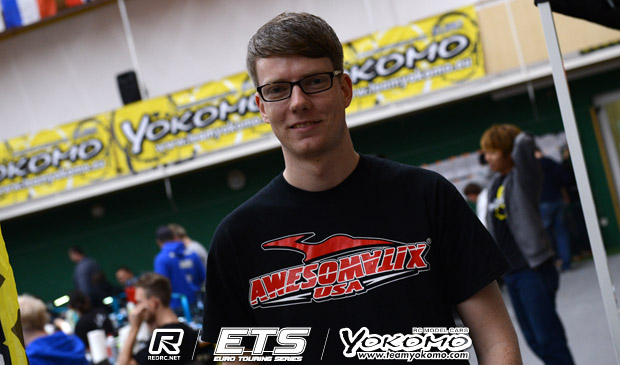 Sudhoff described Q2 as another good run.  Having missed out on a potential TQ last night when he started to drive wide lines to avoid the corners dots, this morning it was hitting the dots that cost him a shot at topping the round.  Describing the track as having 'changed a lot overnight' to become even more edgy, the German was setting the TQ pace until the first of two occasions when he got his A700L EVO up on two wheels which he reckons lost him about 1-second.  With two good runs to his credit and booking his place in the A-Main, last year's podium finisher said he can now try more risky set-up changes for the remaining two qualifiers.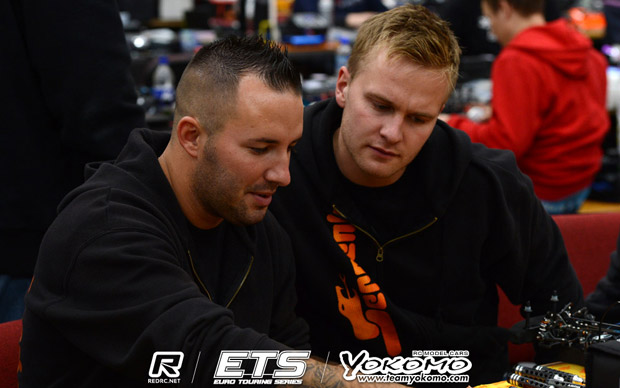 In total contrast to yesterday, Fischer said his Hobby Wing powered S411 was good in the beginning of the qualifier but then got 'super hard' to drive.  Setting the early TQ pace, a Top 3 finish was still on the cards until lap 19 of 25 when he collected the crashed Awesomatix of Dionys Stadler at the end of the straight.  Surviving the impact, he said overall his car was better than yesterday mainly down to the use of less additive.  Having made no chassis set-up changes he plans to make the front spring and camber change he originally planned for Q2 for the next qualifier.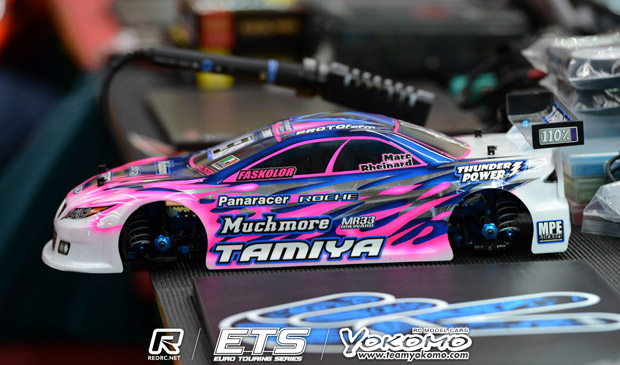 Setting the 7th fastest time, and the second fastest lap time behind Volker, Marc Rheinard said his Muchmore powered TRF418 was hard to drive. Rolling on the first lap of the qualifier the 3-time former World Champion said the problem is that the chassis plate they have is too stiff for the high traction and unfortunately there is not much they can do about it as it is the only version they have this weekend.  Behind Rheinard, TRF team-mate Viktor Wilck posted the 8th fastest time.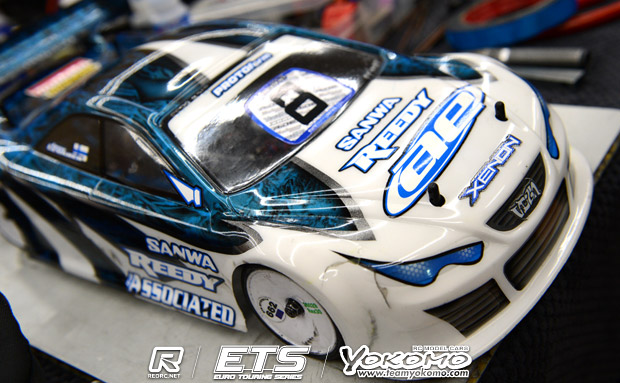 Very happy with his new Associated TC6.2, Juho Levanen said all he is short of is a bit of luck.  Having collected a rolled car on the straight in yesterday's opening qualifier, the Finn was on for a Top 6 run this morning before he once again collected a stray car.  Running behind Dionys Stadler having started the heat last due to his DNF in Q1, the young German got out of shape at the end of the straight when he hit the dots with Levanen collecting him losing over 7-seconds as a result.  Upbeat that he has a good car this weekend he said hopefully for the next two he will find a clear track for each of the the 5-minutes.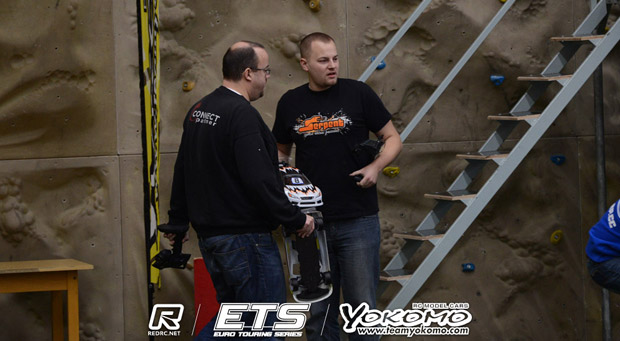 In the Xray Pro Stock class, Jan Amser topped Q2 ahead of Martin Hofer and Q1 pace setter Marek Cerny.  The Serpent driver, who also enjoyed a strong run in Modified with 10th in Q2, said his S411 is working really well.  So well infact that he hasn't touched the set-up since the first battery in yesterday's opening practice.  Schumacher team driver Hofer said a switch to a gear diff in the front of his Mi5 cured his traction roll issues experienced in Q1.  For Q3, the former Champion will try a different steering set-up which he said will change how the car feels to drive adding he wants to see how this suits his driving style.  Defending champion Cerny said his Xray was harder to drive adding the 'traction is quite different today' giving the car too much steering.  For Q3 he will change the timing of his additive.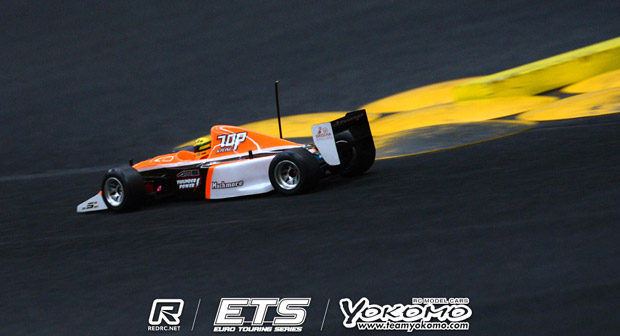 In the Formula class, TOP Racing's Roman Pichler took Q2 ahead of the Yokomo of Hungarian Gabor Forrai with Germany's Dai Sakaguchi third.  For Q1 pace setter a problem with the gluing on a rear tyre meant he could only manage 8th.
View our event image gallery here.
Saturday, November 2, 2013
Ride Modified Q2 times
1. Ronald  Völker – Team Yokomo – 25/5:03.046
2. Alexander Hagberg – Team Xray – 25/5:03.339
3. Freddy Südhoff – Awesomatix – 25/5:04.820
4. Marc Fischer – Serpent – 25/5:05.291
5. Naoto Matsukura – Team Yokomo – 25/5:05.322
6. Marco Kaufmann – Team Xray – 25/5:06.893
7. Marc Rheinard – Tamiya – 25/5:07.451
8. Viktor Wilck – Tamiya – 25/5:08.462
9. Martin Hudy – Team Xray – 25/5:10.031
10.Jan Asmer – Serpent – 25/5:10.539
Xray Pro Stock Q2 times
1. Jan Asmer – Serpent – 24/5:12.906
2. Martin Hofer – Schumacher – 24/5:16.214
3. Marek Cerny – Team Xray – 23/5:01.255
4. Max Mächler – Awesomatix – 23/5:02.181
5. Bernhard Bopp – HB – 23/5:02.856
6. Tobias Vogel - Team Xray – 23/5:04.134
7. Markus Kreder – Serpent – 23/5:04.167
8. Mike Gosvig – Awesomatix – 23/5:04.215
9. Manuel Wagner – Team Xray – 23/5:04.533
10.Henrik Heitsch – ARC – 23/5:04.778
Saturday, November 2, 2013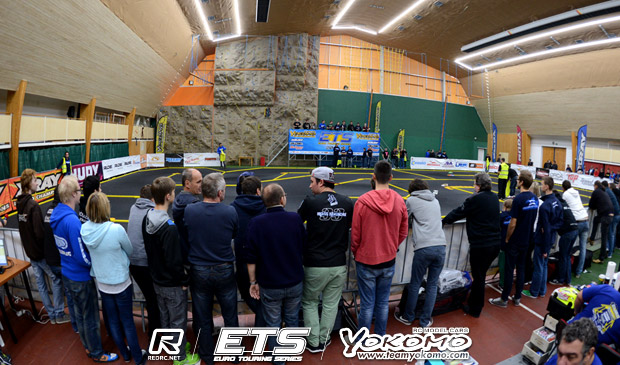 It is Day 2 of the opening round of the Yokomo Euro Touring Series here in Hrotovice, Czech Republic, and today is all about qualifying.  After last night's opening round of qualifying, the schedule is made up of the three remaining rounds with drivers counting their best 2 of 4.  Once qualifying is complete there will be the first round of the 3 Leg Mains for all the finals up to & including the C.  The day will be brought to a close with the 'Dash for Cash' with €200 up for grabs for the fastest driver over 2 laps of the track.
Saturday, November 2, 2013