October 28, 2018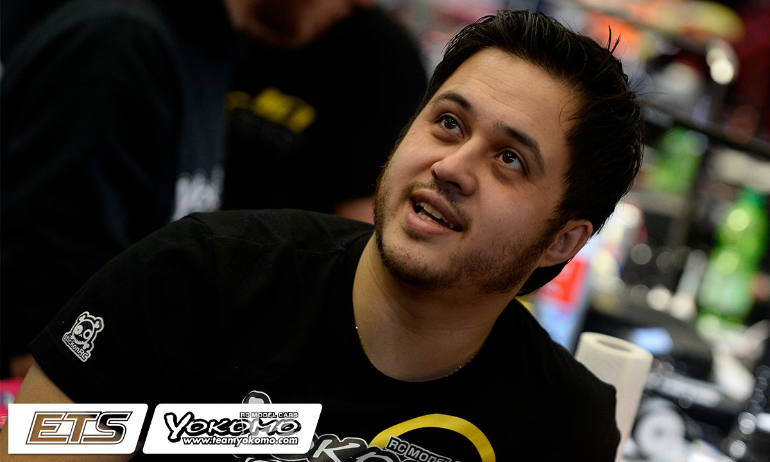 I couldn't ask for more, basically we are all on the same speed."

Ronald Volker
Ronald Volker has taking a straight forward win in the opening modified A-main at the ETS season opener in Vienna. Starting from pole position the Yokomo driver was unchallenged as the chasing pack were held up by their own battles. Alexander Hagberg would manage to get by 2nd place starter Marc Rheinard after a mistake from the Infinity driver allowed the Swede to stick it down the inside. On a track that is very difficult to pass, the rest of the race had little in the way of opportunities and despite a last lap effort by Bruno Coelho on Rheinard, it was a very processional race. Volker, who claimed the bonus championship point for TQ yesterday, said 'I couldn't ask for more, basically we are all on the same speed but they were in a battle so I could drive my race, the track was again a bit different'. Asked about his plans for A2 the former champion said 'it is up to me to put in a clean run and repeat it for A2'.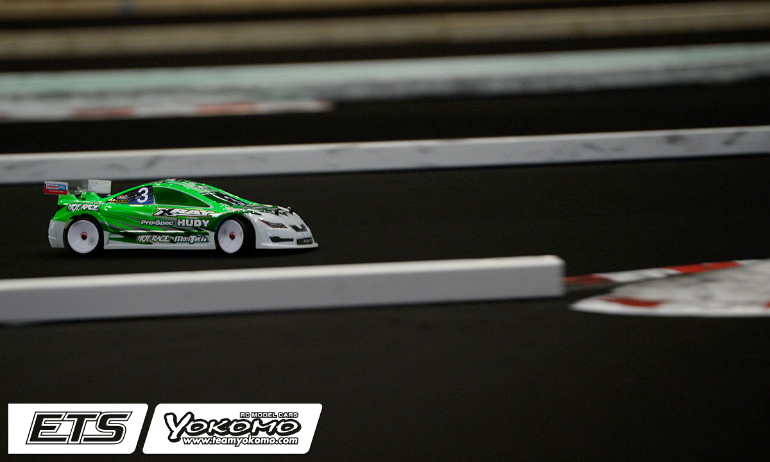 There was not enough time for me to catch Ronald and plus I had to drive defensively."

Alexander Hagberg
Making a very clean pass on Rheinard, following a mistake, Alexander Hagberg pulled off one of the only real moves in the race to bring his Xray up to 2nd. Asked his thoughts on A1 he replied 'I thought my car was pretty good, I was expecting Marc to put a stronger challenge on Ronald than he did but then he rolled over'. Once in 2nd he had to defend and as not able to go after the leader saying 'there was not enough time for me to catch Ronald and plus I had to drive defensively', continuing 'I wish I could have gone to the front earlier'. Asked about A2 he simply said 'I hope I can get passed Marc and catch Ronald but the problem is not enough time, my car is good, really competitive, its definitely fast enough to fight for the win'.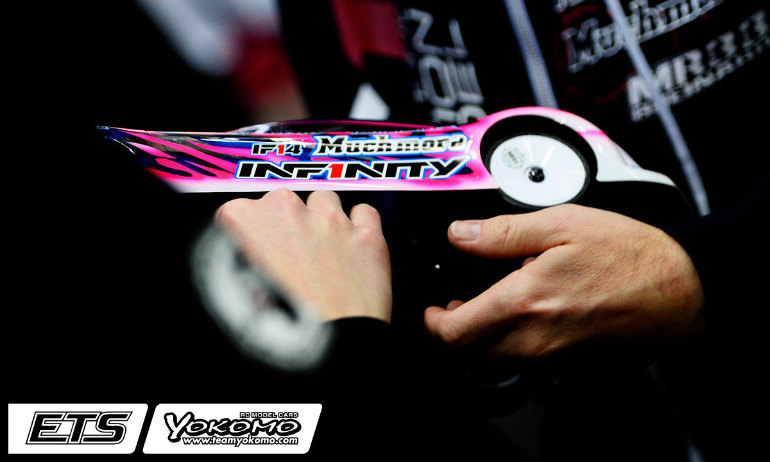 …then Alex made a small mistake and I tried to get by him but I was just on the outside and couldn't go."

Marc Rheinard
Hitting the curb on the left side of the track on lap 9 saw Rheinard lose a spot to Hagberg, commenting on the incident saying 'It started ok, I could keep the pace with Ronald but in the middle of the run I made a stupid mistake which cost me position and Hagberg went by'. As the race developed and despite a small mistake by Alex which allowed Marc alongside, the car started to push more and he fell back in the sights of an improving Coelho, who made a last corner passing attempt which turned the German over onto his roof, passing the line upside down, but maintaining 3rd. Asked about the 2nd A-main he simply said, 'lets hope for no mistakes'.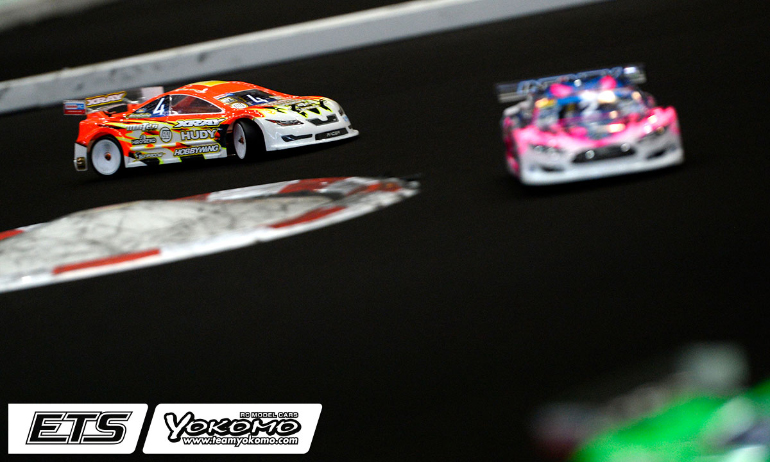 We miss something this weekend and we are still trying to find out what, but now it is already too late."

Bruno Coelho
'It was ok, started 4th finished 4th' was how Bruno Coelho summed up his race, continuing 'we changed a lot of things for today so at the beginning I had to have the feeling of the car as it was completely different compared to yesterday but in the end I was getting used to that so we will see in A2'. Questioned about his last lap coming together with the Infinity driver he said 'I knew it was the last corner so I tried to overtake, as he made a mistake at the chicane before, so I was trying to have the move there but he closed very well so I had no chance to overtake'. On A2 and his chances he replied 'We miss something this weekend and we are still trying to find out what, but now it is already too late.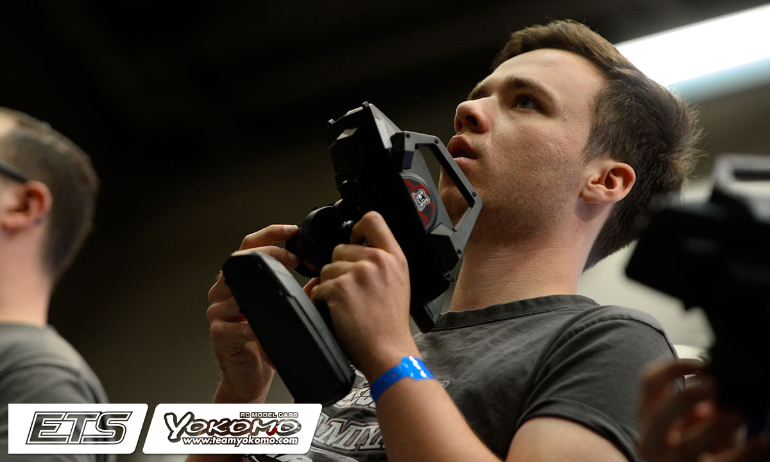 In the Pro Stock class, Simon Lauter continued his dominance of the opening round as he took an unchallenged win in A1 ahead of his Awesomatix team mate Max Machler in 2nd, with Jan Ratheisky the Xray meat in the Awesomatix sandwich as Frederik Mikkelsen, Olivier Bultynck and Christian Donath completing the top 6 for the Russian marque.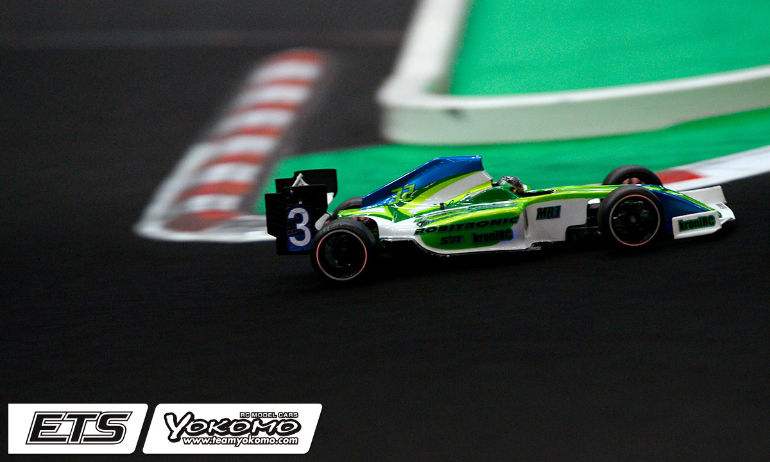 Formula A1 was a more entertaining affair as pole man Lauter was tagged by Ehrbar at the start which allowed Andreas Stiebler through to the lead from 3rd on the grid. While Ehrbar dropped back he was able to recover, making a nice pass on then 2nd place Matej Dobnikar, and mount a challenge on the leader on the closing laps but was not able to make it stick and so Stiebler could hold on for the win, with Ehrbar 2nd and Dobnikar in 3rd.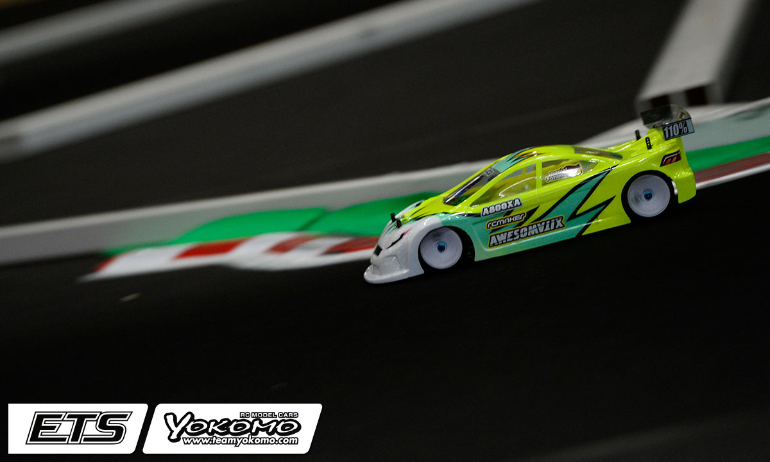 The opening A-main of the Masters 40+ class saw Alexander Stocker continue his perfect run as he took the win by over 8 seconds ahead of 2nd placed starter Toni Mateo, with Roland Wagenpfeil coming from 6th on the grid to claim 3rd. The Yokomo Stock class A1 also saw Daniel Pohlmann (above) continue his perfect score as he won ahead of Mark Valent and Markku Seppälä.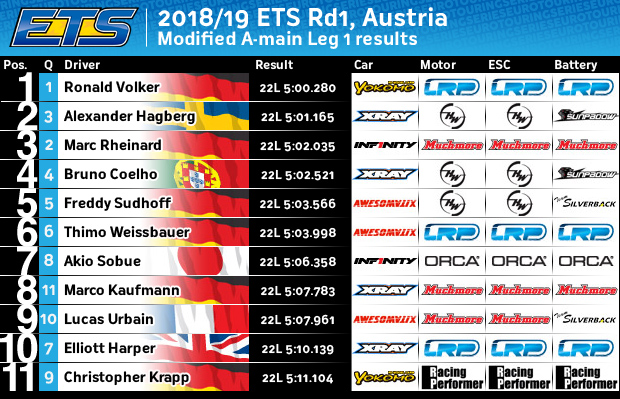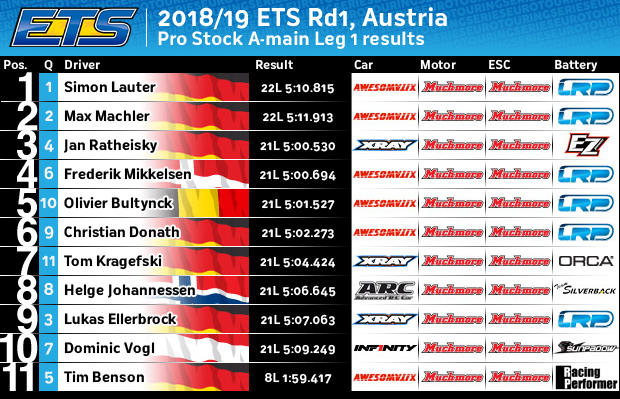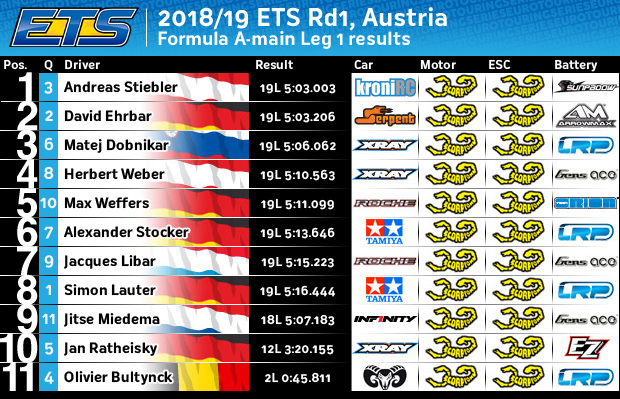 View complete event results here.
View our event image gallery here.
---