March 2, 2014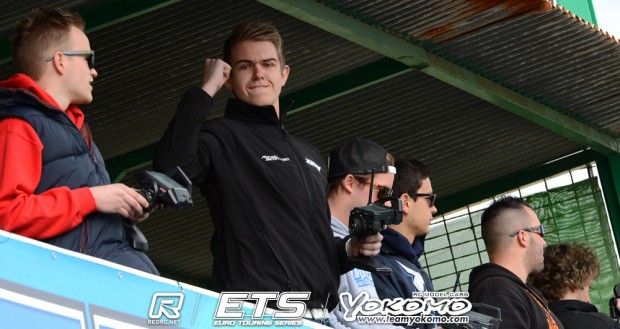 Team Xray's Adrian Berntsen has won the opening A-Main of the Ride Modified class this morning in Gran Canaria.  Qualifying second for the third round of the Yokomo Euro Touring Series, the Norwegian had the lead at the start of the race as Top Qualifier Ronald Volker spun out as the cars left the grid and once in front the 20 year-old would controlled the race from start to finish.  Behind Berntsen, HB's Andy Moore would finish second but only after Kyosho's Christopher Krapp, who passed the former World Champion coming into the straight on the last lap, went into the final corner too hard knocking the battery from his car just before the loop.  Lucky for Krapp only the top three cars crossed the loop a lap earlier just ahead of the 5-minutes so he was able to come away with third.  Volker would only finish 10th.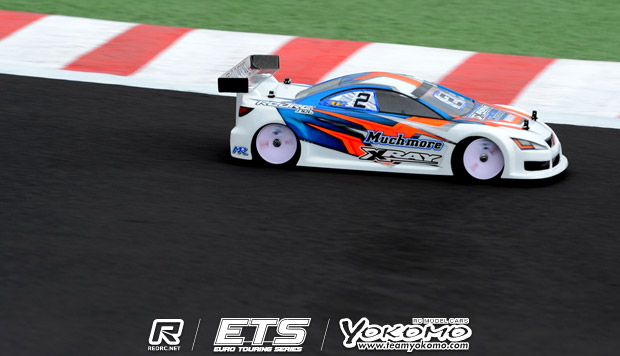 'Pretty lucky' was how Berntsen summed up his race adding that the race was made easier by Volker spinning out and his Xray team-mate Alexander Hagberg and Yokomo's Naoto Matsukura, who started directly behind him, coming together early in the opening lap.  Able to pull out a gap over Moore he said once he had a good distance between him and the British driver he just controlled his pace to the finish.  Following overnight rain and with all drivers running a new set of Ride tyres, Berntsen said the traction was low but for A2 he expects things to improve.  Happy with how is Muchmore powered T4 '14 ran he said he will not make any changes to his set-up as the second run on the tyres should improve things alot.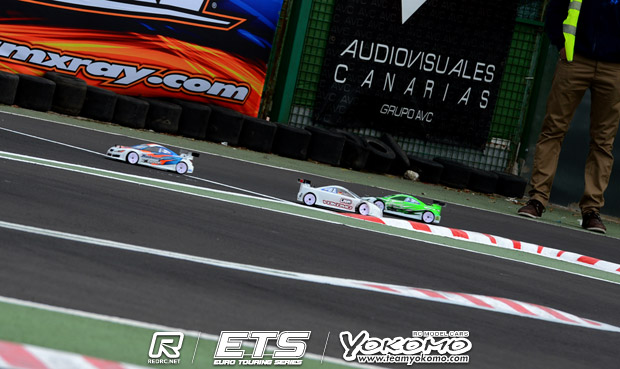 'I lost the race immediately at the start', was Volker's response to what happened.  Team Yokomo's lead driver said he 'turned to hard while still accelerating off the start line' and there was nothing he could do to stop his LRP powered BD7 from spinning out.  Chasing his first win on the island he said the race was over once he spun. While he tried to recover adding that his car had good pace he said the conditions made it impossible to recover.  Happy with his car he said his focus for A2 has to be to 'make a better start'.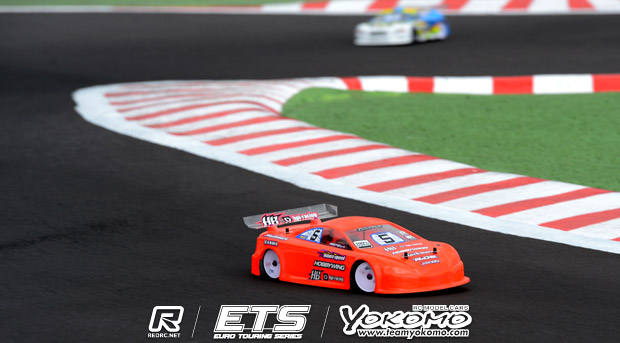 'Not too bad cause I finished second' was how Moore summed up his race.  Admitting he got lucky at the start he said he couldn't do anything about Berntsen so he 'cruised around' as he knew if he ran clean lines it would be impossible for Krapp to pass.  'Unfortunately in the second last corner I had a brain fart and Christopher got through but luckily he got it wrong at the next one allowing me to take back second'.  Having 'had my fair share of shit finals I'll happily take it'.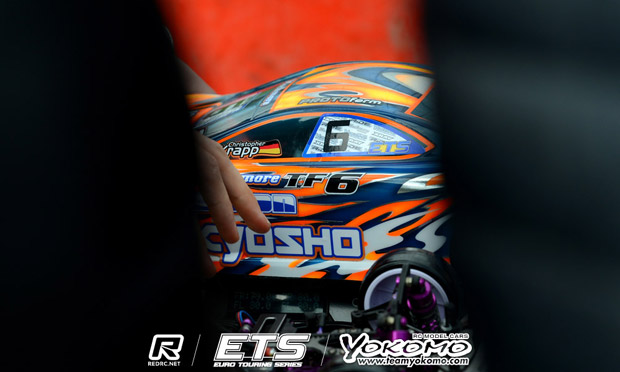 Enjoying his race with Moore, Krapp said on hearing the time was finished and wanting to make sure the HB driver didn't try to retake the position in the last corner and he 'just went for it'.  Coming into the corner way too hot he hit the fencing with the car bouncing back out onto the track.  Not able to get the car across the loop he said his first concern was that he had destroyed the car and it was a relief to find out it was just the battery that had disconnected.  Very happy with the pace of his Orion powered TF6 and admitting he got lucky at the start, the 2012 Gran Canaria winner joked hopefully the guys in front will make a similar start again in A2.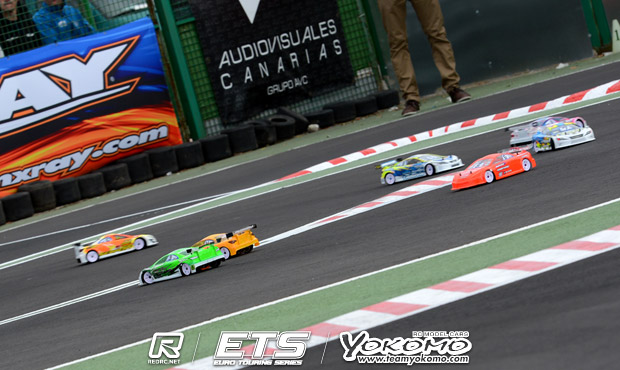 Coming from 7th on the grid Magnus Vässmar would finish 4th just ahead of Matsukura. Setting the fastest lap of the race, Matsukura tagged Hagberg at the start and waiting on the Swede said he said this cost him any chance of a good result.  Hagberg who started third would finish 6, the ETS Round 2 winner saying after the hit from Matsukura there was 'no way back'.  'Struggling a lot with understeer' he said for A2 he will try a different set-up on his ORCA powered T4 '14.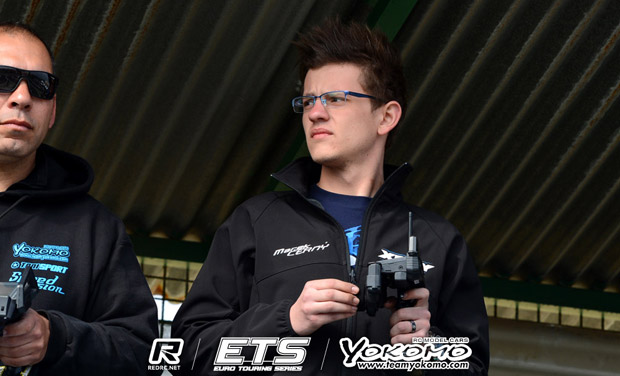 In the Xray Pro Stock class defending champion Marek Cerny is now just one race away from continuing as the only driver to win in the class on the island.  Starting from pole, the Czech driver dominated A1 to take the win by almost 4-seconds from team-mate Jan Ratheisky and the ARC of Henrik Heitsch.  In Formula Ratheisky took the win after getting by the VBC of Top Qualifier Olivier Bultynck after an error by the Belgian on lap 6 of 14.  Dropping to third following a subsequent roll Bultynck  would recover to take second back on the last lap from Thomas Pumpler.
Ride Modified A-Main Leg 1 Result
1.(2) Adrian Berntsen – Xray – 16/5:18.969
2.(5) Andy Moore – HB – 16/5:20.415
3.(6) Christopher Krapp – Kyosho – 15/4:59.764
4.(7) Magnus Vässmar – Xray – 15/5:00.428
5.(4) Naoto Matukura – Yokomo – 15/5:00.741
6.(3) Alexander Hagberg – Xray – 15/5:01.398
7.(10)Marc Fischer – Serpent – 15/5:02.010
8.(9) Viktor Wilck – Tamiya – 15/5:02.462
9.(8) Marc Rheinard – Tamiya – 15/5:02.913
10.(1)Ronald Volker – Yokomo – 15/5:03.386
Xray Pro Stock A-Main Leg 1 Result
1.(1) Marek Cerny – Xray – 15/5:15.703
2.(3) Jan Ratheisky – Xray – 15/5:19.540
3.(4) Henrik Heitsch – ARC – 15/5:21.983
4.(6) Eugenio Antimo Valiente – VBC – 14/5:00.474
5.(2) Lars Hoppe – ARC – 14/5:01.010
6.(5) Toni Mateo – Yokomo – 14/5:03.377
7.(10)Beni Stutz – Tamiya – 14/5:03.555
8.(7) David Nemcek – Xray – 14/5:09.278
9.(8) Michael Kiesewetter – VBC – 14/5:09.935
10.(9)Pawel Staszewski – Tamiya – 14/5:14.808
View the complete event results here.
View our event image gallery here.
---