November 1, 2013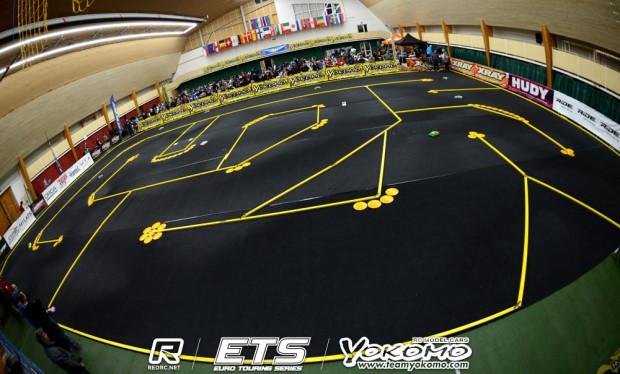 Host – Mibo Sport
Country – Czech Republic
Location – Hrotovice
Venue – Sport-V-Hotel
Track type – Temporary
Surface – Carpet
Direction – Anti-Clockwise
Previous ETS races hosted – 3
The Yokomo Euro Touring Series is in the Czech Republic for the opening round of the 2013/14 season, marking the fourth time the small town of Hrotovice has hosted a round of the world famous championship.  Joining the series in Season #3 & 4 it switched to hosting the opening round of the EOS during season #5 before returning to the ETS calendar for the past two seasons.
Run in the large sports hall of the Sport-V-Hotel, a facility that is very popular with racers, the race is hosted by Mibo Sport.  Run by top Czech racer Michal Bok, the company which is a distributor for Yokomo uses the venue as the base for its very successful Mibo Cup race series with Ronald Volker, Marc Rheinard and Marc Fischer attending the most recent round as practice for this weekend.
One noticeably difference over last year is the lighting in the hall which has been converted to an LED lighting systems which makes the hall much brighter giving a more natural feeling of light.  In terms of the track layout of the black carpet track defending champion Ronald Volker said compared with last year the layout features more long corners making for a more flowing track.  Lap times are expected to be in the region of low 12 seconds for the series' fastest category, the Ride Modified class.
Image Gallery
---