May 9, 2014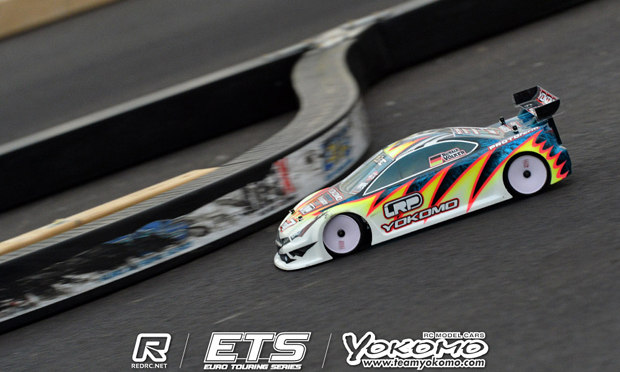 Following a 2-month break, in the first practice of the four round of the Yokomo Euro Touring Series defending champion Ronald Volker made his intentions clear setting the fastest time from Serpent's Marc Fisher. An all new event on the ETS calendar, the Yokomo driver looks to have got to grips rather quickly with the unique track in Mattsee, Austria, being over 1/2 a second faster than his rivals over 3-consecutive laps. Volker's team-mate Yannic Prumper completed the Top 3 around the US boards style track that thankfully it was decided on Tuesday to cover with a very large marquee meaning the many heavy rain showers today have not interrupted proceedings.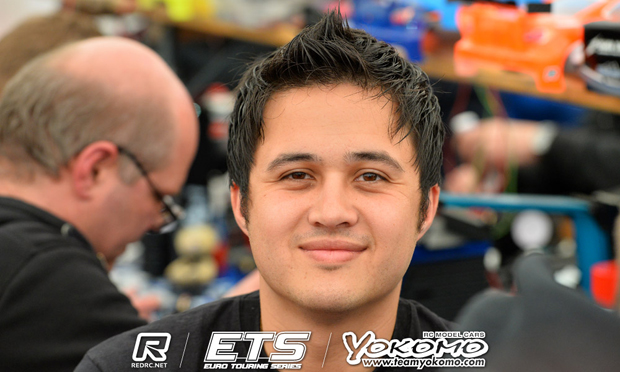 Describing the track as 'totally different to anything' he has raced on before in the ETS, Volker said its an interesting challenge and he is really enjoying it. With the 'driver stand position, asphalt and racing in a tent all new experiences', the German said the layout of the track, which was created by rivals Marc Rheinard and Viktor Wilck, is good to drive. Pleased with the performance of his LRP powered BD7, the 9-time ETS winner who hasn't had a win since the season opener on carpet said he will run his car as is for the final timed practice. With his 'car working good', he said his focus will instead be on just completing a full error free run adding that even the smallest of contacts with the boards can easily lead to a broken car.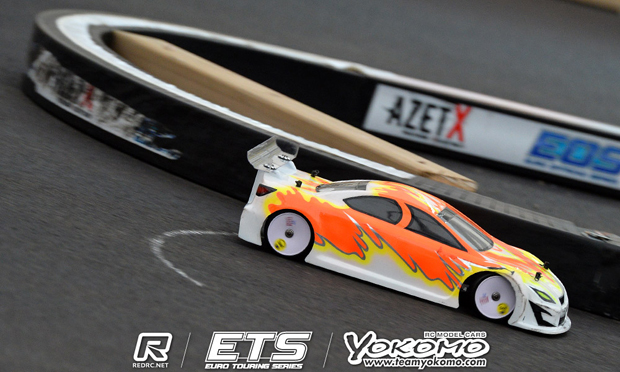 Driving his Viper powered S411 ERYX 3.0, Fischer said his pace was ok despite the car suffering from a little understeer. Commenting the track the German said while it is a bit on the small side it is fun to drive adding that 'the tent was a good idea'. Today's rain showers, had the track not been covered, would most certainly have meant little or no track action. Looking for more steering and traction, for TP2 he plans to stand up the front shocks as well as switch to a heavy rear gear diff to see if this improves his outright pace adding that right now the car should be 'ok' over 5-minutes as it is quite safe.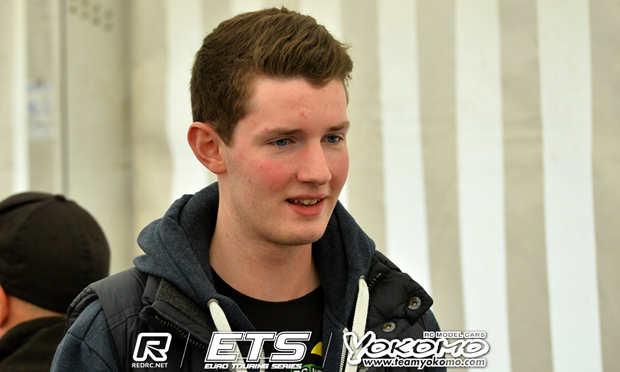 Having ran two cars back to back in each of the free practice runs, for the first timed practice Prumper opted to run his aluminium chassis BD7. While the carbon chassis car was outright faster, together with his mechanic Toni Rheinard they have opted for the 'really comfortable' feeling of the aluminium chassis which for 5-minutes around the boards track is a better option. Trying a softer shock oil for TP1 like that used by team-mate Volker, he felt it didn't suit his driving style and so for the final practice he will revert to a heavier oil.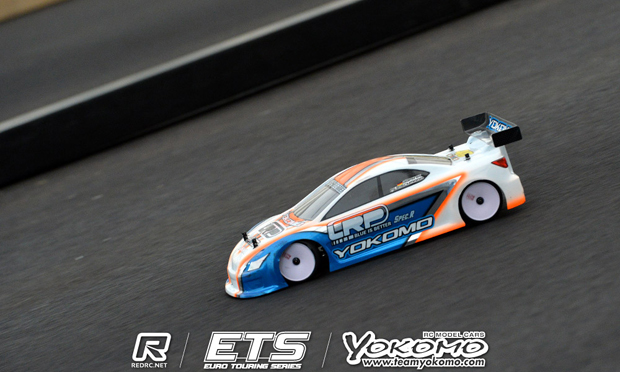 Setting the fourth fastest time, Dominik Fleischmann described his run as 'quite good'. His first time racing on a boards track the German Yokomo driver said he really likes it and he was 'pretty satisfied' with his car and his performance. Finding the rostrum a little low, he said 'they made the most of the space' and for the next run his focus is on consistency rather than speed feeling a flawless 5-minute run between the boards for qualifying is going to be challenging.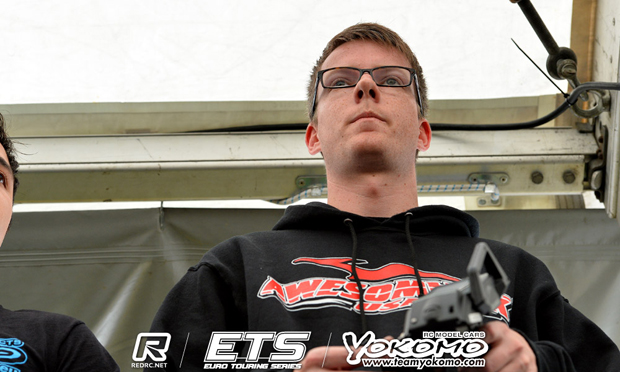 'So far so good' was how Freddy Sudhoff summed up his 5th fastest time. The factory Awesomatix driver said they 'continue to make big improvements on asphalt' adding the latest changes have really been a step forward. Very competitive on carpet, to get the car better on asphalt this weekend they are running new hubs which help make the car narrower. Also testing carbon versus aluminium chassis plates he said so far he is favouring the latter. Giving the car more steering he said it also gave him a more consistent car over the duration of the run. Only his second time to race on a boards track he said the layout seems easy but 'when you try to get a super fast time it's in fact very challenging'.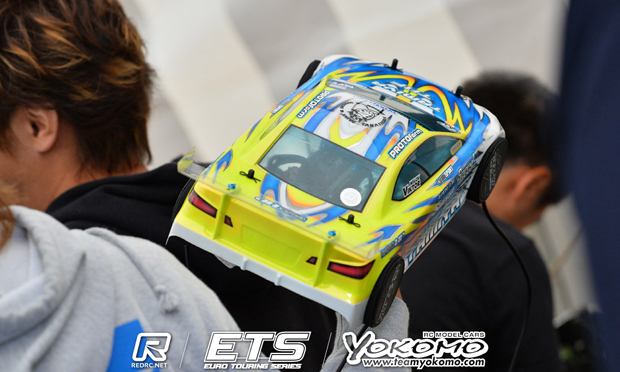 Having been responsible for putting down the track layout, Tamiya's Viktor Wilck was pleased with his work but said the gap to Volker was 'crazy'. Running in a new set of the championship's Ride tyres in the first timed practice he said hopefully on the second run, his intentions being to use them in Q1 later tonight, they will give him some of the speed he is lacking, his gap to second fastest Fisher being less than 2/10ths. For the final practice he will again use the track time to scrub in another set of tyres for qualifying. Overall he said he was pretty happy with where his TRF417 is at. Marc Rheinard who was seventh fastest just behind his team-mate reported a similar situation. Having not been to an ETS race for some time, the cars designer Kiyo Suzuki has made the trip over from Japan to Mattsee to support his TRF squad this weekend, Japanese team driver Takayuki Kono also making the trip.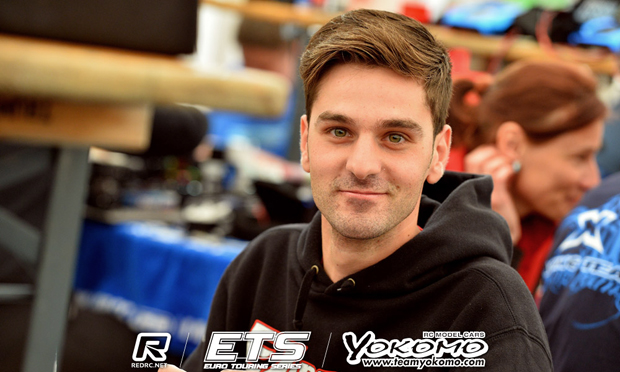 Better known for his 1:8 Onroad nitro exploits, Italy's Nicola Marrone posted the 8th fastest time. Owner of Hot Race tyres, the company that will provide the tyres for the World Championships later this year, he said he was happy with his run and his Yokomo chassis. Running new tyres for TP2 he will try a used set to compare the difference so as to decide his tyre options for qualifying.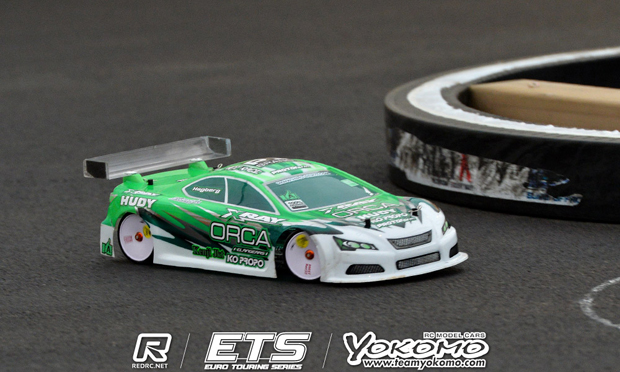 Unfortunately university commitments meant Round 3 winner Adrian Berntsen has not made the trip to Austria this weekend but Xray's Round 2 winner Alexander Hagberg has. The Swede posted the 9th fastest time ahead of fellow countryman Magnus Vassmar saying he is 'struggling a little with understeer'. Happy with his T4 in free practice he said a change to the roll centres and rear diff for the first timed run didn't suit the track but planning to revert back for the last practice he said it should be good again. Describing the track as 'very unforgiving' he said its very easy to tweak the car so he prefers corner dots but with it being the same for everyone he said he has just got to deal with it.
View the complete event results here.
View our event image gallery here.
---