June 15, 2013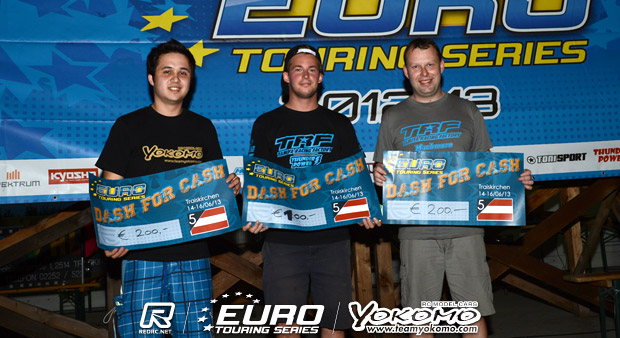 Something that was started at Traiskirchen and has now become a Saturday night feature at every round of the Euro Touring Series, the 'Dash for Cash' in Austria saw Yokomo's Ronald Volker and Thomas Pumpler pocket €200 each with Volker then bringing his takings to €300 after a new feature saw him go head to head for 2 laps with the man he beat to the 'Dash for Cash' Viktor Wilck. With the drivers running in the reverse order of how they qualified it was the No.7 Tamiya of Wilck that laid down to first really fast time over 2 laps run in the reverse direction. Setting a time of 30.712 that time would stand until Volker, who was second last to run, would pip him by 31/1000th of a second. With only Marc Rheinard left to run the Top Qualifier was unable to better the time handing Volker his second 'Dash for Cash' cheque of the year.
To mark the fact that the 'Dash for Cash' was first run here Scotty Ernst then sprung an extra challenge on the Top 2 for a heads up race over two laps for an extra €100 which both drivers accepted and which got a massive round of cheers from onlookers. Both snaking off the line and then clashing at the first corner and getting out of shape at the second corner in an almost synchronized fashion, the next lap Wilck ran wide pulling a corner of his Tamiya and allowing Volker to take the win. For Wilck it wasn't all in vain as a anonymous donation meant he too would get €100 for his attempt. While the Modified A-Main is always a feature of the 'Dash for Cash', a lottery decides which of the lower finals get a chance at the event with the Modified D Main getting picked. Second last to run of the 10 drivers Pumpler set the pace but running last it looked like Serpent's David Ehrbar had the pace to beat the local but running wide at the last section of corners as he came to complete his run the German lost 9/10th and with it the €200.
View our event image gallery here.
---