December 6, 2008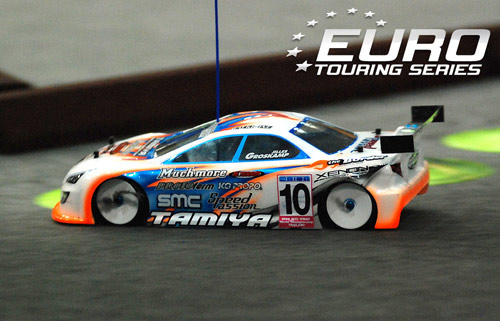 The first round of qualifying for the second round of the Euro Touring Series has been completed here in Budapest and it was defending champion Jilles Groskamp who set the pace from former team-mate Martin Hudy.  Groskamp produced 24 laps in 5:00.80 with Hudy just 2/10ths adrift.
All the leading drivers are reporting that track conditions are very inconsistent and afterwards are having to deal with large deposits of carpet fluff building up in their cars.  Groskamp says its vital to be very smooth because going even slightly off line the tyres pick up the fluff from the brand new carpet making the car very loose for the next few corners. The Dutch drivers says he can go faster and will play around with the application of tyre additive for the next round.
Hudy described his first qualifier as difficult.  At the beginning of the race his Xray was pushing but in the latter part it developed oversteer as the rear tyres started to loose traction.  The Slovak driver will change to a harder front roll bar for the second heat in attempt to make the car more consistent over the run.
Despite describing his run as 'Pretty Horrible', Bart Wubben took his Xray to the third fastest time. The Dutch Champion is hoping the track will get more consitent but will play around with tyre additive to try and get a better balance in the car. Michal Blok, Zdenko Kunak and Zdenek Hamak completed the Top 6.  Former German National Champion Toni Rheinard had his first heat come to nothing after a front wheel nut came loose in the later stages of the 5 minute run.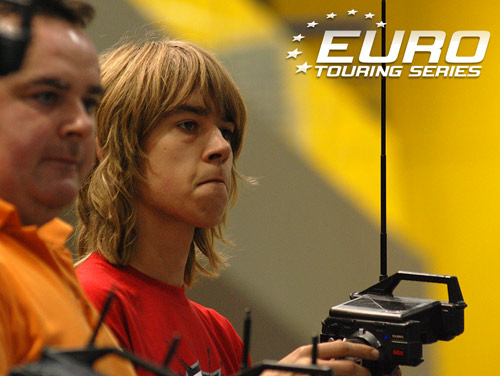 In Pro Stock Czech National Champion Jakub Plechac driving a Hot Bodies topped the round ahead of local driver Balint Rajki who is also running a Cyclone TC in the class.  Plechac was very pleased with his car so much so he plans no changes for his second outing.  Despite his Mazda body rubbing the ground throughout the run Rajki was happy with his opening time but the Hungarian plans a body change for the next outing.  With the top 3 covered by just one second, Dutchman George Spitteler was third fastest at the controls of his TOP.
One interesting incident in the National Class here in Budapest involved Uwe Rheinard, the man behind the ETS.  Having missed out on practice due to his race admin duties, Uwe's debut in the series started off in the wrong direction when his car ran in reverse as he tried to do his warm-up lap for the first heat.  It turns out that Toni Rheinard had wired the motor the wrong way but to give the Speed Passion team driver some credit he was able to rewire the motor in time so that his father got to take up his starting slot for the heat.
Check out our image gallery here.
---