December 7, 2008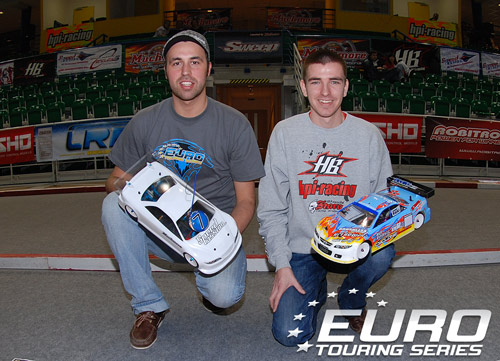 Qualifying for the second round of the Much More backed Euro Touring Series has been completed and it is Toni Rheinard & Balint Rajki that will start from the pole for the respective Modified and Pro Stock A Mains here in Budapest this afternoon.
The overnight TQ holder Rheinard had the upper hand over defending ETS Champion Jilles Groskamp going into this morning's fifth and final round of qualifying thanks to his fastest run time in the fourth qualifier yesterday.  Unfortunately we didn't get to see the showdown for the Top Qualifier honours we expected between the Tamiya pairing. Sharing two heat wins each, Groskamp was forced to pull up after just seven laps due to very rare preparation oversight by the normally meticulous Dutch driver.  With his only challenger for the pole out, Rheinard still pushed on to TQ the round in a new fastest time of 25 laps in 302.80 followed very closely by Xray's Martin Hudy who will line-up third on the grid.
In Pro Stock the overnight TQ holder was Jakub Plechac but local ace Balint Rajki was to deny the Czech National Champion that honour this morning.  Having won three of yesterday's four qualifiers, Plechac got collected while lapping in the final heat allowing Rajki to take his second heat win and having recorded the fastest 5 minute run in yesterday's fourth qualifier this handed the Hungarian pole. Finishing second for the round to claim third on the grid was 15-year-old Zdenko Kunák who Rajki believes could be his biggest challenger in the triple leg finals.
Modified A-Main Grid
1. Toni Rheinard – Germany
2. Jilles Groskamp – Netherlands
3. Martin Hudy – Slovakia
4. Bart Wubben – Netherland
5. Michal Bok – Czech Republic
6. Zdenek Hamak – Czech Republic
7. David Ehrbar – Germany
8. Zdenko Kunák – Slovakia
9. Gabor Forrai – Hungary
10.Balint Rajki – Hungary

Pro Stock A-Main Grid
1. Balint Rajki – Hungary
2. Jakub Plechac – Czech Republic
3. Zdenko Kunák – Slovakia
4. Jan Van Steeg – Netherlands
5. George Spitteler – Netherlands
6. Blazej Orlowski – Poland
7. Frans Heinsbroek – Netherlands
8. Marcel Pinkster – Netherlands
9. Zoltan Tohai – Hungary
10.Peter Taal – Hungary
Check out our image gallery here.
---