July 19, 2009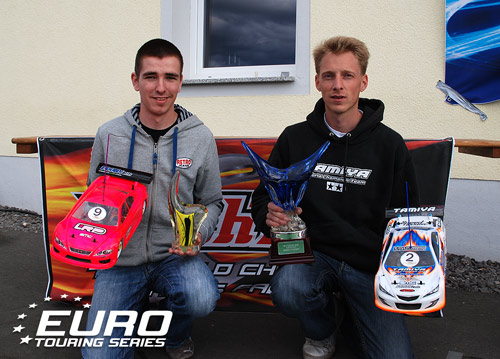 Jilles Groskamp and Balint Rajki are the 2008/2009 Muchmore Euro Touring Series Champions.  The titles went right down to wire at the final round here in Andernach, Germany, with the Modified title actually ending in a points tie between Groskamp and current World Champion Marc Rheinard who was today's race winner. With identicial counting results and race TQ's, they had to be seperated by qualifying positions handing Groskamp back to back titles. Having TQ'd and won the opening Leg of the A-Main Viktor Wilck looked set to claim his first ETS race win and to deny Rheinard the chance to challenge for the title but the former DHI Cup Champion made a slight mistake in the second final allowing Rheinard to win both legs and the final thanks to his faster race time.  Before race officials had reached a tie break decision the Tamiya/Speedpassion took the tie break into their own hands literally as they used Rock, Paper, Scisscors to decide. The result was to go the same way with the Dutch star's scissors being better than Rheinard's Paper! On collecting his Champion's trophy, Groskamp said he was delighted to retain his title and for Tamiya who took 1-2-3 in the standings with Tamiya Junior driver Yannick Pruemper finishing third overall.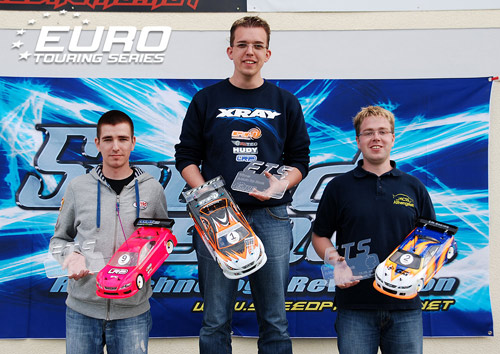 In Pro Stock a single point decided the title with Rajki coming back from a poor qualifying to take it from Daniel Wohlgemuth who came here as the series leader.  The Hungarian National Champion qualified only ninth for the final but put in two great drives to finish second one place ahead of Wohlgemuth. The Round 5 victory went to Top Qualifier Matthias Lang who was delighted to claim his first major race win but the day belonged to Rajki as he added his first international title to his CV. In the second Leg of the A Main, which was won by Thomas Musial, cruel luck befell defending Champion Alexander Stocker when a drive shaft broke on his Xray while he was leading. With the dust settled the overall championship Top 3 for the 2008/2009 ETS Pro Stock class was Balint on 298 points, Wohlgemuth on 297 and Stocker on 294.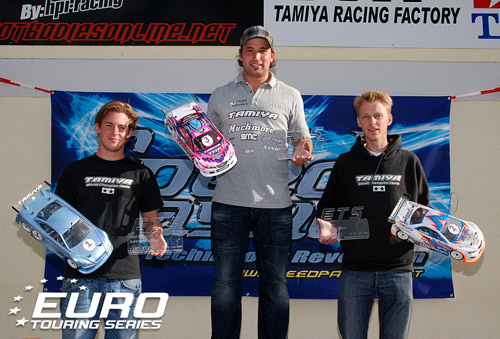 So the second edition of the Euro Touring Series, which was once again supported by Muchmore, Speedpassion and Hot Bodies, has been another great success with 288 drivers registering points during the series' visits to Germany, the Netherlands, Hungary and Poland. The series produced some great racing not just between the big names of the sport but also the future of the sport. Emerging talent Yannic Pruemper took his first international win in Poland where we also had our youngest ever competitor Maciek Kajko who was just 4 and a half. With the emphasis on having fun and bringing together r/c racing enthusiasts from across Europe, the two men behind the ETS, Scotty Ernst and Uwe Rheinard, are already planning the 2009/2010 series which they tell us is going to be bigger and better. Red RC have really enjoyed bringing you live coverage of each ETS race and to making many new friends along the way. We look forward to returning to Germany in October when the third edition gets underway with the Kastellaun indoor race.
Modified final race results
1. Marc Rheinard – 19pts
2. Viktor Wilck – 19pts
3. Jilles Groskamp – 16pts
4. Ronald Völker – 12pts
5. Steven Weiss – 11pts
6. Christopher Krapp – 11pts
7. Freddy Südhoff – 10pts
8. Martin Hofer – 5pts
9. Mario Sowka – 4pts
10.Patrick Gassauer – 3pts
Pro Stock final race results
1. Matthias Lang – 18pts
2. Balint Rajki – 17pts
3. Daniel Wohlgemuth – 16pts
4. Thomas Musial – 12pts
5. Steffen Still – 10pts
6. Alexander Stocker – 9pts
7. Meik Niemann – 9pts
8. Rob Janssen – 7pts
9. Martin Schmidt – 7pts
10.Michael Kiesewetter – 5pts
Hobby class final race results
1. Joachim Krapp – 18pts
2. Sebastian Kroh – 16pts
3. Markus Arenz – 16pts
4. Joachim Altenhof – 15pts
5. Thomas Lanwert – 13pts
6. Karl-Reiner Mürder – 12pts
7. Peter Hanna – 7pts
8. Andrzej Rozycki – 6pts
9. Andreas Hummel – 5pts
10. Tim Rudersdorf – 1pts
11. Jacek Kajko – 1pts
12. Urzsula Pyzel – 0pts
Hobby class Junior final race results
1. Andre Schäfer – 18pts
2. Frederik Tobiasch – 17pts
3. Christian Schlösser – 14pts
4. Christopher Buchner – 13pts
5. Marcel Klappert – 13pts
6. Elena Hummel – 10pts
7. Nino Triandafilidis – 9pts
8. Michal Orlowski – 7pts
9. Maximilian Schlösser – 7pts
10.Maciek Kajko – 3pts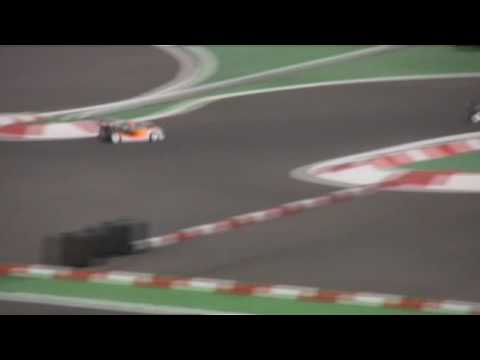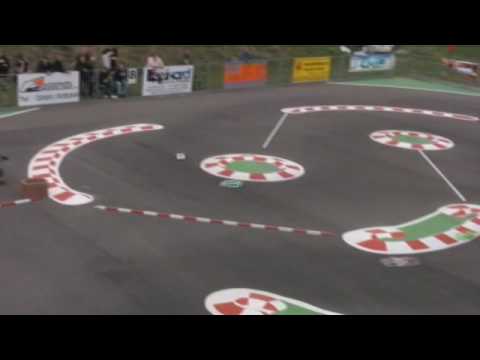 View our event image gallery here.
---