March 3, 2013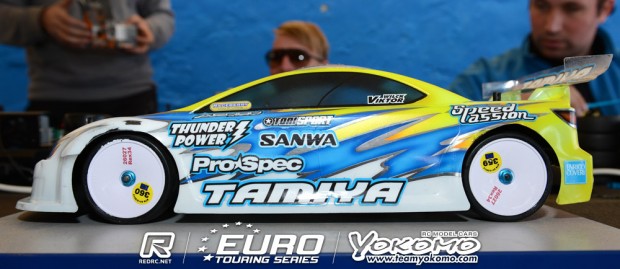 Chassis Name – Tamiya TRF417X
Motor – Thunder Power
ESC – Speed Passion Reventon
Batteries – Thunder Power
Tires – Ride (handout)
Radio/Servos – Sanwa
Remarks – Top qualifier and race winner here in Gran Canaria, Viktor Wilck, is running a modified version of the Tamiya TRF417X. Featuring some new parts from Raceberry, they appear to have worked with the Tamiya team having their best result in some time. The new parts include a top deck with different flex characteristics to the standard part as well as a new chassis plate. The car sports some other modifications to help provide flex and we are told that Tamiya will be coming out with their own official parts soon. Viktor was also running the latest Reventon speed controller from Speed Passion which includes new power profiles as well as a new cooling fan.
Image Gallery
---