June 14, 2013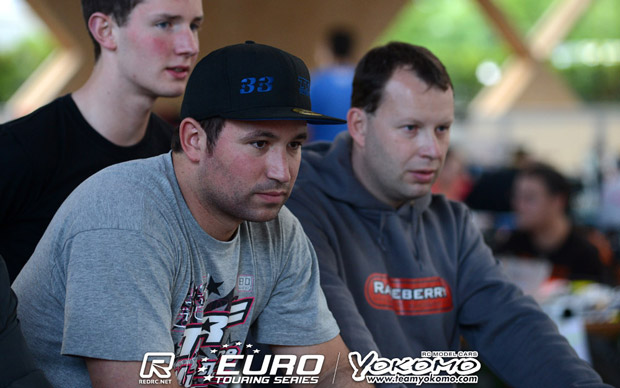 Marc Rheinard TQ'd Round 1 of qualifying at the Austrian round of the Euro Touring Series, the Tamiya driver setting the opening pace ahead of fellow former World Champion Andy Moore's HB with last year's Traiskirchen winner Yannic Prumper completing the top three. Having set the pace in practice earlier in the day, Prumper's Yokomo team-mate Ronald Volker looked to be on target to end Day 1 of the event perfectly as he sat top of the timing screens until his BD7 suffered a roll on lap 15 which cost him 5-seconds.  Eventually the defending champion, who set the fastest lap of Q1, would end up 6th, a result he will be hoping is one of his throw out rounds.
Rheinard was 'happy' with his run saying his Much More powered TRF417 was good. The most winning driver in the ETS, the German said the biggest drama of the run was him mistaking another car for Volker which left him slightly confused as to how his rival could have pulled such a gap so early on in the run.  With many of the drivers availing of open testing yesterday, Volker ran a white bodyshell which Rheinard got used to watching as they did runs together but for the start of the race proper Volker reverted back to his familiar colour scheme, something Rheinard failed to register. While he admits he got lucky with Volker's roll, running second to him up to then, he said in terms of pace he believes there is very little between them and the rest of the qualifiers are going to be very close. For Rheinard's team-mate and fellow title contender Viktor Wilck what started out as a bad day didn't get any better.  Coming up to complete his first lap the Swede traction rolled his Thunder Power equipped TRF417 ending any chance of a competitive first run so he pulled up to save his tyres saying afterwards its best to forget today and start fresh tomorrow.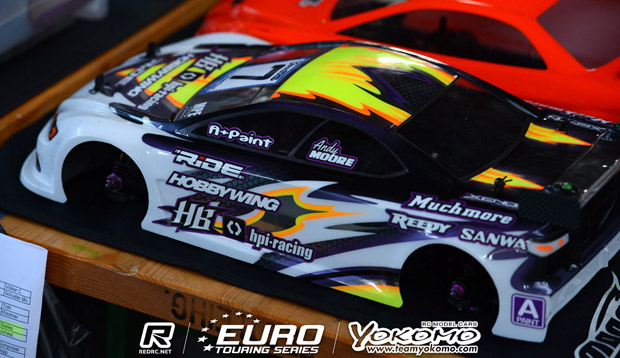 Moore described his run to the second fastest time, in which he produced a faster lap than Rheinard, as a pretty decent start considering his pace in yesterday's practice and for a small team today was a 'huge step forward'.  Having struggled with understeer on his Hobby Wing powered TCXX, the British ace said the car was 'pretty OK' for the first qualifier although he cant push as much as he wants to but the time sheets show he is pretty much on the pace.  Losing time in the first minute of the run when the car is very edgy he said he will probably make some changes for Q2 to try and cure this.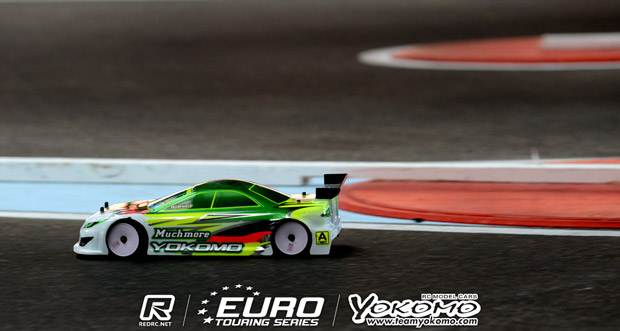 Having changed springs on his BD7, Prumper said the car was better but 'stupid lines' in the last three laps cost him second for the round. With the car now too easy to drive he will switch to a lighter oil in his gear diff for Q2.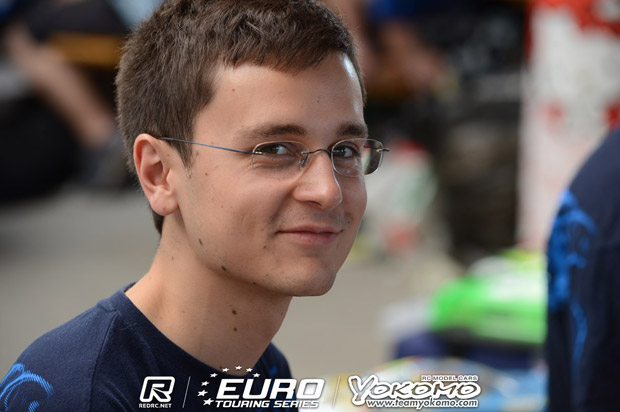 Setting the fourth fastest time, Team Xray lead driver Alexander Hagberg said his run was decent and overall it was not too bad a start for the team as they got 5 of their cars into the Top 10.  With conditions for the opening qualifier cooler than in practice, Hagberg said he had a little too much steering which forced him to drive a little cautiously but able to do the full 5-minutes without mistake he was happy with his approach.  With the second round of Modified qualifying due to get underway at 08:00 in the morning, the Swede said conditions will be similar to those of Q1 and so he will make a set-up change to his T4 to try reduce the oversteer.  Second fastest of the Xrays, with the 7th fastest time, was Hagberg's fellow countryman Magnus Vässmar.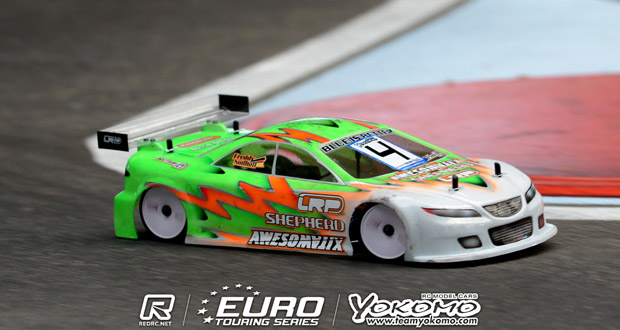 Taking 5th in Q1, Awesomatix star driver Freddy Südhoff described his run as the 'perfect start' with the A700 the best it has been all weekend.  Having struggled yesterday for pace, the German switched back to the car's basic set-up today improving it every run.  Now happy with his car he will leave it the same and instead focus on his driving. For the second half of the first qualifier Südhoff said after seeing so many drivers make mistakes he reverted to driving wider lines so as to keep the run clean but for tomorrow he will drive with a little more aggression and take more risks.
Summing up his opening qualifier, Volker said his BD7 was 'super good' and he was running in 'control mode' when the car 'just traction rolled'.  Describing the roll as having 'come out of nowhere', he said it wasn't a major disaster as there was still four qualifier to go and he is confident they have the car to TQ three of those.
Having set the second fastest time in controlled practice Serpent's Marc Fischer 'just pushed too hard' leading to a roll on his second lap which cost the German over 5-seconds leaving him 16th for the round, one position behind Kyosho's Christopher Krapp.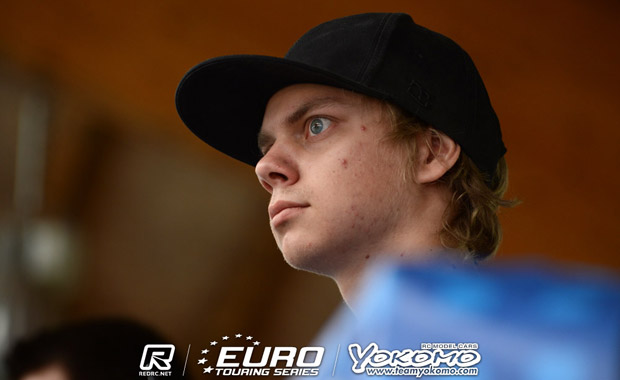 In the Xray Pro Stock class, who had two of their qualifying rounds today, it was practice pace setter Viljami Kutvonen who was fastest from Awesomatix team-mate Dominic Vogl in Q1 with Xray's Marek Cerny bouncing back from a speedo shut down in the first one to take Q2 in which Vogl was again second.  Third fastest in Q2 having an issue with understeer, it is Kutvonen, who posted the fastest lap time of the two qualifiers, who holds the provisional TQ overnight in Austria.  In the Speed Passion Formula class Roman Pichler set the pace in both qualifiers with his TOP chassis.
Ride Modified Q1 times
1. Marc Rheinard – Tamiya – 21/5:12.571
2. Andy Moore – HB – 21/5:14.316
3. Yannic Prümper – Yokomo – 21/5:14.808
4. Alexander Hagberg – Xray – 20/5:00.511
5. Freddy Südhoff – Awesomatix – 20/5:01.153
6. Ronald Völker – Yokomo – 20/5:02.066
7. Magnus Vässmar – Xray – 20/5:02.732
8. Martin Hudy – Xray – 20/5:03.427
9. Niclas Nilsson – Xray – 20/5:04.675
10.Marco Kaufmann – Xray – 20/5:04.704
Xray Pro Stock Q1 times
1. Viljami Kutvonen – Awesomatix – 19/5:06.333
2. Dominic Vogl – Awesomatix – 19/5:09.181
3. Tony Streit – Serpent – 19/5:11.199
4. Tobias Vogel – Xray – 19/5:11.604
5. Henrik Heitsch – ARC – 19/5:12.217
6. René Klöckner – Yokomo – 19/5:13.093
7. Oliver Franke – HB – 19/5:13.238
8. David Nemcek – Xray – 19/5:13.383
9. Vasco Christiaanse – Kyosho – 19/5:14.154
10.Bernhard Bopp – HB – 19/5:14.352
Xray Pro Stock Q2 times
1. Marek Cerny – Xray – 19/5:08.592
2. Dominic Vogl – Awesomatix – 19/5:8.845
3. Viljami Kutvonen – Awesomatix – 19/5:09.289
4. Martin Hofer – Schumacher – 19/5:09.996
5. Tobias Vogel – Xray – 19/5:11.855
6. Oliver Franke – HB – 19/5:11.964
7. Jerome Meile – Xray – 19/5:12.149
8. Tony Streit – Serpent – 19/5:12.653
9. Valetin Hettrich – Xray – 19/5:12.963
10.Bernhard Bopp – HB – 19/5:13.304
View the complete event results here.
View our event image gallery here.
---