January 31, 2014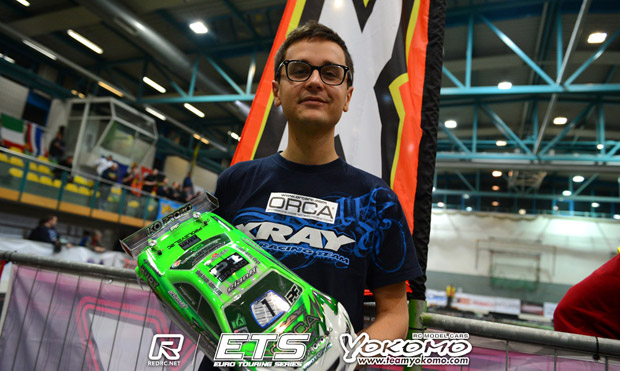 Day 1 of the second round of the Yokomo Euro Touring Series belonged to Alexander Hagberg, the Team Xray driver backing up his practice pace with a very convincing TQ run in the opening round of qualifying at the German event. With even Marc Rheinard complimenting the Swede's performance calling it 'impressive', Hagberg's closest challenger was Yokomo's Yannic Prumper who was some 1.8 seconds adrift.  While Freddy Sudhoff completed the Top 3, it was a tough start to qualifying for defending Champion Ronald Volker as the Round 1 dominator managed only the 8th fastest time.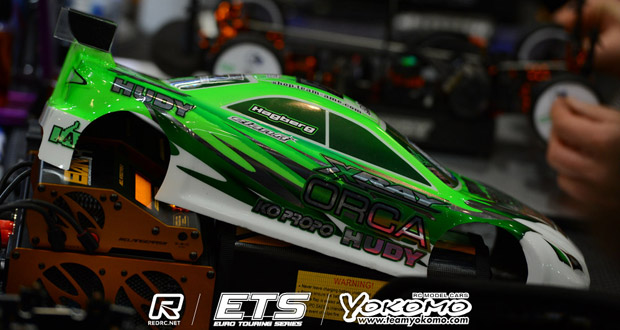 Having come close to a TQ run at the season opener where he qualified second overall, Hagberg said he was 'really happy' at how the day had gone.  Confident after the first timed practice that he had a good car for the event after extensive pre-race testing at the Hudy Arena, he said his ORCA powered T4 is 'really good and just gets better' as the run goes on. Taking a few laps to get established at the top of the timing monitors, he said his car was 'maybe not the fastest in the beginning' but added that this was 'not necessarily a bad thing'.  Have changed little or nothing in terms of his set-up over the day the former ETS winner said he will continue to leave everything as is for the morning's second qualifier.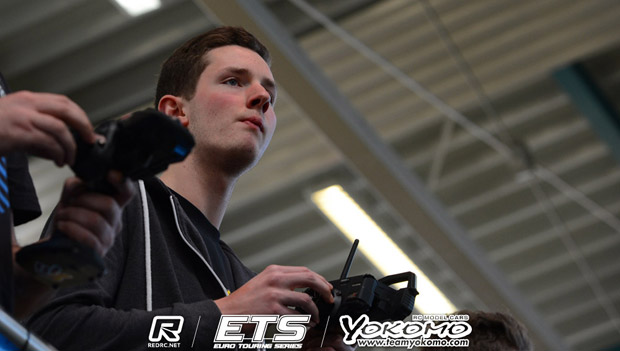 Another former race winner, Prumper described his run to the second fastest time as a 'good start' to the Mülheim-Kärlich event.  The 20-year-old said he didn't push focusing instead on making sure he put in a safe run.  Looking to tomorrow's action, the German said he would like to try and find some more steering but added he wasn't sure what to change, an uncertainty that might be fuelled by his team-mates performance.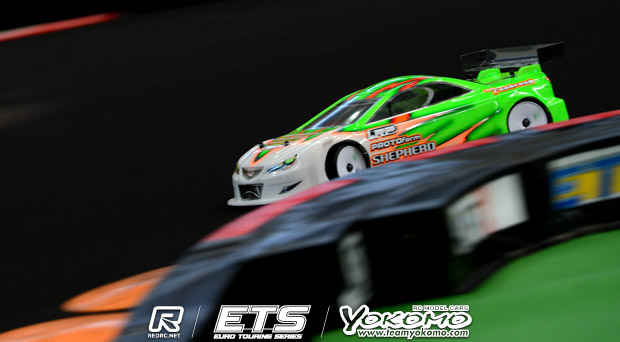 Finishing 1.8 seconds off Prumper's time, the same time difference that separated the top two, Awesomatix' Sudhoff said his run was 'pretty good (with) no mistakes'. Describing the gap to Hagberg as 'pretty big', the Round 1 podium finisher said he is missing 1/10th of a second a lap which he hopes he can find once he discusses potential se-up options with the car's designer Oleg Babich.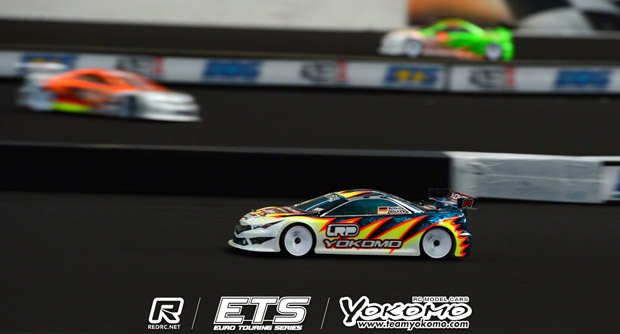 Volker said his car was too edgy at the start which resulted in him rolling the LRP powered BD7 2014 on the first lap.  Trying to make back up the 3-seconds lost, the European Champion then suffered a further roll saying he just pushed too hard.  Feeling they improved the car over how it was in practice, the 3-time back to back champion said 'a few small changes (are) still needed'.  Happy with his lap times, he added he needs to 'get it all together' for the next one.
In the Tamiya camp the response to how their runs to the 4th & 5th fastest times had a strong similarity.  Happy with how his TRF418 started the 5-minute qualifier, Rheinard said it just start to push more & more with each lap.  Having Volker behind him for the closing part of the heat, he said this highlighted clearly how bad the understeer is.  Wilck summed up his lack of steering very simple with 'understeer understeer'. Asked what possible solutions they had to finding more steering, Rheinard said he will spend the night thinking it over but added they have to come up with something if he is to try and capitalise on what he believes could end up being a tough weekend for his arch rival Volker.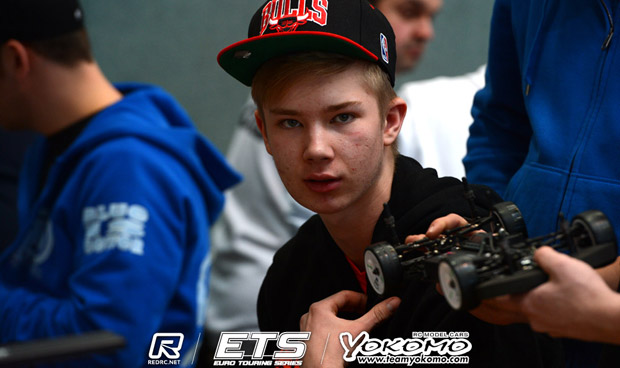 While it was a bad opening qualifier for new Awesomatix signing Eric Dankel, the German suffering a steering problem in the warm-up that left him unable to make the start, their young driver Dionys Stadler stepped up to the mark.  Running in the second fastest heat, having been 16th fastest in practice, he took his A700 to the 6th fastest time.  The 17-year-old changed to the floating front diff along with changing rear diff oil which he said made the car a lot less aggressive to drive.  Clearly pleased with his run he said he has no intentions of changing anything going into Q2.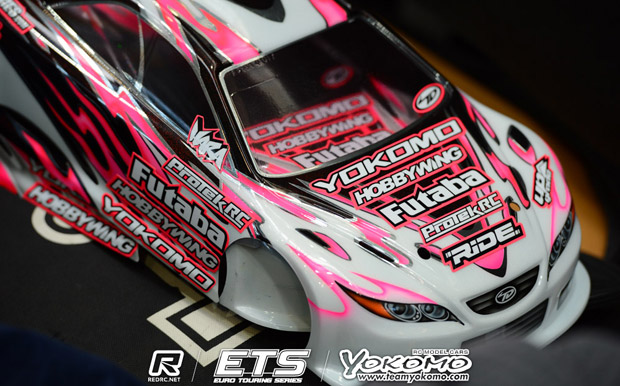 On what has been a busy weekend of announcements, first the announcement of a deal with Yokomo for touring cars and then today's official announcement that he will race S-Workz in offroad, Hara's return to the ETS saw him open qualifying with the 13th fastest time.  One of the biggest stars of the sport, he said after really good opening laps he started to push too hard causing his tyres go off more quickly.  Describing his lap time as more competitive, he joked he still has '3 more practices to get ready for the final'.  Planning to adjust his own steering inputs, saying he needs to be more smooth, he will also make a change to his set-up to try and make the front end a little less aggressive at the beginning of the 5-minutes.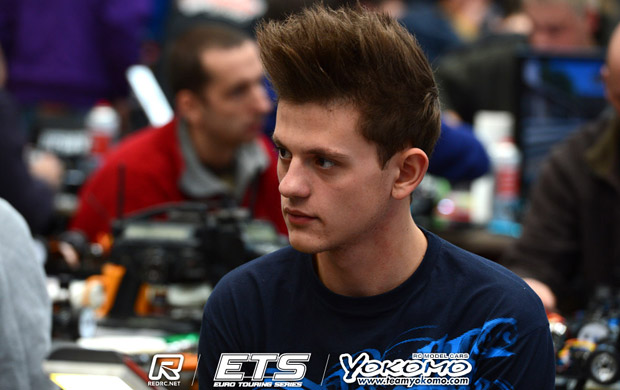 While Hagberg headlined the Ride Modified class, in the Xray Pro stock class it was his team-mate Marek Cerny who dominated the day.  Fastest in practice, the defending champion TQ'd the opening qualifier from Awesomatix driver Steffen Leinburger.  The largest class in the ETS, with this weekend attracting over 200 entries, they also completed their second round of qualifying which was again taken by Cerny this time from former race winner Oliver Franke.  Winner of the recent DHI Cup, Franke had a poor start finishing only 11th fastest but in Q2 a combination of car set-up and driving helped him to get within 8/10ths of Cerny.  In the Formula class, Round 1 winner Jan Ratheisky took the opening qualifier over Dai Sakaguchi and former champion Herbert Weber.
Qualifying times – Round 1
Ride Modified Q1 times
1. Alexander Hagberg – Team Xray – 22/5:5:04.310
2. Yannic Prümper – Team Yokomo – 22/5:06.100
3. Freddy Südhoff – Awesomatix – 22/5:07.894
4. Marc Rheinard – Tamiya – 22/5:08.312
5. Viktor Wilck – Tamiya – 22/5:09.218
6. Dionys Stadler – Awesomatix – 22/5:11.071
7. Patrick Gollner – Yokomo – 22/5:11.378
8. Ronald Völker – Team Yokomo – 22/5:11.652
9. Juho Levanen – Team Associated – 22/5:11.890
10.Viljami Kutvonen – Awesomatix – 22/5:12.348
Xray Pro Stock Q1 times
1. Marek Cerny – Team Xray – 21/5:13.431
2. Steffen Leinburger – Awesomatix – 21/5:14.933
3. Tobias Vogel – Xray – 20/5:00.984
4. Valentin Hettrich – Xray – 20/5:01.648
5. Tobias Seidl – Schumacher – 20/5:01.908
6. Andreas Myberg -Xray – 20/5:03.109
7. Alexander Stocker – Xray – 20/5:03.989
8. Bernard Bopp – HB – 20/5:04.596
9. Jan Ratheisky – Team Xray – 20/5:04.696
10.Michael Kiesewetter – VBC – 20/5:04.778
Xray Pro Stock Q2 times
1. Marek Cerny – Team Xray – 21/5:13.568
2. Oliver Franke – Awesomatix – 21/5:14.333
3. Valentin Hettrich – Xray – 21/5:14.872
4. Andreas Myberg -Xray – 20/5:00.366
5. Martin Hofer – Schumacher – 20/5:01.205
6. Jan Ratheisky – Team Xray – 20/5:01.402
7. Markus Kreder – VBC – 20/5:01.821
8. Max Machler – Awesomatix – 20/5:01.910
9. Tobias Vogel – Xray – 20/5:02.139
10.Daniel Wohlgemuth – Schumacher – 20/5:02.516
View the complete event results here.
View our complete event image gallery here
---