February 2, 2014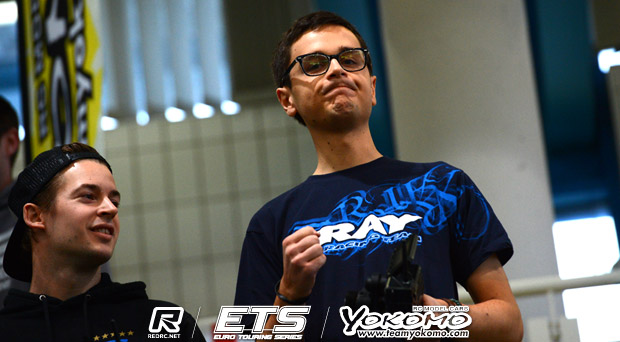 Alexander Hagberg cruised to a very convincing victory in the opening A-Main at Round 2 of the Yokomo Euro Touring Series this morning in Germany.  Starting from the TQ position having dominated qualifying, the Team Xray driver raced unchallenged to take the win over Ronald Volker and Viktor Wilck despite almost not completing his final lap. Thinking his race was finished but having just crossed the line 1/10th of a second before the 5-minutes was complete he pulled up just in front of race control where team-mate & Pro Stock A1 winner Marek Cerny was about to pick up the car.  Already celebrating his win, he was informed he had still to finish but being the only driver to do 23-laps even with the loss of 8-seconds official register the win with a finishing time.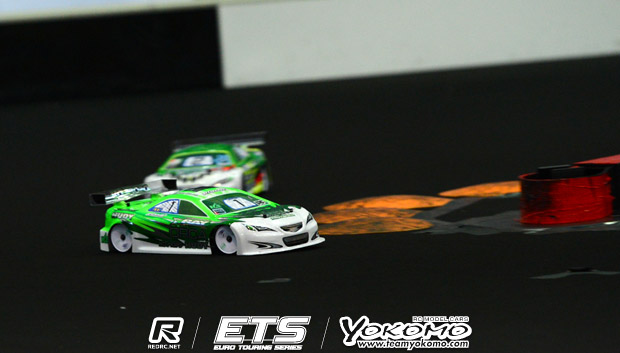 'Happy to start with a win', Hagberg said his race was made a little easier when Yannic Prumper, who started second, made a bad start allowing him to 'cruise' to the win.  Describing his ORCA powered T4 as being really good, him setting the fastest lap of the race, he said he hopes he can repeat his A1 performance again in the second leg.  Commenting on his last lap moment, he said being 'so into the race' he wasn't listening to race announcer Scotty Ernst and seeing the others pulling off the track he thought he was also finished.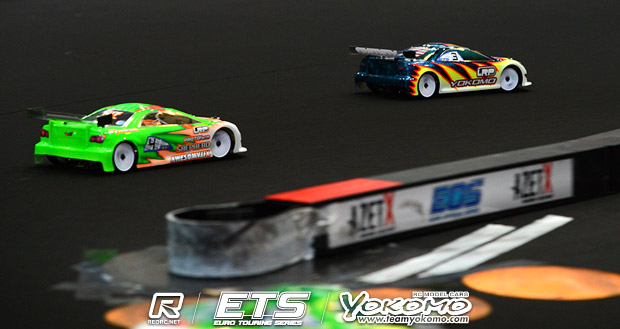 Volker said as 'Alex was too fast' he was 'glad to get second'.  Having struggled with oversteer in the final qualifier and changing to a different set of tyres for A1, the defending champion said his LRP powered Yokomo BD7 now had 'huge push'.  With the ETS using different carpet to previous races this weekend, he said the difference between sets of tyres seems more critical and they are struggling as a result of that.  For A2, Volker said he hoped his team mate Prumper would have a better race as he feels he is the only driver capable of challenging Hagberg.  Commenting on his race Prumper said he 'just messed up'.  After a bad start the German would break a steering hub on his Yokomo on lap 5.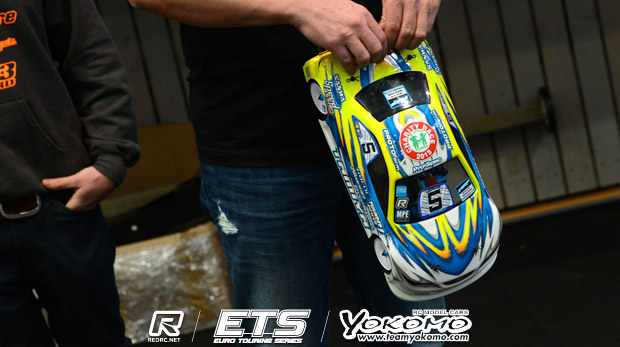 Starting from 5th on the grid Tamiya's Viktor Wilck was happy to get third.  Changing the top deck on his Speed Passion powered TRF418, he said the car was actually not too bad today.  Team-mate Marc Rheinard would finish almost 4-second behind in fourth.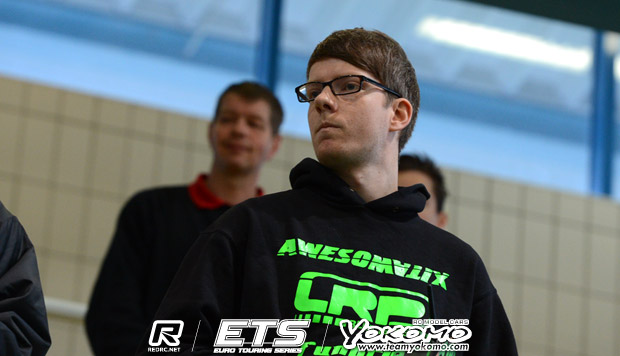 The TRF pairing benefited from a tyre problem for Awesomatix Freddy Sudhoff.  Starting from fourth and challenging Volker for a time, the Round 1 podium finisher said something happened with his tyres leaving him with no rear traction.  Dropping to fourth and struggling as a result he would crash and break on his penultimate lap for a DNF 8th place.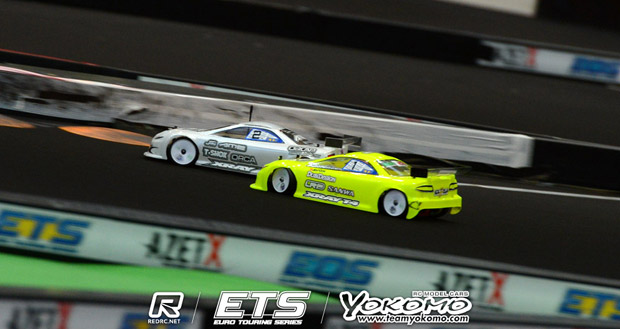 In the Xray Pro Stock class Top Qualifier Marek Cerny held off intense pressure from fellow Xray driver Valentin Hettrich for the win.  Hettrich made contact with the defending champion at the hairpin spinning the Czech driver but waited and then made a more successful move a few laps later to go to the front.  Cerny would forced his way back to the front for the win while Round 1 winner Jan Ratheisky came through from 7th to complete the Top 3.  In Formula Ratheisky did a Vettel on the field winning easily over VBC driver Olivier Bultynck.
Ride Modified A-Main Leg 1 Result
1.(1) Alexander Hagberg (SE) – Team Xray – 23/5:22.099
2.(3) Ronald Völker (DE) – Team Yokomo – 22/5:01.807
3.(5) Viktor Wilck (SE) – Tamiya – 22/5:02.839
4.(6) Marc Rheinard (DE) – Tamiya – 22/5:06.624
5.(8) Patrick Gollner (AT) – Yokomo – 22/5:09.384
6.(10)Tim Wahl (DE) – Team Xray – 22/5:10.057
7.(9) Eric Dankel (DE) – Awesomatix – 22/5:10.898
8.(4) Freddy Südhoff (DE) – Awesomatix – 21/4:49.054
9.(2) Yannic Prümper (DE) – Team Yokomo – 4/0:50.243
10.(7)Dionys Stadler (DE) – Awesomatix – 3/0:42.591
Xray Pro Stock A-Main Grid Leg 1 Result
1.(1) Marek Cerny (CZ) – Team Xray – 21/5:08.818
2.(2) Valentin Hettrich (DE) – Xray – 21/5:08.991
3.(7) Jan Ratheisky (DE) – Team Xray – 21/5:11.187
4.(4) Tobias Vogel (DE) – Xray – 21/5:12.160
5.(9) Tobias Seidl (DE) – Schumacher – 21/5:12.606
6.(8) Martin Hofer (DE) – Schumacher – 21/5:12.982
7.(6) Steffen Leinburger (DE) – Awesomatix – 20/5:00.208
8.(10)Markus Kreder (DE) – VBC – 20/5:02.856
9.(5) Andreas Myberg (SE) – Xray – 18/4:32.612
10.(3)Oliver Franke (DE) – Awesomatix – 15/3:38.032
View the complete event results here.
View our complete event image gallery here.
---