May 11, 2014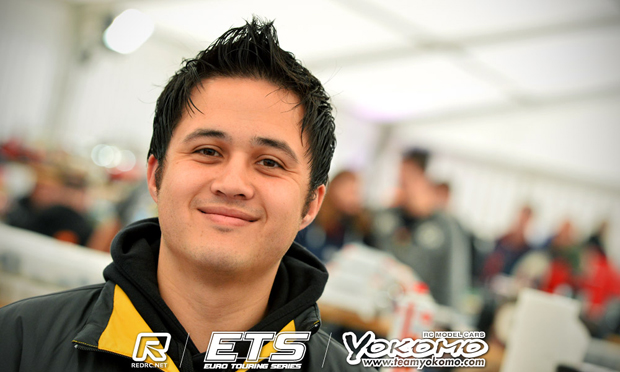 Ronald Volker took an easy win in the opening A-Main at the fourth round of the Yokomo Euro Touring Series in Austria this morning. The Top Qualifier headed home a Yokomo 1-2 as team-mate Yannic Prumper also finished in the same position he qualified. The race was made all the easier for the Yokomo pairing as a first corner coming together between the No. 3 and 4 starting Tamiya's of Viktor Wilck and Marc Rheinard gave them an early break. Benefiting from the first corner chaos, Marc Fischer would finish third, the Serpent driver coming on very strong at the end of the encounter to mount a challenge on Prumper only to run out of time.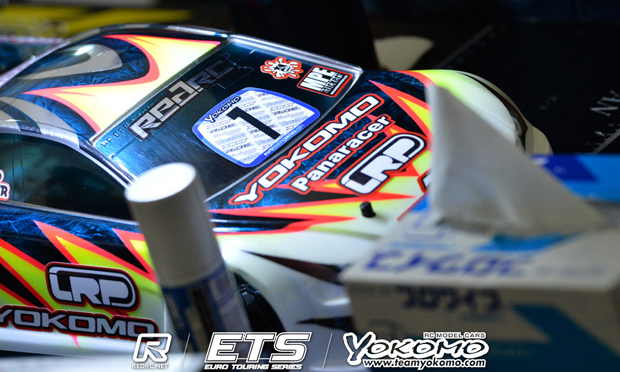 'Great to get the first Main done', that was Volker's reaction to his rather straight forward A1 win of which he also posted the fastest lap.  Building up a gap over Prumper, the defending champion said for the second half of the race he was about to take a mostly safe approach taking wider lines adding that just the smallest of contacts risks damaging a C-Hub or servo. Looking to secure his 10th ETS race win today, he said the plan for A2 is to 'try repeat the same again' but he added that due to Prumper's tyre strategy he expects a much tougher challenge from the 20-year-old.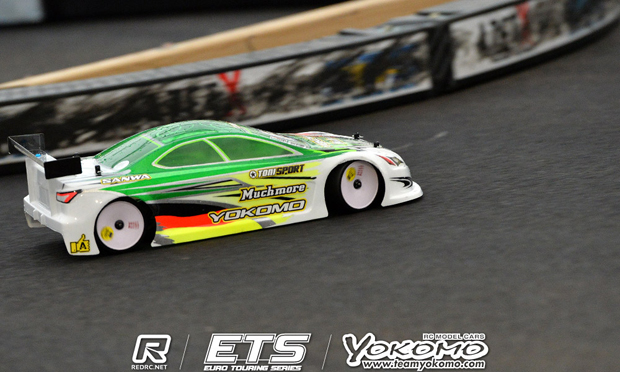 Prumper said the race was 'pretty easy after Marc & Viktor crashed'.  Running used tyres, while Volker raced a fresh set, he pushed as hard as he could but said today's conditions seem to now favour new tyres. Coming under pressure from Fischer in the last minute of the race, the 2-times race winner said Fischer had the better car at the end of the race but for A2 he is confident his BD7 will be more competitive.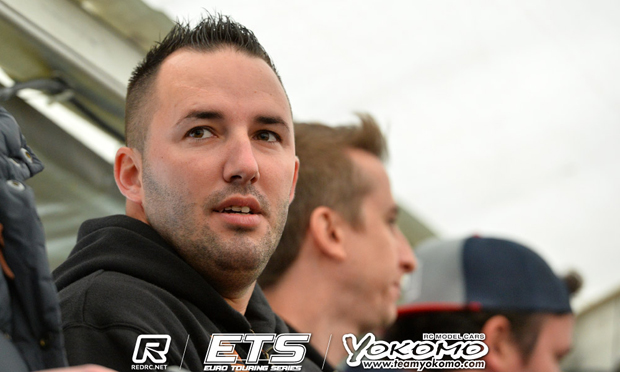 Happy with his race, Fischer said he got a lucky start joking that hopefully the Tamiya team will make a similar start in the next leg.  The German said for the first 4-5 laps he struggled a little with understeer but after that his S411 ERYX 3.0 just got better and better and by the end it was 'really good'.  Happy to work around the early understeer he will leave his set-up unchanged for A2.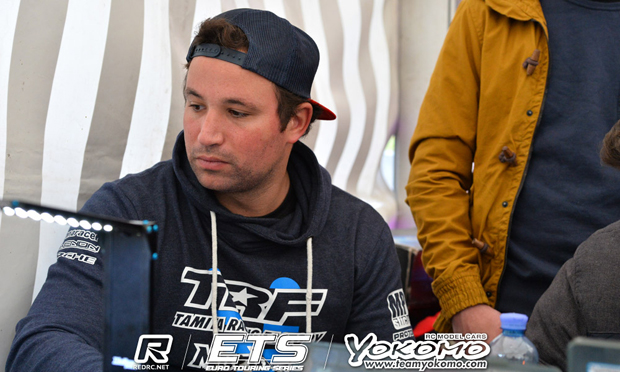 Recovering to finish fourth Marc Rheinard said it was a disastrous race as he 'destroyed both Tamiya cars race'. Running into the back of Wilck's TRF418, the 3-time World Champion said 'this start shouldn't happen'. Called by the race referee to wait to allow Wilck back passed, Rheinard found himself 8th at the end of the first lap but describing his car as 'better than yesterday' he was able to recover to take fourth snatching the position from Andy Moore on the last lap.  Wilck was understandably not in a talkative mood saying little more than his race finally ended when he clipped the piping in the final 30 seconds of the race while running 9th.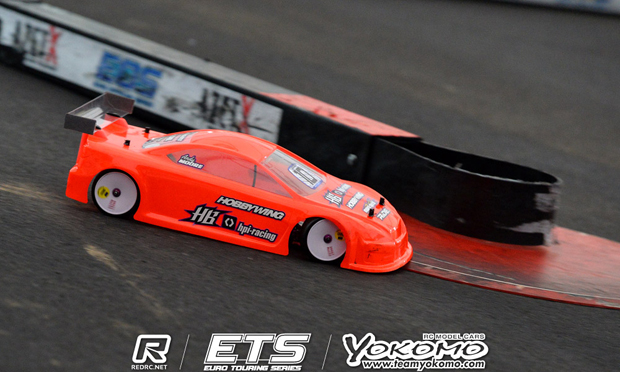 'I dont know what happened' was former World Champion Moore's reaction to the his impressive start from 10th in the grid to 4th.  The British driver said at around the 3-minute mark of the race he could see Rheinard was going to be a problem come the end of the race and pushing as hard as he could he said he couldn't hold him off for that one last lap. Describing his TCXX as pretty good for most of the race he said by the end it really started to struggle with understeer. Starting from 6th on the grid Dominik Fleischmann completed the Top 6.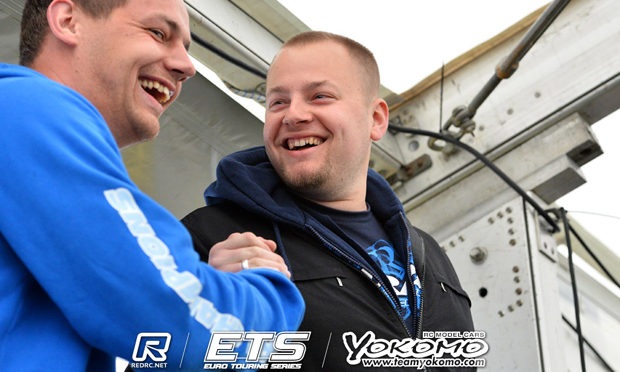 In the Xray Pro Stock class Top Qualifier Jan Ratheisky led home an Xray 1-2 with the Top 3 finishing as they started.  Defending champion Marek Cerny looked like he might mount a challenge on his team-mate until he clipped the piping eventually finishing just 3/10th behind.  Schumacher's Martin Hofer completed the Top 3 with former race winner Oliver Franke having a good race to bring his Awesomatix home 4th from 8th on the grid. In Formula Ratheisky made it look very easy as he won convincingly from the No.4 starting  Roman Pichler.
Ride Modified A-Main Leg 1 Result
1.(1) Ronald Volker (DE) – Team Yokomo – 25/5:13.124
2.(2) Yannic Prumper (DE) – Team Yokomo – 24/5:01.582
3.(5) Marc Fischer (DE) – Team Serpent – 24/5:01.839
4.(4) Marc Rheinard (DE) – Tamiya Racing Factory – 24/5:06.866
5.(10)Andy Moore (GB) – HB – 24/5:07.114
6.(6) Dominik Fleischmann (DE) – Team Yokomo – 24/5:09.731
7.(8) Freddy Sudhoff (DE) – Awesomatix – 24/5:10.247
8.(9) Christopher Krapp (DE) – Kyosho – 24/5:11.465
9.(7) Alexander Hagberg (SE) – Team Xray – 23/5:05.286
10.(3) Viktor Wilck (SE) – Tamiya Racing Factory – 21/4:34.496
Xray Pro-Stock A-Main Leg 1 Result
1.(1) Jan Ratheisky (DE) – Team Xray – 22/5:03.496
2.(2) Marek Cerny (CZ) – Team Xray – 22/5:03.832
3.(3) Martin Hofer (DE) – Schumacher – 22/5:08.931
4.(8) Oliver Franke (DE) – Awesomatix – 22/5:11.071
5.(9) Tony Streit (DE) – Serpent – 22/5:12.628
6.(5) Tobias Seidl (DE) – Team C – 22/5:12.830
7.(6) Andreas Myberg (SE) – Xray – 22/5:13.508
8.(7) Barnabas Toth (HU) – Yokomo – 22/5:14.112
9.(4) Henrik Heitsch (DE) – ARC – 21/5:01.554
10.(10)Florian Botzenhart (DE) – Team C – 21/5:01.623
View the complete event results here.
View our event image gallery here.
---