June 7, 2014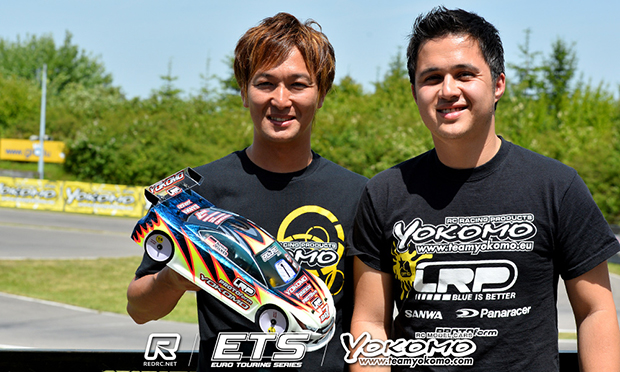 Team Yokomo's Ronald Volker marked his 30th Euro Touring Series participation with his 15th overall TQ of the championship when, despite running on used tyres, he topped qualifying in Luxembourg for a 3rd time. Having been the class of the field in Q1 & 2 on new tyres, Volker oversaw a much closer challenge in Q3 to take the round by almost 1-second from the new rubber shod Tamiya of Viktor Wilck. Switching car for the penultimate qualifier turned around the fortunes of Kyosho's Christopher Krapp who, having struggled to make the Top 10, was able to produce a Top 3 run just ahead of new Team Magic signing Leo Arnold and Team Durango's Elliot Harper.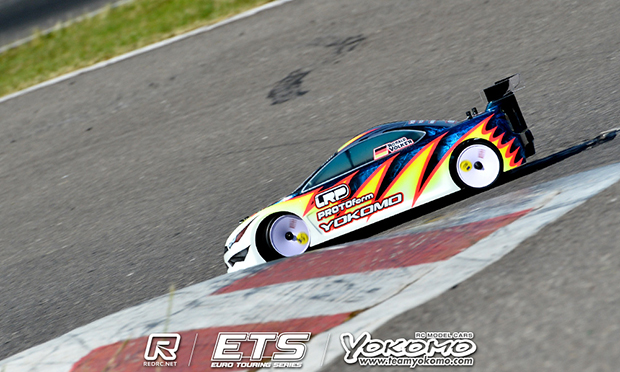 Pleased to claim what is becoming somewhat of a given at all races he competes at recently, Volker was delighted to claim a TQ run running on used tyres putting a lot of the performance down to a change of settings on his LRP speedo for the run. Choosing a 'milder' setting, both due to being on used tyres and the hotter track conditions, the German who moves a step closer to retain a fourth consecutive ETS title, said this paid off giving him 'way more confidence out of the corners'. Planning to leave the car as is for the final qualifier, the 10-time winner predicts his arch rival Marc Rheinard, with whom he clashed here during the 2009 European Championship, to take the round and second on the grid due to the Tamiya driver still having new tyres.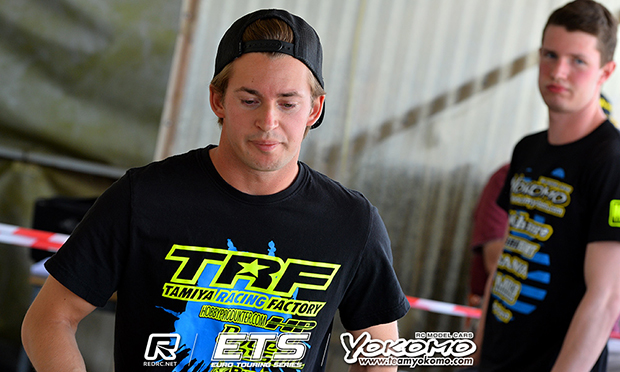 Setting the fastest lap of the round, Wilck said he messed up on the very first lap. Although he was able to make back up the half second he lost to Volker, getting his Tamiya up on two wheels through the chicane later in the 5-minutes cost the Swede the chance to capitalise on his second set of Ride tyres. Having been the fastest driver on used tyres in Q2, Wilck will make small adjustments to his set-up to account for running on the tyres for a second time but asked if he could complete a Tamiya 1-2-3, team-mates Rheinard and Groskamp both having new tyres to run, he said he didn't expect to be able to beat Volker.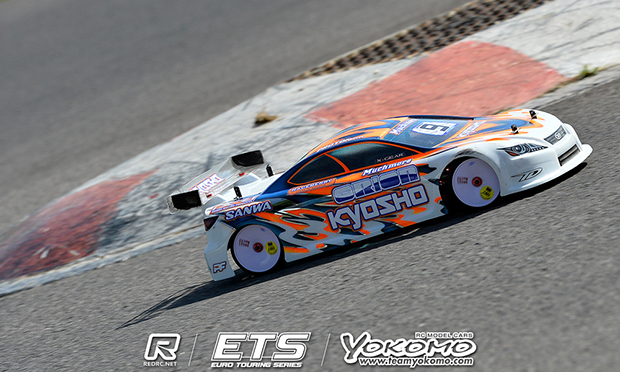 Having been struggling for overall traction describing it 'like driving on ice', Krapp said out of desperation and the fact he was 'lost' as to what to do he switched to his second TF6 chassis for the qualifier. A 'super soft' chassis, he said he thought it wouldn't be good and he had no idea that such a set-up could work as well as it did. Admitting he also had the benefit of new tyres, he said the result has taken him from being nowhere to being in contention for a spot in the A-Main and for Q4 his goal will be to work on bettering his other 12th spot score.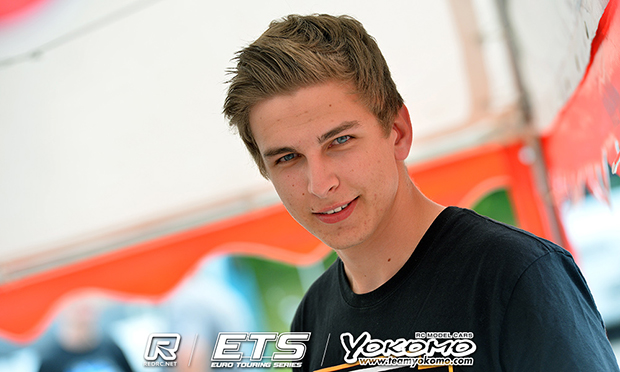 A driver better known for his on-road nitro racing efforts, 18-year-old Arnold is enjoying a good start to his new electric racing deal with Team Magic. The French driver who did two separate pre-testing days at Mini Circuit "Ville de Luxembourg", said he has a very good feeling with the car. Having used both his sets of allocated tyres in the opening two qualifiers his run to fourth was more impressive due to the fact it was made in used tyres. Looking for a little more steering on the Orion powered E4 RS EVOII he plans to try running softer shock oil in Q4.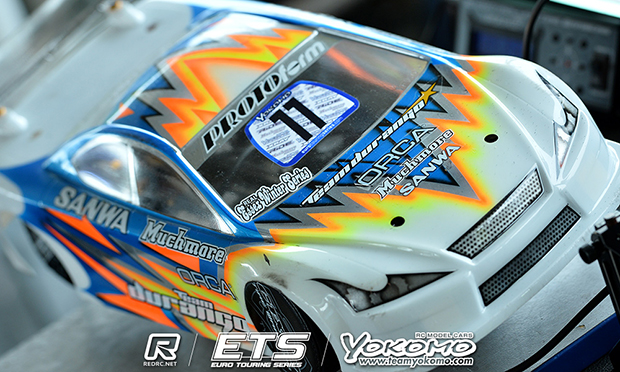 Setting the fifth fastest time on new tyres, Harper described the run as 'average'. Changing his shock set-up for the qualifier so as to get more steering from the DETC410 he said it made the car aggressive and he had to adapt to his driving to be consistent rather than being able to push. Currently holding potentially his first A-Main starting position in the ETS since joining Durango, for the last qualifier he will revert back to the set-up he ran in Q2.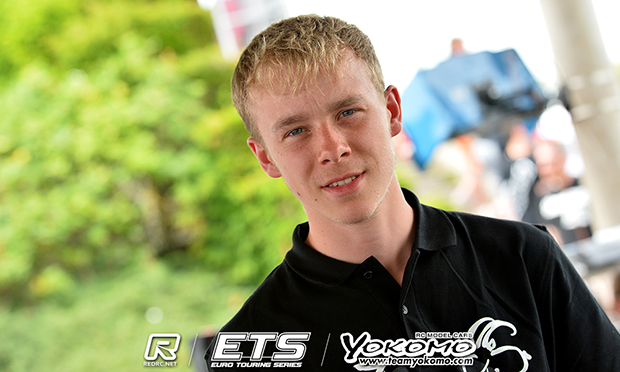 Completing the Top 6 was Capricorn team driver Kyle Branson. Another driver better known as a nitro racer, the Englishman who was running in the second fastest heat alongside Krapp and Arnold, was on target to top that heat until on the last lap when his car lost power costing over 1-second. Unsure as to what caused the sudden loss of power for the final qualifier he will fit a new motor.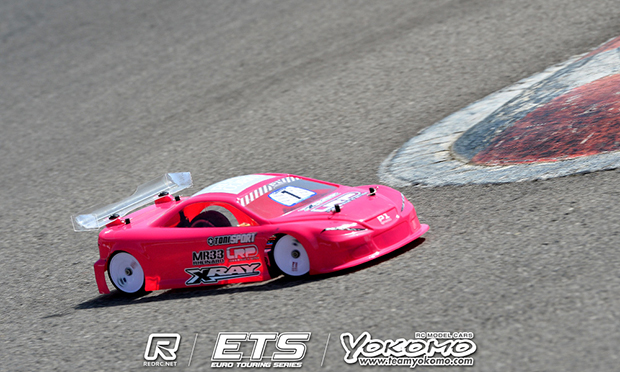 In the Xray Pro Stock class Marek Cerny backed up his Q2 performance with another TQ run, this time ahead of the Awesomatix of Danish racer Mike Gosvig. Schumacher's Martin Hofer completed the Top 3 followed by the ARC of Q1 pace setter Lars Hoppe. In Formula, Serpent's David Ehrbar claimed a second TQ run again from VBC Racing's Q1 winner Oliver Bultynck with Xray's newly crowned class champion Jan Ratheisky third.
Ride Modified Round 3 Qualifying – Top 10
1. Ronald Volker – Yokomo – 16/5:06.817
2. Viktor Wilck – Tamiya – 16/5:07.779
3. Christopher Krapp – Kyosho – 16/5:10.113
4. Leo Arnold – Team Magic – 16/5:10.561
5. Elliot Harper – Team Durango – 16/5:10.645
6. Kyle Branson – Capricorn – 16/5:11.192
7. Andy Moore – HB – 16/5:12.874
8. Jilles Groskamp – Tamiya – 16/5:13.164
9. Hayato Matsuzaki – Yokomo – 16/5:13.292
10.Nicolas Schwendimann – Team Magic – 16/5:13.729
Xray Pro Stock Round 3 Qualifying – Top 10
1. Marek Cerny – Xray – 14/5:04.437
2. Mike Gosvig – Awesomatix – 14/5:04.512
3. Martin Hofer – Schumacher – 14/5:05.099
4. Lars Hoppe – ARC – 14/5:05.441
5. Juian Borowski – Serpent – 14/5:07.411
6. Max Machler – Awesomatix – 14/5:07.558
7. Jan Ratheisky – Xray – 14/5:07.815
8. Henrik Heitsch – ARC – 14/5:08.437
9. Wolf Brickenkamp – Xray – 14/5:09.194
10.Joe Streff – Xray – 14/5:09.343
View the complete event results here.
View our event image gallery here.
---