June 7, 2014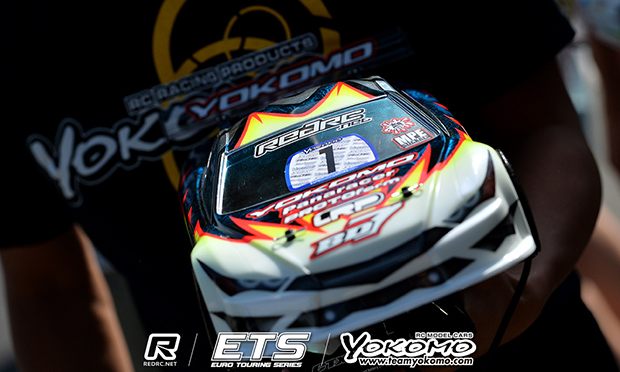 Even after being spun round by Marc Fischer, Ronald Volker was still able to take the second round of qualifying at the Yokomo Euro Touring Series in Luxembourg. Another glorious day at Mini Circuit "Ville de Luxembourg", the result which was 1.6 seconds off his Q1 pace set in cool conditions looks set to give the Team Yokomo driver his 15th overall TQ of the championship as conditions for Q3 & 4 are expected to be hotter making for a slower track. Behind the reigning champion, local French star Lucas Urbain backed up his Q1 performance with another strong showing, second enough to secure VBC Racing driver a spot in the A-Main. The second of the four qualifiers would see a big improvement from Alexander Hagberg as his Xray took third ahead of the Tamiya of Jilles Groskamp, the Top 4 all having the benefit of using new tyres.
'Luckily I got away with that one' was Volker's response to his Q2 run referring to his incident with Fischer. Coming up on the Serpent driver at the track's famous Laguna Seca corner with 1-minute to go, as they exited the corner down the hill Fischer having looked to let the BD7 through would clip the back of it causing Volker to do a complete 360 degree spin. Losing in the region of a second & a half in time, Volker was glad to survive the 'small incident' adding that his wider line through that corner may have been what caught Fischer out. Describing his car as feeling slower than yesterday's Q1, he said the lap times were still good. Running his second set of allocated qualifying tyres, the only change the German made was to his LRP speedo trying a smoother setting. With it hard for his rivals to now deny him the overall TQ, for Q3 he plans to make further speedo changes having found that changing the settings depending on whether running new or used tyres helped a lot with getting a better time from used tyres.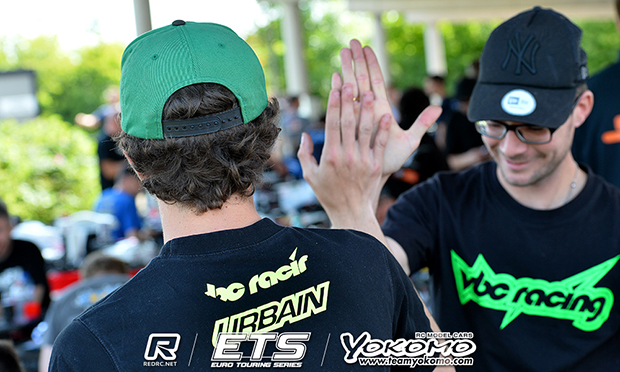 Urbain said he knew his Wildfire D06 would be good in the conditions of this morning's first qualifier and so he chose to use his second set.  Having done all his practice runs on new tyres he said he knew exactly how the car would react and he was 'super happy' with his performance which puts him in with a chance of having his best ETS A-Main starting position. Opting to run no warm-up lap he said the car worked perfectly with it again very easy to drive. Playing safe through the corkscrew staying off the curbs up the hill he said there is more to come from the car and now that he has two strong qualifiers to his credit he can push harder for the next two.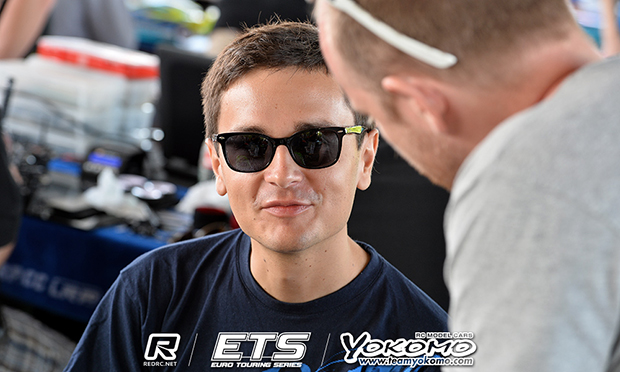 Staying on after qualifying last night to avail of open practice, Hagberg said they managed to improve his T4 quite a bit by adding more chassis flex. Describing the car as 'better' today he said the changes made had given him more traction but added he himself was also a big factor as he drove better today. Using up his second set of controlled Ride tyres, he said now they need to look at what to do for running the car on used tyres for the last two qualifiers.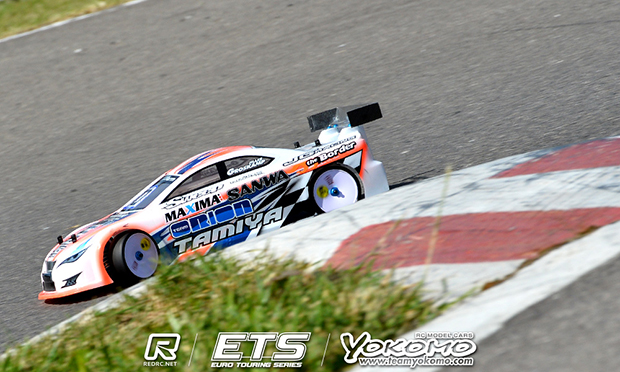 Having only ran two laps yesterday in Q1, Groskamp was another to take advantage of new tyres. Having to move position on the driver stand he said for the first few laps this bothered him a little but once he got his bearings he was OK. Describing his Orion powered TRF418 as being 'a lot better' than it had been throughout practice he said driving wise he can improve a lot. Still to run his second set of tyres, the World Champion said while he will make a few small changes for Q3 his main focus is on his driving feeling that there is time to be gained from that.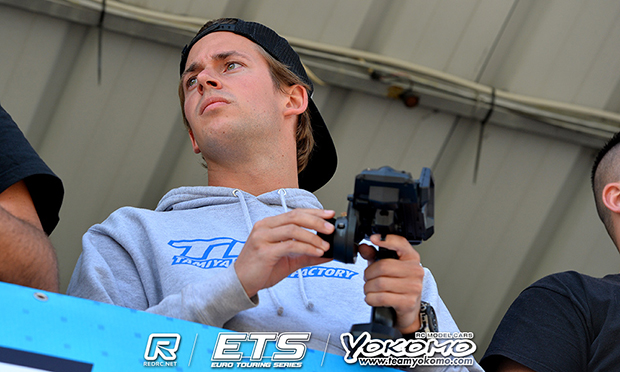 Setting the fifth fastest time, Tamiya team-mate Viktor Wilck took the honour of being the fastest driver on used tyres. The Swede, who was also fifth fastest in Q1, said despite running his tyres for a second time at the start of the run his TRF418 was 'OK in the beginning' but that pace dropped out a lot by the end. With a brand new set of tyres at his disposal for Q3 & 4, he said he needs to decide on a strategy for when would be the best time to run them.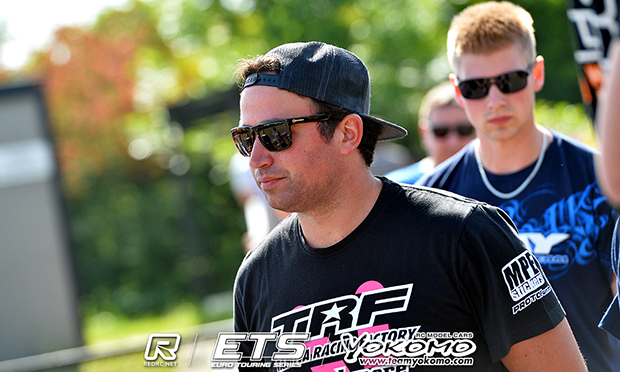 Also running used tyres Marc Rheinard said his Tamiya 'felt OK at the beginning' but he lost time through a mistake at the chicane and then having to let the faster Urbain through. The ETS' most winning driver he said the difference between new and used tyres is pretty big but with one set of new tyres left he said he should be able to capitalise on them for a good run from the remaining two qualifiers.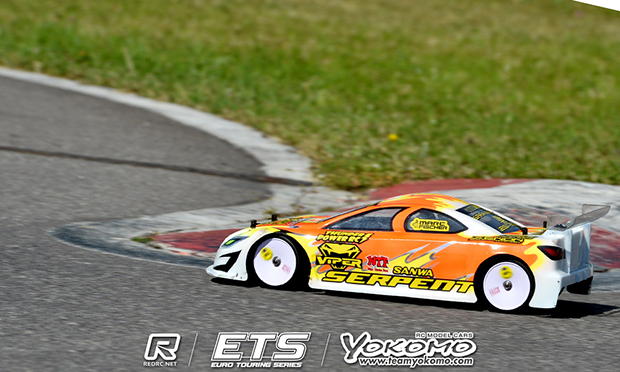 For a number of drivers the remaining two qualifiers are going to be critical, Fischer being one of them. Pulling up in Q1 to save tyres after two crashes, using his second set in Q2 he wasn't able to capitalise on them either. On hearing that Wilck, on used tyres, was ahead of him on pace he pushed harder but his car was super difficult to drive leading him to taking his S411 'grass cutting'. On recovering it was at the start of the next lap that he had his incident with Volker. Surprised at how quickly Volker caught him having hoped to let him passed on the main straight he said he pulled over out of the corkscrew but expecting Volker to be much faster onto the straight he just pulled across on him to early tagging him into the spin which he said was 'for sure my fault'. Finishing 19th fastest, for Q3 he said 'I don't know what but for sure we need to change something'. Another driver to have a second bad run was Andy Moore, HB's former World Champion again getting a DNF. Having trouble still with getting his car to track correctly on the straight after an off and the dirt on his tyres causing him to spin a number of times the British driver pulled off on Lap 8. Fellow countryman Elliott Harper would also pull off after he put his Durango on its roof in the corkscrew on lap 3 after catching the curbing. With the marshal unable to get to the car as other cars went through the corner after losing so much time he opted to head for the pits early.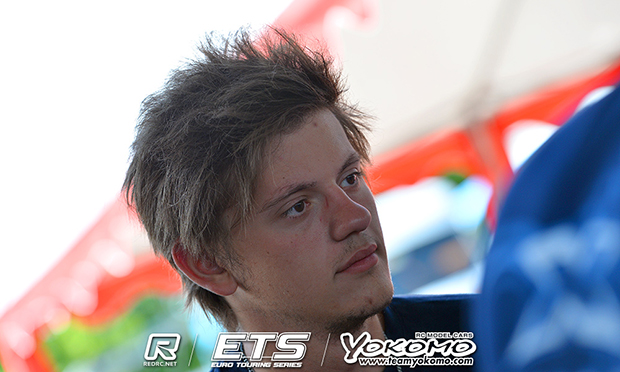 In the Xray Pro stock class defending champion Marek Cerny TQ'd Round 2 from Martin Hofer and Lars Hoppe. Cerny said last night he got caught out by the choice of oil in his shocks as conditions got cooler than expected but leaving in the same oil for Q2 his T4 worked much better for the conditions. Pleased with his run the Czech driver plans to leave the car as is for the third qualifier. Former Champion Martin Hofer said his Schumacher 'feels nice to drive' but he had too many driving mistakes and that is 'not good enough'. Having taken Q1 last night Lars Hoppe said his ARC went from'Perfect' yesterday to suffering from a little understeer today leading to a 'little mistake' at the end straight. Putting the change down to running on the tyres for a second time he will reduce the rear toe in to try and get back some of the steering.
Ride Modified Round 2 Qualifying – Top 10
1. Ronald Volker – Yokomo – 16/5:05.221
2. Lucas Urbain – VBC Racing – 16/5:06.428
3. Alexander Hagberg – Xray – 16/5:06.702
4. Jilles Groskamp – Tamiya – 16/5:07.723
5. Viktor Wilck – Tamiya – 16/5:07.862
6. Marc Rheinard – Tamiya – 16/5:08.991
7. Loic Jasmin – Yokomo – 16/5:09.236
8. Nicolas Schwendimann – Team Magic – 16/5:09.551
9. Freddy Sudhoff – Awesomatix – 16/5:09.591
10.Magnus Vassmar – Xray – 16/5:11.223
Xray Pro Stock Round 2 Qualifying – Top 10
1. Marek Cerny – Xray – 14/5:04.783
2. Martin Hofer – Schumacher – 14/5:05.642
3. Lars Hoppe – ARC – 14/5:06.316
4. Mike Gosvig – Awesomatix – 14/5:08.185
5. Henrik Heitsch – ARC – 14/5:08.346
6. Jan Ratheisky – Xray – 14/5:08.520
7. Juian Borowski – Serpent – 14/5:08.666
8. Gilles Choque – Xray – 14/5:08.870
9. Max Machler – Awesomatix – 14/5:09.484
10.Philip Tschupp – TOP Racing – 14/5:09.484
View the complete event results here.
View our event image gallery here.
---