June 6, 2014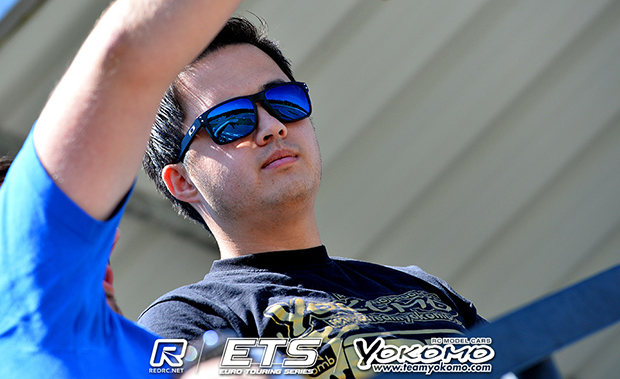 Ronald Volker left his rivals stunned in the opening round of timed practice for Round 5 of the Yokomo Euro Touring Series in Luxembourg. The Yokomo driver, who could secure his fourth consequence title in the world famous championship this weekend, was over 3-laps more than 1-second faster than his closest rival who was Viktor Wilck. From Wilck back the field was very closely matched around the spectacular Mini Circuit "Ville de Luxembourg" with 2nd to 10th covered by just half a second. Completing the Top 3 was Volker's team-mate Yannic Prumper with French driver Lucas Urbain an impressive fourth with his VBC chassis.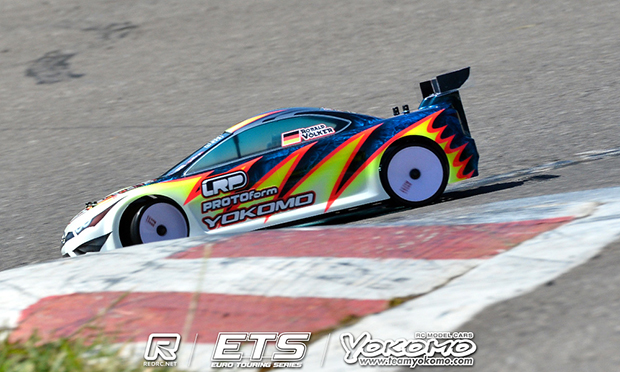 Having found 'an issue' in the second untimed practice which they were able to 'figure out' for the first of the two timed practices that will determine the seeding for qualifying, Volker joked his pace was 'too good'. Making two mistakes on his run he said other than that his car and its power were perfect. Hinting that his issue was tyre related, the German said the move to drivers gluing their own tyres in a controlled area for qualifying was a good decision by the championship as it makes things the same for everyone. A glorious day, with the weather set to get even hotter tomorrow, the newly crowned Reedy Race Champion said the hotter conditions make driving in the already low traction conditions tougher. With the opening round of qualifying set to bring Day 1 of the event to a close he said the colder conditions should make it very interesting. For the final practice, which should be slightly cooler, he said he will make just some slight changes to account for the conditions.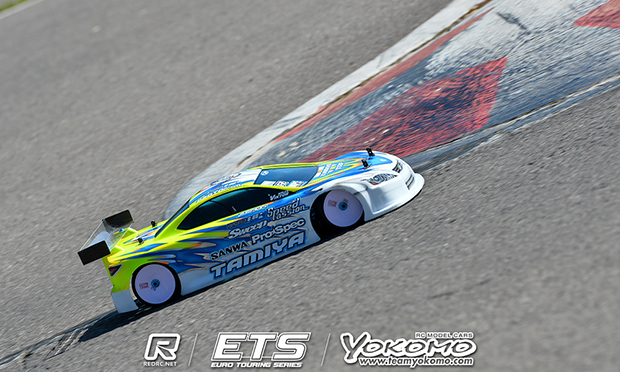 Despite setting the second fastest time while his team-mates were only 9th and 11th fastest, Wilck said his TRF418 is all over the track. Describing the track as 'for sure more difficult' than when he raced here at the European Championship in 2009 the feeling he has with the car is not completely down to the track, having no stability on power. At a loss as to how Volker can be so much faster over just 3-laps, the Swede plans to try a different shock set-up for the final practice in the hope he can make the car easier to drive.  Only 9th fastest, Marc Rheinard said his car was 'really bad' after he 'tried a few things'. Happy with how he ran in untimed practice, the 3-time World Champion will revert back to the set-up he used then for the final practice of the event.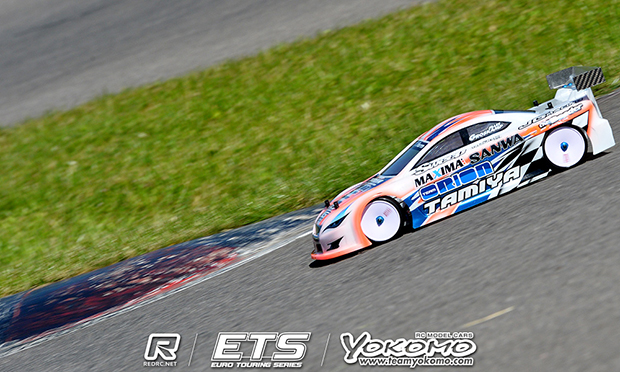 Making a return to the championship and to the location of his 2009 European Championship win, Jilles Groskamp admitted that he is a 'little lost with set-up'. Changing car for the first timed practice and managing only the 11th fastest time he will change to his other car for the next practice adding 'at least now I know which car to run'. Struggling with a lack of overall traction the Dutch driver said the nature of the track makes it not so easy to find a good set-up as to get stability means losing corner speed and vice versa. As he searches for a final set-up he said he is going to be forced to work on finding it through qualifying which is never perfect. Echoing Volker's comments, the World Champion also likes the change to the procedure for the hand-out Ride control tyre with drivers now having to glue up their own sets in a controlled area. This weekend also sees the introduction of a controlled tyre preparing area with Muchmore providing the tyre warmers but Groskamp feels having tested here previously both with and without additive that the difference once the tyre get three warm-up laps on them is almost unnoticeable and just having a tyre impound with no preparing would be a much simpler option.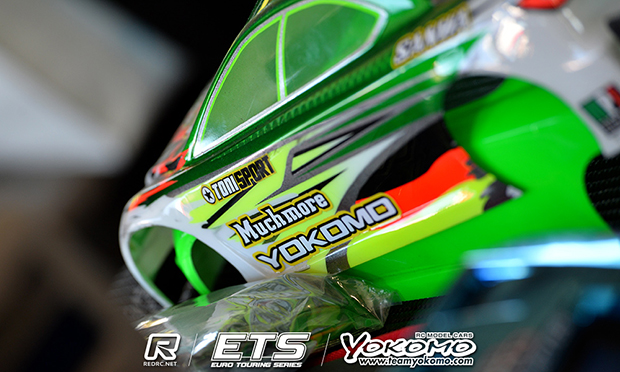 Prumper was also struggling with his own team-mates huge advantage over the field. The 20-year-old who had a thrilling battle with Volker at Round 4 in Austria last month said his car is 'ok' but on new tyres for the first 2-minutes it 'pushes like hell'. Good after that he said the loss of time in those two minutes is a lot and could prove costly once qualifying starts. Having 'already changed a lot' on his BD7, the German said he doesn't know what he can change to try and alleviate the problem.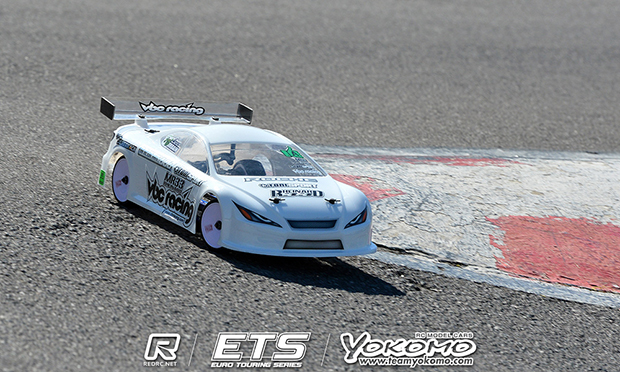 A driver who made a huge name for himself at the 2009 European Championships when using an ageing Losi JRSX-R he qualified 5th for the A-Main, Urbain was very happy with his run to the fourth fastest time. Living just 30-minutes from the track which while in a different country he calls his local track, he said his VBC Wildfire D06 is getting better and better every run but added that he got lucky too with the set of tyres he got for the the run.  On the subject of tyres he said that an issue he is facing for qualifying is that he suffers greater tyre drop off over the run than his rivals something he said is down to himself and how he is working the tyres. Changing to a different shock bladder for the run which he expected would make the car harder to driver he said it actually made it 'super easy' and with a cooler, faster track he will leave everything as is for the final practice.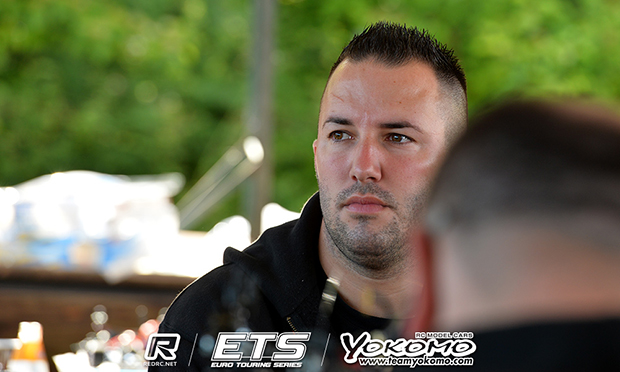 Serpent's Marc Fischer posted the 5th fastest time but the German said his car 'feels shit to drive'. Struggling with a lack of traction he said for last practice he will change to a harder shock as well as adjusting the front roll centres just to see what difference that makes. Having tested here 2-weeks ago alongside Volker, describing the Yokomo driver's advantage as a 'crazy difference', he said the track had more traction and he was able to run 18.5 lap times something which today is a struggle.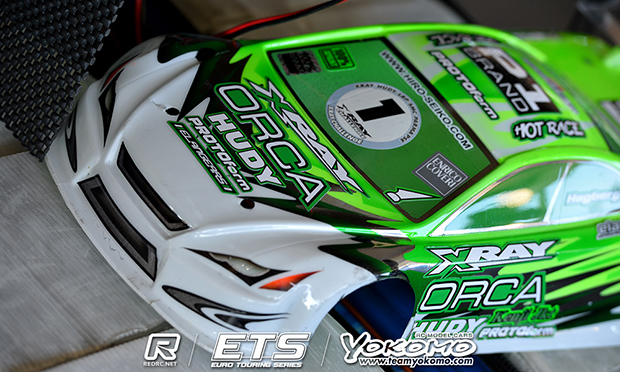 Completing the Top 6 was Alexander Hagberg, the Xray driver saying it was 'not perfect so far'. 'Close to everyone except Ronald' he said as they did not do pre-event testing like their rivals it was not bad considering their lack of track time. Looking for more high speed steering, the Swede plans to make a roll centre change on his ORCA powered T4 for his next run.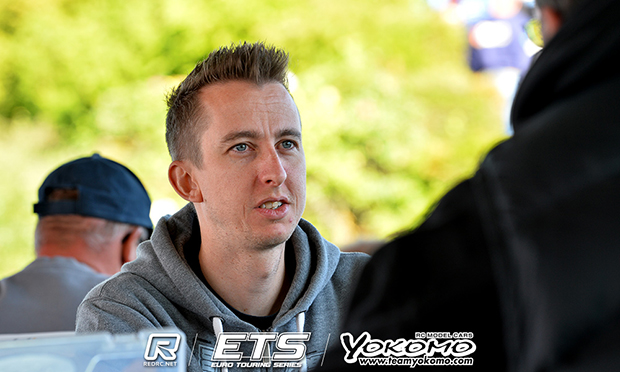 'Difficult' was how HB's Andy Moore summed up his run to the 7th fastest time. Describing it as a 'great track', the former World Champion said the traction is 'very low' and he is struggling to get the power down his prototype parts filled TCXX. Asked what he planned to change to try cure this he said he would discuss it to his mechanic and team boss Hiroyuki Kasuya who said their first goal was to make the car more stable and they would then work from there.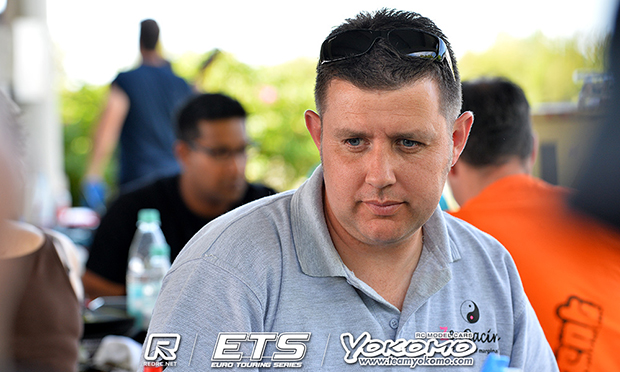 Making his ETS debut this weekend, having arrived in from the UK in the early hours of this morning, David Spashett said he came here not expecting much and he is pretty much living up to that. Driving an ARC chassis, for which he is the UK distributor through ZEN Racing,  he said he is having great fun on what he said is a fantastic track. The 4-time World Champion has raced here before when he ran 2004 1:8 Onroad European Championships but the track has since had its famous Laguna Seca corkscrew added.  Delighted to finally being racing at an ETS event he said he is just here for fun and said 'don't expect me to be put any moves on anyone only maybe a move to the bar later'.
View the complete event results here.
View our event image gallery here.
---