December 7, 2014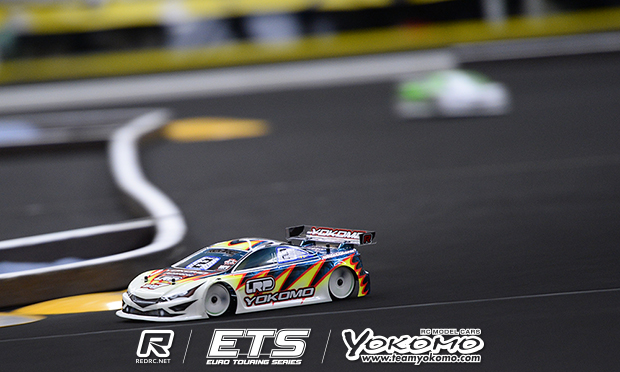 Following the thrilling battle in last night's opening A-Main at the Yokomo Euro Touring Series in the Czech Republic a highlightly expectant crowd would unfortunately not get a repeat of the Marc Rheinard/Ronald Volker duel. This time round Rheinard would roll his Tamiya in the same part of the track as Volker in A1 only this time the race deciding moment came on the second lap.  With Rheinard dropping down to seventh as a result, this left a clear track for Volker to take a controlled win over Alexander Hagberg who in turn had a buffer over Yannic Prumper.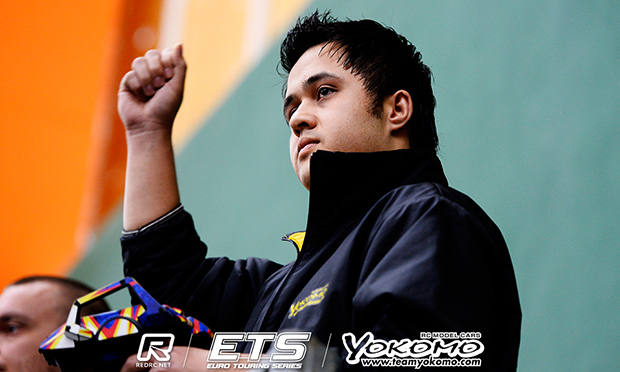 Commenting on the race, Volker said 'to my surprise Marc rolled it and after that it was pretty easy'.  The Yokomo driver said once in the position he wanted to be he was able to run his BD7 at his own pace. Setting the fastest lap of the race the defending champion and winner of the previous three ETS visits to Hrotovice said while the car 'feels not so easy to drive' he feels he can push it harder if needed.  Expecting an 'exciting' A3, the German said he is very confident for the deciding Main but added with both himself and Marc having a bad score to go with their wins they both could easily lose the overall win to Hagberg or Prumper.  The driver with the most TQs in the championship's 40 race history, Volker said both himself and Rheinard are having problems with their marshal positions. For A1 Volker went to position 1 only to be moved on by Rheinard, who took his first carpet TQ this weekend since 2010, but this morning when he went to position 2 Rheinard was already there leading to banter between the two great rivals.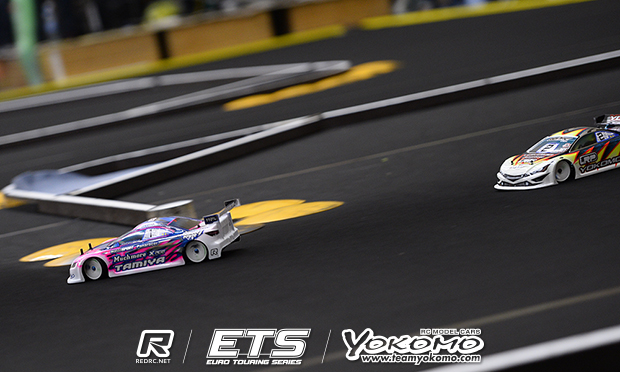 Rheinard said he simply made a driver error cutting the curb before the corner leading onto the straight sending his TRF419 into a roll.  Being already almost impossible to catch up the leaders, his chances were not helped when having got passed Juho Levanen, the Team Associated driver made contact putting the 4-time World Champion on his roof.   Making a change from Protoform's Speed 6 bodyshell to an LTC-R having seen how much it benefited Prumper in A1, he said for him it didn't improve his understeer issues.  Describing his set of tyres on which he has done all his qualifiers and first two finals as 'done' he plans to take the risk of running his second set, which he was not happy with in practice, in the showdown.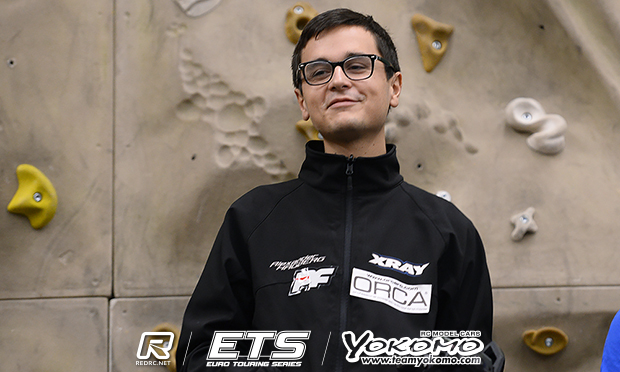 'A clean run , no problems' was how Hagberg summed up his A2 performance.  The newly crowned nitro touring car World Champion, who is showing a new level of confidence this weekend, said benefiting from Rheinard's mistake he tried to follow Volker but said despite pushing hard he couldn't keep up with him.  Aware that he is in a 'good position to win' going into the third A-Main, the Xray driver said it's going to 'be really exciting'.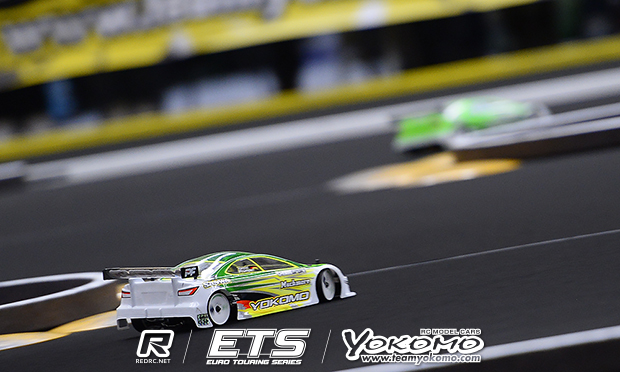 Having ran all over the back of Hagberg's T4 in A1 but unable to find the extra few millimetres he need to get passed, Prumper said he lost time at the start as his BD7 had a lot of understeer.  Between towards the end he said it was still not enough to do anything about Hagberg.  Believing the problem was diff related for A3 he said they will break the geardiff in more before the start.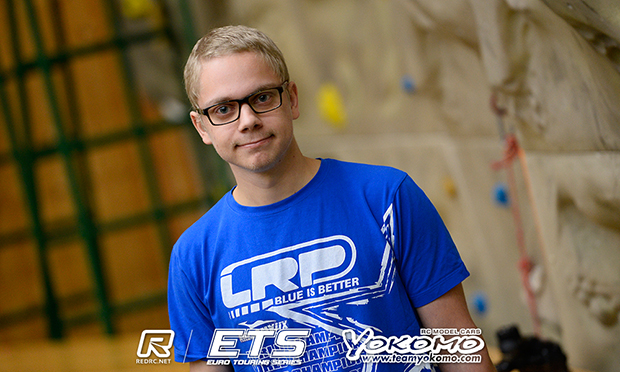 Starting from fifth on the grid Viljami Kutvonen would again finish fourth.  The Awesomatix driver said while overnight changes to his A700 Evo gave it a little more steering it was stiil not enough with the Finn declaring they 'just dont have the pace' to race those starting ahead of him.  Planning to 'change something' for A3 he said hopefully he can race rather than have to defend.  Behind Viljami, top Portugese driver Bruno Coehlo again made up three places to finish 5th with Serpent's Marc Fischer completing the Top 6 ahead of Rheinard.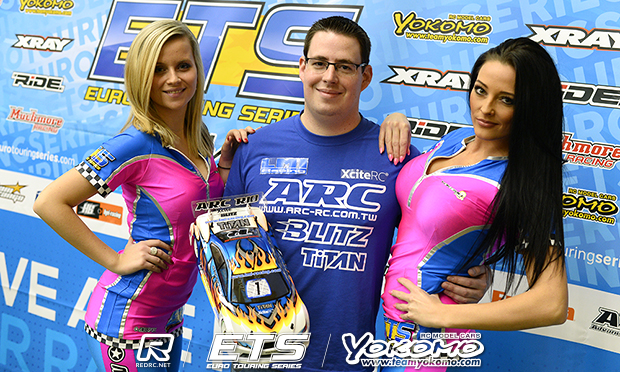 In the Xray Pro Stock class Lars Hoppe completed the perfect weekend to claim his first ETS victory.  The ARC team driver has been in a league of his own in the Sport-V-Hotel track taking all four rounds of qualifying and back up his A1 win with another crushing victory in A2.  While Hoppe was as Scotty Ernst famously says 'checked out, gone', behind the German the early battle was again between team-mate Jan Ratheisky and Marek Cerny.  With the Xray's battling and slowing themselves up a third T4, that of Valentin Hettrich , joined the battle.  On lap 9 champion Cerny would get up on the curbing causing him to spin out.  With Hettrich now challenging last year's race winner Ratheisky this allowed Serpent's Julian Borowski to close in.  Unfortunately on the penultimate lap Borowski would tag Hettrich and although he waited on his fellow countryman the challenge was over.  In Formula Top Qualifier Ratheisky  looked to bag the overall win in the bag but a mistake with 1-minute to go would allow former Champion Herbert Weber's CRC through for the win setting the stage for the race to be decided in A3.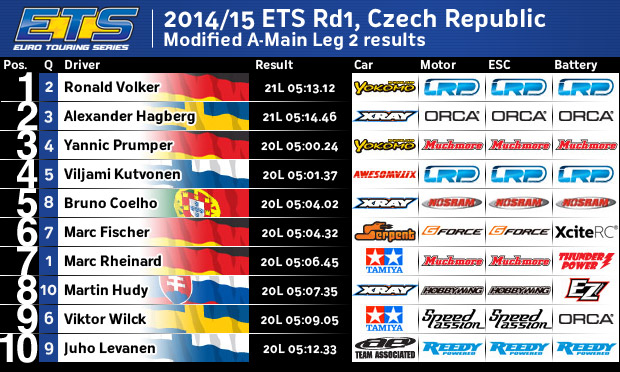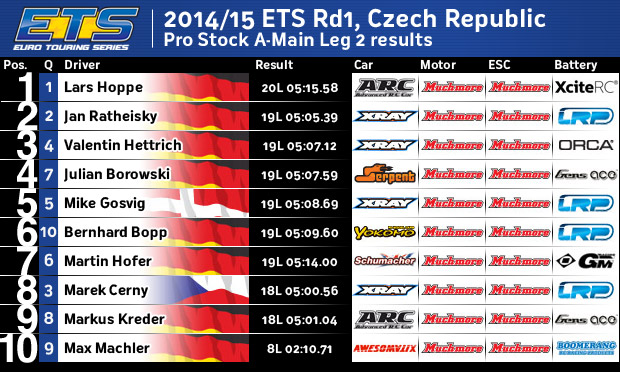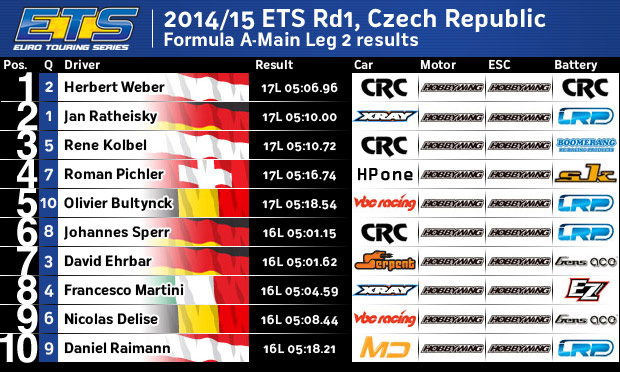 View the complete event results here.
View our event image gallery here.
---