April 10, 2015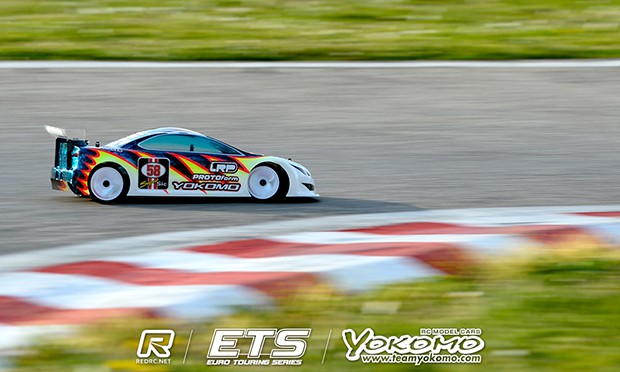 Ronald Volker kicked off qualifying at Round 3 of the Yokomo Euro Touring Series in Italy with a TQ run however the defending champion's anticipated domination wasn't to be by a much as expected.  Leading off the World class 11 car top qualifying group the Yokomo driver would find himself trailing Bruno Coelho before the Xray driver overheated his tyres.  In the end just half a second separated the Top 2, Coelho posting the fastest time, while somewhat off the lead pace Yannic Prumper completed the Top 3 as the only other driver to run 19-laps of the Road Race Riccione RC Circuit Marco Simoncelli.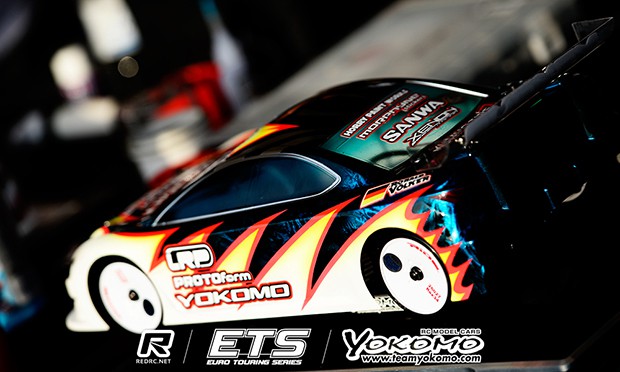 Having dominated practice topping the 3-lap seeding times by almost 7/10ths of a second, Volker said he wasn't surprised by the smaller margin over 5-minutes adding he expected it to be close.  In a change to the 3-lap mindset of practice, the German said he drove a very cautious first lap which gave Coehlo the early advantage.  Focusing on conserving his tyres for the first minute he said this ultimately helped him TQ the qualifier as his lap times remained consistent over the run and he was able to close and then build up a gap over Coehlo.  'Very satisfied to get it done in Q1', he said this is the key qualifier for outdoor racing as all drivers were on new tyres and as tyre management will be more influential over the remaining 3 rounds of qualifying tomorrow.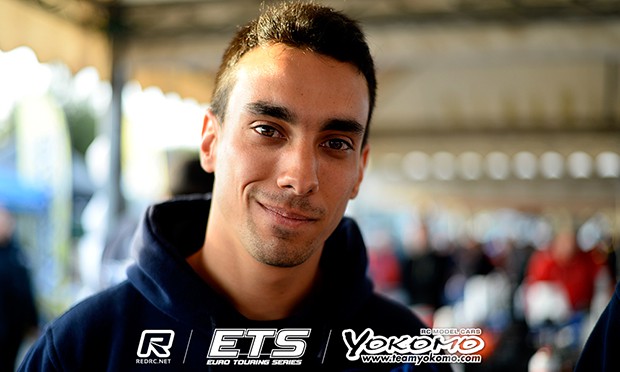 Describing it as a good start to qualifying, Coehlo stayed safe for Q1 by running his T4 unchanged from the final practice.  The World Championship runner-up said his T4 was fine and it was his driving that cost him the TQ.  Feeling he overheated his tyres forcing him to slow up for a few laps he said when he tried to recover the time he ended up making a slight mistake handing Volker an unassailable advantage.  One of the few drivers without a complaint about his car he said for tomorrow morning's second qualifier the goal was to 'just drive the car (he's) got better'.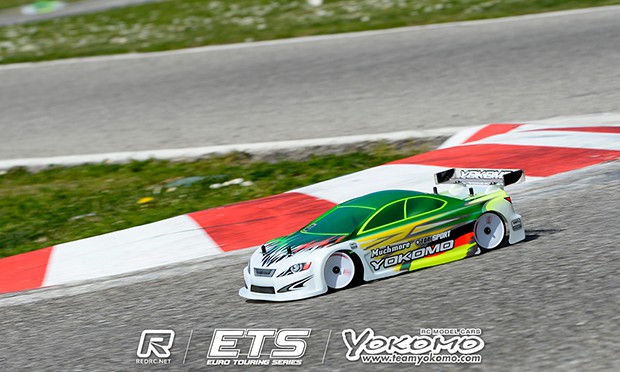 Increasing the toe-in on his Yokomo from 2 to 2.5, Prumper said 'maybe it was too much' as he struggled with understeer.  The German said 'after 2-laps Ronald and Bruno were already gone' and his BD7 started to push more and more over the 5-minutes.  Ending up over 3-seconds off his team-mate's TQ the 21-year-old said he needs to find a different set-up for tomorrow to be competitive.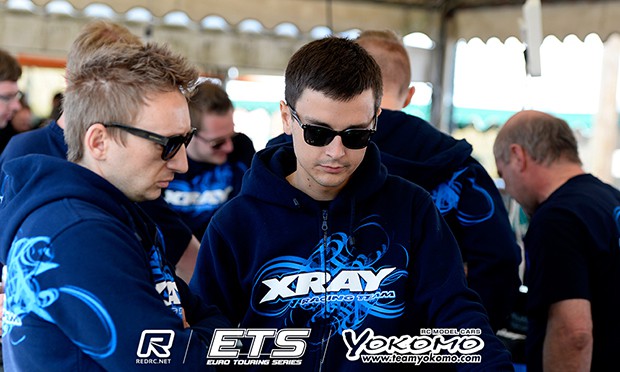 Opening up with a fourth place Xray's Alexander Hagberg said the run was 'a little slow' attributing it to a combination of his own driving and his car.  With changes after practice making his T4 'better', the Swede said while now closer to his rivals he was 'still not on the pace'.  A two time ETS race winner on carpet, he said he needs to find more steering for Day 2 of this the 42nd running of an ETS race.
World Champion Naoto Matsukura would be the fastest Tamiya of Q1 ending up 5th just ahead of his senior team-mate Marc Rheinard.  The Japanese driver said they have a bit of work to do for tomorrow as he struggled with understeer.  Losing over a second in time when he 'got a little out of shape' he plans to make a geardiff oil change as well as changing the shock oil and position. Rheinard said his TRF419 was 'ok' at the beginning but only got worse and worse with 'no grip' at the end of the 5-minutes.  Having reverted to the set-up he ran yesterday when he was the closest driver to his title rival Volker, the German is clearly frustrated by the sudden drop off in his pace.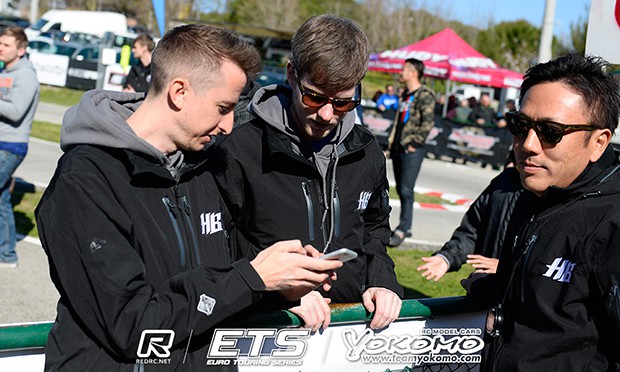 Best of the newly expanded HB team, Freddy Sudhoff took his PRO5 to 7th.  Having started out the day trying Jilles Groskamp's set-up but finding it not to his liking he reverted to a completely different set-up he ran yesterday for Q1.  A big improvement he said the car had better traction out of the corner and the pace was OK for the back of the A-Main.  For his first race on asphalt with his new team he declared himself overall happy but said he hoped for tomorrow they can find a few extra tenths so as to put them in a position to challenge for a Top 5 result.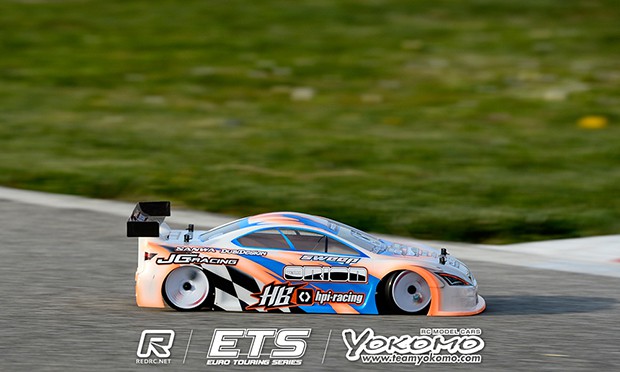 For new star signing Jilles Groskamp the first qualifying was 'not so good'.  Slowed by Vejrak's early spin, the Dutch driver said he got a little frustrated at being held up and feeling he was off the pace, overdrove leading to him hitting the curbing at the corner before the loop on lap 8 losing him 3-seconds.  He said had he known he pace was not as slow as he thought he would have calmed down and probably ended up with a solid Q1 instead of 24th.  He said while they still need to find pace, 'tomorrow is another day' and hopefully the can move forward.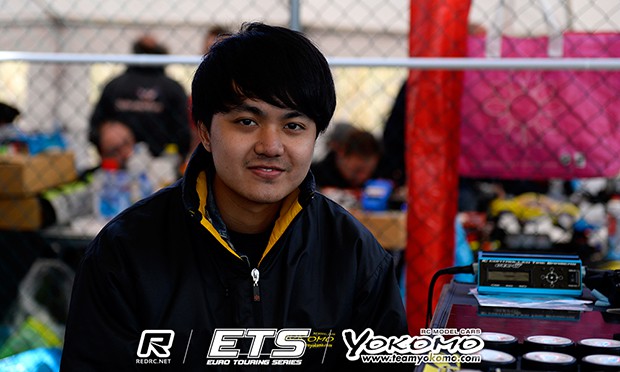 While Meen Vejrak, who seeded fourth for qualifying, suffered a tyre problem in Q1 that saw him spin on the opening lap and forced him to pull up, fellow Thai Yokomo driver Chavit Saligupta enjoyed a Top 10 run setting the 8th fastest time.  Describing the run as 'clean & safe' the nitro touring car World Finalist said for tomorrow he will just push harder as his BD7 is working well.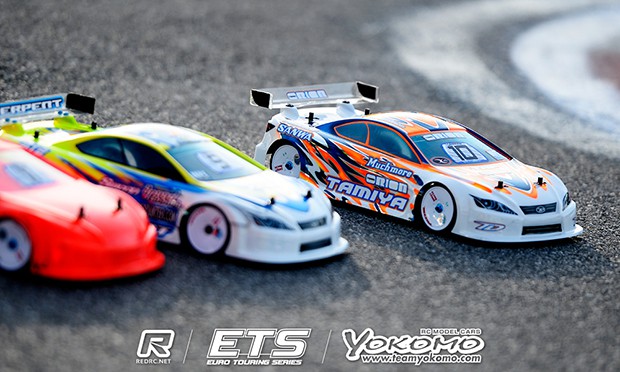 Tamiya's Christopher Krapp said having to move to a different position on the driver stand to where he stood in practice he 'drove the first minute shit'.  While personally happy to get a Top 10 on his first qualifying run for his new team he said as a team TRF's only target was being first.  While the car can make the A-Main he said they are not competitive adding that was clearly highlighted to him when Volker and Bruno both passed him 'on a different level' during the qualifier.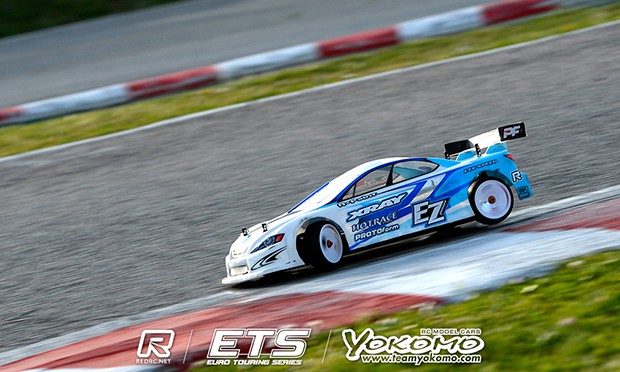 Despite 'two stupid mistakes', reigning Italian National Champion Nicola Marrone completed the Top 10.  Adding weight to the front of his Xray T4 for Q1, the Hotrace Tyre brand owner said this made the car easier to drive giving him more steering through the track's faster corners.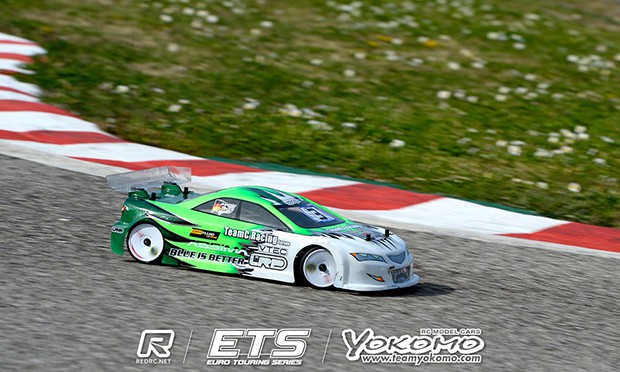 In the Xray Pro Stock class the first round of qualifying sprung up a bit of a surprise when Team C driver Johannes Sperr TQ'd ahead of defending champion Marek Cerny.  Also setting the fastest lap time, the German finished a very close 0.087 of a second ahead of the factory Xray driver.  Behind them ARC's Henrik Heitsch completed the Top 3, some 2-seconds off the lead pace.  In Formula, with reigning champion Jan Ratheisky missing the race due to a shoulder injury, the class is wide open with Serpent's David Ehrbar taking Q1 from MD Racing's Tony Mur and the Project HP One of Roman Pichler.  Well known Italian 1:8 nitro racer Michele Romagnoli was fourth fastest of the massive 84 Formula entries.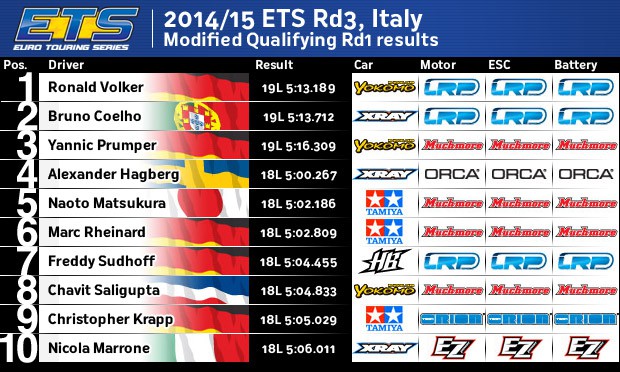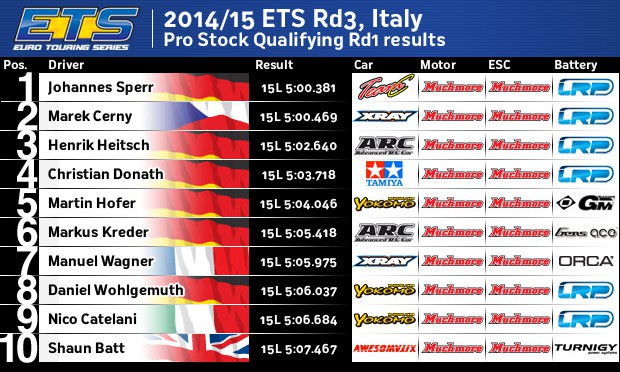 View the complete event results here.
View our event image gallery here.
---