April 10, 2015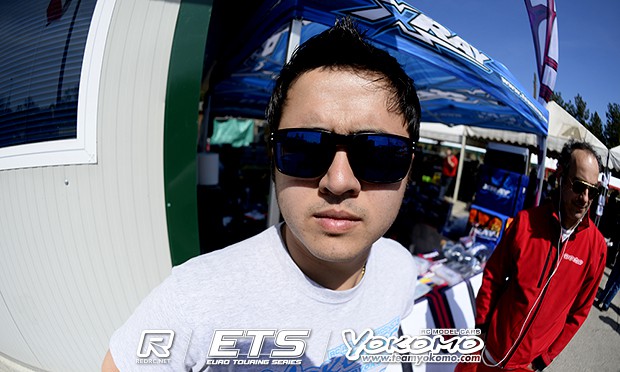 Ronald Volker has thrown down the gauntlet to his rivals on the Yokomo Euro Touring Series' to Italy by convincingly topping timed practice.  Describing the Road Race Riccione RC Circuit Marco Simoncelli track as one of his all time favourite tracks, the Yokomo driver was almost 7/10ths faster than his closest rival Bruno Coehlo over three laps. Joint leader of the standings with Volker coming into the first outdoor race of Season #8 of the ETS, Marc Rheinard struggled over the 2-timed practice runs with the Round 2 race winner ending up only 11th fastest behind new Tamiya team-mates Naoto Matsukura and Christopher Krapp who ended up 6th and 10th fastest respectively.  Making his race debut for HB, Jilles Groskamp kicked off his new contract with an encouraging pace that will see him seeded 5th for qualifying.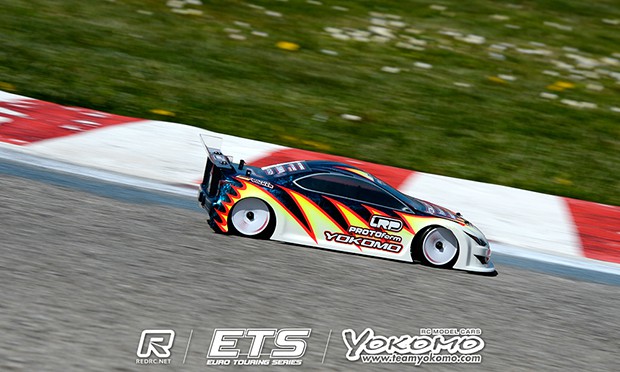 Posting his fastest time in the first of the two controlled practice runs, Volker said he was happy with his pace throughout practice adding now he needs to put everything together for this evening's opening qualifier.  Having also topped free practice, despite having a distinct advantage over his rivals at the end of CP1 for the final practice run of the event the German would try a set-up change.  Resulting in his LRP powered BD7 being a 'little loose to drive' and allowing Coehlo to be become the only driver to top him on the times sheets for the 7 recorded rounds of practice, the 4-time back to back champion will revert to his earlier setup for the first of the four scheduled rounds of qualifying.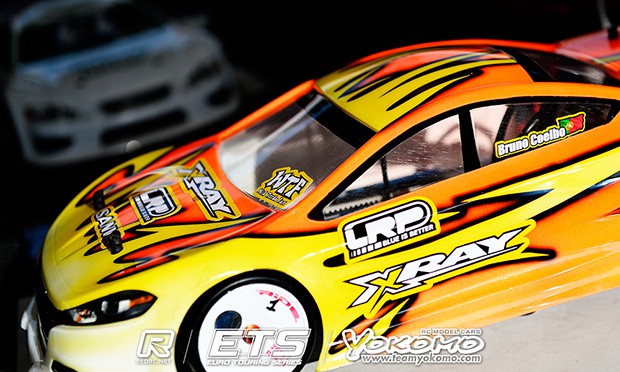 Contesting his first season of ETS, as expected the switch to asphalt looks to be suiting Worlds star Coehlo.  The Xray driver said having struggled in practice yesterday a switch to the ARS rear suspension on the T4'15 had improved things.  Describing the car as 'good but not perfect', the Portuguese driver said traction was still an issue they needed to work on.  Having tried different things over the day to improve the cars steering he said for Q1 he would just make small changes that he hoped would allow him to close the gap to Volker.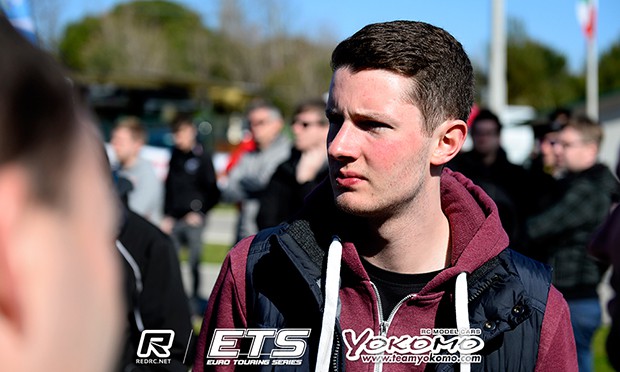 Changing back to longer shocks on his Yokomo for the final practice, Yokomo's Yannic Prumper would post the 3rd fastest time.  Having been running short shocks on his Muchmore powered BD7 he said he prefers the feel of the longer shocks but the change, while making the car faster, also made it more difficult to drive.  Running 2 degrees of toe-in the German said he will continue with the long shocks and instead add an extra half a degree of toe-in which should make the car more stabile.  Overall the Round 1 & 2 podium finisher declared himself happy with his practice pace adding he is feeling pretty confident for the opening qualifier.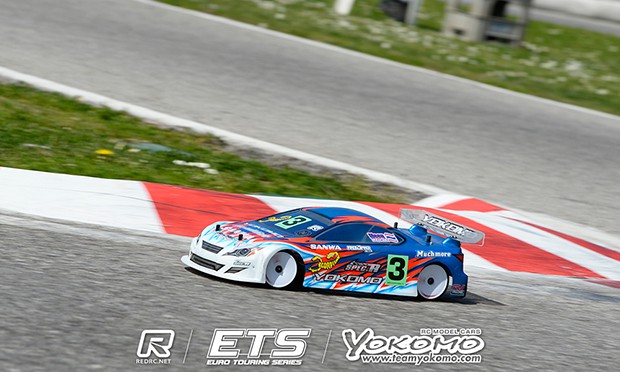 Making his first ETS outing of the season, Yokomo's Meen Vejrak would end practice 4th fastest.  The Thai driver said was happy with his BD7 and was using the track time to focus on the set-up of his Scorpion electrics for the 'high speed track' layout which is very different to the tracks in Thailand.  Running the car pretty much as he raced it at the TITC he said it starts off really good but after 3-minutes starts to push, something he feels is down to the car needing a freshening up which he will do in preparation for Q1.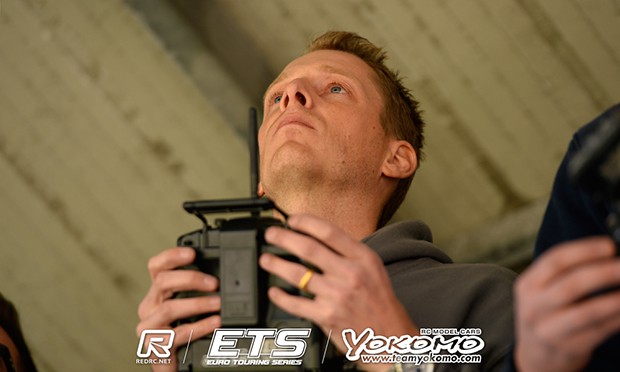 Enjoying his 'new challenge' with his new HB team, Groskamp said considering he hasn't had much track time with his new PRO5 'my pace is not bad'.  The 2012 World Champion said his initial impression of the car is that it is easy to drive and stable and every run he has been trying set-up changes so as to build up as much knowledge as possible as to how it reacts to change. Happy with his 3-lap pace, pointing out 'only one guy is really fast', he said he is really looking forward to Q1 adding that with everyone on new tyres from the same batch that is when he believes we will get to see everyone's true pace.  Happy that both himself and his car have good consistency he said its a pity the track's traction level is 'so so' as if someone finds something they can gain a lot of time with it.  Picking the right right uphill middle section with its off camber corners as an area he feels he can improve he said adding weight to the front of the car could be of benefit.  Also commenting on the bump before the sweeper leading onto the main straight he said for Q1 he will reduce the turbo on his Orion speedo so that it kicks in just after the bump.
Making his first ETS appearance since his shock departure from Yokomo, Matsukura said for the last run his TRF419 was good as he clocked the 6th quickest time.  Going up in the rear diff oil he said now he needs to turn his attention to the front end of the car.  Feeling he has a good base set-up for the track which many drivers are struggling to get to terms with the World Champion said he hopes he can find more steering.  Describing the layout as easy to drive he continued it is difficult to find the last few tenths admitting this is leading him to make many mistakes.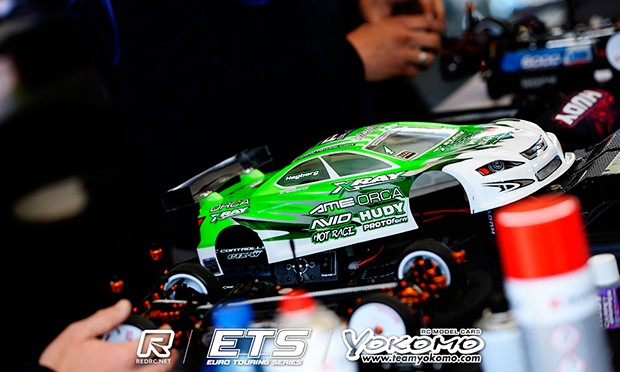 Posting the 7th fastest time, Alexander Hagberg said his Xray feels OK put on the clock is too slow.  Having struggled yesterday pointing out that unlike the some of their rivals they didn't do pre-race testing, he said today they made good progress but still they have to come up with a change that will give the car more steering.  Over a second off Volker's pace over 3-laps the Swede said while their outright pace wasn't there he was hopeful over a 5-minute run they would be more competitive.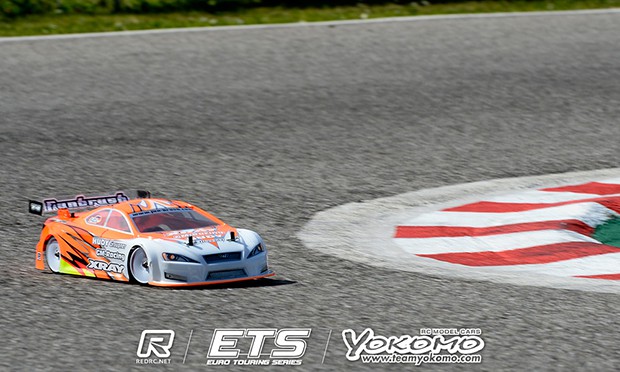 Behind Hagberg 18-year-old Xray team-mate Dionys Stadler set an impressive 8th fastest time.  Liking the track layout 'a lot', the German was also much happier with his T4 after switching to ARS rear suspension for the final practice.  Giving him more steering he said his car also ran very consistent over the 5-minutes and he will continue with an unchanged set-up for Q1.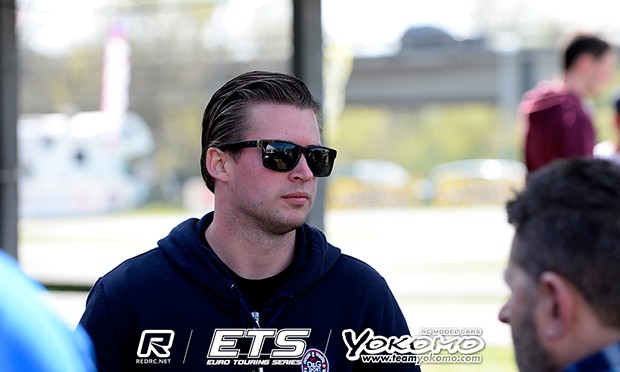 The star of Round 2 in Germany where he made his debut for Serpent, Viktor Wilck ended practice in 9th.  Having 'tried many things', the Swede said its proving very hard to find a good set-up and the right combination of having enough steering and enough grip.  The ETS race winner is struggling to get good pace out of his S411 at the start of the run but added by the end it is good.  Planning to try a softer diff for Q1 he believes part of the issue being faced by drivers at the Road Race Riccione track is that some corners are off camber.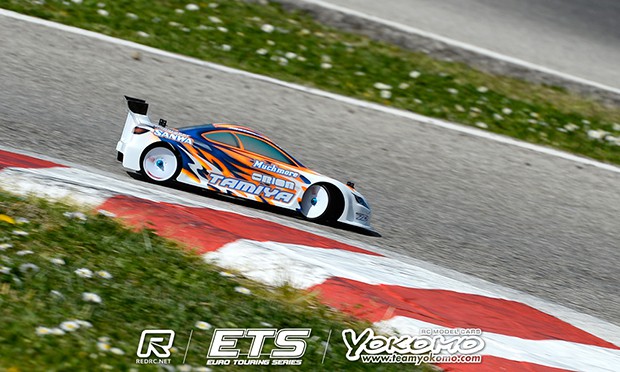 Another driver making a high profile debut with a new team this weekend, Krapp completed the Top 10.  While admitting his new TRF team is having problems with finding a set-up for this track the former Kyosho driver said he is really enjoying having team-mates to work with rather than working on his own.  The previous ETS asphalt race winner, said overall traction is the issue but they don't know why and they have each been trying different set-ups to try and find aspects that might improve their pace.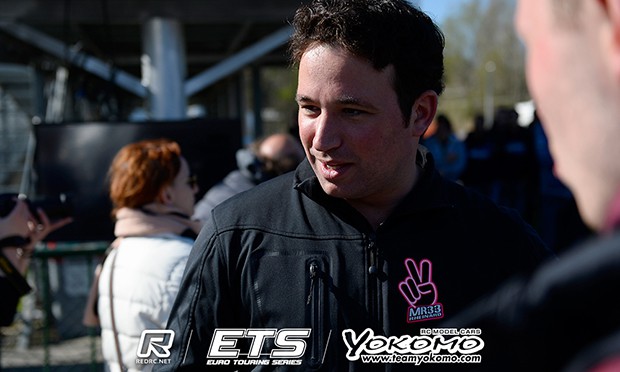 Relieved to make the top qualifying heat, the outdoor track allowing for 11 car qualifiers, Rheinard said having ran pretty ok yesterday today they are in the 'middle of nowhere'.  Suffering understeer the 3-time World Champion said as a result the 'fast corners are horrible'.  Having ran 49-second pace yesterday the German said he was lost as to why they had lost speed, his best controlled practice time being a 50.457, 1.5 seconds off arch rival Volker.
View our event image gallery here.
---