May 3, 2015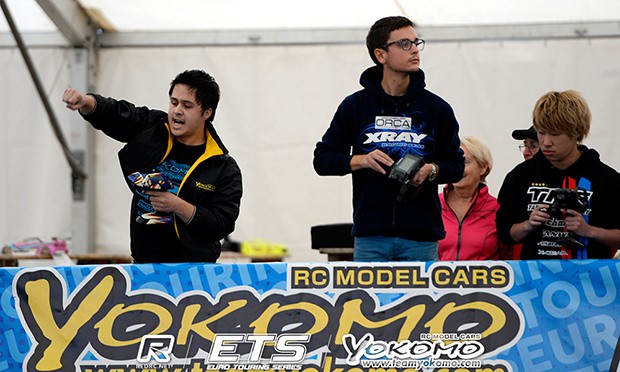 Ronald Volker has won the fourth round of the Yokomo Euro Touring Series, the win in Austria marking the reigning champion as the first double winner of Season #8.  An A3 showdown between the Yokomo driver and Tamiya's star of the weekend Akio Sobue, Top Qualifier Volker wouldn't put a wheel wrong to secure the overall win ahead of the Japanese A1 winning driver.  Securing third in A3 after team-mate Bruno Coelho crashed on the penultimate lap, Xray's Alexander Hagberg would complete the podium at the second running of the fahr(T)raum hosted event.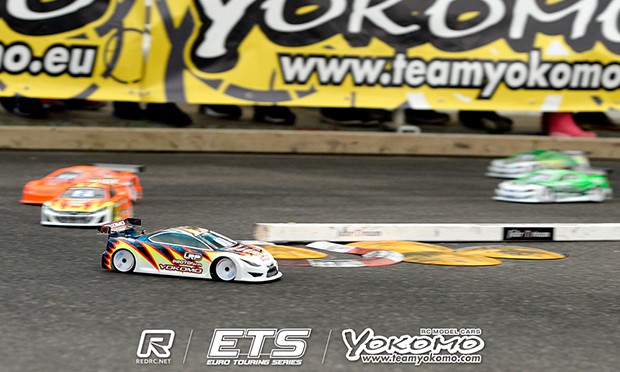 'Very very excited to end a tough weekend with the win', was Volker's reaction to his 12th ETS race win.  After the disappointment of Italy where having TQ'd he only finished 4th, he said to get the TQ and win today was the perfect weekend in terms of his quest for a fifth consecutive ETS title.  Commenting the final race of the weekend, Volker said he was never comfortable over the 5-minutes saying his tyres that had done all four of the qualifiers and the previous two finals were 'absolutely done'.  Lacking overall traction from the start it got worse over the run and he said he was fully on the limit trying to stay ahead of Sobue.  With Round 5 taking drivers to Luxembourg, a track where Volker clinched the title last year and says is his favourite track, he is feeling pretty confident about the championship with rivals such as Marc Rheinard and his own team-mate Yannic Prumper having not had a good weekend in Austria.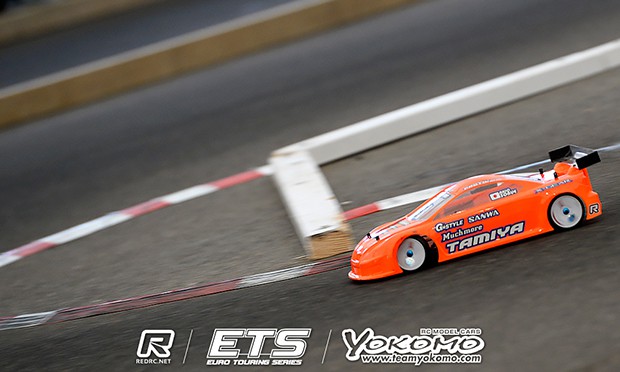 On his second ever ETS outing, his first being last years season finale at the Hudy Arena, Sobue was very happy to finish competitive on the podium.  The 20-year-old was however a little dissapointed that he didn't get the opportunity to race Volker for the win in A3 but said his tyres where done after A2 so he had no chance.  With his performance contrasting that of his high profile team-mates, Sobue said he was looking forward to more ETS outings with RF engineer Takayuki Kono confirming he will travel to Luxembourg although Sobue said he is not sure he will like such a big track.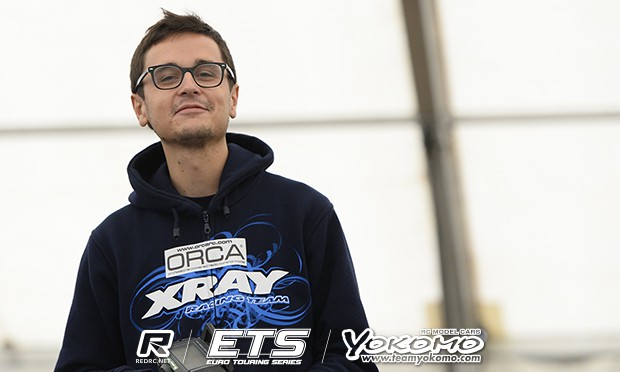 Hagberg said while 'of course (he is) happy to be on the podium', he was also disappointed with the fact that having had such a good car yesterday the conditions today left him struggling.  The Swede said with this in mind the podium was a good result and also good for the overall championship.  Commenting on his weekend Coelho said 'today was not to be my day'.  A driver to bring an new air of interest into touring car with his aggressive driving style, the Portuguese driver said he made too cautious a start to A3.  Having broken a rear tyre and had to glue it for A3 he said this also left his T4 slightly unbalanced but a set-up change for the race made it 'super good'.  Able to catch Volker, unfortunately he would slide wide at the end of the straight after hitting a damp patch and this let Sobue through to second.  Trying to retake the place, adding he had nothing to lose, he had an off.  Not dwelling on the weekend the 21-year-old said 'we will try again in Luxembourg' many predicting its only a matter of time before he joins the exclusive list of ETS race winners.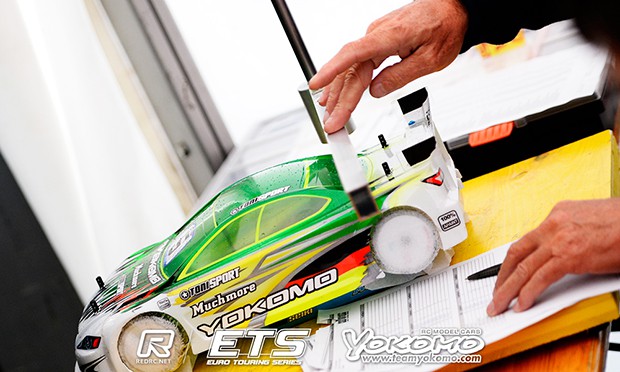 Finishing fourth, ETS Italy winner Yannic Prumper said nothing more was possible'.  The Yokomo driver said 'luckily Bruno crashed each time or I would be leaving with fifth place points instead of fourth'.  With Luxembourg his favourite track the 21-year-old was confident he would be back at the front for Round 5.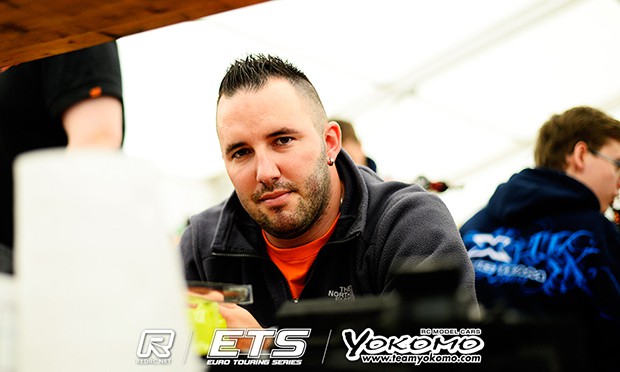 With Serpent completing the Top 6 with Marc Fischer and Viktor Wilck, Fischer said 'last year I was fourth this year I am fifth so I suppose it was an OK weekend and for sure was better than Italy'.  Looking to Luxembourg he said 'myself, Viktor & Jirka (Hassler) will work hard on it and hopefully it can be a good race for us'.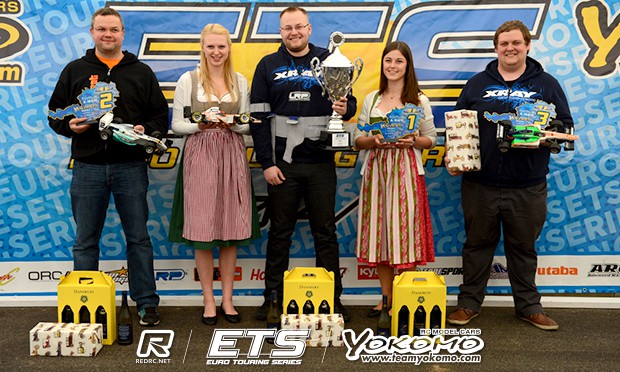 In Formula, which would also be decided in A3, it was also the reigning champion that would take home the biggest trophy with Jan Ratheisky taking a tone to tone win.  His challenger, A2 winner David Erhbar saw his race ruined in the first few corners as he got hit from behind from Mike Gosvig.  In the end ETS Italy winner Erhbar's Serpent would finish second overall with Jacques Libar completing the podium. With Lars Hoppe wrapping up the Xray Pro Stock win in A2, A3 would decide who joined him on the podium. Gosvig would head home Ratheisky and that is the order they finished in the overall results behind Hoppe.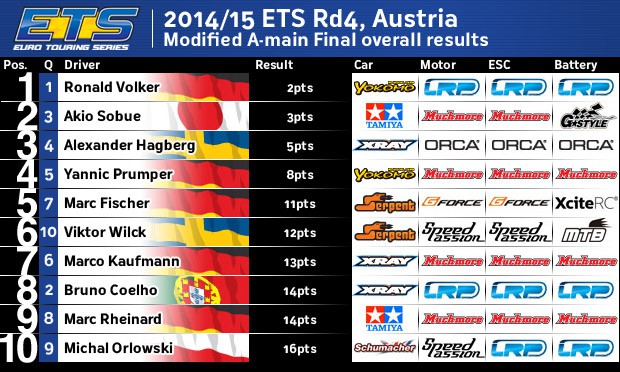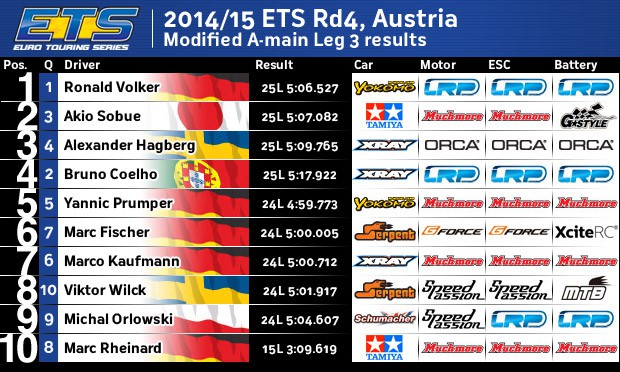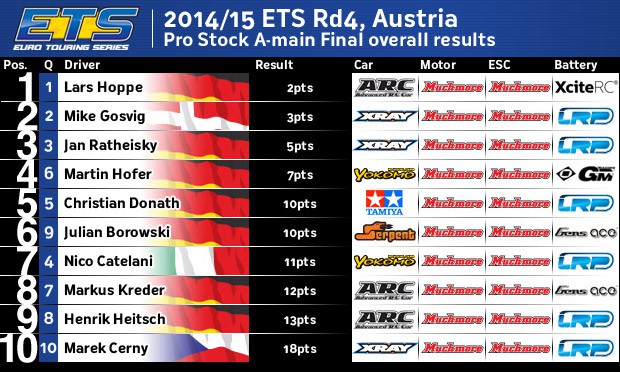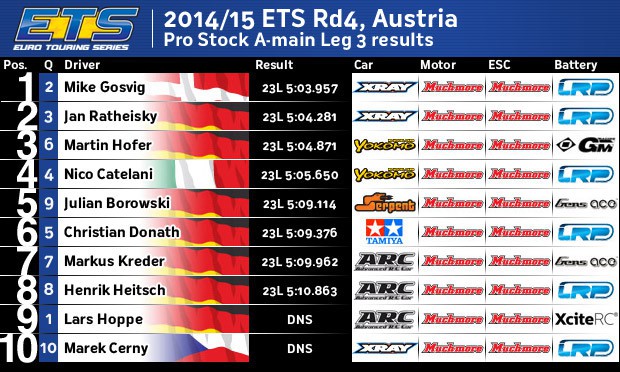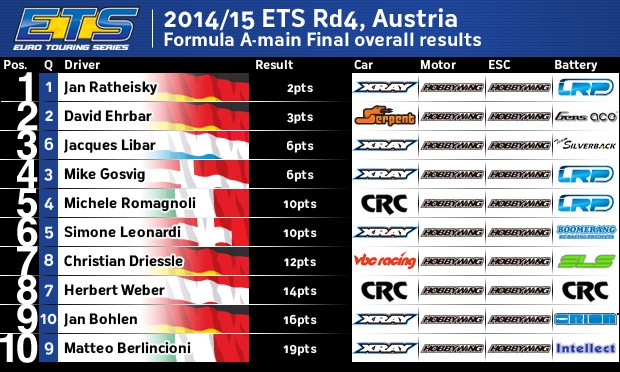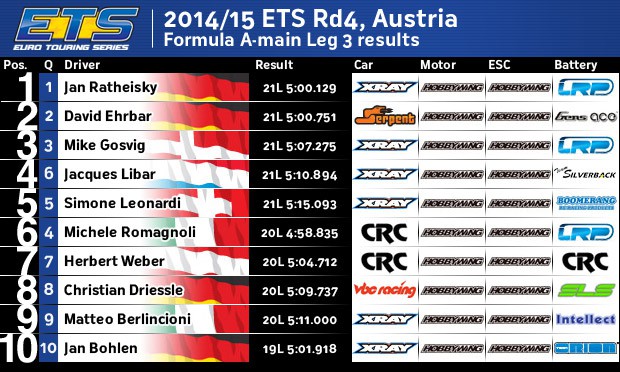 View the complete event results here.
View our event image gallery here.
---