May 2, 2015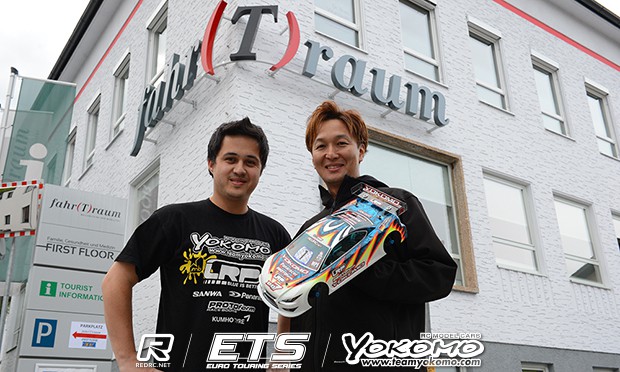 Ronald Volker has claimed what is probably the most important pole position of this season's Yokomo Euro Touring Series after the challenge from Tamiya's Akio Sobue came to nothing in the final round of qualifying in Austria.  His 17th time becoming Top Qualifier, last year's winner of the fahr(T)raum hosted event would end Q4 second fastest 0.233 of a second off the Xray of Bruno Coelho.  The TQ run would help Coelho to move ahead of Sobue in the final qualification ranking with the Portuguese star set to start directly behind Volker, the same order in which they lined up for Round 3 in Italy. A track where the majority of A-Main drivers agree overtaking will be 'impossible', Sobue starts third and could be perfectly placed should there be a repeat of the sparks that flew in Riccione.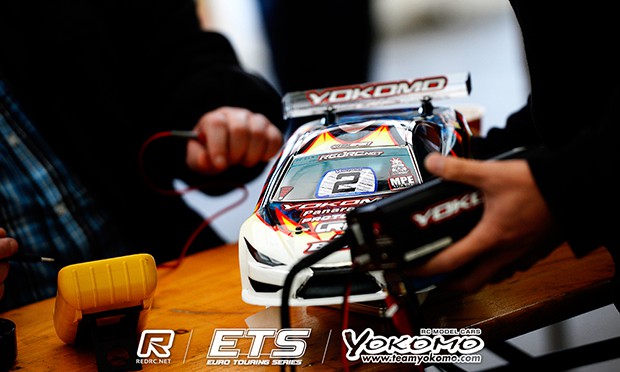 While it was quickly apparent that Sobue, his only potential challenger for pole position, was struggling after a change of tyres, Volker still wanted to put his Yokomo top of the time sheets.  The reigning champion said said it was all going well until the middle of the run when a number of incidents by other drivers caused him to fall out of his rhythm.  With this allowing first Alexander Hagberg until a mistake and then Coelho to take up the TQ pace, Volker threw everything he had at it for the last lap in the hope it might be enough.  Driving his BD7 'over the limit' it would became the only car to do a sub 12-second lap with a very impressive 11.984 time but it wasnt enough to deny Coelho the TQ and second on the grid.  Commenting in the race Volker, who saw off an intense challenge from his team mate Yannic Prumper last year, said 'it is super difficult to overtake but Bruno is on fire so I will just try not to give him the opportunity to attempt a pass'.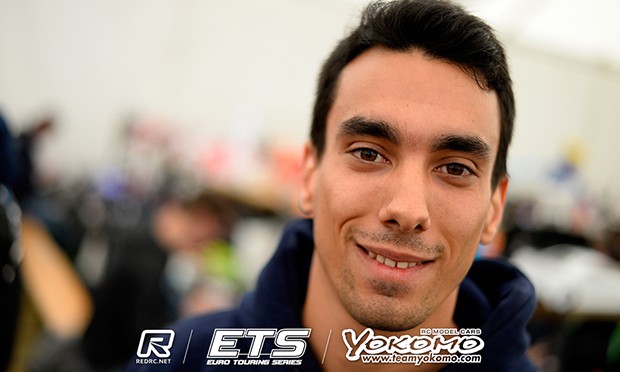 Very happy to get a TQ, having been on a TQ pace at one stage in each of the four qualifiers, Coelho said his T4 was 'super good' at the end of the 5-minutes but was equally super bad at the start.  Saying his and Volker's cars are opposite to how they were in Italy, him now struggling at the start of the run, the 21-year-old feels his issue is tyre related ad he will try a different prep for A1.  Asking about getting passed Volker, the World championship runner up not impressed by Volker's attempts in Italy, he said it would be super difficult if not impossible as it is also very easy to drive defensively but 'for sure I will try to pass'.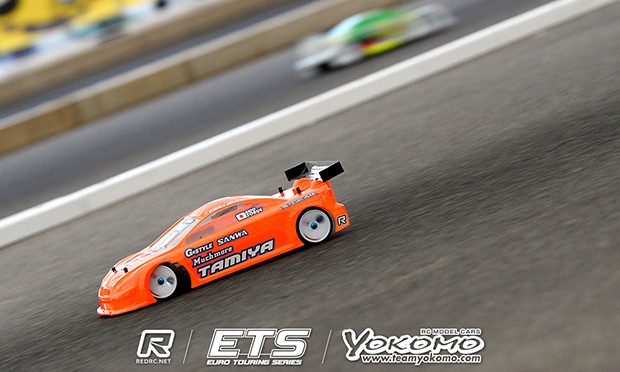 Sobue said his second set of tyres were 'maximum not good' and he would fit 'very old tyres' for the final.  The 20-year-old, who has really impressed this weekend especially as his high profile team mate Marc Rheinard lines up an uncompetitive 8th on the grid, said while racing for the win would be very hard due to the nature of the track even though he wasn't there he said if history was repeated between Volker & Coelho he was in the right place.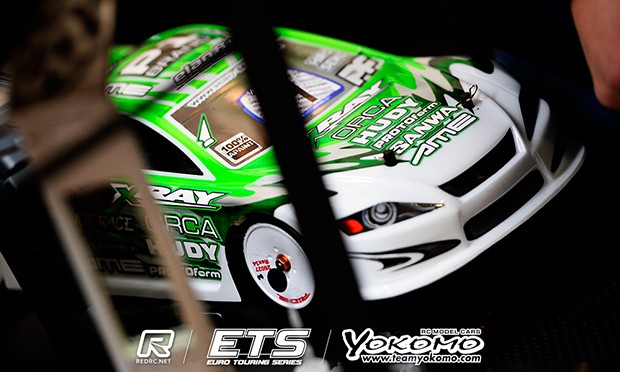 With his T4 unlike team-mate Coelho's very strong at the start, Hagberg said the run was 'super good' until he made a mistake and hopped the curbs causing him to miss his line coming into the chicane.  The Swede said his car should be good for the final but a quick car was one thing with the track offering little opportunities for overtaking unless the driver ahead makes a mistake.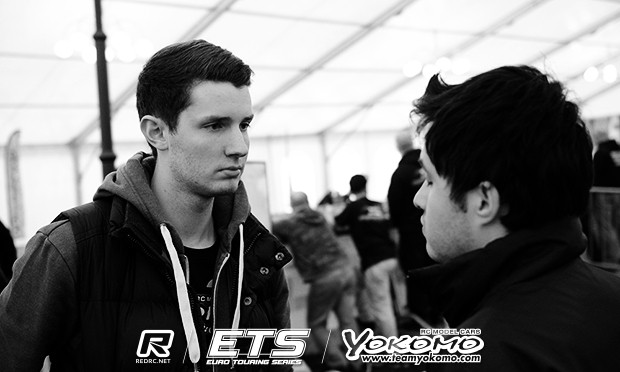 Winner in Riccione, ending a 3-year winning hiatus, Yannic Prumper starts a disappointing fifth and joked he 'hope(s) they all crash and (he can) take advantage'.  The 21-year-old knows better than most how difficult it is to pass on the boards layout track having last year ran on the rear bumper of his Yokomo team-mate Volker without being able to find a way past. While his Much More powered BD7 was 'a little better' in the final qualifier as he again claimed P4 he said they plan to 'go big or go home' with a set-up change for tomorrow's finals.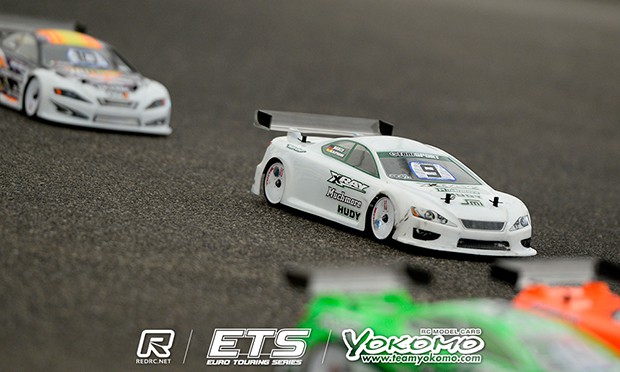 Securing his 3rd ETS A-Main appearance in as many years, one per season, Marco Kaufmann was delighted at achieving his best ever qualifying position with 6th on the grid.  Making Xray the best represented manufacturer in the Ride Modified A-final, the German said he has been very happy with his T4 which is plenty fast as highlighted by the fact that even with mistakes in the final qualifying he still managed a P5.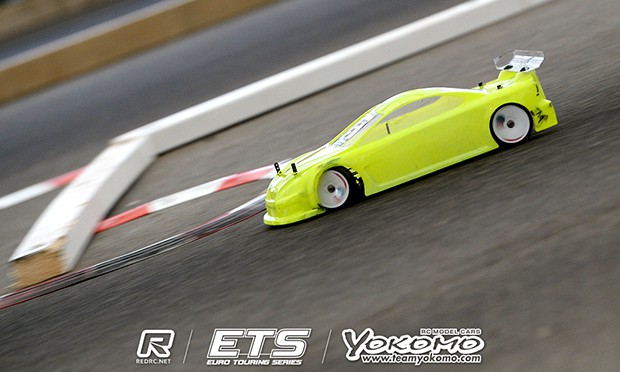 Completing the grid will be Serpent's Marc Fischer who starts 7th and whose new team-mate Viktor Wilck just scrapped on to the back of the 10-car grid on a tie breaker with HB's Andy Moore.  Starting between the two Serpents will be Rheinard and Schumacher's Michal Orlowski, the event marking the former ETS Hobby Class Champion's first Modified A-Main appearance.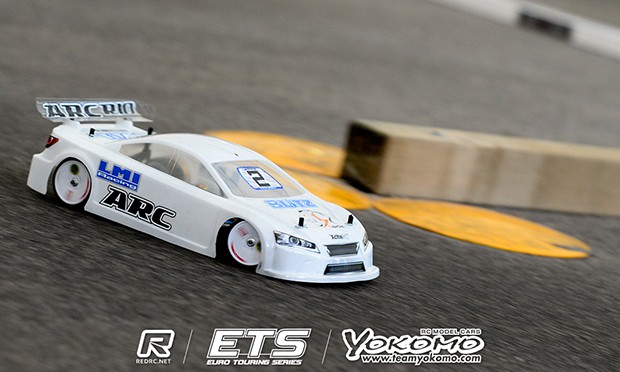 In the Xray Pro Stock class while Jan Ratheisky and Mike Gosvig topped Q3 & 4 respectively it is ETS Czech Republic winner Lars Hoppe who took overall TQ.  Having topped both of yesterday's qualifiers, the ARC driver starts on pole position in front of the Xrays of Gosvig and Ratheisky.  Nursing a shoulder injury that forced him to miss Italy, that doesn't seem to be hampering the German too much.  Defending champion and current points leader Marek Cerny he managed to turn around a terrible first day of qualifying, suffering a DNF and a DNS, by scrapping onto the back of the grid.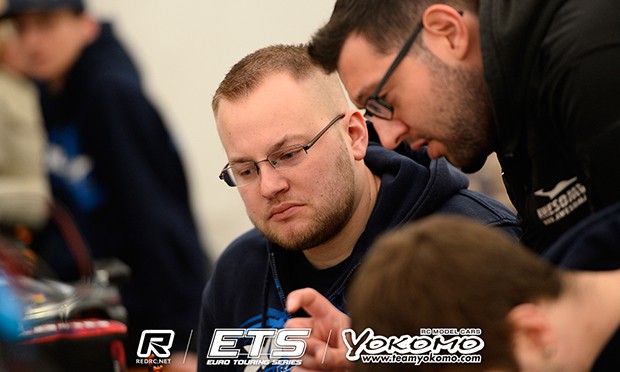 In Formula it was defending champion Ratheisky who resumed business as usual following his Round 3 absence.  His third TQ in as many races, the Xray driver starts ahead of the Serpent of Rccione winner David Ehrbar with Gosvig and Italian Michele Romagnoli lining up in 3rd and 4th.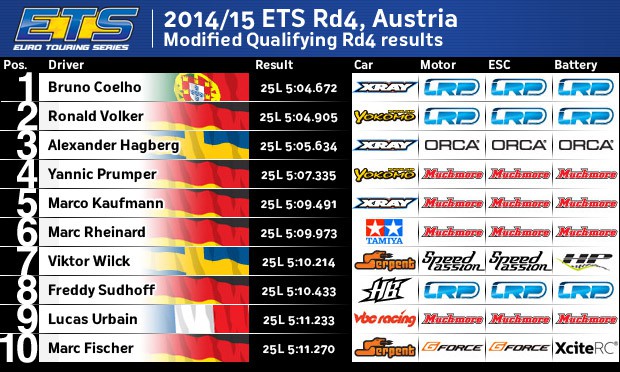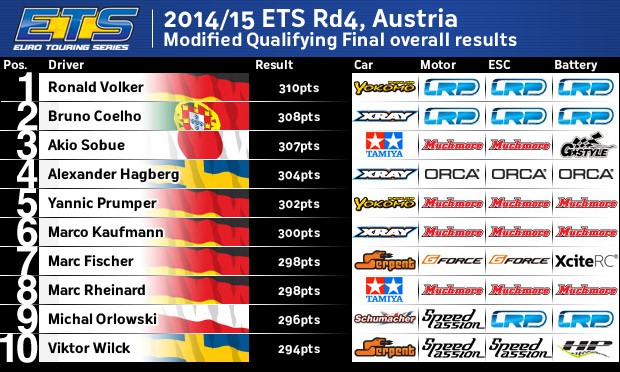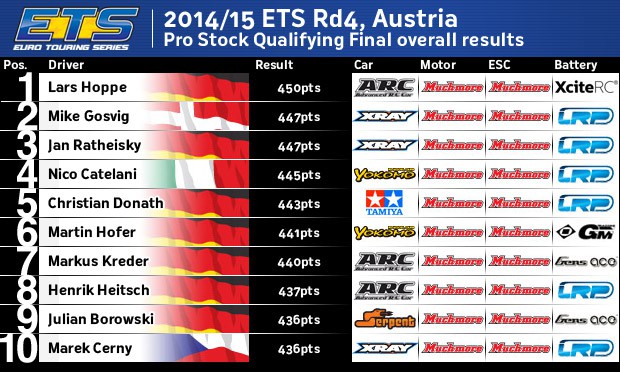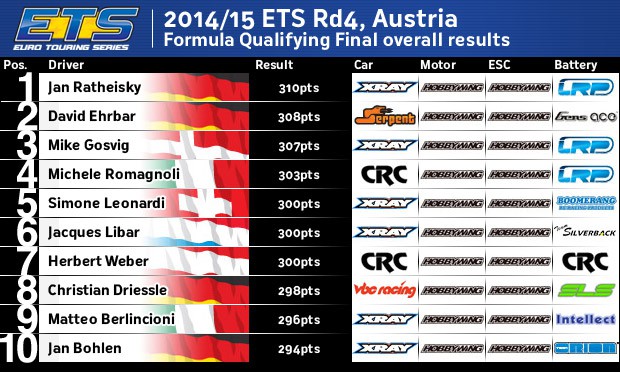 View the complete event results here.
View our event image gallery here.
---