June 27, 2015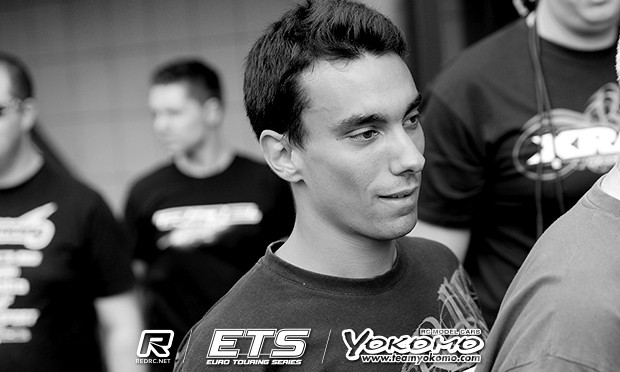 Bruno Coelho has secured a home TQ for Xray at the final round of the 2014/15 Yokomo Euro Touring Series.  Claiming his first win of the World famous championship at the previous round in Luxembourg, today's qualifying result at the Hudy Racing Arena is the first time the Portuguese star has taken the honour of being Top Qualifier.  With light rain forcing the cancellation of the fourth scheduled round of qualifying going into the third round Coelho's Q1 & 2 TQ runs meant he already assured of pole position.  Team-mate Alexander Hagberg however would go on to take Q3 once action resumed on a dry track compounding Xray's celebrations as the result made for a 1-2 on the grid for the Slovakian manufacturer.  Behind Hagberg, Meen Vejrak had a strong qualifier to post the 2nd fastest time securing the Yokomo driver third on the grid ahead of Marc Rheinard.  For champion elect Ronald Volker he will have to lay claim to his fifth consecutive ETS title from 8th on the grid.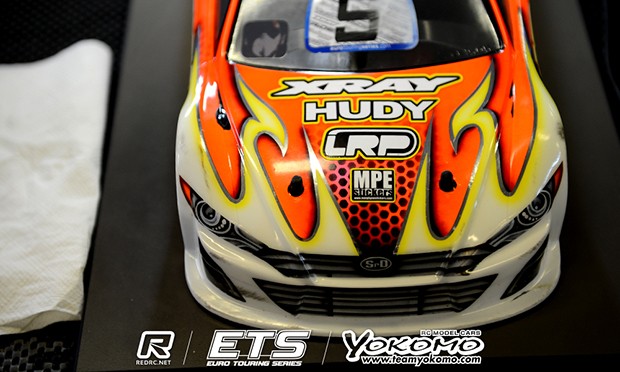 'Super happy' was Coelho's reaction to claiming his first TQ. The 22-year-old World Championship runner-up's first full season of ETS, he said it was nice to achieve this at what is 'a special race for Xray'.  Commenting on his third qualifier in which he made two mistakes, the 22-year-old said his LRP powered T4 was amazing but he twice got too close to the curbing launching it into a roll each time.  Looking to the final, expected heavier rain over Trencin for Sunday meaning A1 & 2 will run later today, Coelho said the finals 'will for sure be difficult'.  Potentially able to wrap up his debut season of ETS with a Top 3 in the overall standings he said, 'For sure I want to win but Alex has found a good set-up and is super fast so it's not going to be an easy race'.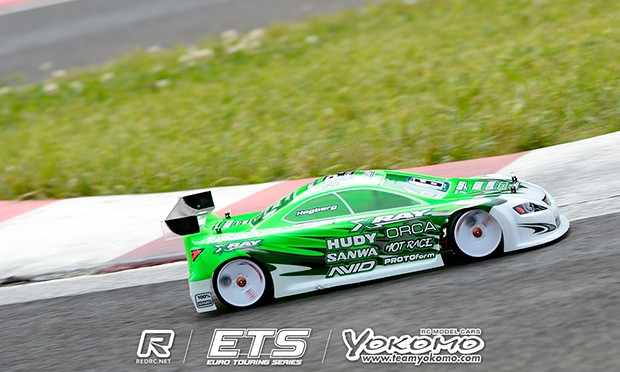 Surviving a bobble and then somehow missing an out of shape Viktor Wilck, a moment he said led him to 'almost (have) a heart attack', Hagberg said his ORCA powered T4 was 'really good' allowing him to control the race.  Setting the fastest lap of the round, the nitro touring car World Champion paid compliments to his team-mate saying the arrival of Coelho into the team has been hugely beneficial.  With a lot more information to share by having Bruno onboard he said his input has been very useful for the development of the T4 which he said they have improved a lot  on asphalt.  Asked about the final, Hagberg said he would just follow Coelho at the start and see what happens.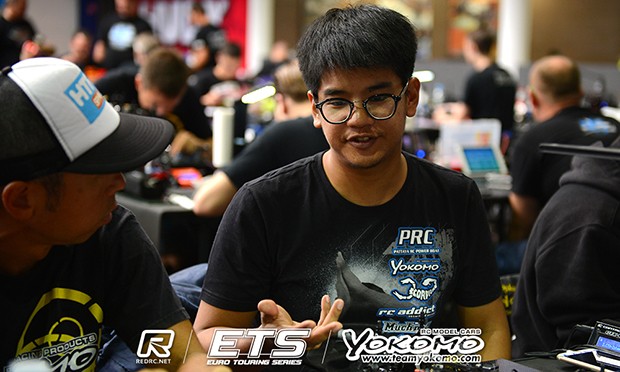 Claiming his best ETS qualifying result with 3rd on the grid, Vejrak was very happy wtith his final qualifier. Claiming his first ETS podium at Round 3 in Italy this season, the Thai ace said while his Scorpion powered Yokomo was good in Q3, helped by having new tyres, he needs to find more steering if he is to be able to race for position in the finals.  Having set the pace in practice, team-mate & ETS Round 3 winner Yannic Prumper will start 6th.  Starting from his worst grid position of the season, 8th, Volker said with his Q1 DNF and the cancellation of Q4 he knew he had to just finish his third qualifier.  He said he had mixed emotions as while he came here to win the championship, a goal he will complete, he would like to be capping off the season battle with a third race win of the season.  Still not happy with his spare car, his race car destroyed in the high speed off in Q1, he said they will make a big change for A1 adding he has little to lose but if it's good he can hopefully make up places.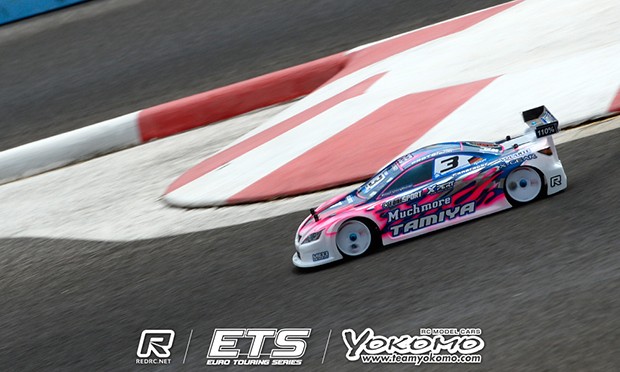 Another driver who needed to put in a clean run or risk not making the A-Main, Rheinard said 'I took no risks and just cruised around'.  With this approach netting him the third fastest time, the Tamiya driver will start from 4th on the grid.  Aware that his second overall in the championship standings is under threat due to the two Xray's starting up front, last year's winner said he would just push for the best result he could adding calculating the various point scenarios wasn't going to change the outcome of the race.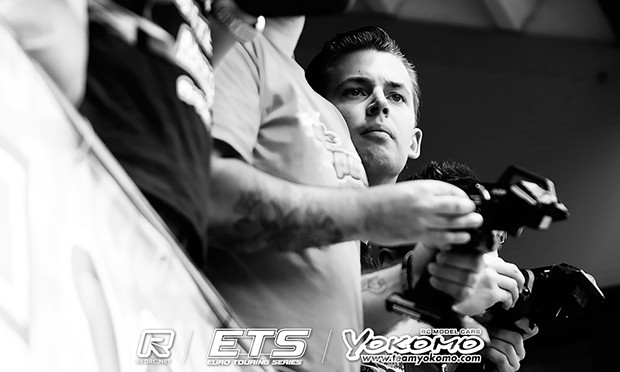 Surviving a spin to finish the round 7th fastest behind Schumacher's Michal Orlowski, that was enough to secure 5th on the grid for Serpent's Viktor Wilck.  With a DNF in Q2 meaning he needed a good run to make the A-Main he said his S411 was 'not so good' as he struggled with 'maximum push'.  He said considering this, starting 5th was 'still ok' adding if he gets 'lucky with tyres' for the finals he is confident he can fight with Rheinard and Vejrak while 'Bruno & Alex pull away at the front'.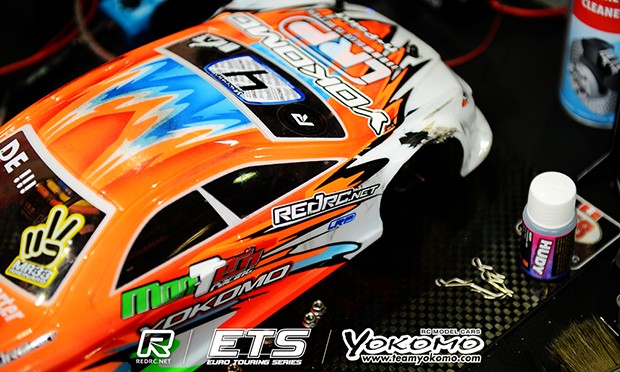 In the Xray Pro stock class Nico Catelani claimed his first ETS TQ, the Yokomo driver topping the times for a second time in the third qualifer.  Behind the Italian, Xray's Jan Ratheisky will start second followed by reigning champion Marek Cerny.  For championship leader Lars Hoppe, the cancellation of Q4 means the ARC driver will start in the B-Final meaning he can only watch to see if Cerny does enough to be able to snatch a third consecutive title.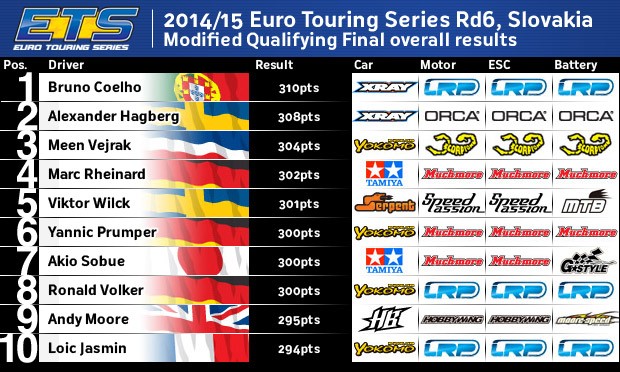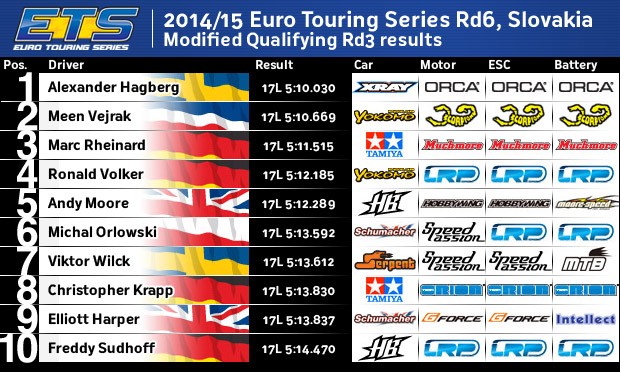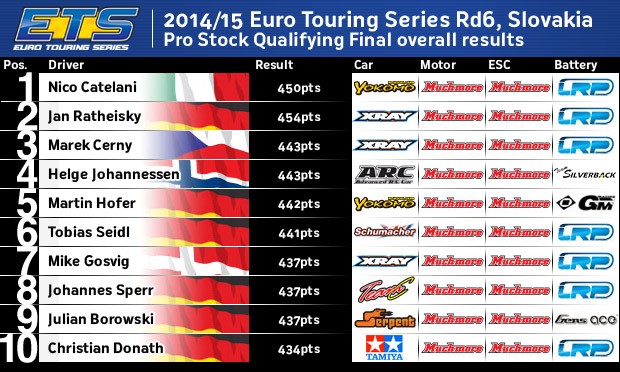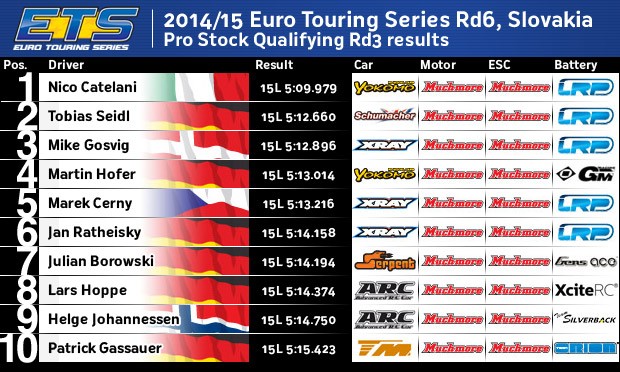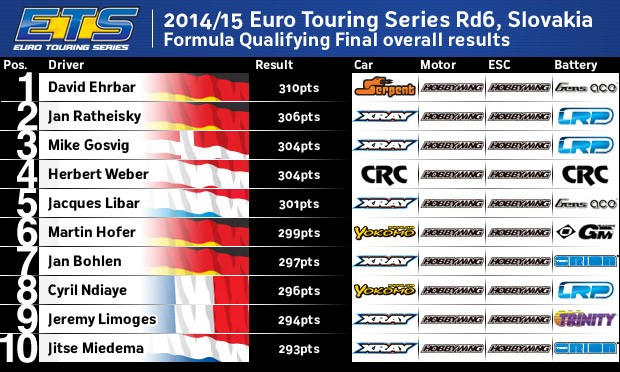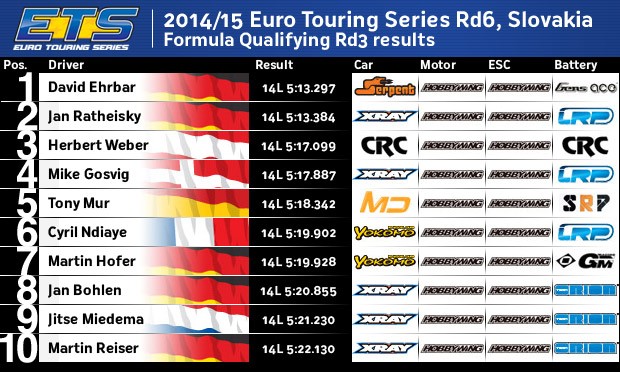 View the complete event results here.
View our event image gallery here.
---