December 13, 2015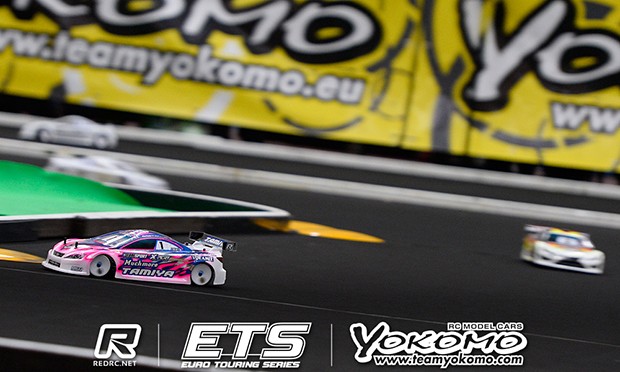 Having had an A1 win snatched off him by Ronald Volker at the end of the final lap last night, Top Qualifier Marc Rheinard claimed a comfortable win in the second A-Main of the Yokomo Euro Tourig Series season opener in the Czech Republic.  Leading from start to finish, a late charge from Volker would reducing Rheinard's winning margin to half a second, the Tamiya driver was never under real pressure as on Volker and Coelho took turns at rolling.  With the Top 3 breaking clear of the pack,  Volker would as the race entered the second half roll out of the 3-car train promoting Coelho to second.  That position change would only last a lap as Coelho would also roll his Xray handing the place back to the Yokomo driver, causing them to spread out and while Volker would take over a second out of Rheinard's ending the race with three 12-second laps, the order remained unchanged with Coelho finishing 1.8-seconds back from Volker.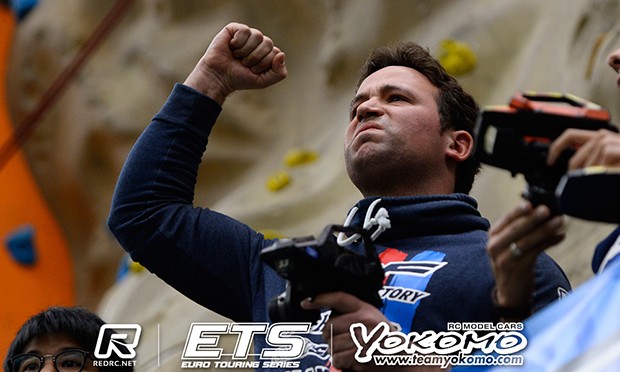 'It started close until they rolled. I would be happy to have a race like this one more time today', was Rheinard's reaction to the win which sets the stage for showdown in A3 between two of touring car's longest standing rivalries.  Suffering 'one bobble' which let his pursuers close within striking distance, he said after Volker and then Coelho made their own mistakes he was 'just cruising'. Having suffered a roll in A1 which he himself said cost him the win, the 4-time World Champion said 'the last few laps I was just making sure I didn't roll again'. The former champion, whose winning 2009/2010 season included his last victory of the Hrotovice event, said his 'car was pretty easy to drive' and he would leave it unchanged for the deciding race including running the same set of Volante tyres. A3 is set to be the 8th run of the weekend on the same set.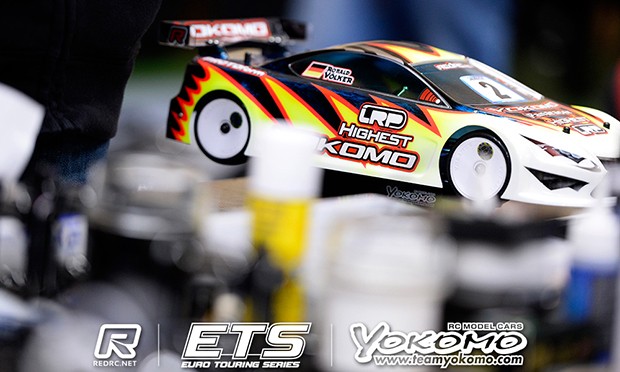 Having adjusted his tyre prep after suffering a very loose car at the start of A1, Volker said this resulted in an improved BD7 2016.  Describing the rear grip as 'better than all previous runs' he continued while 'still not very easy to drive, it was at least predictable'.  Putting his roll down to catching a corner dot, he said after that all he could do was try to reduce the gap and with second in A2 securing him at least second overall he said it was going to end up 'not too bad of a weekend'.  Winner of this event during each season in which he has reigned over the ETS, the 12-time ETS race winner said track conditions have been a lot lower than they expected and that was something they needed to work on getting the car suited to for Round 2 in Germany in February.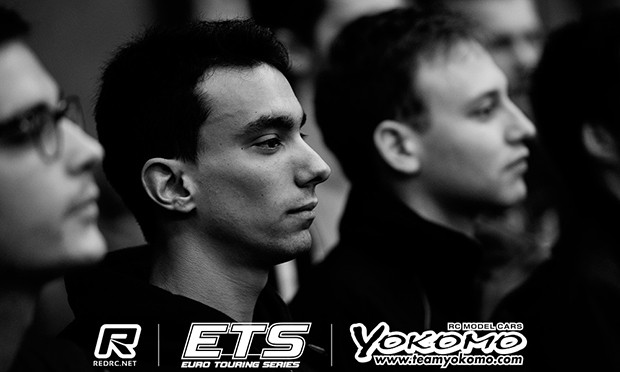 'Quite OK but not perfect' was how Coelho summed up his A2 performance.  The Portuguese ace said the first few laps were difficult, something he was putting down to the tyres as the cars sat on the grid for a time while the Top 10 drivers were introduced.  After that his T4 'was good' adding hopefully in A3 the race starts quicker.  Asked about his roll, he also said he 'touched the curbs'.  Starting 4th team-mate Alexander Hagberg found himself 6th after just a few corners.  Last year's race runner-up, he would managed to get back passed Dionys Stadler but couldn't do anything about Yannic Prumper, the 2014 podium finisher holding on for fourth by half a second.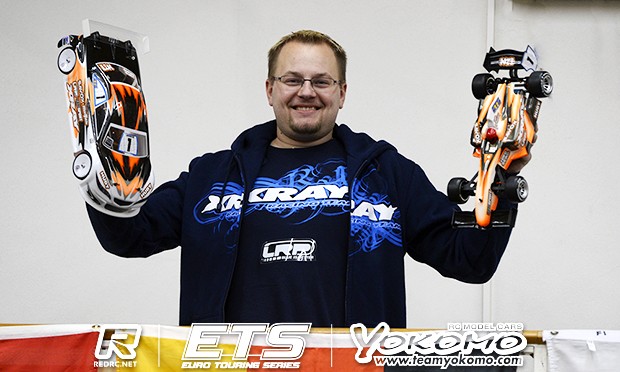 While the first Season#9 winner of the Volante Modified class will be decided in A3, Jan Ratheisky didn't want to wait that long backing up last night's Formula and Pro Stock A1 wins with another in A2 to kick off the 2015/16 season in perfect fashion.  Having also claimed the bonus championship point for being Top Qualifier for both classes, the reigning Formula Champion took an easy A2 win ahead of Christian Donath.  In Pro Stock, the Xray driver would again be put to work hard for the win by his team-mate and reigning champion Marek Cerny.  With no contact this time round, the German held on as Cerny threw his T4 through the chicane on the final dash to the finish.  Doing the double is a repeat of Ratheisky's, then known as Amser, entry in the ETS record books as being the first and still only driver to win two classes in a single ETS weekend.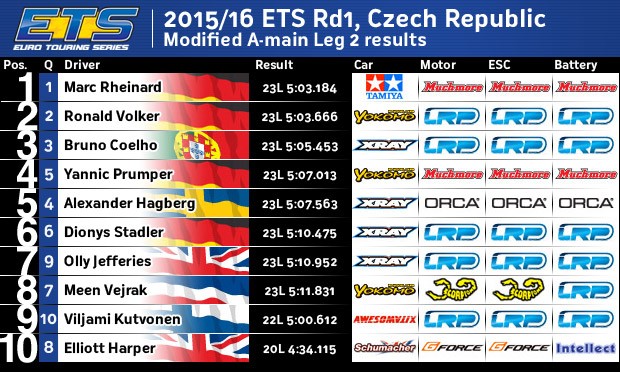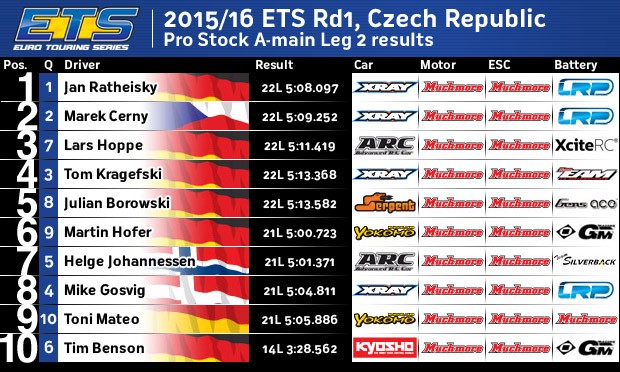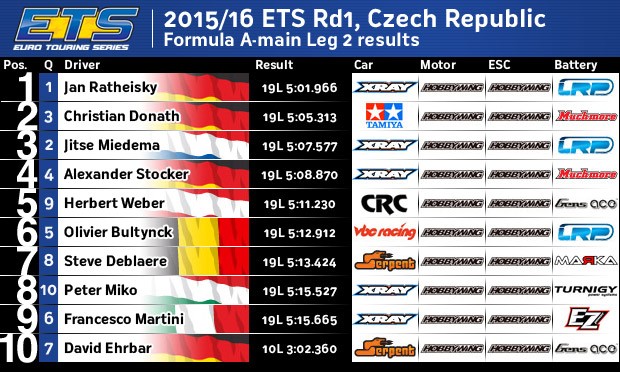 View the complete event results here.
View our event image gallery here.
---