April 9, 2016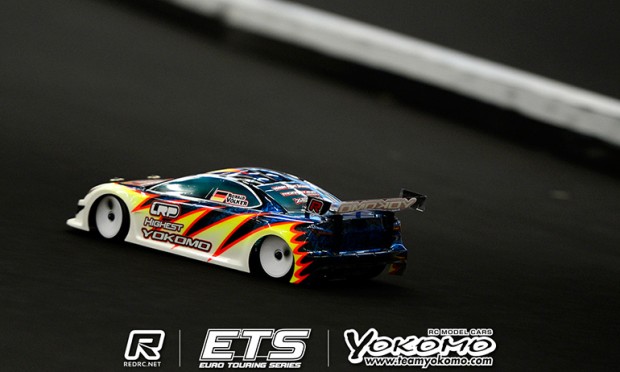 Ronald Volker has made it two out of two at the Yokomo Euro Tourng Series in Austria as he again benefited from an error by Bruno Coelho to take Q2.  Having claimed yesterday's opening qualifier ahead of the joint championship leader, two errors by Coelho allowed the Yokomo driver to open Day 2 with another TQ, this time ahead of the championship's other joint leader Marc Rheinard.  With Coelho's Xray ending up 5th fastest, a good drive from Rheinard's Tamiya team-mate Akio Sobue left the former podium finisher to complete the Top 3 ahead of Alexander Hagberg.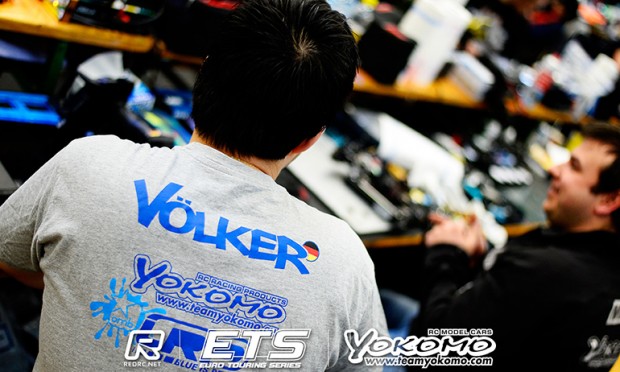 'I'm very happy to get away with another TQ especially after Bruno passed me so early in the qualifier', was Volker's reaction to Q2.  Starting out first ahead of Coelho due to his TQ run yesterday, Volker said with his rival starting before he was called he found himself having to open up for him on only the second lap.  With it 'annoying it happened so early', Volker added 'he starts out much quicker than I can'.  With his own lap times getting better as the run progressed and helped as 'Coelho 'lost it twice' he said he was able to hold on for the TQ but admitted his rival is 'still definitely faster'.  Looking to change his tyre preparation for Q3 to make his BD7 faster at the beginning of the 5-minutes the reigning champion said they also need to improve the car's set-up. While his Q2 time was the fastest so far, which could be vital in determining the tie break should Coelho TQ both remaining qualifiers, Volker said as it stands 'even if Bruno doesn't TQ it's going to be difficult to beat him in the finals as he's better out of the gate'.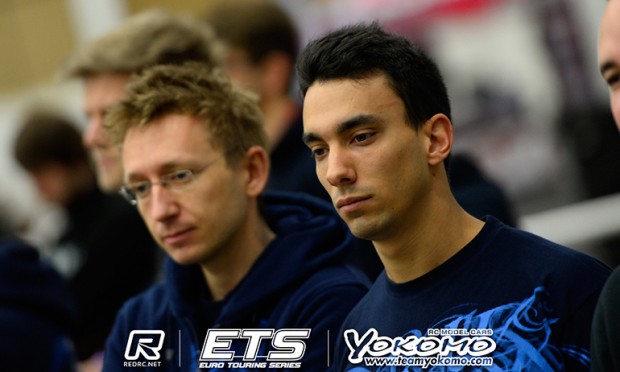 At a loss to explain his first error, Coelho described himself as 'a little unlucky'.  Making the 'perfect' start and getting passed Volker so early on, the Offroad World Champion said his roll halfway through the qualifier was 'strange', the car traction rolling on what he said are not high traction conditions.  Again posting the fastest lap time, he would put his T4 back to the top of the timing screen only to touch the curbing and roll, which required his car to be marshalled.  Asked about his car he replied, 'I've just been unlucky with the errors, the car is perfect'.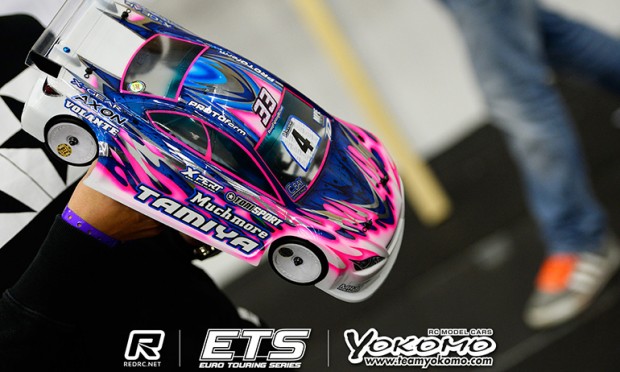 With a 'shitty first lap' on which he 'missed many corners', Rheinard said while his car was 'not far off' he was starting to suffer understeer towards the end.  Having changed to lighter diff oil, the ETS' most winning driver said he thinks he went too soft and for the next one he will go back up.  Pleased to have two Top 3 runs which he feels should give him at least third on the grid he said it might not be the worst starting position if Volker can hold onto the TQ ahead of Coelho.  With the opening two races producing different Top Qualifiers, he is quietly hoping Volker holds on and denies Coelho the bonus TQ championship point.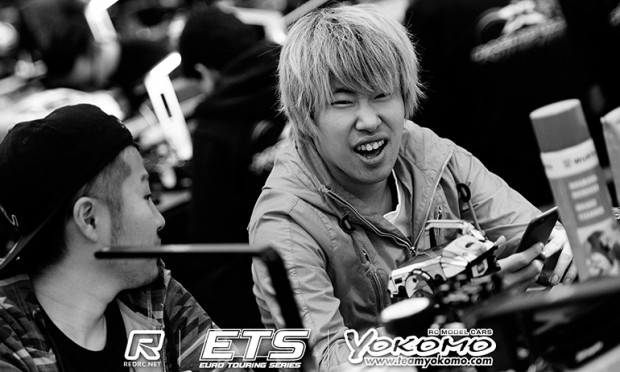 Having struggled with a loose car in practice that left him seeded in the fourth fastest heat, Sobue was pleased with getting a P3. Ninth in the opening qualifier after a mistake, the Japanese driver said Q2 was 'perfect'. Describing the track layout as 'a little difficult', highlight the left side of the track, he said having made changes after Q1 he will now go into Q3 with his car unchanged.  For Sobue's World Champion team-mate Naoto Matsukura, who is running in the second fastest heat, crashes in the opening qualifiers meant he will need to drastically turn things around in the remaining rounds if wants to avoid missing out on the A-Main as he did in Germany.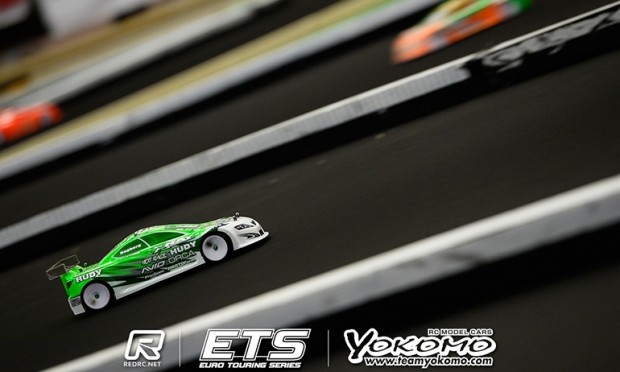 Having crashed heavily in Q1, Hagberg said he had to drive a 'conservative run to get points'.  While ending up with a P4 a little over half a second off Sobue, the Swede said they 'still need to improve (the) car'.  Looking for 'more pace' from his T4, he added 'we'll work on it and see what we can do'.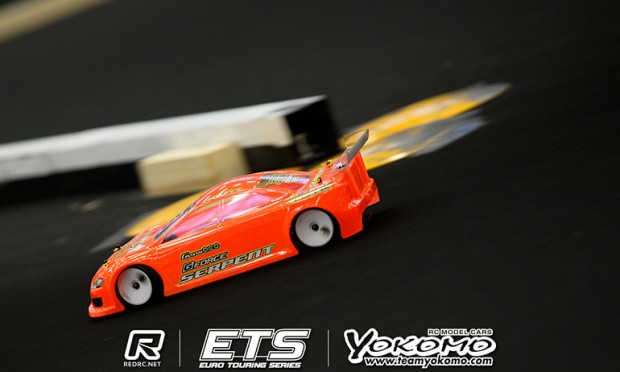 Completing the Top 6 behind Coelho would be Marc Fischer.  While he managed to avoid a repeat of his opening lap error in Q1, the German would still suffer a mistake albeit a lesser one when he had a roll over in the third minute.  The Serpent driver said his all new 4X was 'really good in the beginning' but running an old battery he said after 3-minutes it had 'no more power'.  In addition to running a different battery for Q3 he will also rebuild the car's shocks, the David Ehrbar creation featuring an extra roll shock. Planning to leave the set-up unchanged so as to gauge the impact of the shock rebuild he said for the final qualifier he will use the track time to try a different set-up.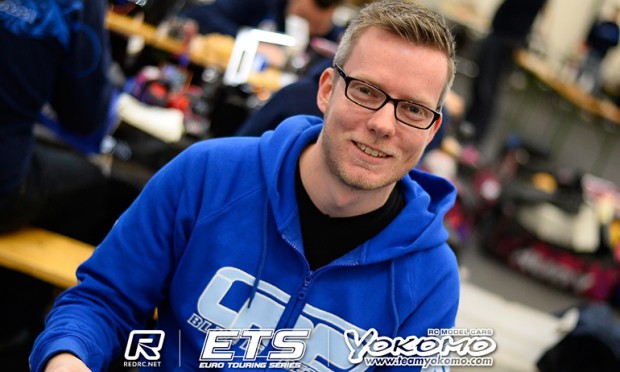 With Viljami Kutvonen suffering an early error in Q2 and ending up 10th, it was the returning Freddy Sudhoff who was the top Awesomatix.  Claiming a P7, the German said 'it feels good to be back in the Top 10'.  Copying his team-mate's shock set-up this made his A800 'less edgy' and he believes this has left him with 'a good base to work on now'.  'Still missing a tenth here and there' he said it was 'up to (him) and a little set-up work to find it'.  Behind 'Fast Freddy', Schumacher's Magnus Vassmar enjoyed another strong run with the new Mi6 backing up his P7 in Q1 with the 8th fastest time ahead of Xray's Dionys Stadler.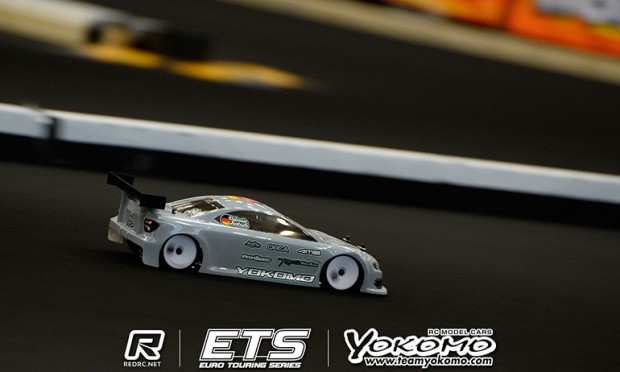 In the second round of Xray Pro Stock qualifying it was the Yokomo of Valentin Hettrich who set the pace ahead of ARC pairing Lars Hoppe and Helge Johannessen.  Q1 pace setter Marek Cerny could only manage 5th behind Xray team-mate & championship leader  Jan Ratheisky.
View complete event results here.
View the event image gallery here.
---