May 13, 2016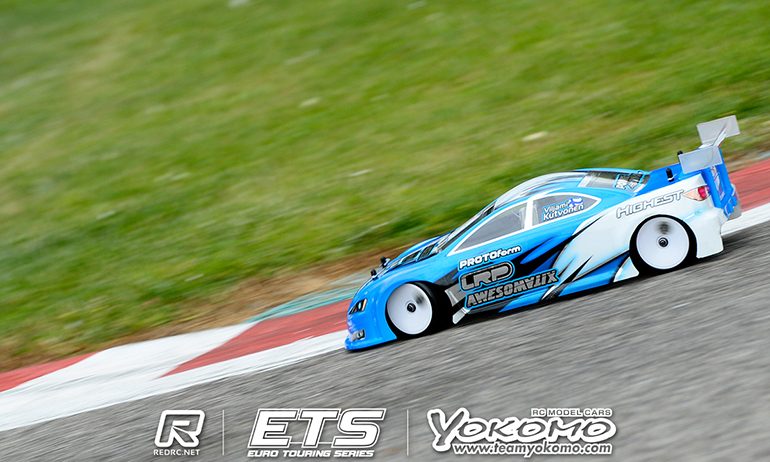 Viljami Kutvonen has TQ'd the opening round of qualifying at the Yokomo Euro Touring Series in Riccione.  Creating somewhat of a surprise earlier in the day when he was fastest in practice, the Awesomatix driver showed his pace was genuine, topping the qualifier from current championship leader Bruno Coelho. Second fastest in practice Marc Rheinard would complete the Top 3 with a bit of gap to Alexander Hagberg in 4th but things couldn't be much closer over the remainder of the Top 10 which was covered by less than 1-second.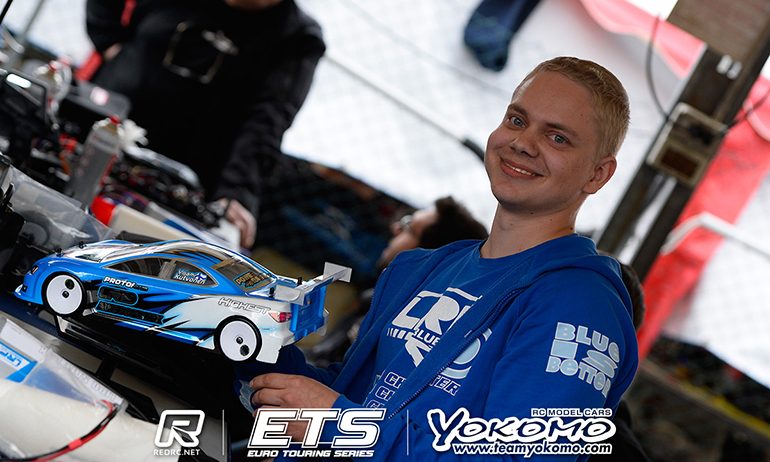 In keeping with the tradition of successful Finnish racers Kutvonen reaction's to his TQ run was brief, the 23-year-old saying it was 'Perfect, I mean what else can I say'.  Asked about his LRP powered A800 which posted the fastest lap he replied, 'I think I will keep it the same for the next one.  It's going to be a close battle with Bruno again but I will do my best'.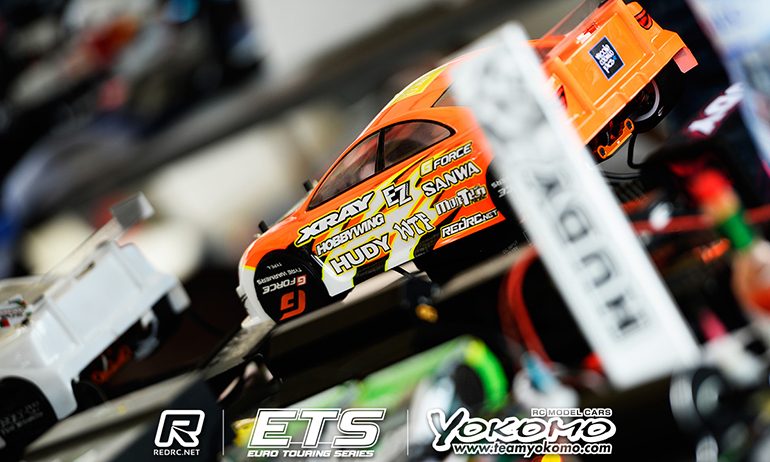 A little over 3/10ths off Kutvonen, Coelho said his Xray was 'for sure better' than final practice after a set-up change but a bad first lap cost him a shot at the TQ.  The Portuguese driver would 'almost flip' his T4, the 4WD Offroad World Champion joking 'my offroad experience came in useful' in stopping the car from rolling.  Losing over half a second as a result of the moment he said 'it cost me a win'. Planning, like Kutvonen, to leave his car unchanged for Q2, he will 'try to do a better first lap'.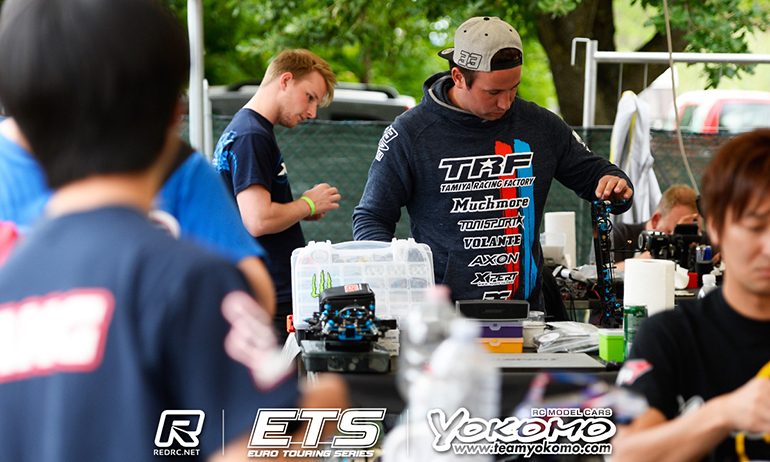 'For the first qualifier it was pretty OK actually, it was a safe run', was how Rheinard summed up his performance.  In terms of his car however the Tamiya driver said it was 'looser than before' and he 'could see Viljami pulling a gap from the start'. Adding 'but in the end Bruno and me had the same lap times'.  Happy to make 'no crash' over the 5-minutes as 'with one (crash) your done', he said he needs to improve his set-up but with it set to be a lot colder for tonight's Q2 he doesn't know what to change as conditions will be completely different. Hoping for good weather tomorrow, rain looking likely though, he said he must also decide whether or not to risk his second set of tyres or run his first set for a second time in the hope conditions are better for the scheduled remaining two qualifiers tomorrow.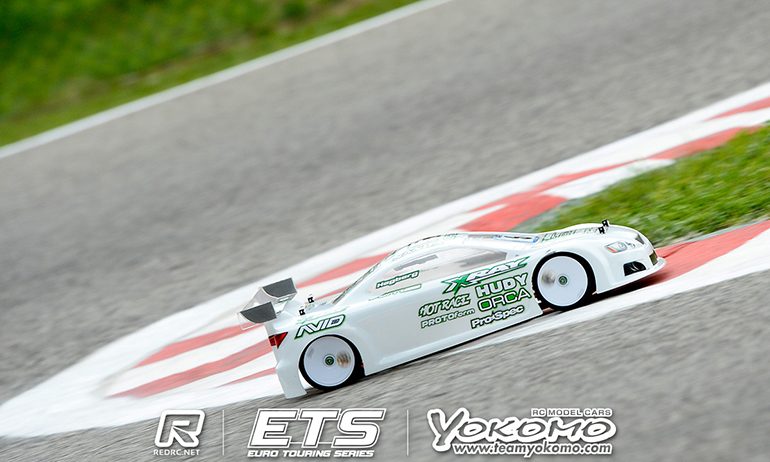 Over two & a half seconds adrift of Rheinard, Hagberg still wasn't happy with his Xray, saying his 'car was very hard to drive and I don't know why'.  The Swede added, 'I cant use the throttle and somehow we need to find more traction'.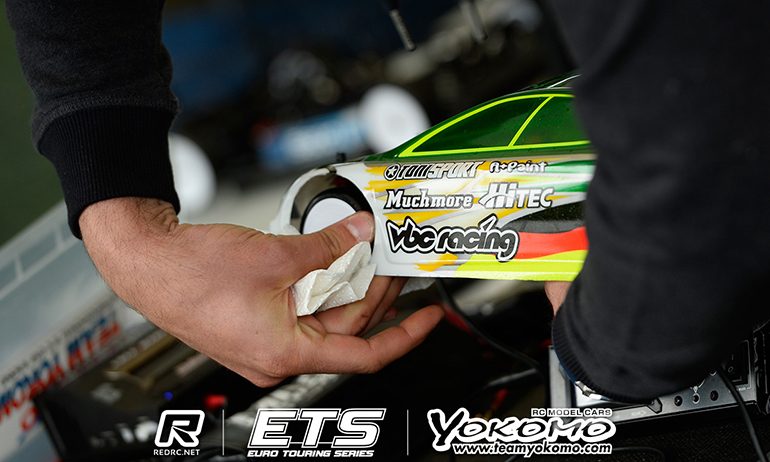 Running in the second fastest heat after being only 19th fastest in controlled practice, Yannic Prumper would set the fifth fastest time.  A little surprised but please with the result, the VBC driver 'couldn't push at all' adding the car 'car felt weird'.  Almost traction rolling early on, the German was having to drive on 20-30% lock and said 'somehow we need to find something' to make the car more drivable.  Only his second ETS outing as a lead driver for a manufacturer, Prumper's manager said while his driver wants to win as always, this is a development period with a view to having a title contending package for next season's ETS.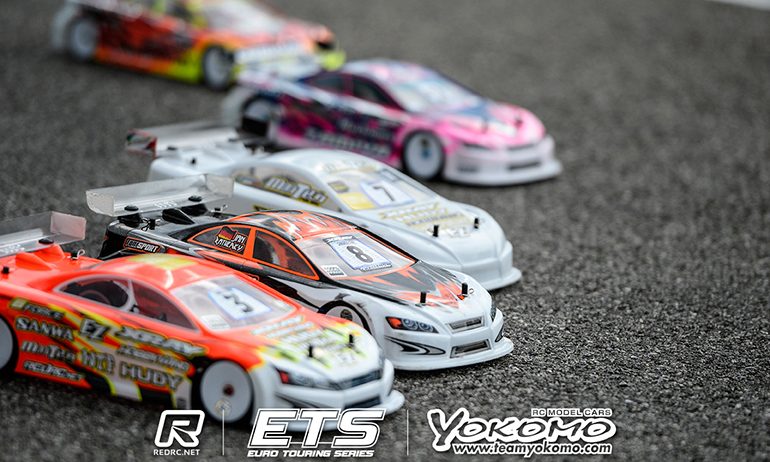 One of the sport's most down to earth racers who seems to enjoy every minute he is at the track, Jan Ratheisky completed the Top 6 for the first qualifier.  Reacting to his time, the German who is better know as a force in both Formula and Pro-Stock, said it was 'awesome'. He added 'Modified is the have fun class for me but maybe not in the future if this continues'. Asked about car set-up the Xray driver replied, 'I don't touch car since last race, just recharge the battery'.  Looking to Q2, the Formula Champion continued he would 'just charge battery and have fun'.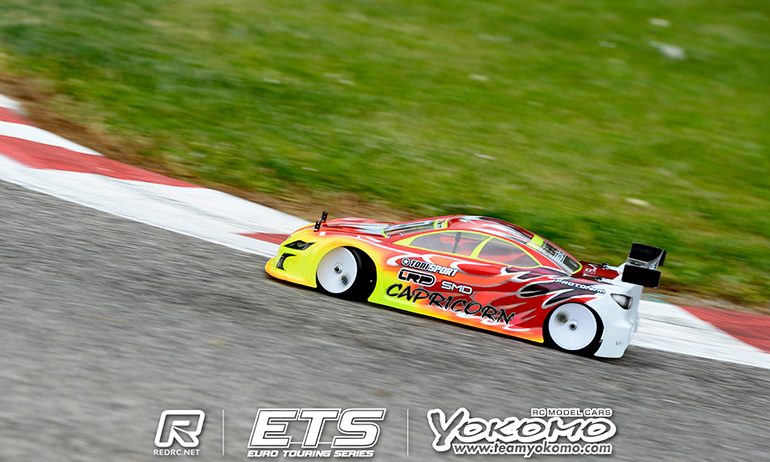 Fourth in practice Kyle Branson posted the 7th fastest time.  The Capricorn team driver described his TE03 as being 'loose one way' adding 'maybe I had a bad tyre'.  The British driver would also suffer with a slowing car over the last few laps as his electrics lost power.  Ask what caused this he replied 'I don't know why yet'.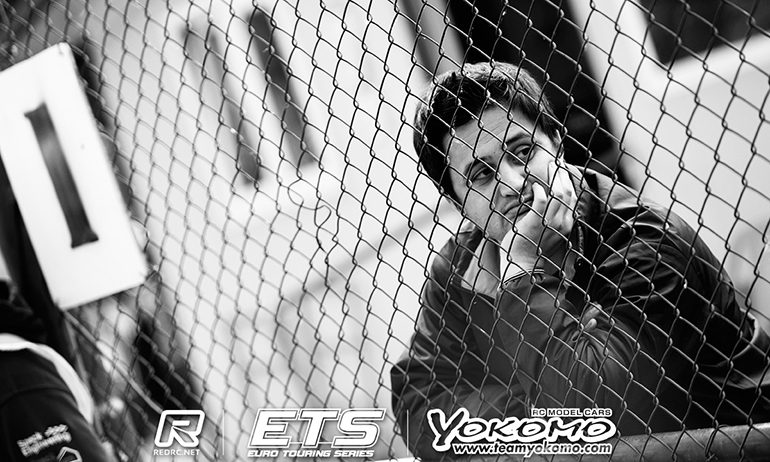 Traction rolling his Yokomo on the opening lap, reigning champion Ronald Volker would end up with a P8.  Losing 4-seconds as his LRP powered BD7 ended up on the grass, the German said with the forecast uncertain, rather than pull off to save the tyres he pushed for the best result possible incase it does rain.  He said his 'car didn't feel like yesterday or this morning' when he was fastest adding they need to look at making a set-up and tyre prep change for Q2.  Behind the 6-time undefeated champion, Elliott Haper would take his Schumacher to 9th with Yokomo's Loic Jasmin rounding out the Top 10.
In the Xray Pro Stock class, the opening qualifier would go the way of ARC's Lars Hoppe.  The former ETS race winner would be 1.8-seconds faster than Awesomatix's Max Mächler who in turn was just 0.042 up on Italian Xray driver Mattia Collina with Ratheisky 4th.  In the Serpent Formula class, Roche team driver Olivier Bultynck took the first round ahead of Serpent's David Ehrbar and Bultynck's team-mate Jacques Libar.  For reigning champion Ratheisky a crash would see him retire.
View the event results here.
View our event image gallery here.
---