June 26, 2016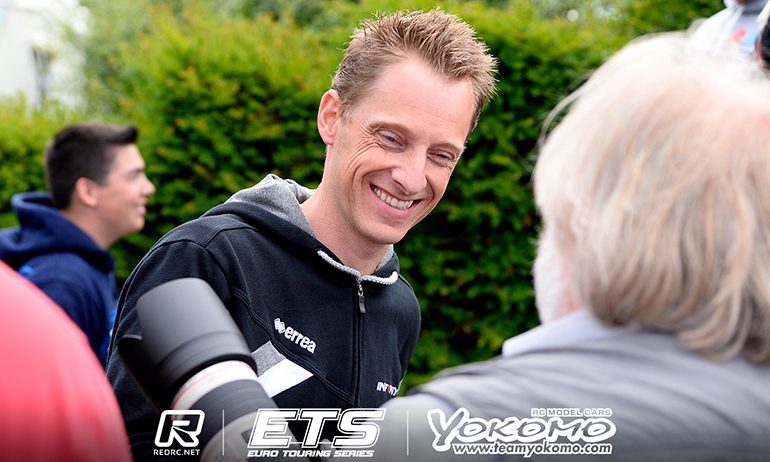 Jilles Groskamp has won the penultimate round of the Yokomo Euro Touring Series in Luxembourg, the event marking the 50th running of a round of the world famous championship. An instrumental supporter of the championship in its founding years and becoming its inaugural champion, the win is only the 2012 World Champions' 5th and his first since winning a second ETS title in 2009. Behind the Infinity driver, Marc Rheinard kept his title hopes alive by finishing second ahead of Bruno Coelho who completed the podium at Mini Circuit "Ville de Luxembourg".  Unfortunately while winning A3 would give reigning champion Ronald Volker 4th overall, it was one position below what the Top Qualifier needed to keep alive his hopes of retaining his crown.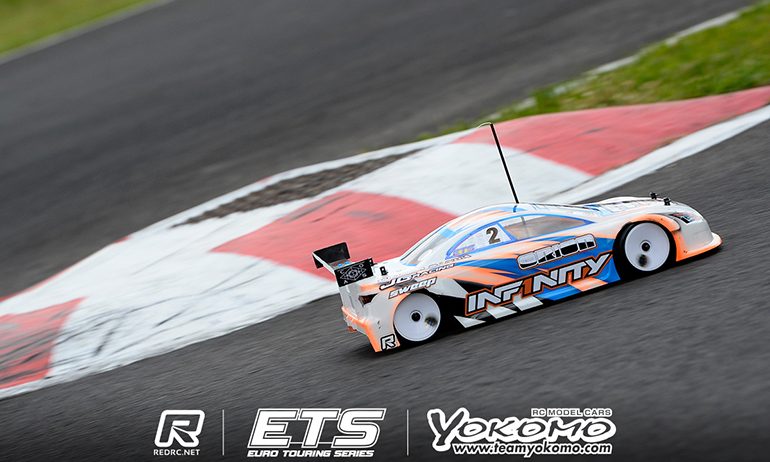 'I wanted to make a nice 3rd final and finish the race in a nice way. It's nice to win at ETS again', was how Groskamp summed up his first win in the championship in 7 years. His first ETS outing the season, the Dutch driver who won his 2009 European Championship title at the same track added, 'I feel especially bad for Ronald and that I ruined his championship and I really apologise for that. I didn't know it as I am not in the championship'. Recalling A3 he said, 'I didn't want to challenge Ronald and my main focus was on Marc but when he rolled I knew the pressure was off but then I flipped but it was OK, I knew I still had the overall win'. As his car lay upside down Coelho would collect it causing the body shell to invert which is how he would finish the race losing a place to Rheinard. Commenting on his performance over the event having chosen to run an Xray chassis, he said, 'all weekend the car has been really good for me and it's a good option for the World Championship'. Set to also race at the ETS season finale, with Infinity planning to have its own car for next season, he plans to also bring a Tamiya to the Hudy Arena event saying 'I guess the Xray will be fast there as it's their own track but Marc's car looks good so I will try one'.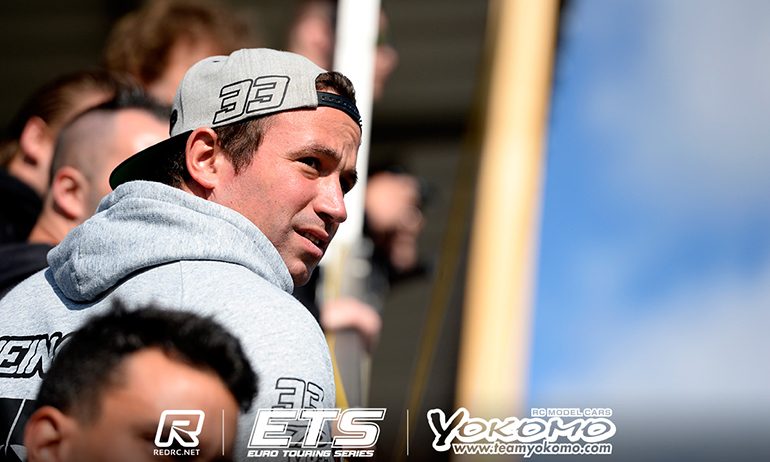 'I knew I had to win to have a chance of overall victory today. It didn't happen but 2nd overall is still OK, we had the pace and the car was good', was how Rheinard summed up the day. Having clashed with Coelho in A2, the German complimented his rival saying, 'Bruno made a nice pass on me' but the Portuguese driver would hand it back with a mistake later in the race. In third he said he 'tried to catch Groskamp saying 'Jilles was not that fast' but catching the curbing and rolling his Muchmore powered TRF419X he said his chance of the overall win was gone. While today's result reduces his deficit in the championship from 5 to 4 points, Rheinard said his options for the the season finale very straight forward, 'I have to TQ and win the last one'.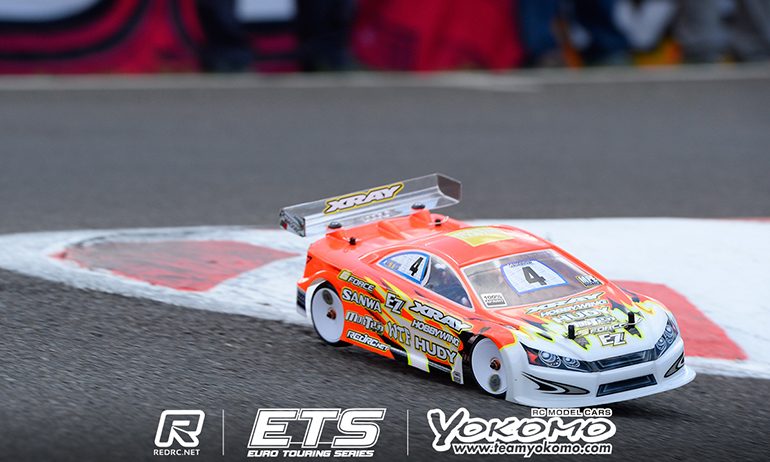 With today's result moving him one step closer to the title, Coelho's biggest concern after A3 was to work out the various scenarios based on either of his rivals winning at the Hudy Arena. Having already given Xray their first Euro Offroad Series title this year and now looking to give them their first ETS Modified title, second today would have done that but he said after getting caught in mistakes of both Rheinard and Groskamp in A3 'there was no chance to get him', him being Volker. With his Hobbywing powered T4 'again really impressive' he would first lose time when Rheinard spun in the Laguna Seca section and he collected him and then again later when Groskamp rolled and made heavy contact with his car, both surviving to finish the race. Having won in Slovakia last year and needing only a second place in the case that his only rival Rheinard TQs and wins there,  even Rheinard admitted that given the points scenario and that the title is to be decided at the track where the T4 was developed Coelho already has one hand on the champion's trophy.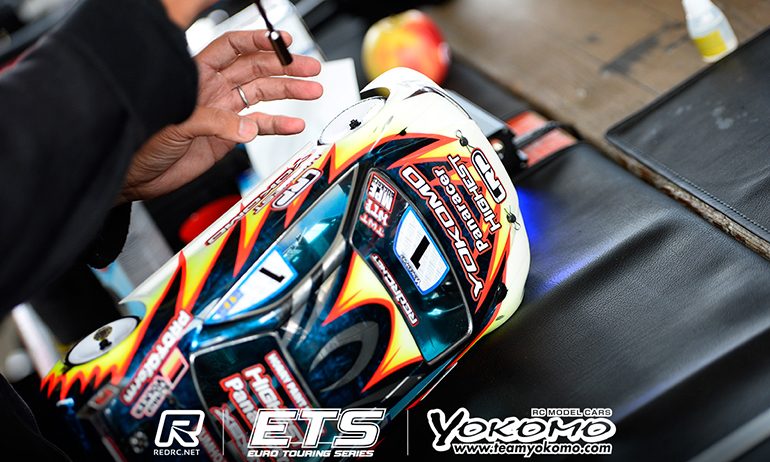 'I am both angry & really disappointed to have been robbed like this of a chance to fight for the championship', said Volker.  Having been taken out of the lead of A2 in a controversial incident with Groskamp he added, 'winning A3 meant nothing to me because my goal was always the championship and after yesterday it was all going to plan but today it was all over because of what happened in A2'.    A driver who since under taking his first full ETS campaign in 2010/11 has gone on to be crowned champion five times in succession, Volker concluded, 'I am going to be frustrated by today for a few days but hope I can get some consolation at the Euros next week'.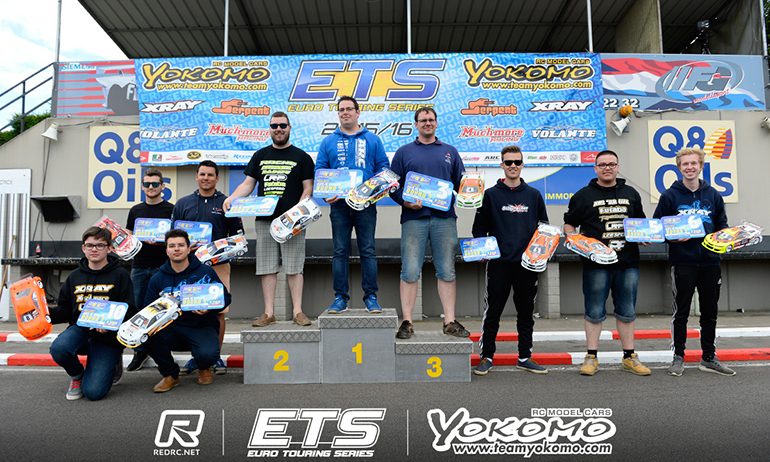 With the Xray Pro Stock and Serpent Formula winners decided in A2, the third A-Main would determine the rest of the podium. Belgian Olivier Bultynck would win both encounters to finish runner-up to Lars Hoppe in Pro Stock and David Ehrbar in Formula, Jacques Libar adding local interest to the podium with third. In Pro Stock after a great A3 battle with the Schumacher of Nicolai Lindegaard, Tamiya driver Christian Donath would take the final step on the podium.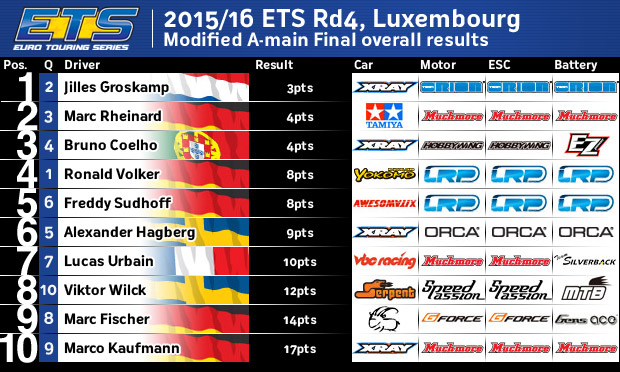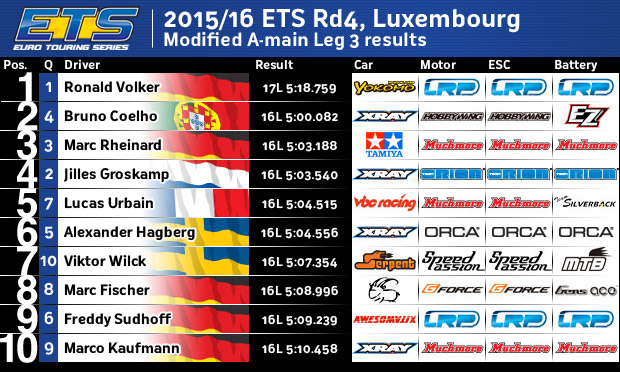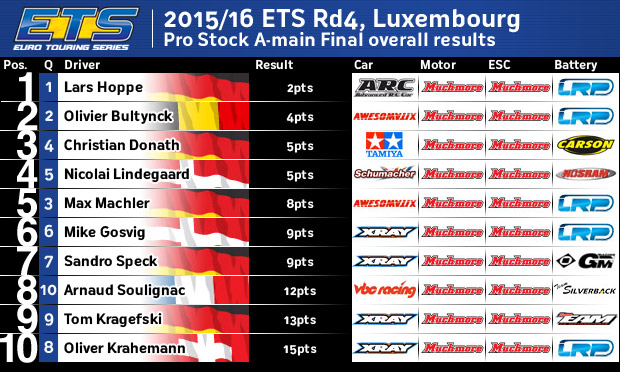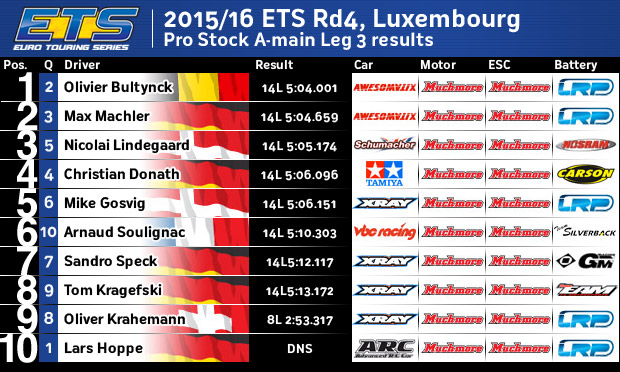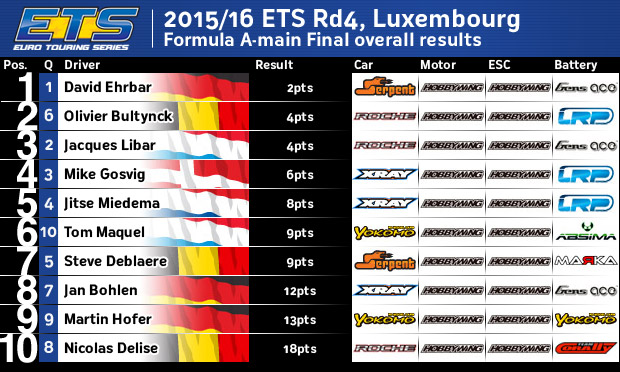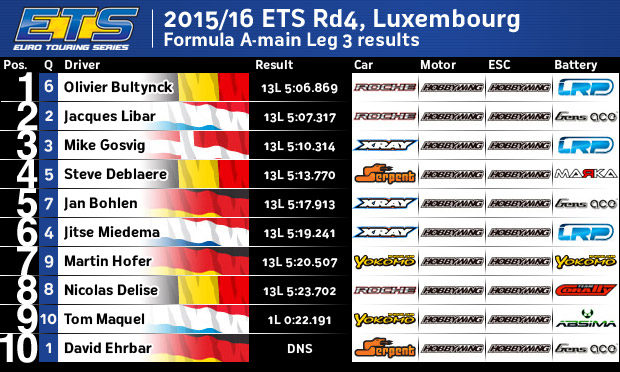 View the complete event results here.
View the event image gallery here.
---